Rather than turning the leftovers from Christmas Day into the expected pie, why not try this turkey risotto recipe from The Balmoral's Executive Chef Gary Robinson, previously head chef to HRH The Prince of Wales…
Recipe: Gary Robinson's Boxing Day Turkey, Sausage and Pea Risotto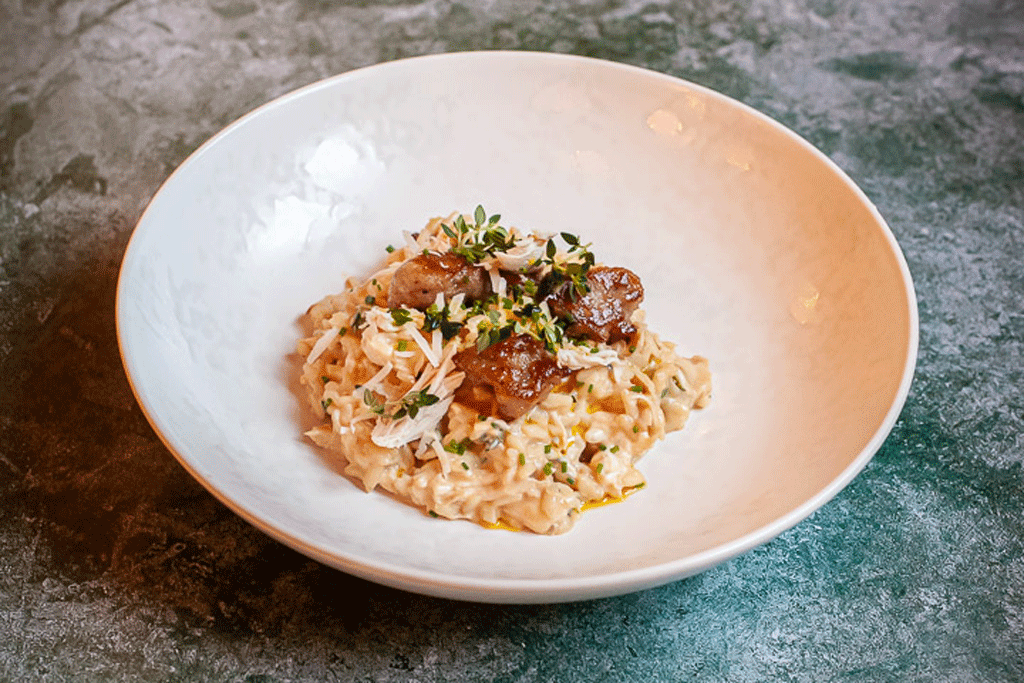 Serves 4
Ingredients
2 fat herby pork sausages
About 2 litres turkey stock
50g butter
1 very finely chopped onion
400g risotto rice
125ml dry white wine
2 tblsp tomato passata
A couple of handfuls of leftover turkey meat, ripped into bite sized pieces
150g frozen peas
To finish the risotto
75g cold butter, diced
100g finely grated Parmesan
sea salt and freshly ground black pepper
Method
Chop the sausages into small pieces. Bring your stock to a rolling simmer next to where you are going to make the risotto.
Melt the butter in a heavy bottomed saucepan and add the onion and sausages. Cook gently until the onion is softened, but not coloured (about five minutes). Add the rice and stir to coat in the butter. Make sure all the grains are warm and coated before adding the wine. Let the wine evaporate completely, then when the onion and rice are dry start to add the stock, a ladleful at a time – adding the passata with the first ladleful – stirring and scraping the rice into the pan as you do so.
When each addition of stock has almost evaporated, add the next ladleful. Carry on cooking for about 15 minutes, adding stock as before. After about 12 minutes add the turkey and peas. Slow up on the stock towards the end so the rice doesn't become soupy, as when you add the butter and parmesan, it will become too sloppy.
Turn down the heat and allow the risotto to rest for a minute, then with a wooden spoon, vigorously beat in the cold diced butter and finally the Parmesan, making sure you shake the pan energetically as you beat.
Season to taste and serve right away, piping hot.
---