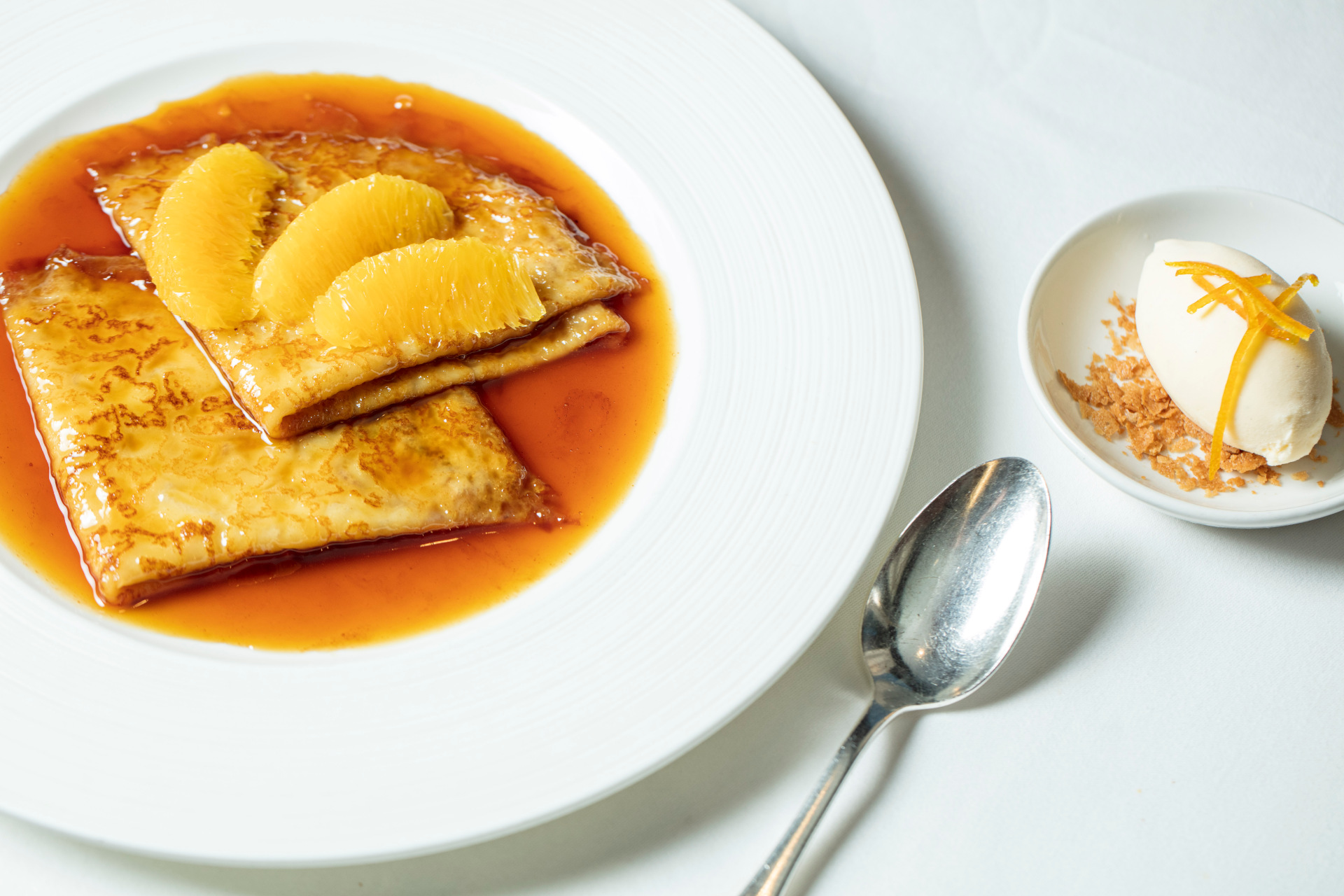 Recipe: Classic Crepe Suzette
---
A classic comfort crepe perfect for pancake day
Some dishes and foods come in and out of fashion and others stand the test of time. Le Pont de La Tour's crepe suzette is a classic dessert that is always on the menu and one of our most popular. Warm pancakes drenched in an orange syrup, punctuated with the kick of flambeed Grand Marnier is such a comforting combination. Rounded off with vanilla ice cream, making it the perfectly balanced dessert. If that wasn't enough, the theatre of flambeeing tableside is always a head turner. After we sell the first suzette of the night, you can guarantee nearly every table will follow suit and order them, says Tony Fleming, the Executive Chef at Le Pont de la Tour…
Recipe: Classic Crepe Suzette
Ingredients
250g milk
125g flour
15g caster sugar
8g vegetable oil
1 egg
20g melted butter
Mix the dry ingredients together and then add to the beaten egg and vegetable oil.
· Add the butter last (make sure it is not hot)
· Heat a non stick frying pan (ideally 240mm diameter)
· Make sure the pan is really hot, add a little block of butter and add a ladle of batter to create a very thin pancake. Cook on medium heat then flip and cook on reverse side.
· Remove from pan and cool on the side. Continue until all batter is gone.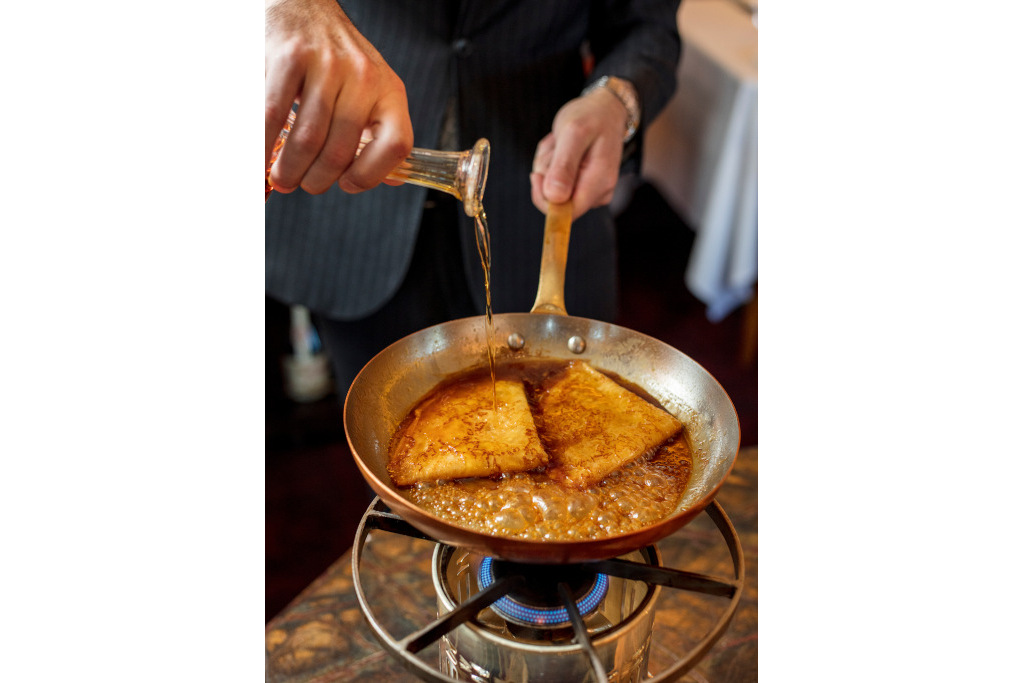 Caramel syrup
325g caster sugar
½ lemon
¼ vanilla pod
Pinch of maldon sea salt
Zest from ½ orange (just peeled)
140g butter
450g orange juice
· Make a light dry caramel using the caster sugar and add the salt.
· Stir the caramel with the half lemon using a fork attached to the end of the lemon.
· Add the zest and vanilla.
· Add the orange juice in 3 stages and bring it to the boil.
· Add the butter last and pass through a fine sieve.
Vanilla ice cream
70g whipping cream
280g whole milk
½ vanilla pod
35g glucose syrup
70g egg yolk
50g caster sugar
· Boil the milk, cream, glucose and the vanilla pod.
· Mix the egg yolks and sugar, pour half the liquid onto the yolks, mix and return to the remaining milk.
· Cook the base to 85 degrees, pass through a fine sieve and cool over ice.
· Churn in ice cream machine.
Orange confit
Zest of 1 orange
100g caster sugar
100g water
· Peel the skin with peeler trying not the peel the white bitter parts.
· Slice to fine strips.
· Boil some water in small pan and add the orange skin.
· Pass it through a strainer and cool it down with cold water.
· Repeat this process 2 more times.
· Bring the sugar and water to the boil add the orange skin and simmer until is candied.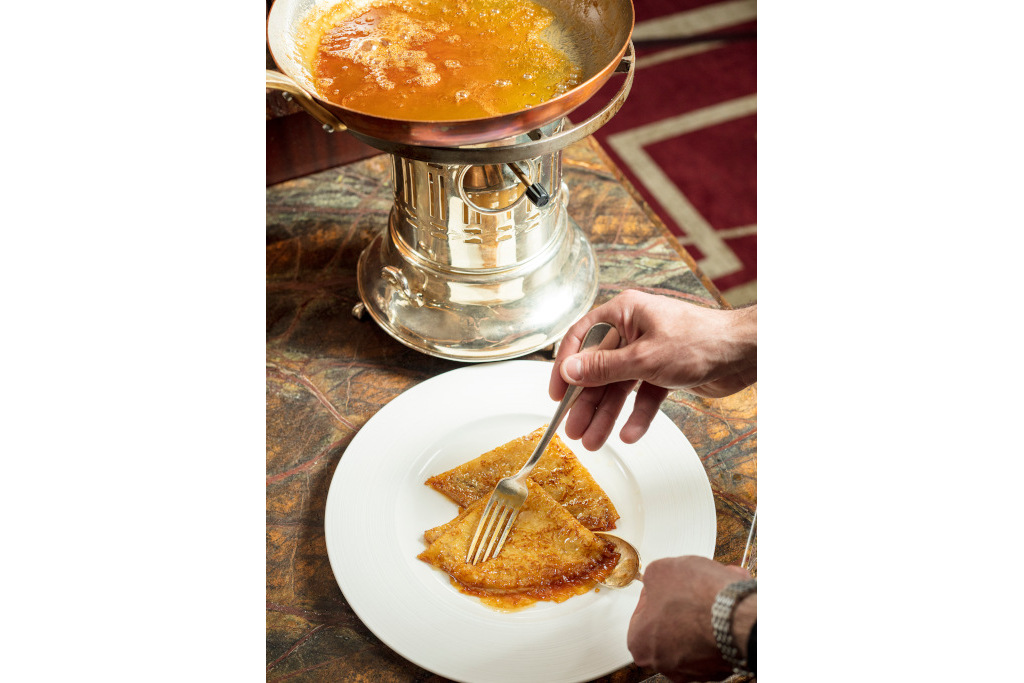 To plate one portion of the Crepe Suzette:
· 25ml brandy
· 5 x orange segments
· 2 crepes
· 150g caramel syrup per recipe above
· 1 scoop vanilla ice cream topped with orange confit
Method
1. Warm a shallow sauté pan and add the syrup.
2. Bring to the boil and add the two crepes, bring back to the boil and add the brandy.
3. Flambee the brandy using an open flame.
4. When the flames have disappeared carry on boiling to achieve a good syrupy sauce.
5. Drop in the orange segments to warm through.
6. Fold the crepes in quarters and arrange on a plate.
7. Spoon over the orange segments with the sauce and serve with the ice cream on the side
Book: lepontdelatour.co.uk
MORE PANCAKE RECIPES: Recipe: Fluffy Japanese Pancakes / Recipe: Paul Ainsworth's Layered Clotted Cream and Banoffee Pancakes with Chocolate Sauce / Recipe: Acai Girls' Peanut Butter, Caramelised Banana and Cacao Pancakes