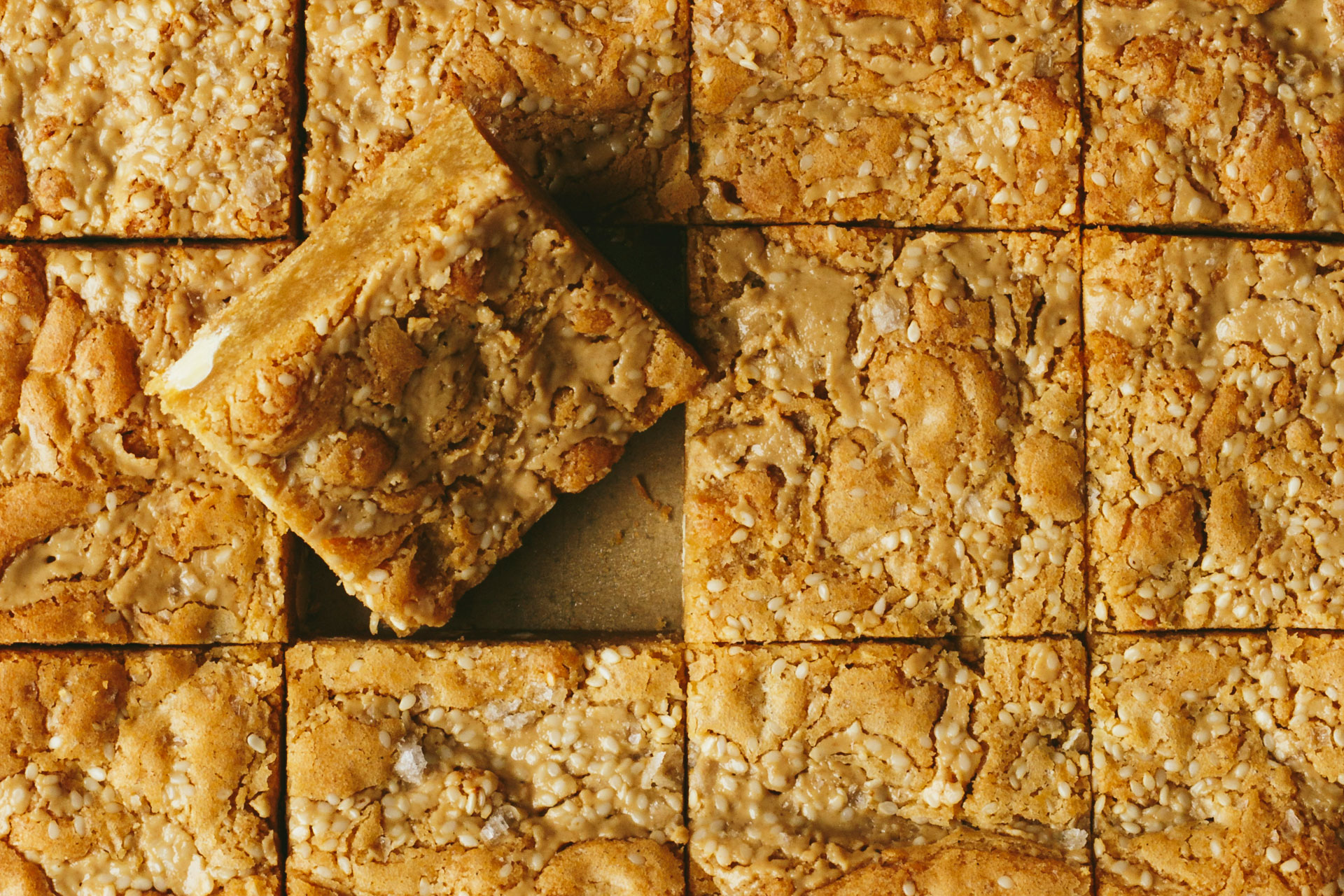 Recipe: Felicity Spector's Salted Tahini Blondies
A new charity cookbook aims to raise awareness around mental health
A new cookbook is launching to tie in with World Mental Health Day, Eat with Beder. It's the brainchild of Razzak Mirjan, who set up a charity in memory of his younger brother, Beder Mirjan, who sadly took his own life at the age of 18 in 2017. Through the charity, Beder, and this new recipe book, Razzak aims to raise awareness around mental health and suicide. The book contains over 70 recipes from inspirational names across a range of industries, from Ella Mills to Joanna Lumley, alongside open and honest conversations with some of the contributors. Here, we share one of our favourites: salted tahini blondies created by journalist and foodie Felicity Spector.
Recipe: Felicity Spector's Salted Tahini Brownies
Preparation time: 15-30 minutes

Cooking time: 30 minutes

Makes 15
Ingredients:
225g unsalted butter, melted, plus extra for greasing 

200g light brown sugar

100g caster sugar 

100g tahini 

1 tsp fine sea salt 

2 large eggs 

1 egg yolk 

2 tsp vanilla paste 

250g plain flour 

1 tsp baking powder 

100g white chocolate, finely chopped 

1 tsp sea salt flakes 

½ tbsp sesame seeds 
Method:
Preheat the oven to 180°c/160°c fan/Gas Mark 4. 

Grease and line a 30 by 20cm baking tin with butter and parchment paper. Put the melted butter, both sugars, 50g of the tahini, and the fine salt into a mixing bowl and stir to combine. 

Whisk the eggs, yolk and vanilla into the mixture until incorporated. 

Fold the flour, baking powder and white chocolate into the blondie mixture until everything is combined, then pour into the prepared tin. 

Beat the remaining tahini in a bowl to loosen and drizzle over the top of the blondie mixture. 

Swirl it in with a skewer or a spoon so it marbles with the batter, then top with the sea salt flakes and sesame seeds. 

Bake the blondies for 25-30 minutes until golden brown so they are set around the outside and a little wobbly in the middle (this will set once cooled fully). 

Allow the blondies to cool completely before slicing into a 3 by 5 grid to get 15 squares. If you're looking for perfect slices, you can even put the tin in the fridge overnight before cutting them.
Eat with Beder is available now, £24.99, beder.org.uk