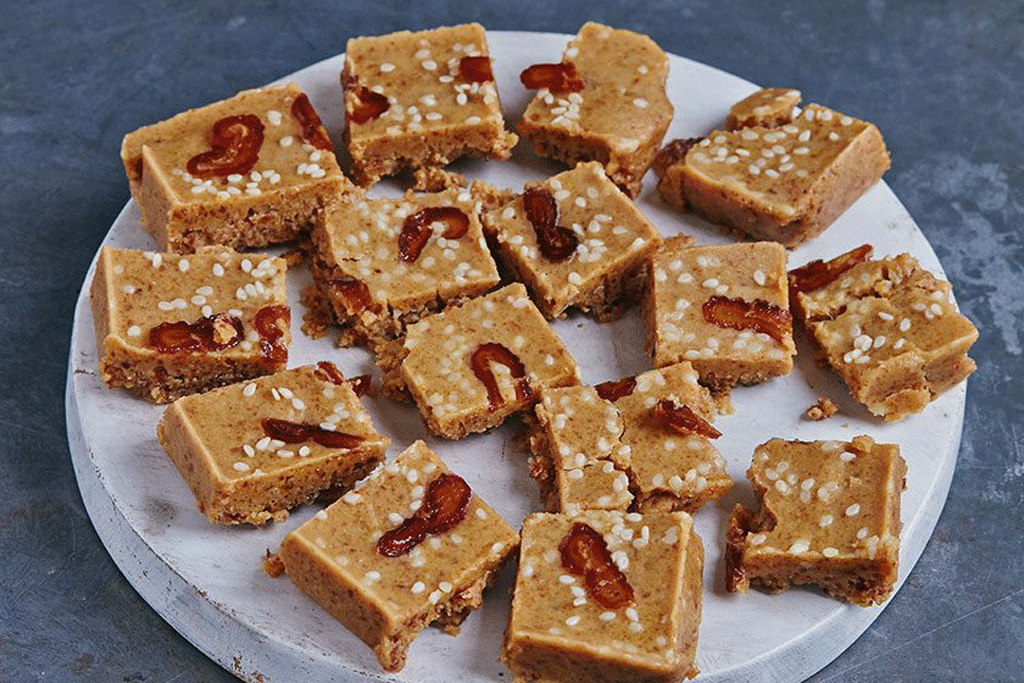 Vegan Recipe: Tahini Date Fridge Fudge by Hemsley + Hemsley
---
This sweet treat is healthy and delicious
Hemsley + Hemsley founders, Jasmine and Melissa Hemsley share the delicious tahini date fridge fudge recipe from their book, Good + Simple.
Recipe: Tahini Date Fridge Fudge by Hemsley + Hemsley
Makes about 18 squares
Ingredients
85g (about 1/2 mugful) of pitted dates (chewy dried dates rather than the larger soft ones), or to taste
110g (about 1/2 mugful) light tahini (make sure it doesn't contain emulsifiers)
2 tablespoons coconut oil, at room temperature, or extra-virgin olive oil
Sea salt flakes
1 tablespoon white sesame seeds or desiccated coconut, to decorate (optional)
Method
Line a small baking tin – about 11cmx 17cm– or similar-sized container (we use a glass lunchbox) with baking parchment.
Slice one of the dates finely and set aside to decorate the top of the fudge. Place the rest of the dates in a food processor with the tahini, coconut oil or EVOO and 1⁄8 teaspoon of salt flakes and blend to a smooth, thick paste. Taste and add more salt if desired.
Transfer the mixture to the prepared tin and use a spatula to press the mixture down evenly.
Decorate the top with the date slices and a sprinkle of sesame seeds or desiccated coconut (if using), pour over any leftover oil from the food processor and press down gently.
Freeze or chill in the fridge until firm – about 15 minutes in the freezer and 30 minutes in the fridge. Slice into squares, then store in the fridge or freezer. Eat chilled/frozen straight from the fridge/freezer.
TIPS: You can upgrade to the more nutritious dark tahini which has a bitter flavour, if you like. This keeps really well in the fridge or freezer, so make double!