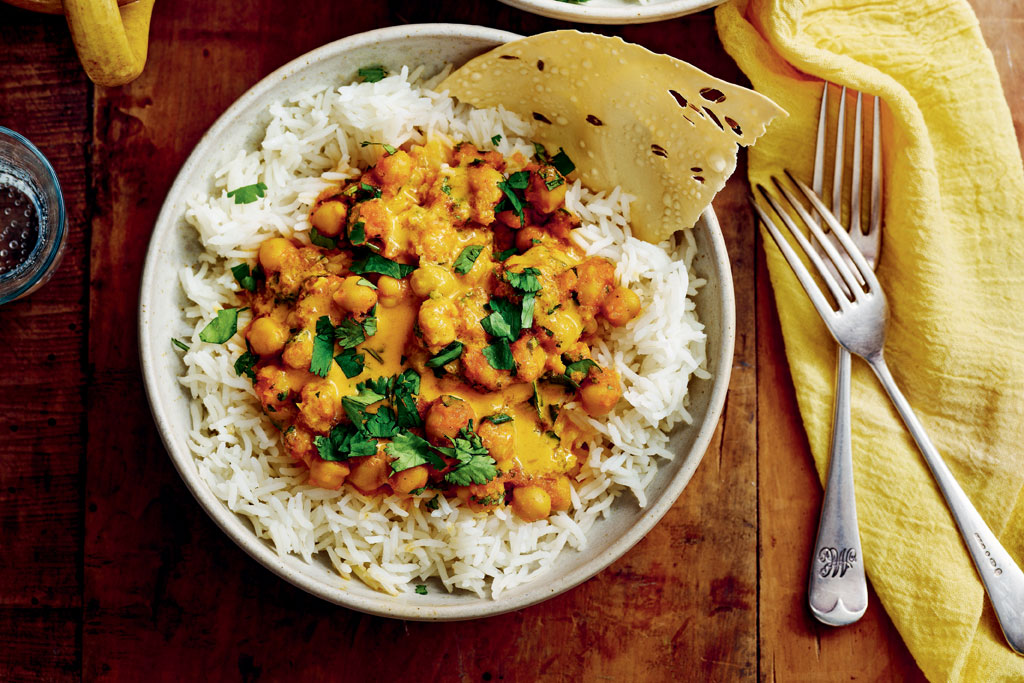 Veganuary: 3 Easy Vegan Curry Recipes
Delicious Indian dishes in seven ingredients or less
Award-winning author and chef Monisha Bharadwaj shares some of her favourite easy Indian recipes from her cookbook Indian in 7, a super easy-to-follow guide to a host of delicious dishes that can be cooked with seven ingredients or less. Here we pick three easy vegan curry recipes from the meat-free selection.
Easy Vegan Curry Recipes
Channa Masala Recipe
Serves 4
This simple recipe is one of the most popular ones at my cooking classes. You can make the curry sauce in bulk and freeze some, so that the next time it will take less than 10 minutes to make this curry. If you cook rice on the side and chop up some crunchy salad, a hearty meal can be on the table within 20 minutes. You can use other canned beans here – try butter beans or red kidney beans. The curry sauce can also be cooked with firm vegetables, such as potatoes, cauliflower or broccoli – these will go into the pan first, then the ground spices along with a splash of water, and lastly, the curry sauce can be poured on top and cooked until the vegetables are tender. The blended sauce has a creamy consistency without the need to add any cream.
Ingredients
2 onions, sliced
1 tablespoon tomato purée
1 teaspoon ground turmeric
1 teaspoon medium chilli powder
1 teaspoon ground coriander
400g can chickpeas, drained and rinsed
2 tablespoons chopped fresh coriander leaves, to garnish
Method
Heat 1½ tablespoons of sunflower oil in a heavy-based saucepan and fry the onions over a high heat for 4–5 minutes until they start to turn golden brown. Reduce the heat to medium and cook for a further 7–8 minutes until they are soft.
Add 1 tablespoon of ginger-garlic paste (page 26) and cook for a few seconds, then add the tomato purée and fry for a minute, or until well blended.
Remove from the heat, carefully transfer the mixture to a blender, add enough cold water to just cover the mixture, then blend until smooth. Set aside.
Heat 1½ tablespoons of sunflower oil in the same pan and add the ground spices. Fry over a high heat for a few seconds until they change colour, then add 3–4 tablespoons of cold water and continue to cook until the water has evaporated. Add the chickpeas and mix well, then cook over a high heat for 3–4 minutes until the chickpeas have heated through.
Stir in the sauce from the blender and season with salt. Rinse out the blender with 2–3 tablespoons of cold water and add this to the pan. Bring to the boil, then reduce the heat, cover and simmer for 5–6 minutes until the curry is heated through. Serve hot, garnished with the coriander with plain boiled rice or rotis.
Onion Bhajia Recipe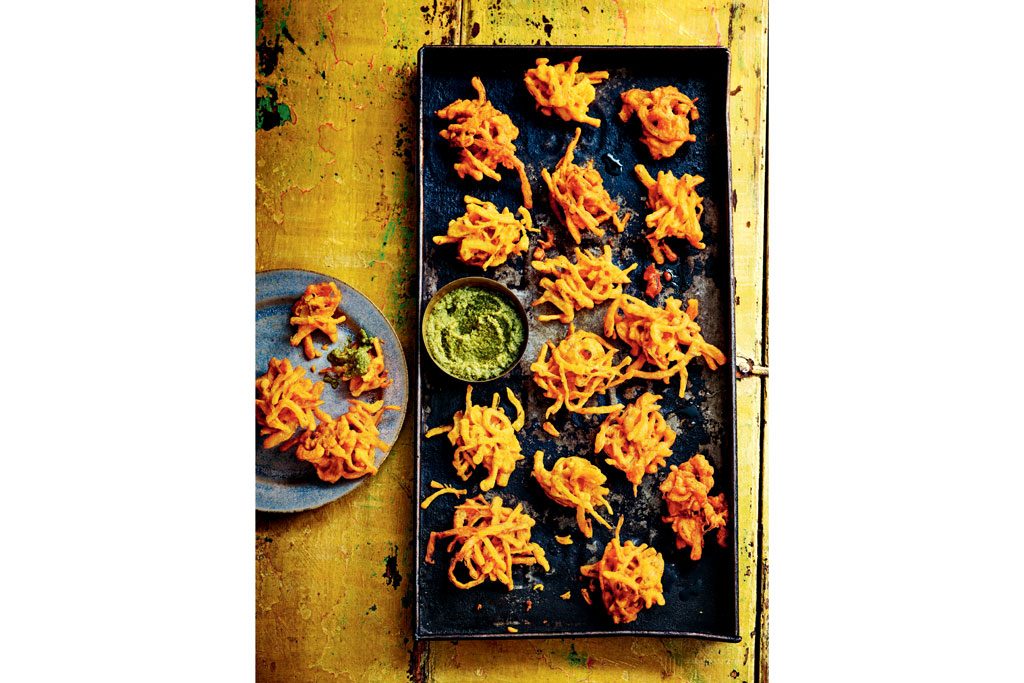 Serves 4
These moreish fritters are commonly called 'bhaji' outside of India, but in their native country a bhaji is a stir-fry of vegetables and not a fritter at all. Some Western chefs add egg to the batter – this is not necessary as the gram flour itself is sticky enough to be a binding agent. These gluten-free fritters are made from a particular variety of pulse called Bengal gram (see page 24). Gram flour becomes crisp when fried and is therefore used in many Indian snacks including Bombay mix. Ajowan or ajowan seeds – also called carom seeds – are added to fritters, such as bhajia and pakoras, as such dishes, along with gram flour, can be heavy to digest, and ajowan seeds are known to be a digestive.
Ingredients
½ teaspoon medium chilli powder
½ teaspoon ground turmeric
Pinch of ajowan seeds or cumin seeds
5 tablespoons gram flour
2 onions, sliced
Method
Combine the chilli powder, turmeric, ajowan or cumin seeds and gram flour in a mixing bowl. Pour in a little cold water at a time and mix to make a thick, custard-like batter. Season with salt, bearing in mind that you will need a little more than you think, as it will be seasoning the onions that go into the batter as well.
Heat enough sunflower oil (about 1 cm deep) in a large, deep frying pan over a high heat until hot.
Fold the sliced onions, in batches, into the batter, evenly coating them with the batter. If you put all the onions into the batter at once, the salt in the batter will draw out the juice from the onions and make the batter loose. The batter should just coat the sliced onions.
Test the temperature of the oil by carefully dipping a slice of raw onion into it. The onion should immediately sizzle if the oil is hot enough.
Bhoplya Chiamti – Pumpkin in Creamy Coconut Vegan Curry
Serves 4
I love pumpkin and almost always cook it with the skin on. This adds a bit more texture to the dish and the skin softens enough upon cooking to chew easily. It also holds the shape of the pumpkin pieces and stops them from disintegrating. If the pumpkin is very fleshy, you'll have some pieces with no skin and they'll just collapse a bit more than the others. I've used passata in this recipe, which gives a smooth sauce when combined with the coconut milk. You can use roasted cashew nuts for this recipe, or even add sunflower or pumpkin seeds instead, if you like.
Ingredients
2 fresh green chillies, finely chopped (seeds and all)
10 fresh or 15 dried curry leaves, chopped or crumbled
1 teaspoon ground turmeric
200ml passata (sieved tomatoes)
400g deseeded pumpkin, chopped into small cubes with the skin left on
400ml can coconut milk
15 unsalted cashew nuts
Method
Heat 2 tablespoons of sunflower oil in a saucepan. Stir in 2 teaspoons of ginger garlic paste and the chillies and cook over a high heat for a couple of minutes.
Add the curry leaves and cook for a further minute, then add the turmeric and cook for a few seconds.
Add the passata and cook for 3–4 minutes until everything is well blended.
Tip in the pumpkin, season with salt and then pour in 150ml boiling water. Bring to the boil, then reduce the heat, cover and cook for 7–8 minutes until the pumpkin is nearly tender, adding a few tablespoons of cold water if the pan starts to dry out.
Pour in the coconut milk, then stir in the cashews. Cook over a medium heat until the curry comes to the boil. Serve hot with plain boiled rice or poppadoms.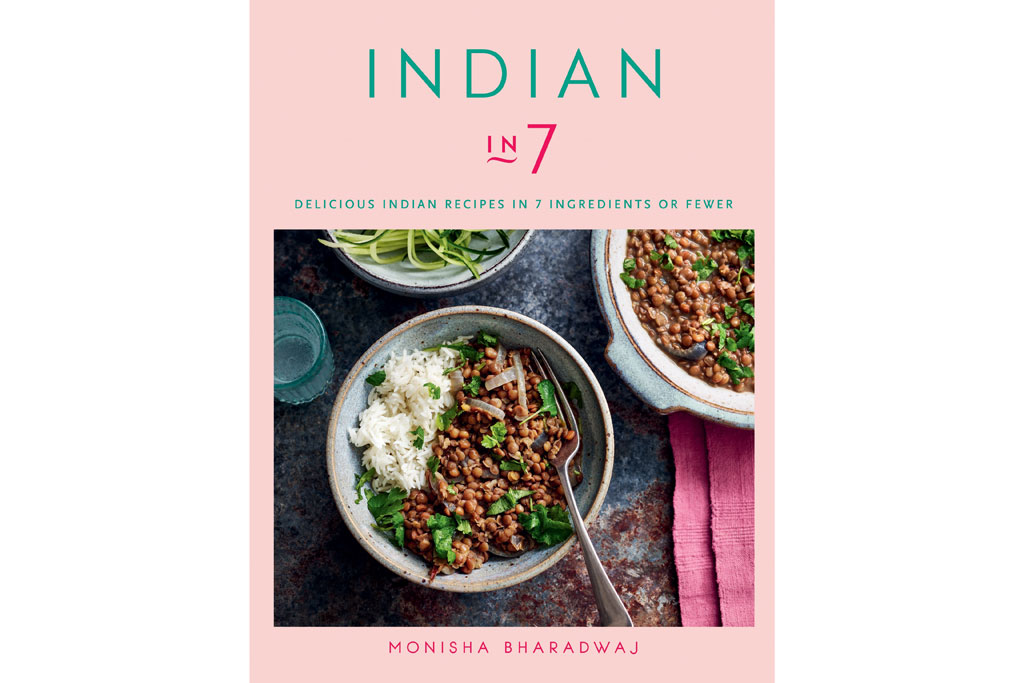 Indian in 7 by Monisha Bharadwaj is published by Kyle Books, £17.99