This recipe from Nicholas Balfe – founder and head chef of London restaurants Salon, Levan and Larry's – is extracted from Staying In, a new e-book launched last week in support of Chefs in Schools' community appeal.
Recipe: Roast Chicken with Salsa Verde, Jersey Royals and Purple Sprouting Broccoli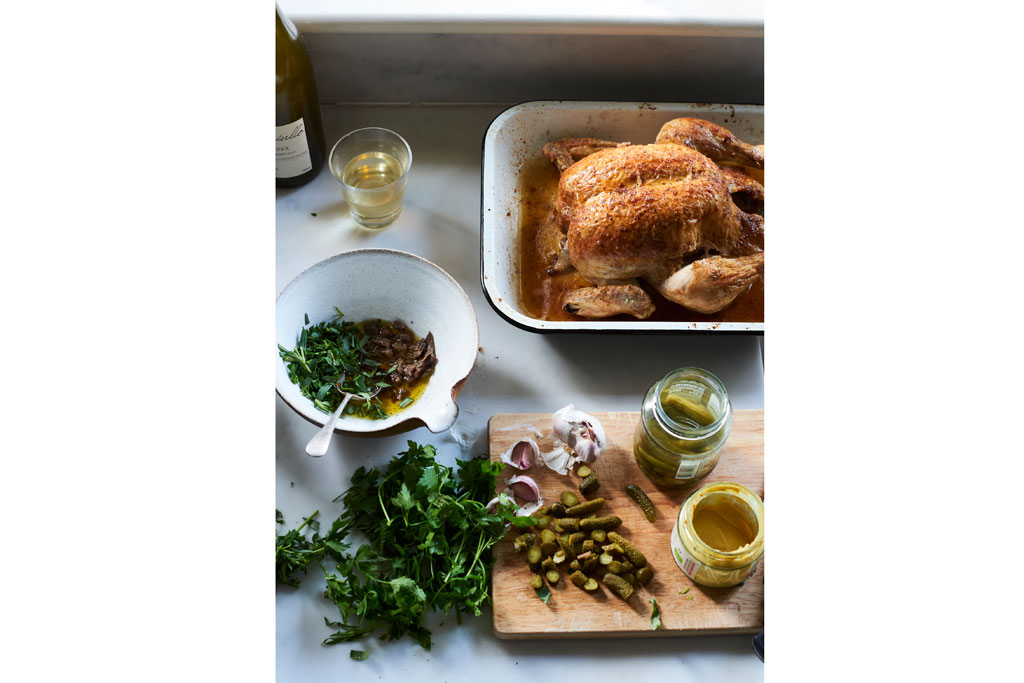 For me, roast chicken is the definitive family meal. We often eat it on Sundays at our house when we're all together. During lockdown, however, the days are blending together somewhat, and we've found that punctuating the week with delicious meals is one of the best forms of distractions.
Chicken is a really underrated meat, especially if you put the effort into finding a good quality, organic chicken that's slow reared and been well looked after. Everyone has their own way of roasting chicken, but this is definitely a good one.
As for the wild garlic-spiked salsa verde, this is a perfect spring recipe. If you're lucky you might find some growing in your neighbourhood. Keep your eyes out for their thick, chive-like stalks and elegant white flowers that look a little like snowdrops. They're abundant in urban green spaces, woodland and rural areas from early March right through to the end of April.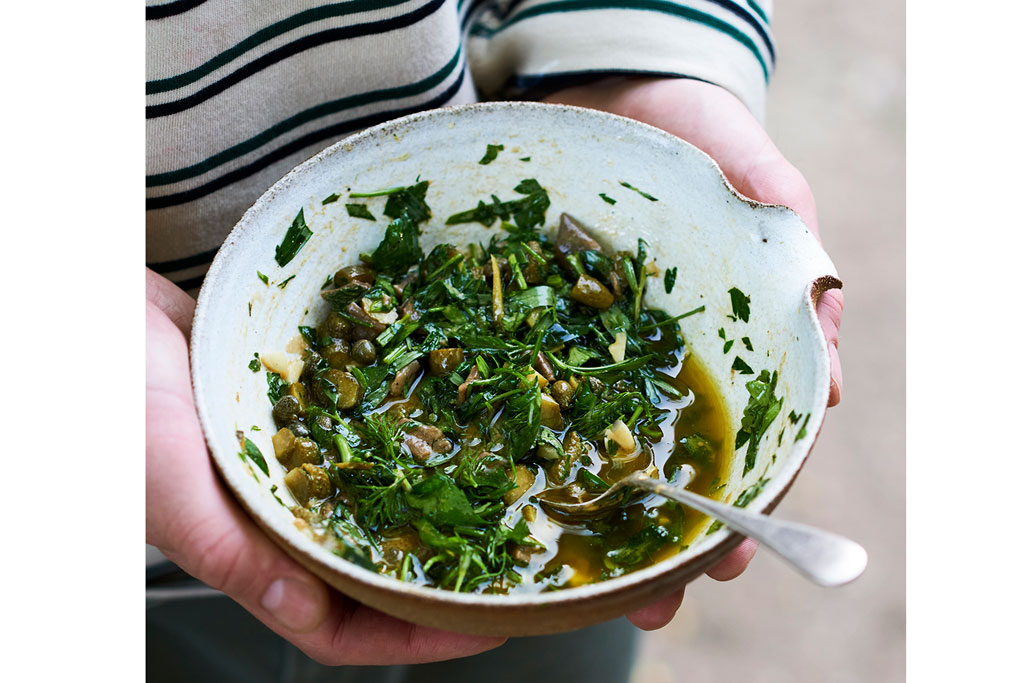 Ingredients
Serves 4
For the chicken
1 organic chicken, approx 1.5kg
½ lemon
½  head of garlic
A few sprigs thyme
50g butter, softened
Sea salt and black pepper
A couple of shallots, halved lengthways (optional)
For the salsa verde
Half a bunch of parsley, leaves picked
A mixture of other herbs, equivalent to half a bunch
(mint, tarragon, chervil, chives, wild garlic)
6-8 anchovy fillets and oil
A handful cornichons
2 tsp capers
A small clove garlic
1 tbsp dijon mustard
1 tbsp sherry vinegar
3 tbsp good quality olive oil
A pinch sea salt
To serve
Jersey Royals, steamed
Purple sprouting broccoli, steamed
#StayingIn Swap: You can swap out different herbs throughout in this recipe depending what's available to you. For example rosemary would work as well as thyme for stuffing the chicken. If you can't get your hands on wild garlic for the salsa verde, perhaps add an extra garlic clove.
Method
Get the chicken out of the fridge at least 2½ hours before you want to eat it. Preheat the oven up to 220°C/425°F/gas mark 7. Season the cavity of the chicken with sea salt and black pepper, then squeeze the lemon juice inside the cavity before stuffing the lemon half inside along with the garlic and the thyme.
Rub the butter all over the breasts and legs, then season with salt. Place in the oven in a snug baking tray and roast for 30 minutes until the skin is looking nice and golden. Add the shallots, if using, then turn the oven down to 180°C/350°F/Gas Mark 4 and continue roasting for another 30-40 minutes until the juices run clear. Remove from the oven and set aside to rest for at least 15 minutes – the total cooking and resting time should be no more than 1½  hours.
Meanwhile, make the salsa verde. Using your sharpest knife, chop the herbs finely. You don't need to turn them into mush, just run your knife through them a few times so they are shredded. Chop the anchovies, capers and cornichons, and mince the garlic as finely as you can. Add everything to a mixing bowl and add the mustard and mix well. Cover with just enough oil to bring everything together, then add the vinegar. Check the seasoning and add a pinch of salt if you like.
When you are ready to serve, tip the chicken cavity over the roasting dish to catch all the juices and give everything a quick whisk. Carve the meat off the bone, and serve with steamed greens such as purple sprouting broccoli and some buttered Jersey Royal potatoes. Spoon some of the roasting juices over the top and dress everything liberally with the salsa verde.
MORE RECIPES:
Marcus Wareing's Cauliflower Cheese / 3 Nutritionist Approved Healthy Sandwich Recipes
---