John Williams, the executive chef at The Ritz, puts his spin on the traditional Wellington with his Venison Wellington Recipe…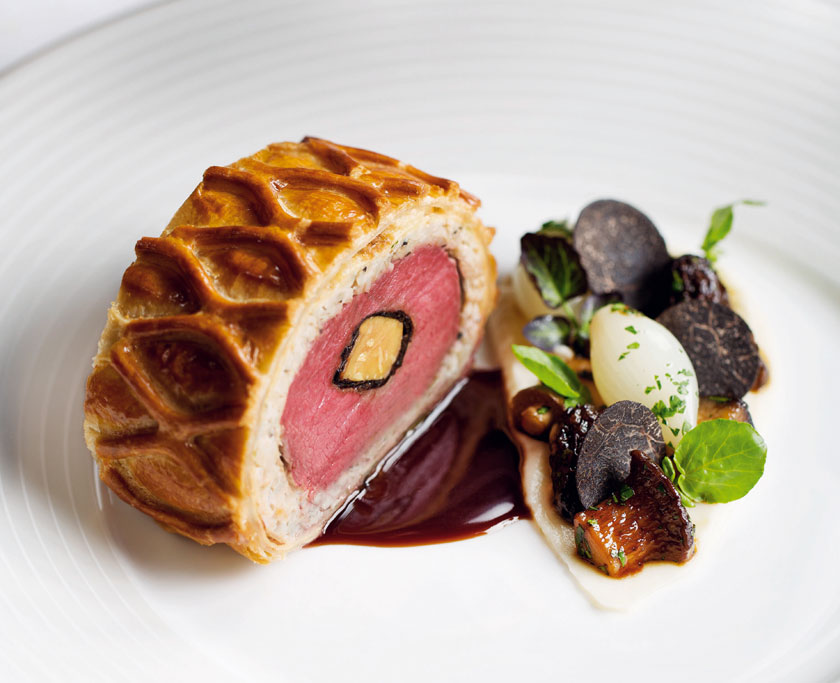 Strange though it may seem, the Wellington is an ideal dish for every novice cook as it is prepared in stages and in advance. There is a moment of suspense as the Wellington's pastry is sliced at the table, to reveal the fillet – cooked rare.
Ingredients
Serves 4
Butter
Goose liver
600g venison fillet
500g ready-made puff pastry
Plain flour
Egg, to glaze
For the duxelles
2 tsp vegetable oil
King oyster mushrooms, finely diced» 10g shallot, finely diced
1 garlic clove, finely diced
50ml double cream
For the chicken mousse
500g chicken breasts» 1 tsp sea salt flakes
2 egg whites
500ml double cream
For the pancakes
3 eggs
300g plain flour» 150ml milk
Butter
Method
Melt half the butter in a pan and sear the goose liver on each side for a minute or two. Remove and leave to cool. Once cooled, put the liver into the centre of the venison fillet. Roll up and tie tightly with string.
Over a medium heat, melt the rest of the butter and place the rolled venison fillet in the pan and brown. Remove and once cooled, remove the string.
For the duxelles: heat the oil in the pan and add the mushrooms. Cook over a low-medium heat until the mushrooms are almost dry. Add the shallot and garlic, letting them sweat for a couple of minutes.
Pour in the cream, turn up the heat and let it thicken. Remove the pan and let the mixture cool.
For the chicken mousse: blend the chicken with the salt and egg whites in a bowl. Put the bowl on to ice and, little by little beat the cream into the chicken mixture. Mix together the pancake ingredients.
Heat a pan, brush it with butter, pour in the batter and make a couple of pancakes. Mix the cooled duxelle with the chicken mousse.
Lay the pancakes onto the chopping board slightly overlapping. Spread some of the chicken mousse and duxelle onto the pancakes. Lay the venison on top. Place more of the chicken mixture on top of the fillet. Wrap the pancakes around the fillet.
Lightly dust a work surface with flour, then roll out the pastry to a thickness of about 3mm. Put the pancake-wrapped fillet on top of the pastry and wrap it up. Use egg wash to seal the sides and brush the top.
Place on a baking tray and bake the Wellington for 20 minutes at 200 ̊C. The pastry should be golden. Let it rest for ten minutes before carving.
---