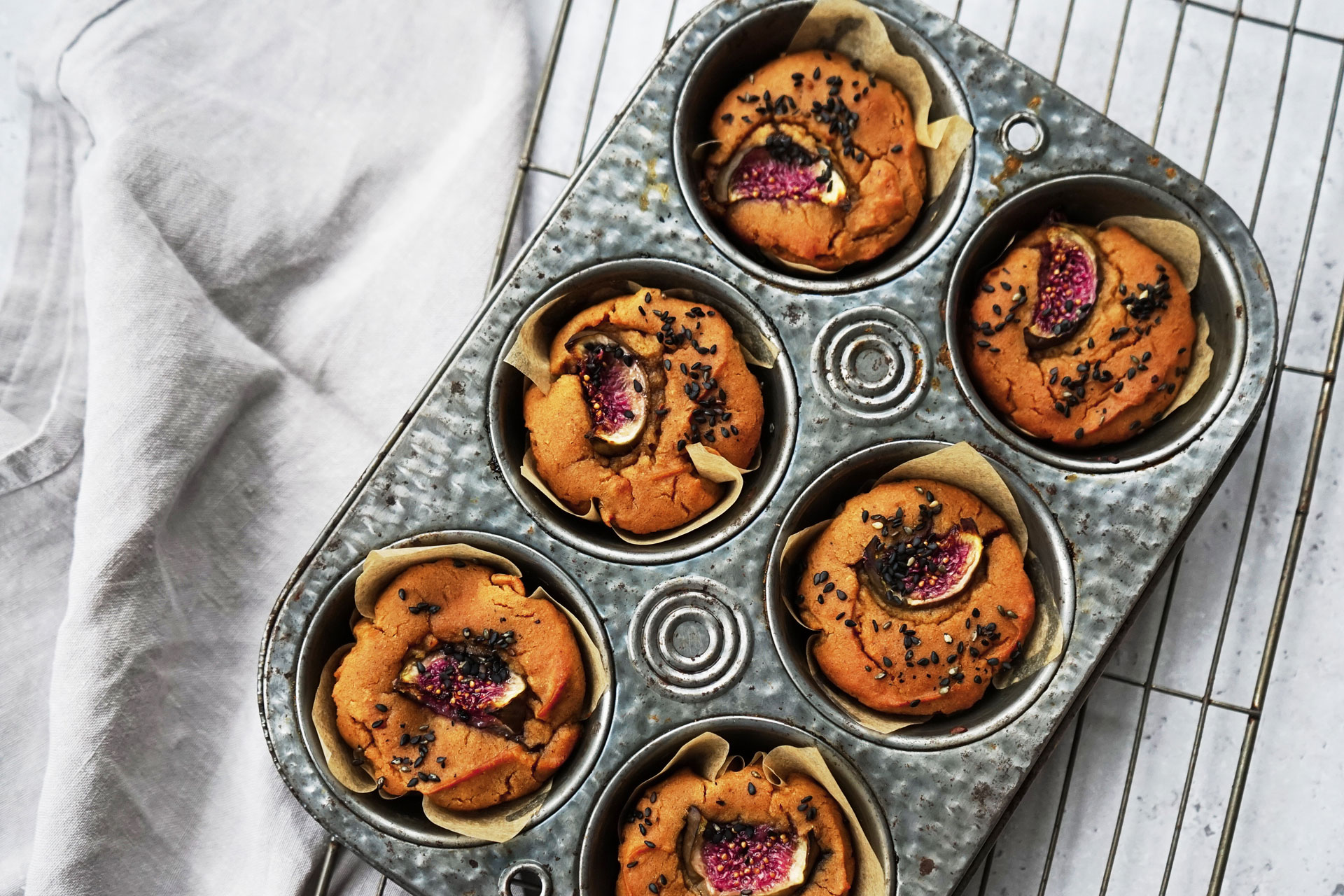 Dessert of the Week: Almond & Fig Muffins
---
Show-stopping seasonal muffins
This week our food columnist Bettina Campolucci Bordi, founder of Bettina's Kitchen, shares a festive fig recipe
I don't know about you, but for me there is always something very special and festive about figs. Maybe it's the colour, maybe it's the fact that when you buy them they are often packed individually – which makes them feel extra precious and special. The fig is often referred to as a fruit, though it's a group of tiny flowers growing inside an edible shell. Most of the world's figs are grown in Greece, Portugal, Turkey, Spain and California. Best in autumn, figs are intensely sweet, so they're used in desserts, though they also work in savoury dishes and are eaten whole as well. Fresh fig season is short, but dried figs are available year around.
Figs do not ripen after picking, and so unripe figs are to be avoided. Choose figs that are richly coloured, plump and soft but with unbroken skins. At peak ripeness they may be covered with a light, fuzzy bloom. A sour smell indicates figs that are past their best. Due to the difficulty of transporting ripe figs undamaged, the very best figs are only found in the countries where they grow. If you are fortunate enough to be in a Mediterranean country during the season, be sure to try a local, freshly picked fig to experience how they should really taste.
After harvesting, figs have a short life. Keep them in the refrigerator and use within a day or two. To prepare the figs, wipe them down with a damp kitchen towel. If the stem end is hard, cut it off. To show figs at their best, halve them or cut a cross in the top and press your finger in to splay them out.
This week I decided to make some festive muffins topped off with figs. These happen to be plant-based and gluten free, and have a secret ingredient that makes them packed full of protein and slightly better for you then their traditional counterparts. On a personal level I don't have much of a sweet tooth, so these happen to not be so sweet. However, I have given you the option to add a bit more sweetness if that is what your palette is craving.
Recipe: Almond & Fig Muffins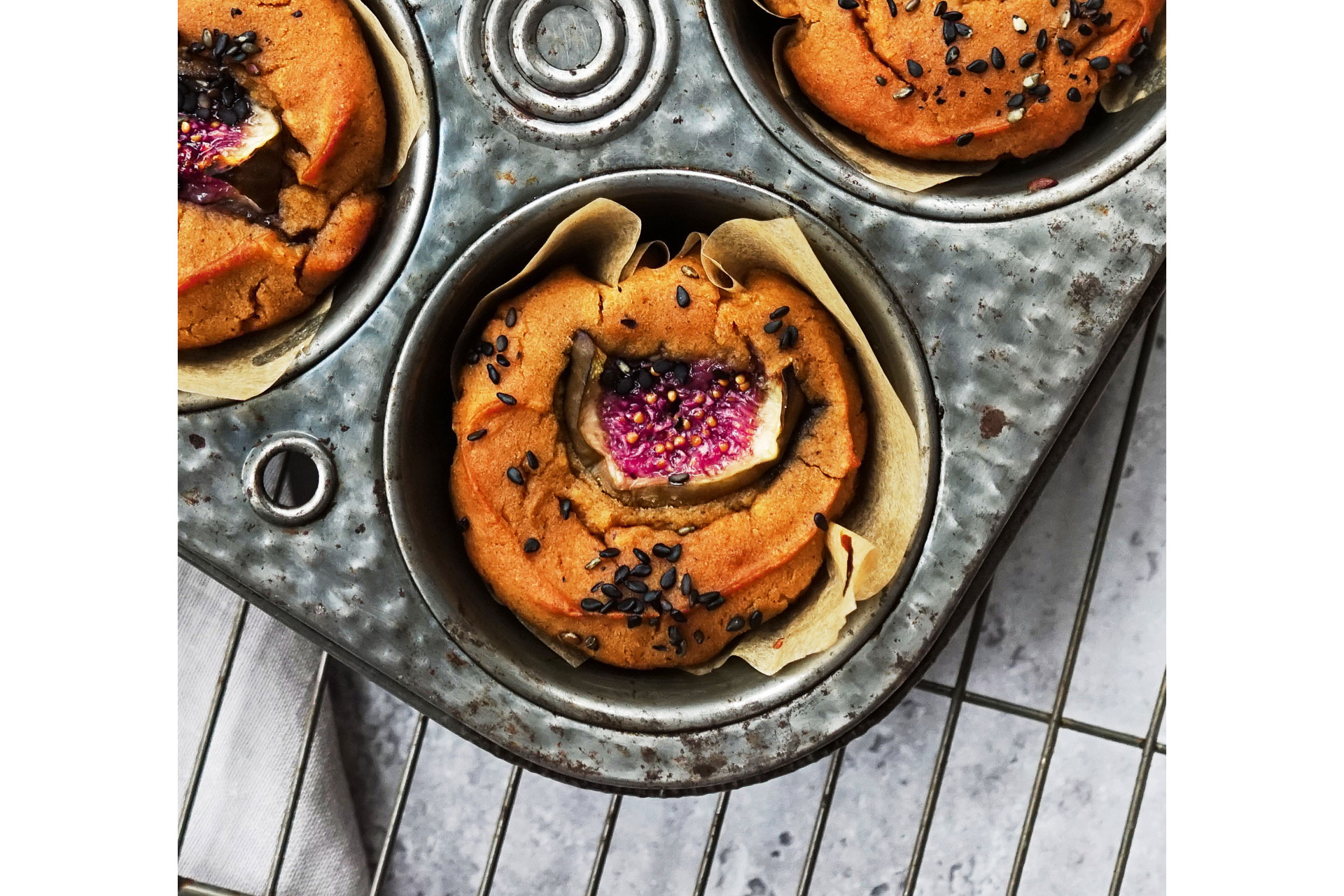 Makes 10-12 muffins
Ingredients:
1 tin chickpeas, drained (save the chickpea water/aquafaba for another recipe)
80g vegan butter
100ml maple syrup (or 100g sugar for a lower cost option)
50g almond flour
100ml plant milk
1 tsp bicarbonate of soda
50g nut butter (any type)
For the topping:
2 figs, sliced into thin segments
Sprinkle of black sesame seeds
Method:
Preheat the oven to 180ºC.
Add all ingredients (except toppings) to a blender and blitz until combined.
Line a muffin tray with small pieces of greaseproof paper, or individual muffin cases.
Using a large ice cream scoop, add 1 scoop of mixture to each muffin case.
Top with a segment of fig and some black sesame seeds and put in the oven for approx. 20 minutes until golden.
Once out of the oven let them cool on a cooling rack and enjoy.
MORE RECIPES: