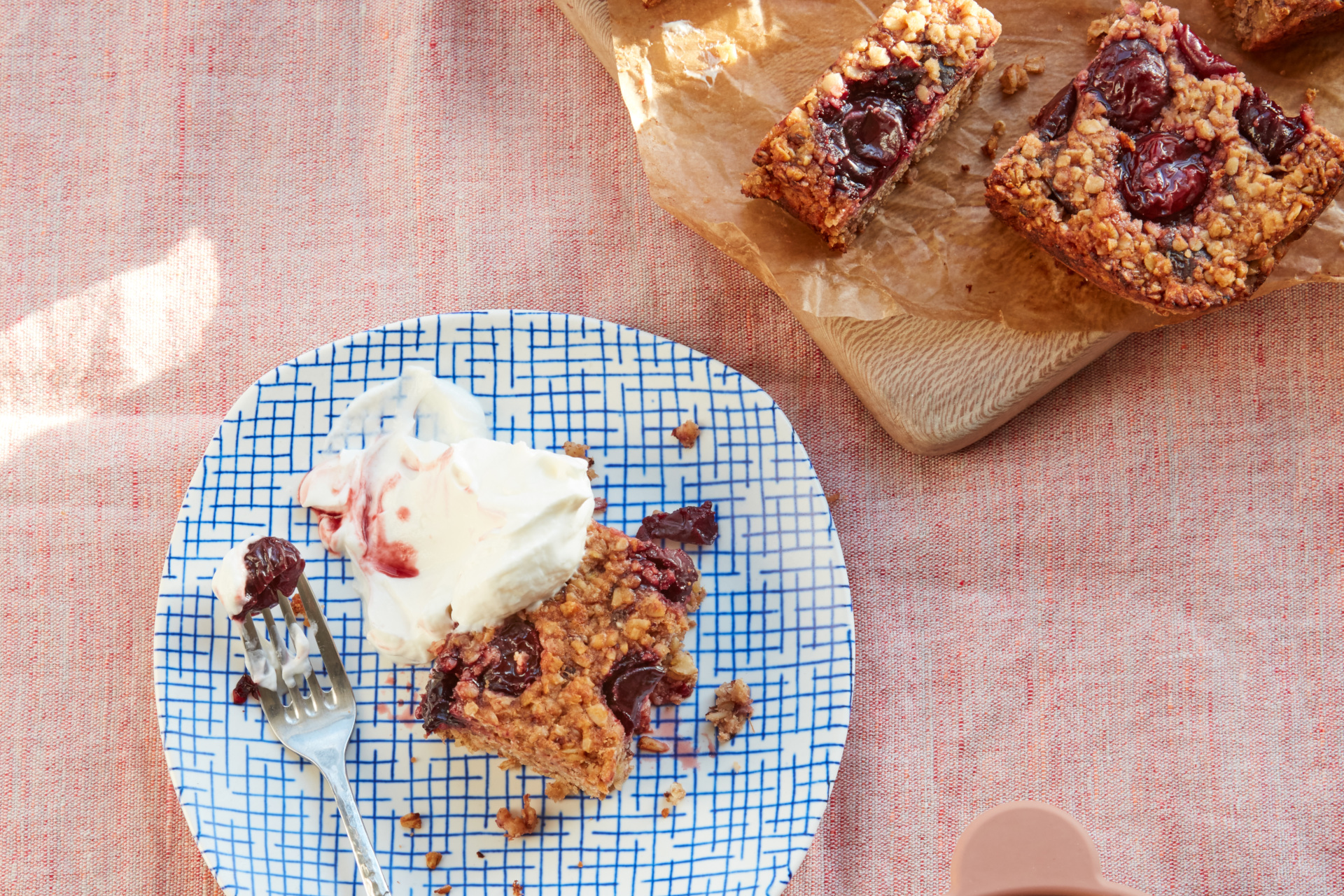 Recipe: Rebecca Wilson's Cherry Bakewell Flapjacks
---
A British classic with a twist
British chef and Sunday Times bestseller Rebecca Wilson is back with a new cookbook full of family-friendly recipes: Fast Family Food. To coincide with its release, she's shared her delicious recipe for cherry bakewell flapjacks – which are sure to be a hit with everyone at home.
Recipe: Cherry Bakewell Flapjacks
Soft oats, deliciously flavoured with almond and bursting with the jammy flavours of sweet, juicy cherries that bejewel the top. These are perfect for breakfast, as an afternoon snack and even for pudding – a tasty low-sugar treat!
Makes 16 flapjacks
Prep: 10 minutes / Bake Time: 17–22 minutes
Freezable
Ingredients
1 x 410g (14oz) can of prunes in fruit juice
2 tsp almond extract
100g (1 cup) ground almonds
350g (31 ⁄2 cups) rolled porridge oats
150g (2 ⁄3 cup) unsalted butter, melted
200g (11 ⁄4 cups) frozen dark sweet pitted cherries (unsweetened)
Method
Preheat the oven to 180°C fan (200°C/400°F/Gas 6) and line a 20cm (8in) square brownie tin with non-stick baking paper.
Add the prunes, along with the juice, to a mixing bowl. If they haven't already been pitted, take each prune and squish it in your hand to find and remove the stone. Then take a potato masher or the back of a large ladle and squash the fruit to turn it into a purée – this will also help you find any stones you may have missed.
Next, add the almond extract and ground almonds to the prune purée and stir well. Add the oats and melted butter before giving one final stir, ensuring that all the oats are coated and starting to soak up the liquid.
Pour the mixture into your prepared tin and spread it out evenly. Using the back of a tablespoon, even out the top of the flapjack, making sure there are no lumps and bumps.
Scatter the frozen cherries over the top (no need to defrost) and, using your palm, press the fruit into the flapjack to embed it into the oats.
Bake in the centre of your preheated oven for 17–22 minutes until the edges of the oats are turning golden and the cherries have burst their juices into the flapjack.
Remove from the oven and allow the flapjack to cool in the tin for 5 minutes before using the baking paper to lift the entire bake out of the tin and onto a chopping board. Cut into 16 squares and enjoy warm or cold with a little yogurt, if you like.
Love your leftovers
Store in an airtight container for up to 3 days at room temperature, or keep in the freezer for up to 3 months. Either defrost at room temperature and enjoy within 24 hours, or defrost and reheat in a hot oven until piping hot throughout. Delicious served with ice cream!
READ
Fast Family Food by Rebecca Wilson comes out on 15 September 2022. dk.com
DISCOVER MORE
Bread Ahead's Famous Doughnut Recipe / Deliciously Ella's Nut Butter Chocolate Chip Cookies