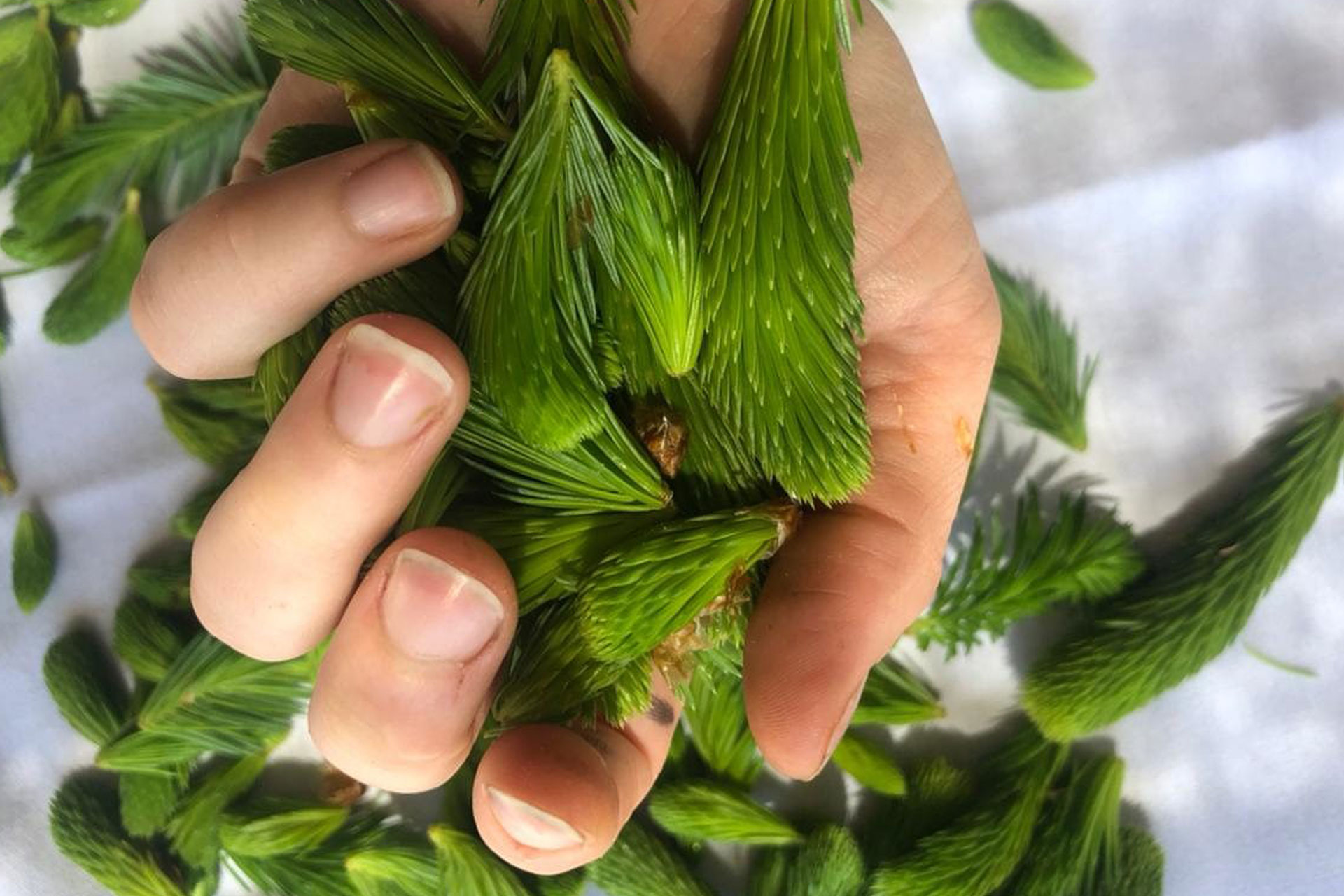 Top Tips For Foraging & Foraged Sea Spaghetti Recipe
---
Coastal bound? Make sure to grab your dinner on the way back from the beach
Fancy some foraging? The UK has a fantastic array of foods readily available – if you know where to look for it. And just because we're entering autumn doesn't mean you're out of luck, as a lot of these free foods are still hidden in our landscape. We ask advice and foraging tips of expert Pippa Lovell, winner of the 2019 S. Pellegrino Young Chef Academy Award for Social Responsibility, and one of the UK's leading sustainability-focused chefs. 
Foraging is a little bit cool, right? Rock up to a potluck, wild garlic pesto dish firmly in hand – or tupperware – wow, says all those who try it, how on earth did you find such flavourful garlic? You're a regular Jamie Oliver, they say. In the ground, you explain, outside my house. At the edges of my garden. Or in the green space just down the road. A statement which ten years ago might have garnered reactions of horror, or shock, is now becoming increasingly commonplace.
By now, you're probably well-versed in the potential environmental impact of mass farming. As a consequence, more and more people are engaging in alternative means of sourcing their foods, of which foraging is but one. At the end of the day, foraging has pretty solid sustainability credentials, and – let's face it – is a little bit more exciting than buying from your nearest supermarket.
However, it's both a little intimidating to jump straight into foraging and then potentially dangerous (not all berries are safe to just eat from a branch and the wrong decision could prove fatal for the uninitiated).
We ask expert forager-chef Pippa Lovell for some foraging basics.
5 Foraging Tips For a Sustainable Kitchen
Swap black pepper for Alexander Seeds
'This tastes pretty much the same and can be found all across the UK. Alexander usually grows in hedge rows and is particularly prevalent in coastal towns. It is a very aggressive plant and often shadows other vegetation, by using the seeds you can help slow the spread and give other plants more of a chance. The seeds start to appear around late spring, green at first, before eventually going black which is the best time to harvest,' says Pippa.
Enjoy wild garlic all year round by fermenting capers
'Fermenting just one jar of wild garlic seeds can last a whole year rather than buying vast amounts of garlic bulbs. While most people use the leaves for pesto, harvesting and preserving the buds means you can enjoy wild garlic flavours all year round. Gather the seeds in spring, put in a sterilized jar, and cover with salted water (I usually use a ratio of 2 per cent salt to water, creating the solution by boiling the water, adding the salt and letting it cool).'
Get dehydrating
'Dehydrating is one of the cornerstones of running a successful foraged kitchen. Most fruits, herbs and vegetables can be easily dried and the process not only preserves your foraged items but also intensifies the flavour so you use less. You can pick up a dehydrator online for as little as £30.'
Explore local 'exotic' tastes
'No tropical fruit available? Look to the trees and weeds instead. Pineapple weed is a great way to get pineapple flavour and the leaf of the fig tree can taste remarkably like coconut! In (roughly) May, you can also pick spruce tips from the spruce tree and freeze to use instead of lemons. Add to your recipes to add a layer of acidity whilst having a smaller impact on our planet.'
Freeze summer and autumn flavours
'Pick berries and summer and autumn fruits when they're available for the freezer, clever picking and freezing has a much a smaller footprint than buying fruit in the winter from all over the world.'
Recipe: Vibrant Sea Spaghetti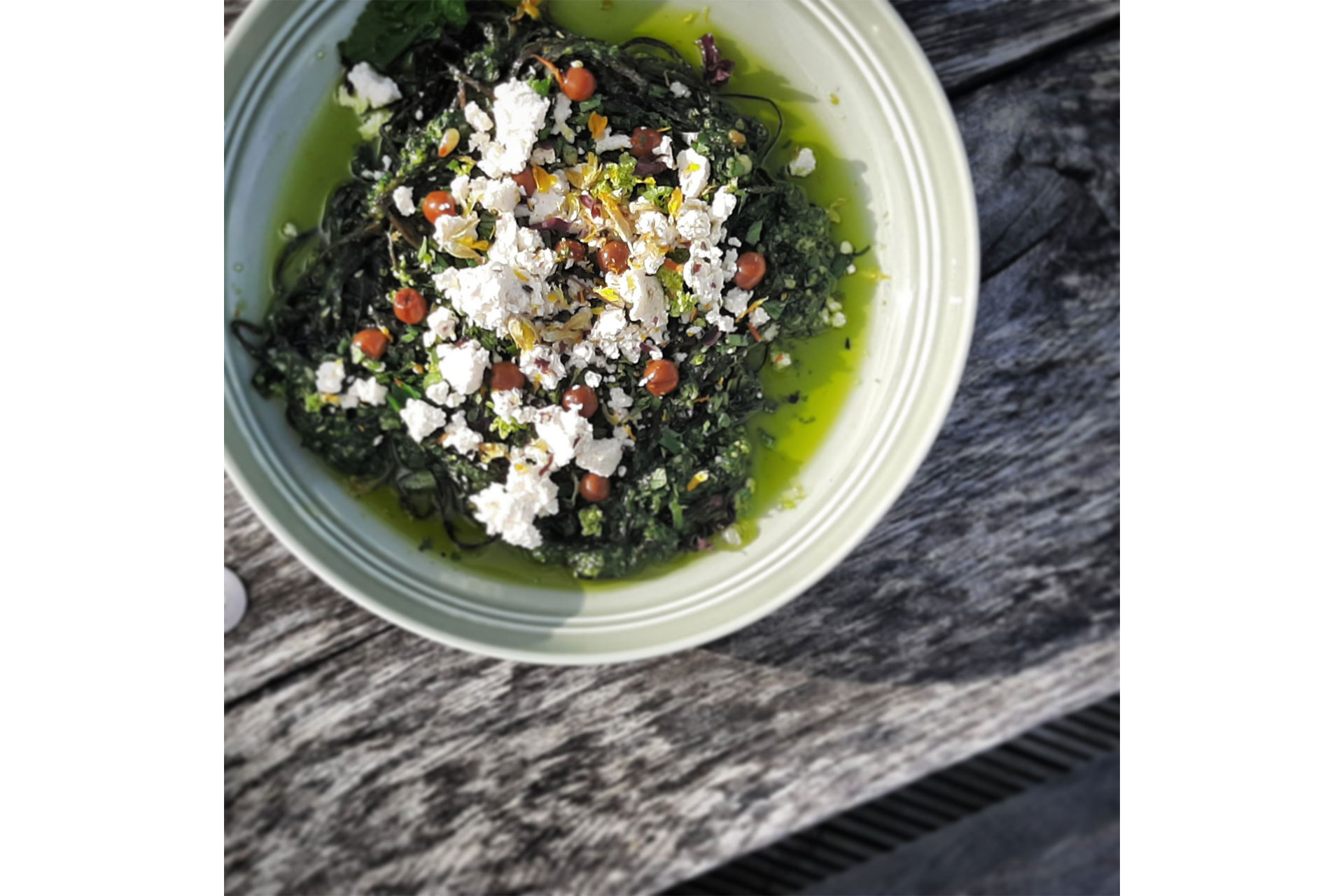 'This dish is a prime example of my attitude towards sourcing produce, utilizing what the land has to offer and encouraging more connection with the environment. This simple recipe is supposed to be a guideline to encourage others to create a similar dish using what is available to them.'
Ingredients
Handful of foraged sea spaghetti from clean waters
Half a handful of foraged sea lettuce
250 ml Oil produced locally to you – I used Manx cold pressed ellerslie oil
Handful of a foraged green leaf- wild garlic always favorable but Alexanders or a garden herb like parsley or dill will work.
1 pint of milk
4 spoons of some organic vinegar – I used homemade apple cider here.
To serve
A handful of pickles – here I used sweet, pickled rowan berries, abundant on the Isle of Man.
A pinch of Dried spruce powder picked in Spring or lemon verbena
Sea salt (boil down some water and make your own if feeling adventurous)
Method
Wash the sea spaghetti thoroughly, snip into manageable strands and bring to the boil with some salt. Leave it there whilst preparing the other ingredients.
Wash the sea lettuce seaweed and finely chop. This will be added raw for nutrition and texture.
In a heavy pan, bring the good local milk to the frothy stage – not quite to the boil! Take off the heat and add the vinegar. Leave to sit for 5 minutes then pass this through a sieve lined with a cheese cloth or JCloth if that's all you have!
Make the dressing by blanching the herb of choice quickly in boiling water then transfer to an iced water bowl. Squeeze out the water once chilled and add to a blender with your oil that you have slightly warmed. Wizz this for 5/10 minutes and again, pass through a sieve and cloth.

 

In a large bowl, transfer the sea spaghetti, the chopped sea lettuce, your pickles (chopped into small pieces if large) the green oil, the fresh cheese and some sea salt. Toss together and with some level of elegance or finesse plate your tasty seaweed mess!

 

Finish with a little zesty seasoning. I use powdered spruce tips that I pick in May when the tree shoots new shoots because citrus fruits aren't available to me. Lemon Verbena also works.

 
SPYC 2022: The S.Pellegrino Young Chef Academy Competition, a bi-annual event celebrating the brightest chefs under 30 and championing innovation in gastronomy, returns to London 11-12 October 2022 where one of 10 finalists will take home this year's UK S.Pellegrino Young Chef Academy Award for Social Responsibility.
DISCOVER MORE:
A Beginner's Guide To Foraging / 3 Planet-Positive Recipes To Try This Week