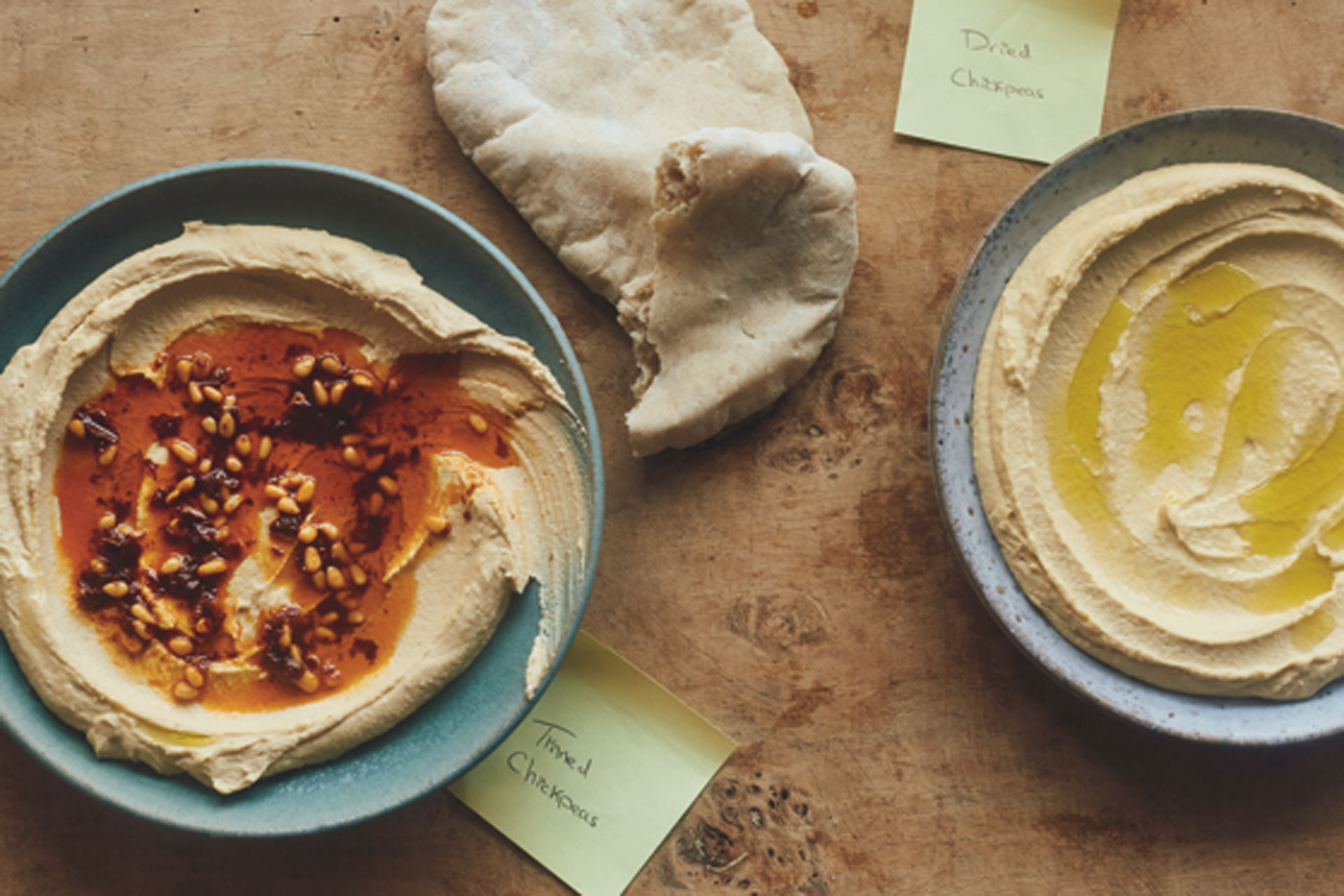 How To Make Ottolenghi's Hummus
---
Wondering how to make your own perfectly smooth hummus? Learn from the master. Here we share Ottolenghi's hummus recipe, with a selection of different options for toppings. If you need a helping hand, you can order the Hummus at Home hamper.
Ottolenghi's Hummus Recipe
Serves 6
Ingredients:
200g dried chickpeas, soaked overnight in plenty of water and ¾ tsp bicarbonate of soda

OR

2 tins of chickpeas (800g), drained (480g)

½ tsp bicarbonate of soda (if using dried)

1 pinch ground cumin

120–150g tahini

1 garlic clove, crushed, or more to taste

1½ tbsp lemon juice, or more to taste

Salt
Toppings:
Marinated mushrooms:
1 garlic clove, peeled and crushed

40ml olive oil

1 lemon – zest finely grated, to get 2 tsp, then and juiced, to get 2 tbsp

5g thyme sprigs

½ tsp maple syrup

140g chestnut mushrooms, quartered

120g shiitake mushrooms, roughly torn in half

1 dried cascabel chilli

1 tbsp dill, roughly chopped

½ tbsp parsley, finely chopped
Warm chickpeas and garlic:
60ml olive oil

4 garlic cloves, peeled and thinly sliced

80g cooked chickpeas

A pinch of paprika

1 tbsp parsley leaves, roughly chopped

Salt
Tahini and green shattah:
60g tahini

1 garlic clove, peeled and crushed

1 tbsp lemon juice

45ml water, plus extra if needed

1 1/2 tbsp

green shatta

2 tbsp olive oil

10g pine nuts, well toasted
Method:
If using dried chickpeas, drain them well after soaking, then put them into a medium saucepan, for which you have a lid, with the ½ tsp bicarbonate of soda and enough water to cover by about 4cm. Bring to a simmer on a medium-high heat, skimming the scum from the surface as needed, then turn the heat down to medium-low, cover with the lid and simmer from anywhere between 30 and 50 minutes. This will differ greatly depending on your chickpeas, so check them at the 20-minute mark. Towards the last 15 minutes of cooking time, salt the water nicely and add the cumin. Cook your chickpeas until they are very soft.

Using a slotted spoon or spider, agitate your chickpeas, giving them a gentle shake in the water, allowing the skins to be released and rise to the surface. Discard the skins (don't worry too much if you don't catch them all). Skip to step 5.

If using tinned chickpeas, spread them out between two tea towels and use your hands to vigorously rub the towels together for a few minutes. Don't press down too hard on the chickpeas; you don't want to crush them. Lift the top towel, to see how you're doing – the friction should have caused the chickpea skins to be released. Discard the skins.

Put the tinned (and now peeled) chickpeas into a saucepan with enough water to cover, 1 teaspoon of salt and a pinch of cumin. Simmer for 15 minutes, until soft.

Drain the chickpeas over a bowl, saving the water. Put the warm chickpeas into a food processor with 120g of tahini, the garlic, lemon juice, a couple of ice cubes (25g worth), 2 tablespoons of reserved chickpea water and a good pinch of salt. Blitz until smooth(ish), then check on your hummus. You might need more tahini, garlic, lemon and salt and very likely more chickpea water. Add a bit of each as you need. Don't be shy about adding more tahini – each brand differs and may require you to use more. Blitz the hummus until very smooth, a few minutes at least. Don't worry about the hummus being too loose; it will thicken as it sits.

When ready, spread the hummus in a shallow bowl, creating a well in the centre. (If not serving right away, store in a sealed container in the fridge for up to 2 days.) Top with a generous glug of olive oil, then personalise your hummus as you wish. We sometimes add herbs, toasted nuts or rose harissa, but these are just suggestions. Once you get the base right, hummus knows no bounds.
Toppings:
Marinated mushrooms
Heat the oven to 200C/390F/gas 6. Drizzle the garlic heads with a teaspoon of oil and sprinkle with a little salt and pepper. Wrap tightly in foil and roast for 40 minutes, until the cloves are soft and golden brown. Discard the foil and, when cool enough to handle, squeeze out the cloves; discard the papery skin.

While the garlic is roasting, prepare the mushrooms. Put the garlic, oil, lemon zest and juice, thyme and maple syrup into a large bowl with a teaspoon of flaked salt and a generous grind of black pepper. Heat a large griddle pan on a high heat, then lay in the mushrooms, well spread out (depending on the size of your grill, you may need to cook them in batches), and grill, turning often, for about eight minutes, until the mushrooms have dark char-marks on all sides. Add the griddled mushrooms to the bowl with the oil mixture and stir to combine.

Grill the chilli in the same pan for four minutes, until fragrant, then roughly chop and add to the bowl. Leave to marinate for an hour or two.

Spread the hummus in the base of a shallow bowl, and make a large well in the centre with the back of a spoon. Stir the dill and parsley into the mushrooms, then spoon into the well, with all the oil and aromatics.
Warm chickpeas and garlic
Heat the oil in a small saucepan over a medium-high heat. Once hot, add the garlic and fry for 1 1/2 -2 minutes or until lightly golden. Strain the fried garlic through a sieve set over a heatproof bowl to catch the oil. To the oil, stir in the chickpeas, a pinch of salt and the fried garlic.

Spread the hummus out onto a shallow bowl and use your spoon to create a well in the centre. Spoon the chickpea mixture into the well and then sprinkle with the paprika and parsley.
Tahini and green shattah
Make the tahini sauce. Add the tahini, garlic, lemon juice and water to a small bowl and use a whisk to combine. It'll look split at first, but will eventually come together as you whisk it. Season with a pinch of salt and add a bit more water if needed so that you have a thick yet pourable consistency.

Add the shattah to a separate small bowl and stir in the olive oil.

Spread the hummus out onto a shallow bowl and use your spoon to create a well in the centre. Pour the tahini sauce into the well then spoon over the shattah. Lastly, top with the pine nuts.
Extracted from Ottolenghi Test Kitchen: Shelf Love by Noor Murad and Yotam Ottolenghi (Ebury Press, £25)  photography by Elena Heatherwick. For more Ottolenghi recipes go to ottolenghi.co.uk
MORE RECIPES:
Dishoom's Lamb Kebab / 3 Mediterranean-Inspired Salad Recipes