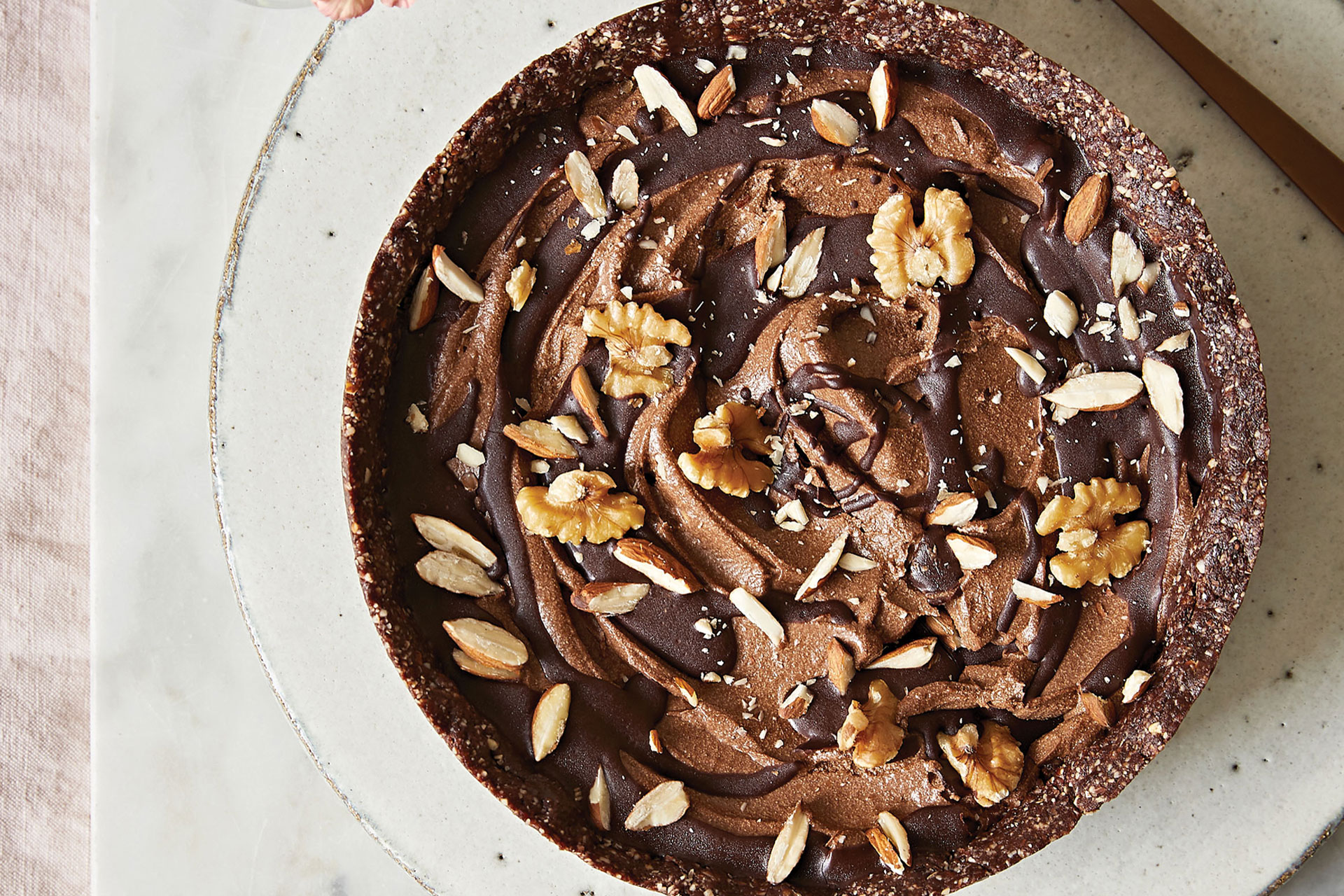 Recipe: Naomi Buff's Raw Chocolate Cheesecake
---
The healthier take on chocolate cheesecake
How to make Naomi's raw chocolate cheesecake, taken from the exciting new charity cookbook From Beder's Kitchen, that is softly raising awareness around mental health.
Recipe: Raw Chocolate Cheesecake
Recipes like this have changed my relationship with chocolate and I have also transformed the attitudes of many others with my raw chocolate treats; they can be life changing!
Serves 8-10 people
Ingredients
For the base
140g almonds
40g oats
2 tbsp raw cacao powder
Pinch of salt
12 pitted Medjool dates (200g)
¼ tsp vanilla powder or essence
For the filling
120ml coconut milk, chilled for about 4 hours
2 large ripe avocados
60ml maple syrup
20g raw cacao powder
½ tsp vanilla powder or essence
Pinch of salt
For the chocolate sauce
2 tbsp raw cacao powder
2 tbsp melted coconut oil
Pinch of salt
Method
For the base
Grease a 20cm loose-bottomed cake tin with a little bit of coconut oil.
If you are using a silicone mould of the same size, there's no need to grease it.
Put the almonds, oats, cacao powder and salt into a food processor. Blend until the nuts and oats have broken down. Add the dates and vanilla then blend again until the dates have broken down and you have a sticky mixture.
Transfer just over half of this mixture to your cake tin and press down firmly with the back of a spoon or your fingertips to create the base.
Spoon the remaining mixture around the edges of the tin and use your fingers to press upwards from the base, creating sides about 2.5cm in depth from the base.
Use a spoon to neaten the top of the crust.
For the filling
Make sure your coconut milk has been in the fridge for about 4 hours so it solidifies. Halve and destone the avocado, scoop out the flesh and put it into the food processor with all the other ingredients.
Blend until completely smooth and creamy, then spoon the filling into the base.
For the chocolate sauce
In a small bowl, mix the ingredients together until fully combined then drizzle the chocolate sauce on top of your cheesecake.
Finish by decorating it with chopped nuts, dried fruit, edible flowers, cacao nibs or anything else delicious, colourful and edible you can find in your cupboards!
Pop the decorated cheesecake into the freezer and leave it to set for about 2 hours, or 3 hours in the fridge, and it should be ready to eat. You can either keep this stored in the freezer for up to 3 months (it will need a little bit of defrosting before eating) or in the fridge for up to 5 days. If you used a silicone mould, you will need to completely freeze the cheesecake to remove it from the mould cleanly.
MORE RECIPES:
Alex Dilling's Mackerel Escabeche / Spiced Pumpkin Cupcakes from Peggy Porschen