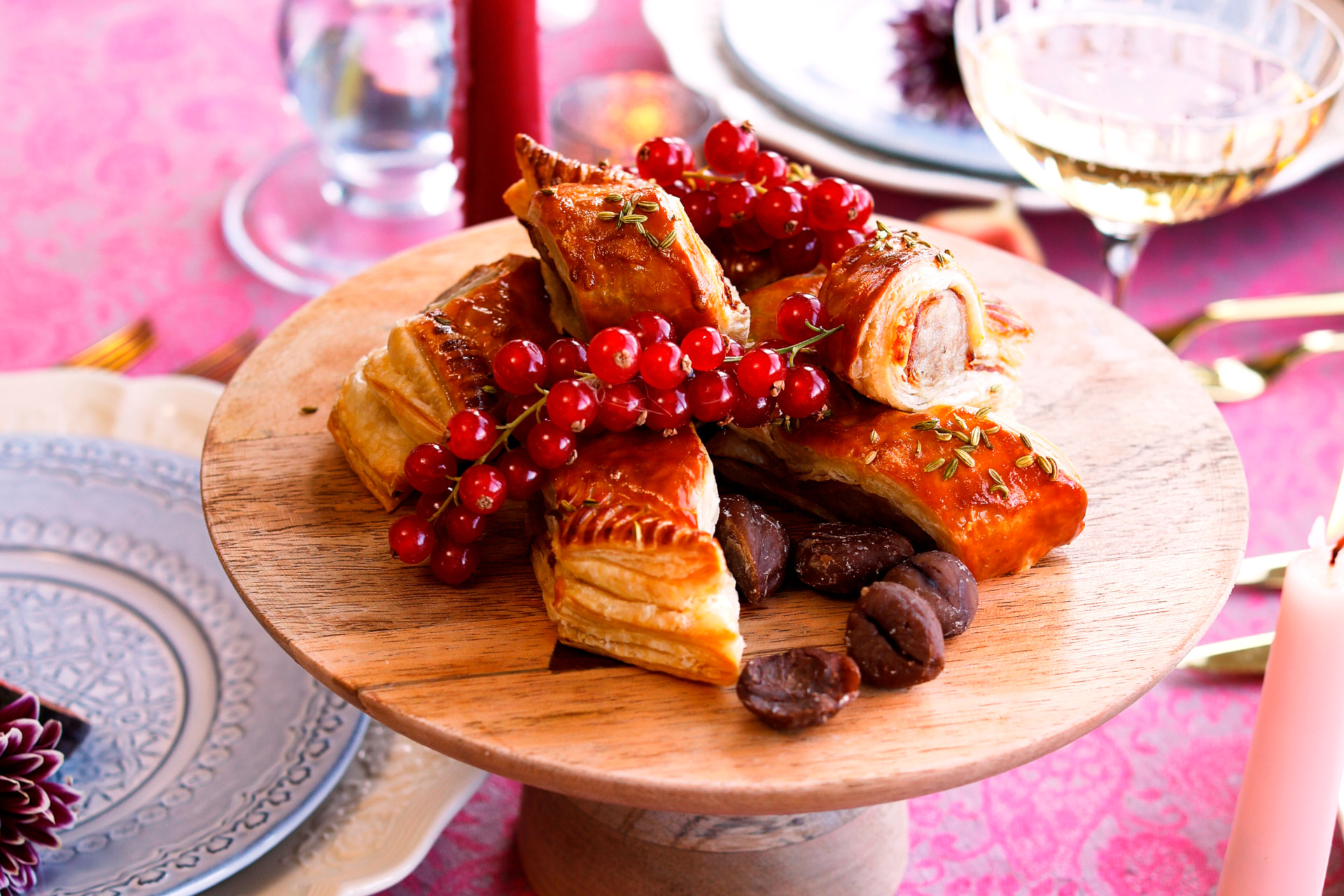 Recipe: Pigs in Blankets Sausage Rolls
The ultimate Christmas canape is here
If you're planning on having the family round this Christmas, make sure to keep everyone happy and full with Lettice Events' recipe for pigs in blankets sausage rolls. This is the ultimate (and moreish) snack to take the edge off that pre-Christmas dinner hunger – and they even make a great afternoon nibble for the next day, if you can resist eating them all in one go.
Recipe: Pigs in Blankets Sausage Rolls
Ingredients
500g coarsely ground pork mince
20 very thinly sliced rashers of smoked pancetta or streaky bacon
2 packets of high quality all butter puff pastry (pre-rolled, ideally)
5 egg yolks (save the whites for winter pavlovas)
2 tablespoons fennel seeds
Maldon salt
Pepper in a grinder
Method
To begin, place your pork mince in a mixing bowl and season with salt and pepper. Test this by frying a small amount in a pan and tasting. You want to be very generous with the pepper.
Open up your pastry and cut into three large rectangles. Approximately 20cm x 10cm. Lay these so the longer edges are horizontal as you look at them.
Place your sausage meat along the bottom half of the pastry around 3cm in thickness, leaving 2cm of clear pastry nearest to you.
Brush egg yolk on all of the clear pastry and roll from away from you over the sausage meat, and press the pastry together when it meets.
Using the back of a fork, press the pastry together and then trim the very edge, taking off only a few millimetres, to leave a clean edge.
Brush generously with egg yolk and top with fennel seeds and Maldon salt. Repeat with the three pieces of pastry.
Now place these in the freezer to set them. This should take approximately an hour.
Preheat your oven to 170c.
Once they are almost frozen cut them into individual sausage rolls. Each roll should yield 6-7 good size sausage rolls.
Place on baking paper on a baking tray and place in the oven and cook for 15-20 minutes. They should be golden brown and smelling out of this world!
Images courtesy of Lettice Events