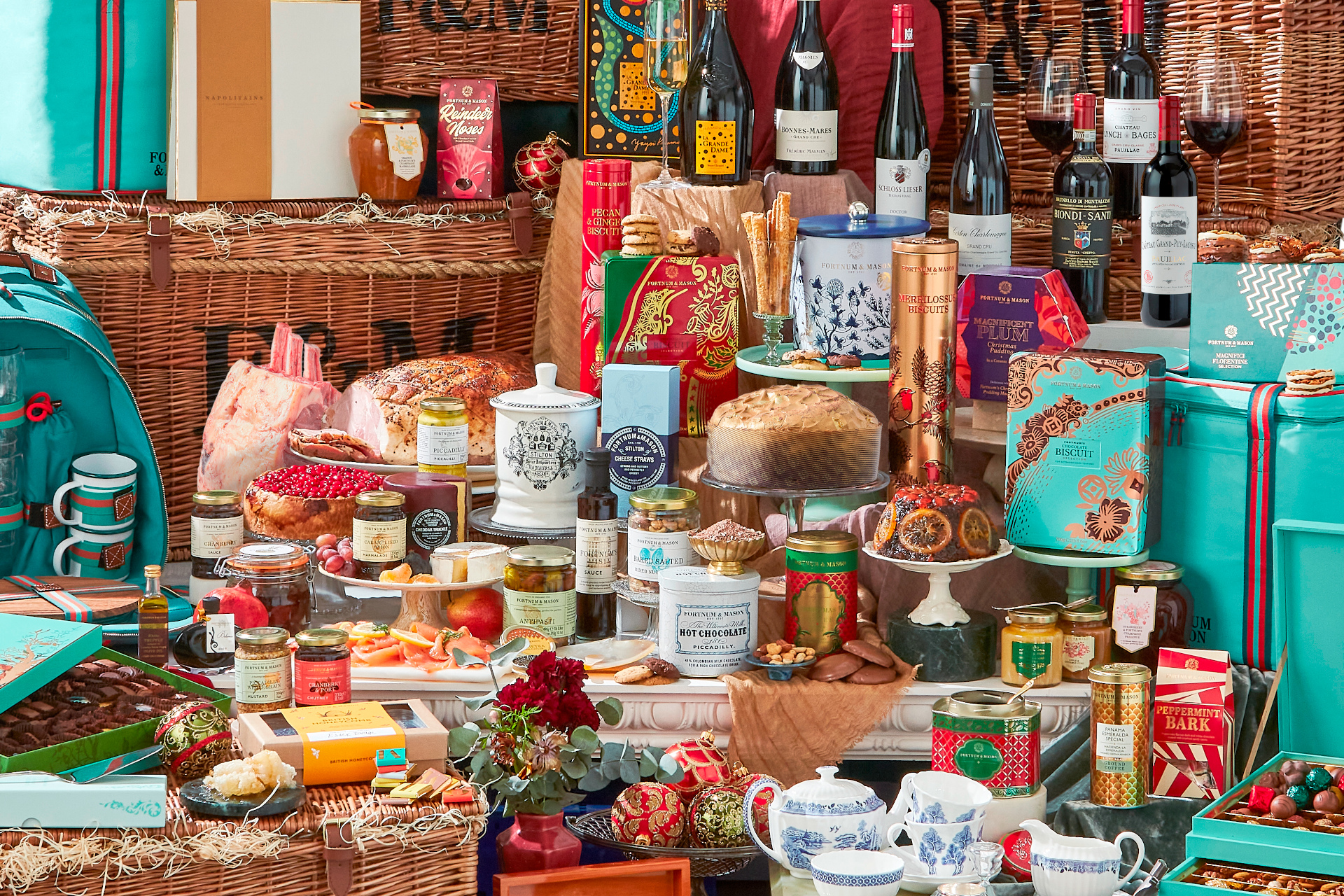 This Is What A £6,000 Christmas Hamper Looks Like
Fortnum & Mason's new hamper promises the most decadent Christmas yet
Have big plans this Christmas? You can't get much bigger than this seasonal hamper from Fortnum & Mason, which retails for a whopping £6,000.
The Country & Town House Responsible Buyers' Guide
This Is What A £6,000 Christmas Hamper Looks Like
Those of us with a packed itinerary come festive season will likely be ruminating on the best way to feed a full house – Do you need more mince pies? Is a backup Christmas pudding needed for fussy eaters? How many bottles of wine is too many? (Note: there's no such thing as too many.) Luckily for us, iconic UK department store Fortnum & Mason has unveiled its new line of Christmas hampers, which have been designed to cut away the hassle of hosting preparations and give you a luxurious Christmas you won't soon forget.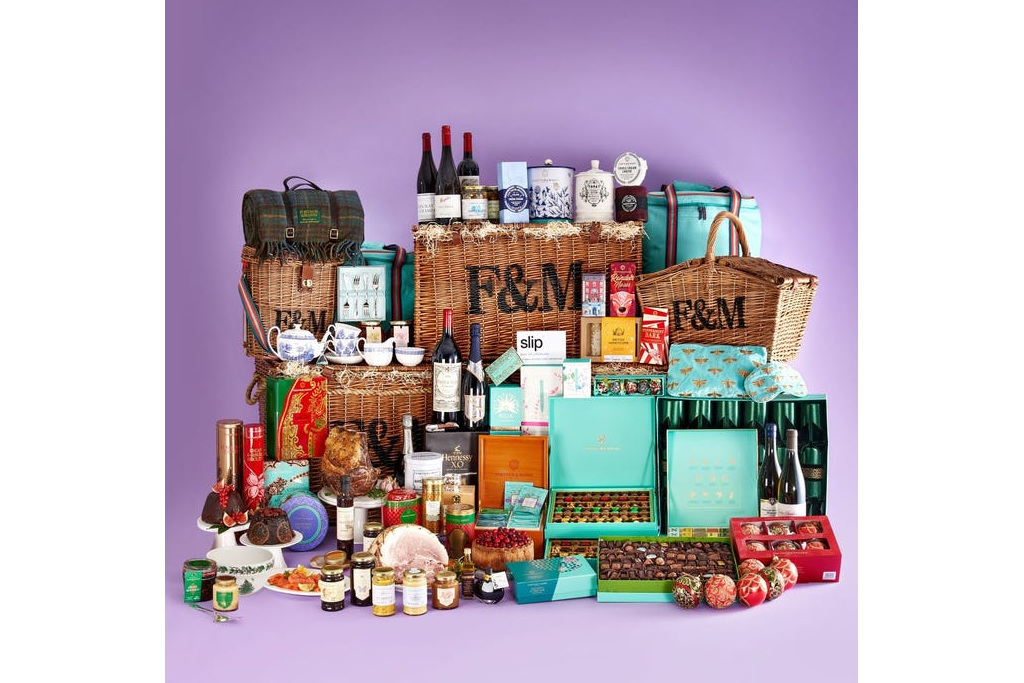 There are 59 hampers to browse through this year, with prices starting at £19.99 and rocketing up into the thousands. Each one is packed with a bunch of festive treats like cheeses, meats, wines and the occasional Christmas pudding, but the crowning glory of the Fortnum & Mason selection is The Imperial Hamper.
Perhaps the hamper to end all hampers, The Imperial is made up of five individual hampers packed with teaware and accessories, decorations and delicious treats. The hamper, which is currently priced at £6,000, includes 75 items in total. Highlights include a whole Christmas ham, multiple bottles of wine, whiskey and champagne, luxury biscuits and even a tea set for two.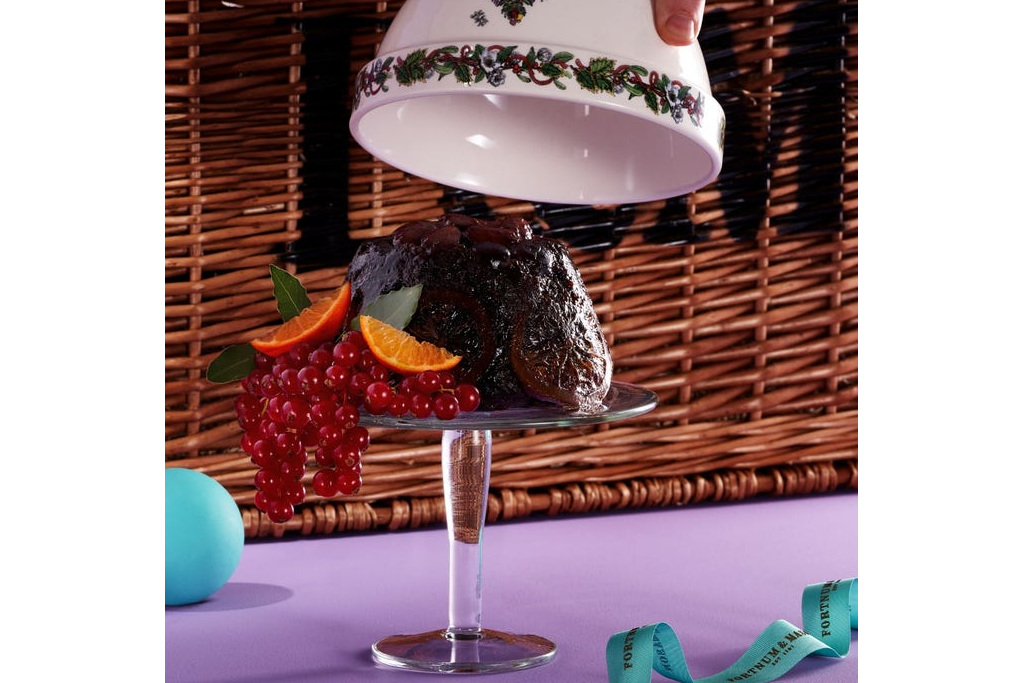 Look Inside
With 75 items packed inside, The Imperial Hamper more than lives up to its hefty price tag. Want to know what's inside? Open the lid of Fortnum & Mason's exclusive luxury hamper and you will find:
Nyetimber 1086 Vintage 2010 75cl
Billecart-Salmon Rosé Cuvee Elisabeth 2008 75cl
Corton-Charlemagne Grand Cru Domaine de Montille 2019
Penfolds Yattarna Chardonnay 2019 75c
Gevrey 1er Cru Replacement 2 75cl
Californian Red wine 75cl
Castillo Ygay Gran Reserva Rioja Especial 2011
Chateau Gazin Pomerol 2011 Magnum 1.5L
Hennessy XO Magnum 1.5L
Cake Server
Set of 4 Pastry Forks
MOP Dish 5
MOP Spoon 4
Gardens of Lyra Tea for Two Set
Shoulder Wicker for Two
Shimmering Gold Crackers
Spode Magnificent Pudding 907g
Waxed Cheddar Truckle 900g
F&M Scottish Smoked Salmon Pack 1kg
Whole Christmas Ham 5kg
Triple Cream Cheese 230g
Glenarm Salt-Aged Rib of Beef 3kg
Traditional Stilton Jar 1kg
Cranberry Topped Pork Pie 1.36kg
Oscietra Caviar 50G
The Fortnum's Picnic Cool Bag
Panama Esmerelda Ground 125g
Christmas Cognac Butter 195g
Christmas Black Tea Tin 200g
Christmas Blend Ground Coffee Tin 250g
Christmas Merrilossus 600g
Christmas Biscuit Selection Tin 650g
Christmas Pecan & Ginger Biscuits 250g
60 Pyramid Bags Restaurant Box 150g
Magnifici Florentine Selection 456g
Assortrf Napolitains XL 196pc 1.2kg
Milk & Dark Handmade Chocolate Selection 2.275kg
Strawberry & Champagne Preserve Amphora 820g
Orange & Champagne Marmalade Amphora 820g
Fortnum's 3-Minute Tea Timer
Ultimate Milk Hot Chocolate 300g
Art Deco Tea Strainer With Long Handle
Kingdom Cake
English Berries Preserve 340g
Caramelised Onion Marmalade 230g
Antipasti Olive Selection 490g
Biscuits for Cheese Selection Tin 400g
Piccadilly Piccalilli 200g
Stilton Cheese Straw 100g
60 Year-Old Balsamic Vinegar 40ml
White Truffle Oil 55ml
Baked Salted Mixed Nuts 280g
Fortnum's 181 Sauce 250ml
Mustard & Fortnum & Mason Red Ale Mayonnaise 190g
Cranberry Sauce 230g
Christmas Mincemeat Pantry Jar 400g
Cinnamon and Apple Curd 195g
Piccadilly Milk Chocolate Coin Tin 150g
Badamtam First Flush Wooden Caddy 90g
Christmas Reindeer Noses 150g
Christmas Peppermint Bark 150g
Tweedmill Polo Picnic Rug Dark Check
Honeycomb Half Frame 600g
Set of 6 Georgian Elegance Baubles x 2
Piccadilly Chocolate Selection Biscuit Tin 700g
Christmas Ultimate Chocolate Selection 1.6kg
Waiter's Friend, Huntsman Wicker
Roja Parfums The Perfume, 50ml
Fortnum's Bath Truffles 200g
Fortnum's Garden Song Hand Duo Set, 2 x 250ml
Fortnum's Garden Song Candle 250g
Fortnum's Matches
Elizabeth Scarlett Exclusive Honey Bee Eye Mask
Elizabeth Scarlett Exclusive Honey Bee Every Day Pouch
Slip® Queen Silk Pillowcase
DISCOVER
You can shop The Imperial Hamper, alongside Fortnum & Mason' wider seasonal selection, at fortnumandmason.com