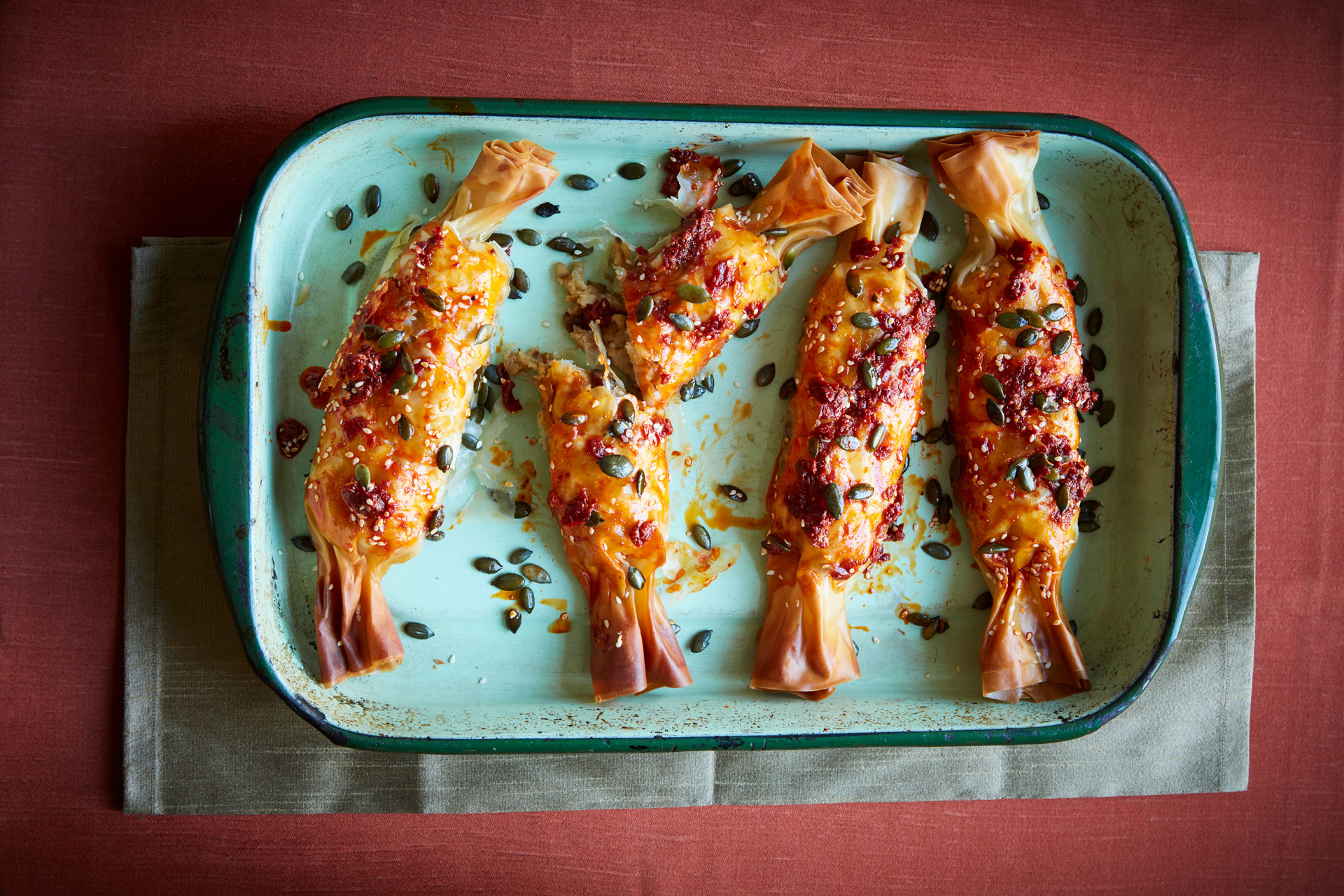 Recipe: Camembert and Chestnut Filo Christmas Crackers
---
Ryan Riley's cheesy crackers
The second cookbook from author, chef and founder of Life Kitchen, a not-for-profit cookery school for those suffering with cancer, Ryan Riley's A Life Kitchen Christmas centres on feasting for the festive season. The free, limited edition cookbook – created in partnership with Moorish and with the aim of making Christmas hosting that little bit easier on cancer patients and their families – comprises of over 20 delicious seasonal recipes. Below we share one of them: camembert and chestnut filo Christmas crackers.
Ingredients
Makes 4
350ml whole milk
1⁄2 teaspoon cracked black pepper
1⁄2 teaspoon freshly grated nutmeg
A small bunch of thyme sprigs
A small bunch of rosemary sprigs
2 eggs, whisked until frothy
60g semolina
250g camembert, diced
Neutral-tasting oil (such as rapeseed), for frying
2 small onions, diced
180g cooked chestnuts, chopped
3 garlic cloves, finely chopped
4 sheets of filo pastry
100g unsalted butter, melted
2 tablespoons harissa paste
1 teaspoon pumpkin seeds
1 teaspoon sesame seeds
Sea salt and freshly ground black pepper
Method
Place the milk in a saucepan with the pepper, nutmeg, thyme and rosemary. Bring to the boil, then remove the herbs. Pour the infused milk into a bowl with the eggs, whisking them together for 1 minute, then pour everything back into the pan. Add the semolina in a slow stream, stirring continuously, until the mixture thickens enough to come away from the bottom of the pan. Stir for a further 1–2 minutes, then remove the pan from the heat and add the camembert, mixing well to melt the cheese and form a sort of cheesy custard.
Heat a little oil in a large frying pan on a medium heat and add in the onions, chestnuts and garlic. Season with salt and pepper. Sauté for 8–10 minutes, until the onions are soft and golden. Tip the mixture into the bowl with the camembert custard and mix well. Set aside.
Preheat the oven to 190°C/170°C fan. Lay out one sheet of filo with the longest side closest to you. Brush with the melted butter, then top with another sheet of filo. Brush again. Halve the filo sheets down the middle to give two rectangles. Spoon a little of the custard along the edge of one rectangle, leaving room at the ends for pinching the filo, and carefully roll up the pastry, encasing the filling. Pinch the ends to seal and resemble the ends of a Christmas cracker. Repeat with the other rectangle, then the remaining 2 filo sheets. Place the 'crackers' in a non-stick tray and brush with butter. Spoon over the harissa, then scatter over the seeds. Bake for 25 minutes, until golden brown.
Taken from A Life Kitchen Christmas, available to buy now at lifekitchen.co.uk
MORE RECIPES: