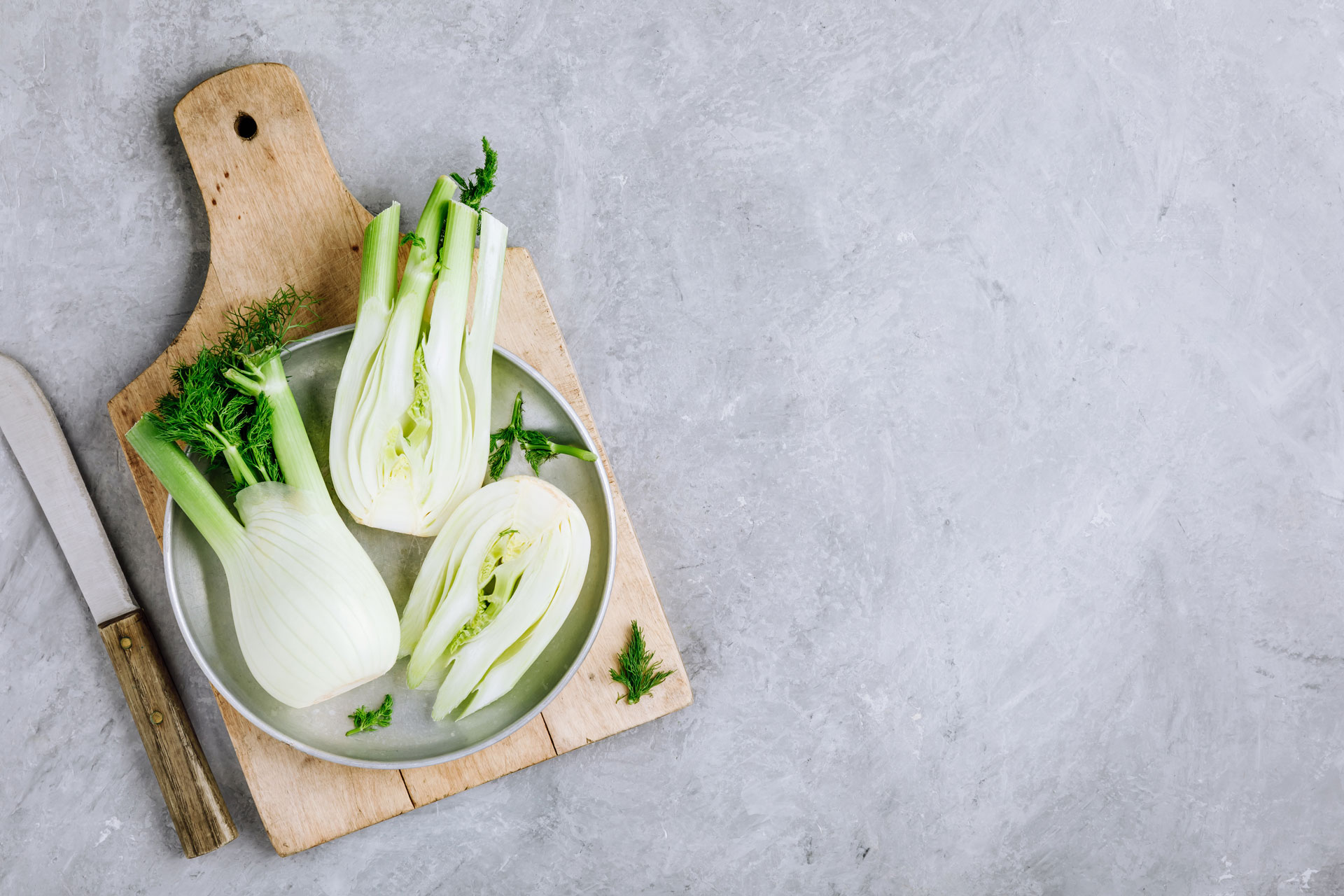 Vegetable of the Week: Fennel
---
Fennel is a bit like Marmite – but if you're on the love team, the opportunities are endless
Each week plant-based cook Bettina Campolucci Bordi, founder of Bettina's Kitchen, gives us the lowdown on a particular seasonal vegetable or ingredient, offering cooking tips and a recipe. This week it's fennel.
Love the crunch and freshness of celery? Meet fennel: your new best friend. On a personal level I prefer fennel to celery – I find it slightly sweeter and love the fact that you can roast it until soft, or shave thinly and marinate to add crunch to any dish.
Fennel is a member of the Apiaceae (carrot or parsley family) and is related to cumin, dill, caraway and anise, all of which bear aromatic fruits that are commonly called seeds. It is native to southern Europe but is now naturalised in the UK, Australia and North America and cultivated around the world. My grandmother would use the top of the fennel to create delicious marinades by boiling some water, adding salt, a dash of sugar and the fennel tops, and letting the ingredients sit overnight.
The most common cultivated fennel plant is called the Florence fennel, and you can eat the whole plant. While the hollow fennel stalks can be a bit tough, its edible white bulb is treated as a vegetable and its leaves (which are similar to dill) and fruits (also called seeds) are all incorporated into dishes.
This vegetable is equally delicious eaten raw as a crudité, simmered in soup, sautéed, roasted or even braised. It has a strong anise/dill-like scent and flavour, making it polarising for some – but cooked right, it is a delight.
Keep your fennel in the crisper drawer of the fridge – it will keep well for a few weeks. If you get a big bulb in your veggie box, chop the tops off and store separately. Fennel is hardy enough to be prepped in advance too, so feel free to chop it into pieces, removing the tough core at the bottom centre of the bulb. If you're saving the tops as mentioned above, wrap them in a damp paper towel as you would with fresh herbs.
I am going to share a brilliant wintery salad with you that includes all my favourite ingredients, including fennel.
Recipe: Crisp Fennel & Orange Broccoli Salad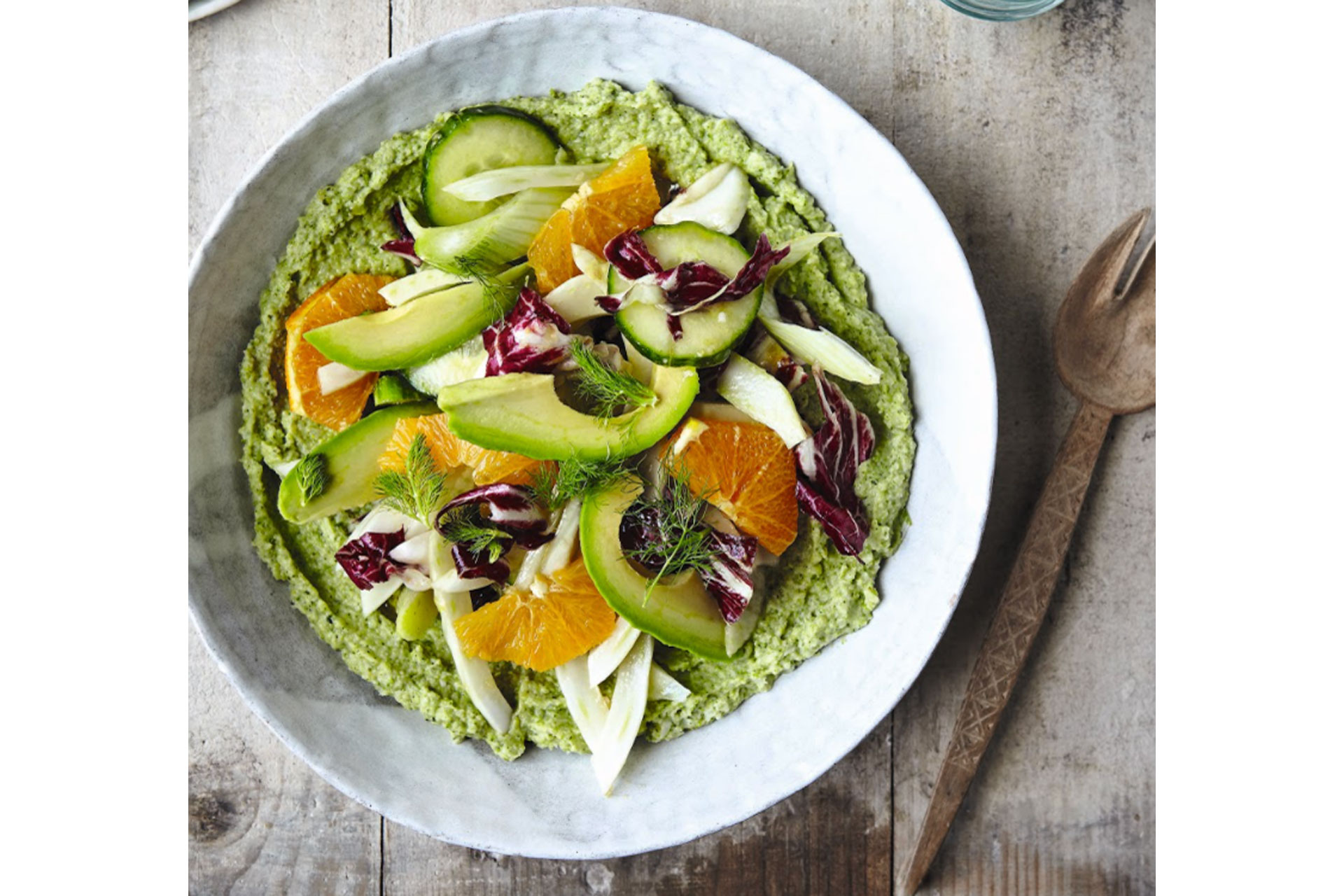 Makes 2 portions
Ingredients
1 head of broccoli, chopped from root to top
1 tablespoon coconut cream
Salt and freshly cracked black pepper
For the winter veggies
1 small Chicory
1⁄2 head of fennel
1⁄2 cucumber
1/4 red onion
1⁄2 orange, sliced in moons
1 avocado, peeled, pitted and Sliced (preferably from Spain)
For the dressing
2 tablespoons olive oil
Juice of 1⁄2 lemon
1⁄2 teaspoon Dijon mustard
1 splash of maple syrup
Salt and freshly cracked black pepper
Method
Bring a large saucepan of water to the boil, add the broccoli and flash boil for 5 minutes, then drain and cool under cold water. Once cooled, put in a blender with the coconut cream and blitz until you have a lovely purée.
Season with salt and pepper to taste, if you like. Pour onto a serving plate.
Shave the fennel, cucumber and onion into a bowl using a mandoline or peeler, or slice very thinly. Add the orange and avocado. Mix together all the dressing ingredients, and toss with the vegetables. Spoon onto the bed of broccoli purée and eat immediately! If you let the salad sit, it will quickly become soggy.
MORE VEG OF THE WEEK: