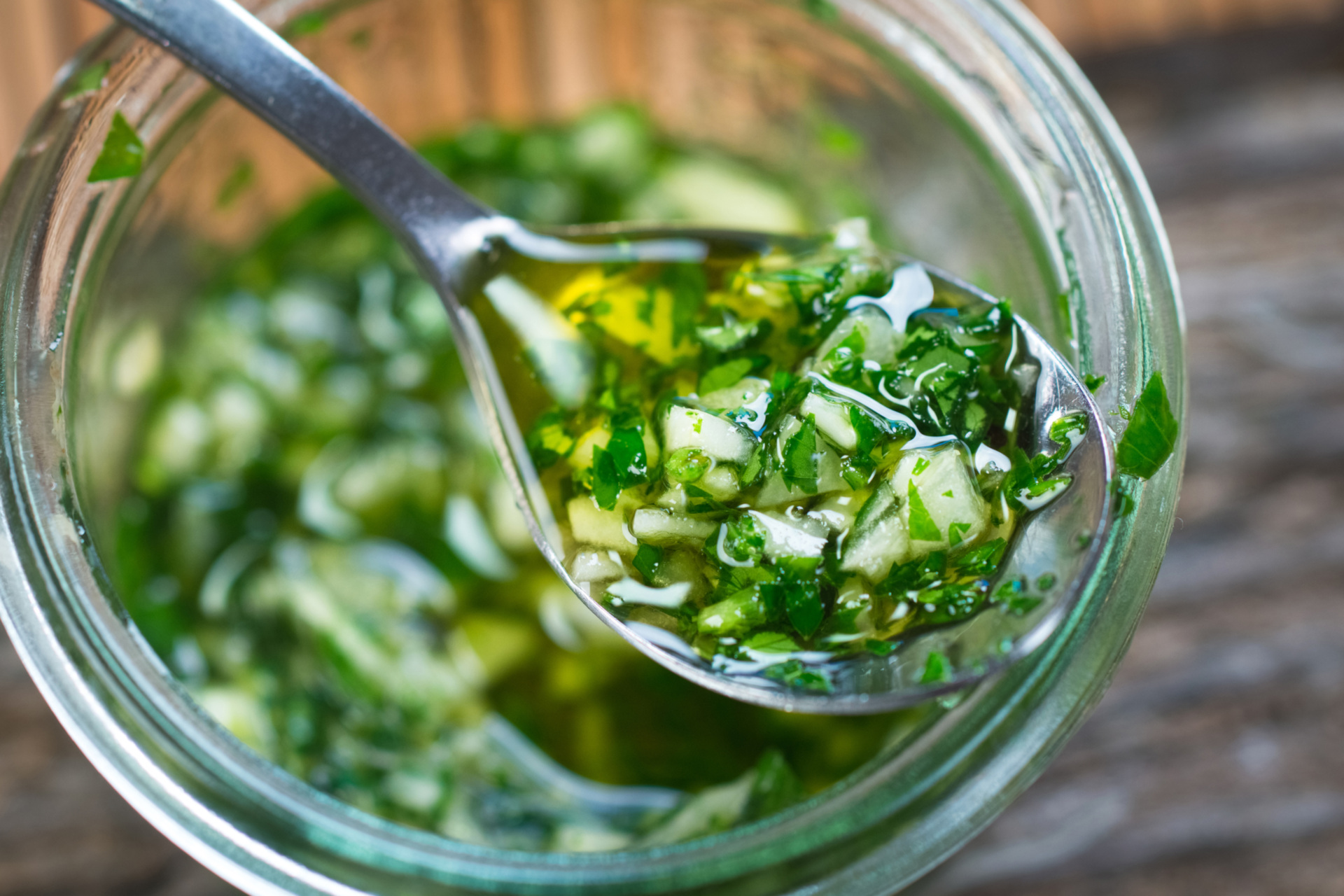 Recipe: Chimichurri Sauce by Alexandre Nicolas, Executive Chef of The Ivy
---
A saucy finish for you next meal
Alexandre Nicolas shares his recipe for chimichurri sauce, as well as his favourite seasonal ingredients, food philosophy and dream dinner party guest list.
Recipe: Gordon Ramsay's Borlotti Bean Minestrone
Recipe: Chimichurri Sauce by Alexandre Nicolas, Executive Chef of The Ivy
My favourite recipe at the moment is chimichurri sauce. It's very simple and easy to make, as well as being heathy and a good substitute for gravy or sauce and is suitable for vegetarians and vegans. It can be used on all meat (seared, grilled, roasted), fish and even vegetables.
Ingredients:
1 bunch finely chopped parsley
3 to 4 cloves of garlic minced (removed the germ in a middle)
3/4 teaspoon dried oregano
1 fresh long red chili chopped fine (medium size)
½ coffee spoon chili flake
1 teaspoon coarse salt
2 teaspoon red wine vinegar
15 cl olive oil
Method
Mix all together and keep in the fridge for minimum of two hours and up to two days.
Q&A with Alexandre Nicolas, Executive Chef of The Ivy
Food philosophy
Simplicity in the execution. Use the ingredients when they are at their best and in the correct season. As a chef I have to respect nature and ingredients (learnt from working with Alain Ducasse). I cook with passion and naturally.
First dish you learnt to cook
From memory the first dish I made was a Raspberry Swiss roll taken from my mum's cookbook.
Most vivid childhood food memory
During my summer holiday, I was staying at my Grandmother's house in Brittany, South Finistere (the Pays Bigouden). For the 'quatre heure' (afternoon snack) she was making kouign (it's a thick crepe, kind of pancake) spread with salty butter.
Favourite ingredient that's in season
Winter: Puntarelle
Spring: White asparagus
Summer: Melon
Autumn: Fennel
Biggest mistake you've made
Working long hours even when it was not needed.
Most memorable meal out
When I proposed my wife at le Jules Verne restaurant on the Eiffel Towel.
Any unusual kitchen rules?
Not unusual, but funny: the chef doesn't sleep at work, he is meditating.
What's in your fridge?
Always a piece of French cheese and half salted butter.
Least favourite ingredient?
The offal as heart or brain.
Dream dinner party guests?
Kermit the Frog, Tom Hanks, Queen Elizabeth, Coluche (French humourist), Hercules and Poirot.
MORE RECIPES
Spiced Pumpkin Pie / Stilton and Ricotta Stuffed Courgette Flowers