Gill Meller's new recipe book, Root, Stem, Leaf, Flower, is a celebration of seasonal vegetables and fruit – perfect for those looking to expand their vegetarian cooking repertoire. We love this baked mushrooms recipe. 
Recipe: Baked Mushrooms with Celeriac, Lentils, Marjoram and Breadcrumbs
These baked mushrooms, filled with a rich celeriac purée and nutty little lentils, make a perfect main course. I use big portobello mushrooms because you can really heap in the celeriac and they're decidedly meaty too.
Ingredients
Serves 4
3 tbsp extra-virgin olive oil, plus extra for baking
1 onion, halved and thinly sliced
½ celeriac, peeled and cut into 2cm (¾in) dice
2 garlic cloves, thinly sliced
1 small handful of marjoram
8 large Portobello mushrooms, stalks removed but reserved
200ml (7floz) vegetable stock
75g (2½oz) puy lentils, rinsed
1 tsp Dijon mustard
2 tsp cider vinegar
1 handful of coarse breadcrumbs
Sea salt and freshly ground black pepper
Method
Heat the oven to 200°C/180°C fan/400°F/gas mark 6.
Set a medium pan over a low heat and add 2 tablespoons of the olive oil.
When it's hot, add the onion, celeriac, garlic, a few torn marjoram leaves and the mushroom stalks. Season with salt and pepper, then cook with the lid on, removing it only to stir regularly, for about 25 minutes, until the onion is soft and sweet and the celeriac is beginning to break up.
Pour in the vegetable stock, stir and bring the mixture up to the simmer.
Cook for a further 15 minutes, until the celeriac is nice and tender. Then, using a hand-held stick blender or a jug blender, purée the mixture until smooth; or, if you like, just bash it up it really well with a potato masher.
Taste and adjust the seasoning if necessary.
While the celeriac is cooking, put the rinsed lentils in a medium pan, cover with plenty of water and set over a high heat. Bring up to the simmer, then cook for 18–25 minutes, until the lentils have softened but retain some bite. Drain them, then leave them in the colander and allow the steam to evaporate. Tip the lentils into a bowl and dress with the remaining olive oil, and the mustard, vinegar and plenty of salt and pepper. Set aside until the celeriac is ready.
Lay out the mushroom caps in a baking dish with their gills facing upwards. Season with salt and pepper, then spoon the celeriac purée over the top as equally as the mushrooms allow. Spoon the lentils over the celeriac, scatter over the breadcrumbs, tear over the remaining marjoram leaves and trickle all over with a little extra olive oil.
Bake the mushrooms for 25–30 minutes, or until they are cooked through and the breadcrumbs are crisp and golden. Serve immediately.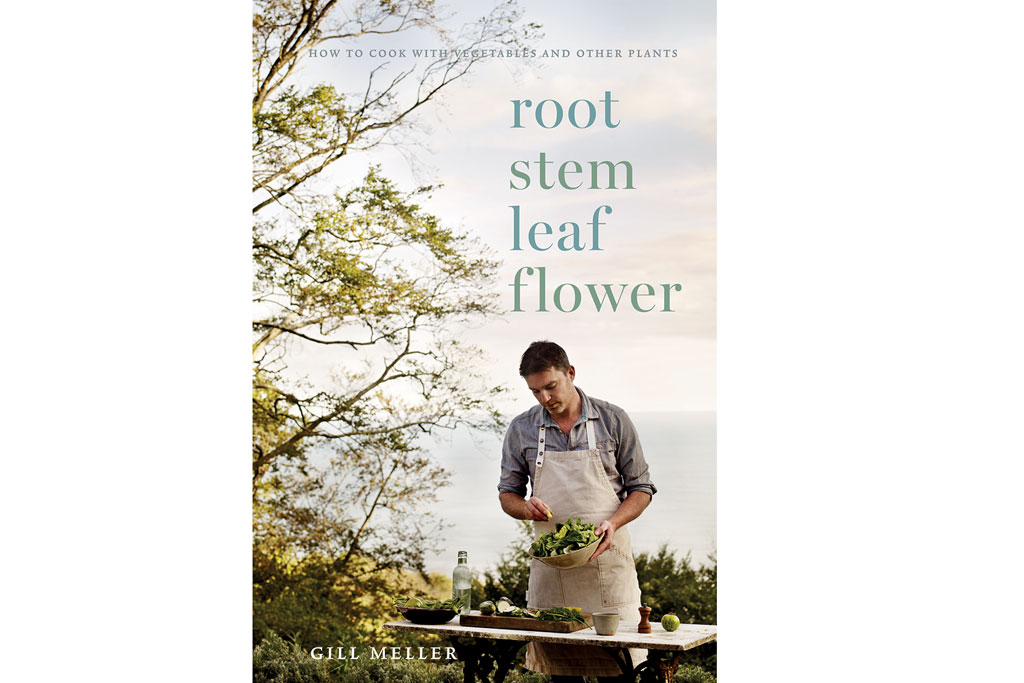 Recipe taken from Root, Stem, Leaf, Flower by Gill Meller. Published by Quadrille, May 2020. Photography by Andrew Montgomery.
MORE RECIPES:
Thomasina Miers' Californian Cornbread / Theo Randall's Panzanella
---