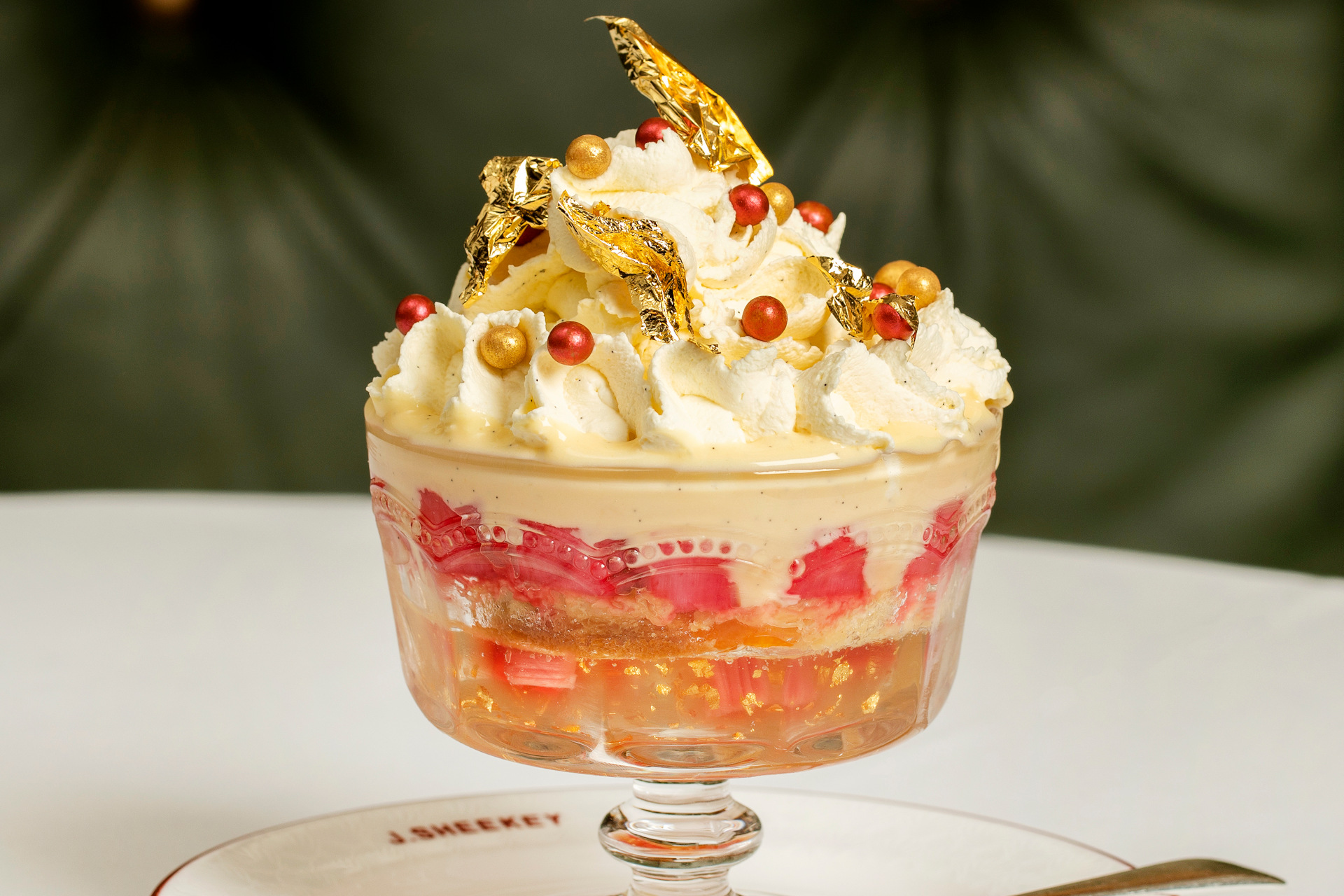 Recipe: J. Sheekey Rhubarb, Nyetimber and Panettone Trifle
---
We love this festive trifle
J. Sheekey, in collaboration with Nyetimber, have created this creamy seasonal trifle, so good they had to share the recipe with us. A festive favourite sure to earn you brownie points with guests this Christmas…
Recipe: J. Sheekey Rhubarb, Nyetimber and Panettone Trifle
Who doesn't love a traditional English trifle? This Christmassy trifle features classic rhubarb, custard trifle with a luscious Nyetimber jelly and whipped Chantilly cream. We'd recommend serving it in Victorian glassware to really secure that wow factor.
Serves 4
Ingredients
Nyetimber Jelly
3 ½ Gelatine Leaves
300ml Nyetimber
100ml Prosecco
100g Caster Sugar
1 Gold Leaf
Panettone
200g Panettone cut into discs
Roasted Rhubarb
200g Rhubarb
50g Caster Sugar
25ml Nyetimber
1 Lemon Juice
Custard
30g Caster Sugar
4 Free Range Egg Yolks
200ml Double Cream
½ Vanilla Pod Scraped
Chantilly Cream
300ml Double Cream
15g Icing Sugar
½ Vanilla Pod Scraped
For Assembling
½ Gold Leaf
Rhubarb Syrup (from the roasted rhubarb)
Method
Pre-heat the oven to 180'c. For the Roasted Rhubarb, wash well and drain then dice into 1cm pieces. Place in an oven proof tray with the caster sugar, Nyetimber and lemon juice and roast for approximately 5 minutes until soft. Leave to cool and store in the fridge. Keep the rhubarb in the syrup, later this will be used to soak the sponge.
For the Jelly, soak the gelatine in cold water, squeeze out the excess water then keep to one side. Meanwhile, heat the prosecco and 100ml of Nyetimber with the sugar in and pan and bring to the boil, add the soft gelatine pass the mixture in to a bowl and add the rest of the Nyetimber. Whisk in the gold leaf and chill over ice until it begins to set then pour into trifle glasses.
Next to make the Custard, beat together the sugar and egg yolks in a bowl. In a thick-bottomed sauce pan, bring the cream and the vanilla up to the boil. Remove from the heat, pour immediately on the egg mixture and whisk together. Return to the pan and over a gentle heat stir continuously with a wooden spoon. Ensure you do not boil the custard, as it will scramble. The consistence should be thick. Sieve the custard into a bowl, and place it over a larger bowl with iced water to cool. Once cool cover with cling film and refrigerate until needed.
Prepare the Chantilly cream by whipping together the cream, sugar and vanilla until it forms soft peaks. Store in the fridge until needed.
For the panettone slice into 1cm thick slices and cut out a piece big enough for the trifle glasses.
To assemble the Trifle
Once the jelly has completely set in the fridge place a slice of the panettone on top of the jelly and put 1 tbsp of the rhubarb syrup on the sponge to soak in. next spoon a layer of rhubarb on top of the sponge, then add a generous layer of custard topped with the Chantilly cream. Decorate with gold leaf.
MORE RECIPES:
Recipe: The Perfect Sausage Roll /Recipe: Mussel Molee / The Best Christmas Cocktail Recipes