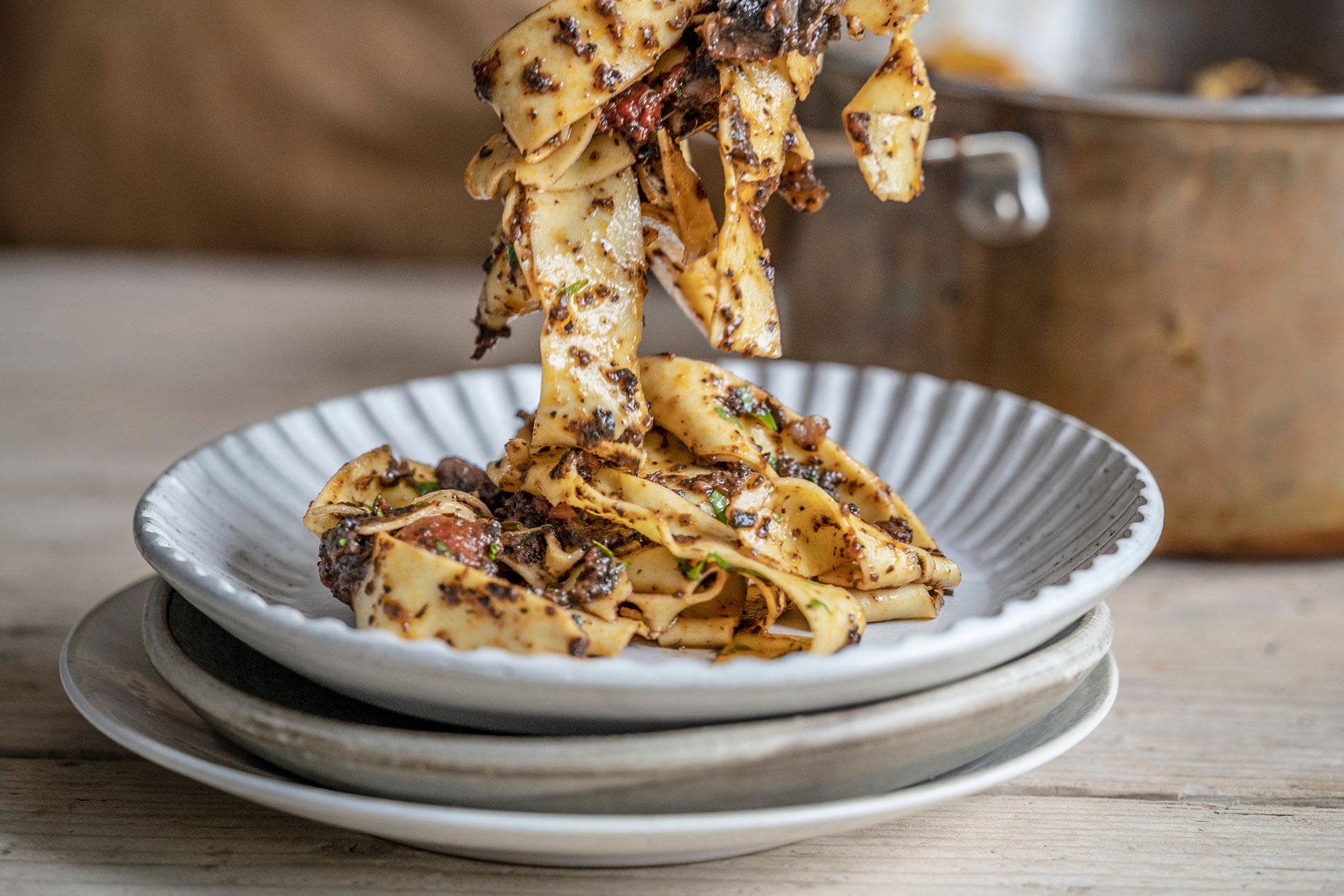 Recipe: Mushroom Ragù with Pappardelle and Crispy Garlic Breadcrumbs
---
A vegetarian take on the classic ragù
Hosting a summer dinner party? New cookbook Around The Table by Great British Chefs is here to help, featuring a whole host of recipes designed for sharing. Here we share one of the book's best gems: a hearty vegetarian ragù dish made with mushrooms and topped with breadcrumbs.
Recipe: Mushroom Ragù with Pappardelle and Crispy Garlic Breadcrumbs
When cooking vegan dishes, mushrooms are a sure-fire way of generating plenty of depth and umami-rich 'meatiness'. This ragù replaces mince with blitzed chestnut mushrooms which are patiently caramelised until crisp and brown. With larger, juicier pieces of shiitake and portobello strewn throughout and a touch of crunch added thanks to some herby garlic breadcrumbs, this is a warming bowlful of flavour.
Serves 6
Cooking time: 2 hours 15 minutes
Equipment: Food processor
Ingredients:
Ragù
800g of chestnut mushrooms
3 tbsp extra virgin olive oil
4 garlic cloves, finely chopped
2 celery sticks, finely sliced
2 carrots, finely diced
1 large onion, finely chopped
2 tbsp soy sauce
200ml of red wine
3 tins (1.2kg) of chopped tomatoes
2 tbsp tomato purée
2 tsp sugar
4 sprigs of thyme
2 bay leaves
200g of shiitake mushrooms
3 portobello mushrooms, roughly chopped
350g of dried pappardelle
Breadcrumbs
2 tbsp extra virgin olive oil
50g of panko breadcrumbs
2 garlic cloves, finely grated
1 lemon, zested
1 handful of parsley leaves, finely chopped
Method:
Working in batches, blitz the chestnut mushrooms in a food processor until they resemble mince. In a large saucepan, heat the olive oil and add the garlic, celery, carrot and onion. Cook for 15 minutes over a medium-low heat until soft but not coloured. Add the mushroom 'mince' and soy sauce, then turn the heat up to high. Cook, stirring regularly, for 30 minutes, until all the liquid released from the mushrooms has evaporated and they have started to caramelise – be patient!
Add the wine to deglaze, scraping the bottom of the pan as you do so, then simmer for another 10 minutes until almost dry again. Pour in the tomatoes along with the tomato purée, sugar, thyme, bay leaves and a pinch of salt and pepper. Add the shiitake and portobello mushrooms, then simmer gently with the lid on for 30 minutes.
Meanwhile, fry the panko breadcrumbs in the extra virgin olive oil until just beginning to colour, then add in the grated garlic. Cook for another minute until the breadcrumbs are crisp, then drain the mixture on kitchen paper. Transfer to a bowl and stir in the lemon zest and parsley with a pinch of salt.
After 30 minutes, remove the lid and continue cooking the mushroom ragù until thickened (around another 30 minutes). When the ragù is ready, turn the heat down to its lowest setting and bring a large pan of salted water to the boil.
Cook the pappardelle for 8-10 minutes (depending on whether you like it al dente or not) then drain, reserving a cup of the pasta water. Stir the pasta into the ragù, adding a splash of pasta water to loosen and help everything come together, then divide between bowls. Serve immediately with the breadcrumbs sprinkled on top.
Around The Table by Great British Chefs is available from 2 September at shop.greatbritishchefs.com
MORE RECIPES:
Melissa Hemsley's Mushroom Recipes / Prawn on the Lawn's Shellfish Stew