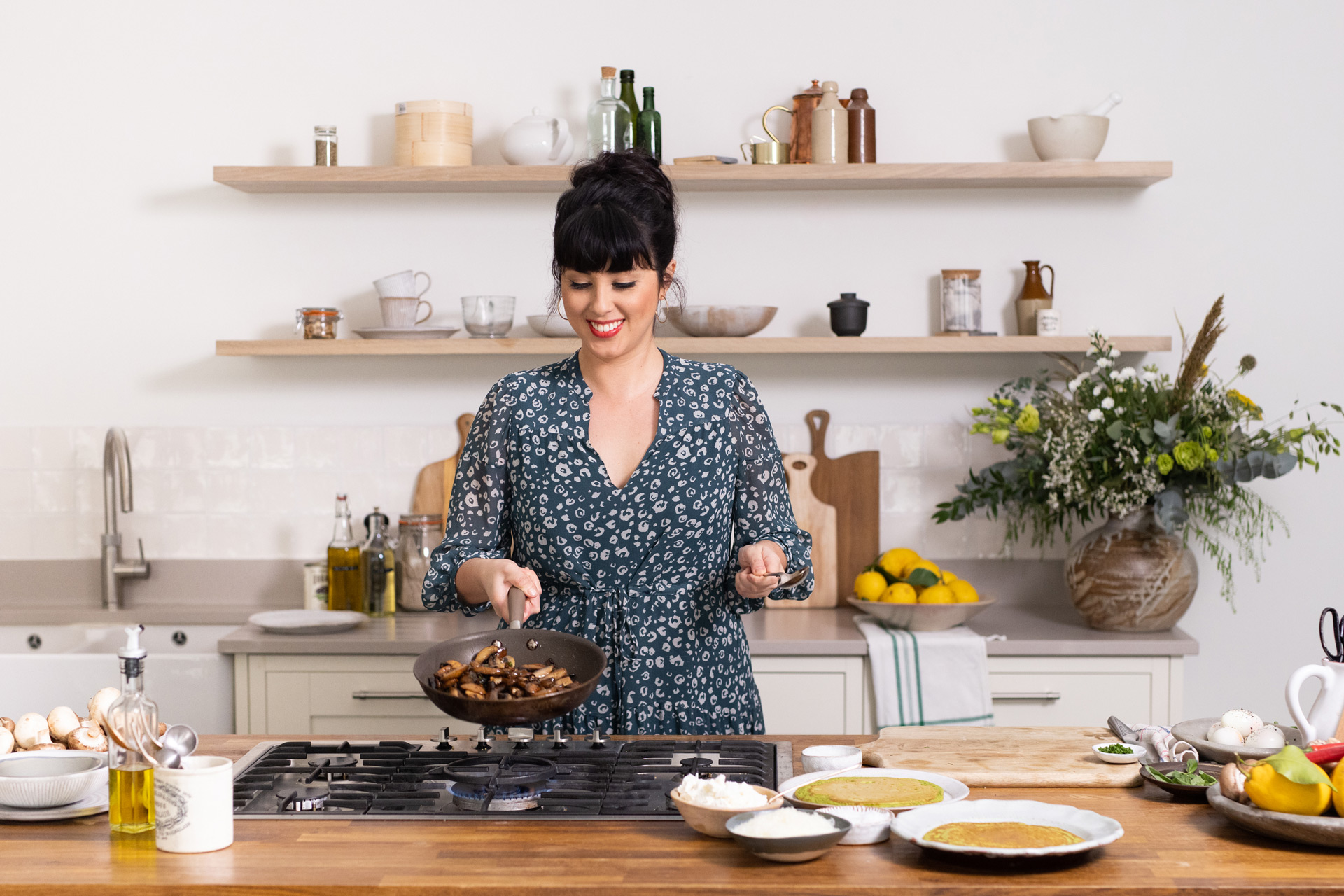 Melissa Hemsley's Mushroom Recipes
---
From breakfast to lunch to dinner, here's how best to incorporate the mighty shroom
Whether you're a mushroom lover or are looking for inventive ways to cook with the multifaceted fungi, best-selling cookbook author Melissa Hemsley has three delicious and easy-to-follow mushroom recipes up her sleeve… 
Interview with Melissa Hemsley: Zero-Waste Cooking
Melissa Hemsley's Mushroom Recipes
Breakfast: Spinach pancakes topped with mushrooms and ricotta, chives, asparagus, and yolky soft-boiled eggs
This quantity makes extra pancakes, enjoy them for leftovers tomorrow. (If you're in a rush, use shop bought tortilla style wraps (warm them in oven) and make everything else as below).
Feeds 2, takes 40 minutes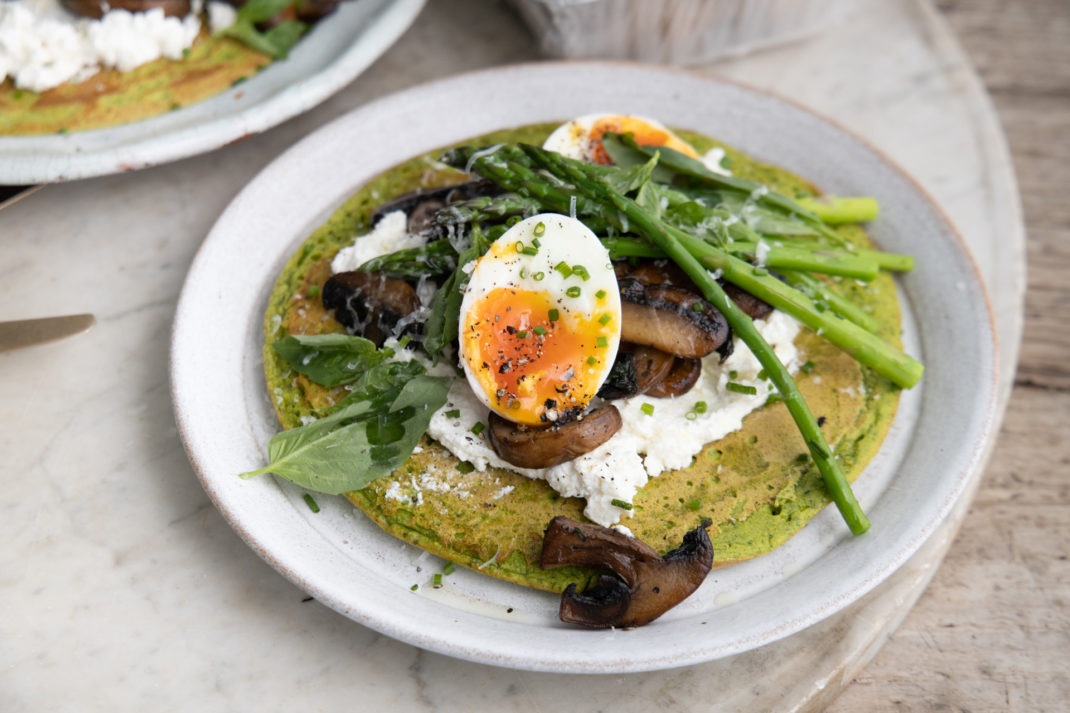 Mushroom Filling
400g M&S organic chestnut mushrooms, roughly sliced
1 garlic clove, finely grated
1.5 tbsp ghee or olive oil
Leaves from 2 sprigs of fresh thyme or 1 tsp dried thyme
100g ricotta or soft goats cheese
Handful grated hard Irish cheese like Caerphilly or alternatively an English cheddar
2 tbsp chives, chopped or snipped
10 asparagus tips or thin asparagus
2 eggs
Sea salt & pepper
Pancakes
250g chickpea flour also labelled as gram flour
300ml warm water
Handful frozen peas
50g baby spinach, about 2 handfuls
Handful fresh basil leaves or 2 tsp pesto
1/2 tsp sea salt
¼ tsp black pepper
1.5 tbsp ghee or oil, for frying
Method
Blend together the chickpea flour, spinach, peas, basil, water and salt and pepper and set aside for 10 minutes. Keep the batter still in the blender as you can pour direct from the blender jug.
Meanwhile in a large frying pan, melt the ghee/olive oil then fry the sliced mushrooms with a pinch of salt and pepper for 5 minutes, stirring occasionally so the mushrooms release their liquid and start going golden at the edges.  Add the thyme and garlic and fry for a final few minutes until the garlic is softened then take off the heat and keep the mushrooms hot in a warm oven.
Melt 2 tsp of the oil in a second medium-sized frying pan over a medium high heat.  The whole base of the pan needs to be covered so the pancakes don't stick, pour any excess oil out if you like which you can reuse for the next pancake. Add about 3 tbsps of the batter to the frying pan, swirling it around to cover the base, should be quite thin and cook on a medium heat for 2 minutes, then flip over and cook on the other side for another minute or so until lightly golden in places on each side
Tip the pancake onto a plate, making sure you remove any excess bits from the pan or they'll burn when you cook the next pancake, and repeat – adding a little more of the oil each time- until you have used all the batter.  Keep the cooked pancakes warm in the oven with the mushrooms.  Once you've got enough for your breakfast, cover the batter and leave in the fridge for tomorrow. OR if you prefer, after breakfast, cook all the pancakes up and then leave in the fridge to have with mushroom hummus wraps for lunch in the week!
While your pancakes are cooking away, get a small saucepan of water on the boil and blanch the asparagus tips in salted water then using tongs, shake off any excess water and transfer them to the mushroom pan to stay warm.  Keeping the pan of salted water on the boil, cook the eggs for 7 minutes (for softish hard boiled or for another minute if you prefer) then drain, cool and peel just before serving and halve and season them.

To serve up, lay a pancake onto each of your plates, spread some ricotta on the pancake with a sprinkling of chives, then pile on the warm mushrooms with the asparagus, add the egg halves and then finish by finely grating over your Caerphilly or cheddar.
Recipe: Melissa Hemsley's No-Waste Parsnip Dahl
Lunch: Lemongrass mushroom "mince", fried until golden in lettuce cups with lime fish sauce dipping sauce, served hot and DIY help yourself with cold noodles or cooked rice or quinoa, lots of herbs, carrot, radish
Feeds 4 for lunch, takes 45 minutes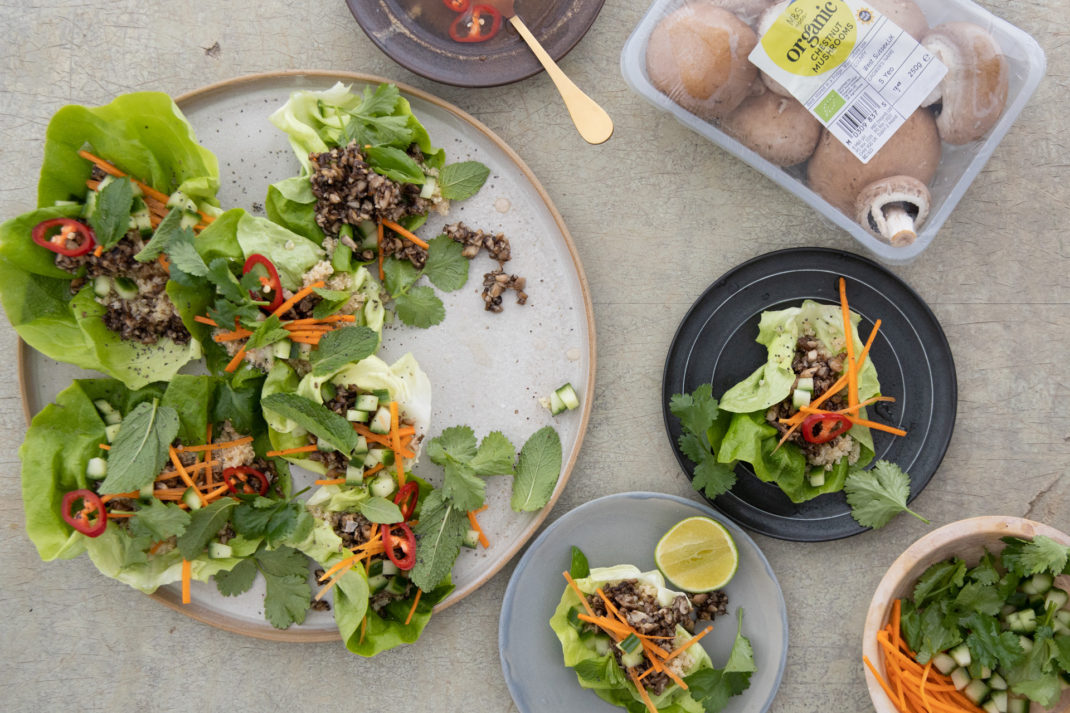 Ingredients
Mushroom Filling
500g mix of ASDA Extra Special Shitake Mushrooms AND ASDA Organic Chestnut mushrooms
60g walnuts
1.5 tbsp coconut oil or ghee
1 lemongrass stalk, only the white bottom part, finely chopped
1 chilli, deseeded if you like, to your taste
2 tbsp tamari or soy sauce
2 big garlic cloves, finely chopped
½ bunch of spring onions, save the rest for garnishing
4 portions worth of cooked noodles or rice or quinoa – EMILY SHOOTING WITH QUINOA
Sea salt
Dipping/pouring sauce
Juice of 1 lime about 2 tbsp
1.5 tbsp fish sauce or vegan style fish sauce
1 tbsp maple syrup
4+ tbsp water
Chilli, finely sliced, to taste
Garnishing
5 heads of small round soft lettuce cups, I recommend double layering each cup
2 handfuls finely sliced carrots and cucumber
2 handfuls fresh mint leaves
2 handfuls fresh coriander leaves and stalks
The rest of the spring onions
Method
Prepare the quinoa/ noodles or rice according to the packet instructions then let them cool and drain (if applicable). Meanwhile while that's cooking, go ahead and prepare all the garnihing and arrange them on a plate.
Mix the sauce ingredients together and taste for seasoning, it will be salty from the fish sauce, a little sweet, tangy from the lime and spicy, feel free to adjust with a little chilli, tamari or salt if you need more oomph, set aside.
Finely chop the mushrooms and mushroom stalks.
In a large frying pan or wok, toast the walnuts for a few minutes until golden then set aside
Put the pan back on the hob, melt the coconut oil and stir fry the mushroom on a high heat for about 5 minutes, stirring every now and then until they release their liquid and start going golden at the edges.
Add a pinch of salt and push the mushrooms over to one side of the pan, then add the finely chopped aromatics  – spring onions,lemongrass, garlic and chilli and stir fry for a minute before stirring into the mushrooms then add the tamari.
Chop the walnuts finely then stir them into the mushrooms and taste for seasoning.
Serve up your lettuce cups DIY style – pile some quinoa/rice/noodles into each lettuce cup, then top with the mushroom mix and lots of fresh herbs and then using a teaspoon pour a little sauce on top of each to finish.
Eat Happy: Recipes and Q&A with Melissa Hemsley
Dinner: Za'atar roasted chestnut mushrooms and sweet potato wedges with fried halloumi salad and a chilli honey lemon dressing
Feeds 2 as a main or 4 as a side as part of a spread, takes 40 minutes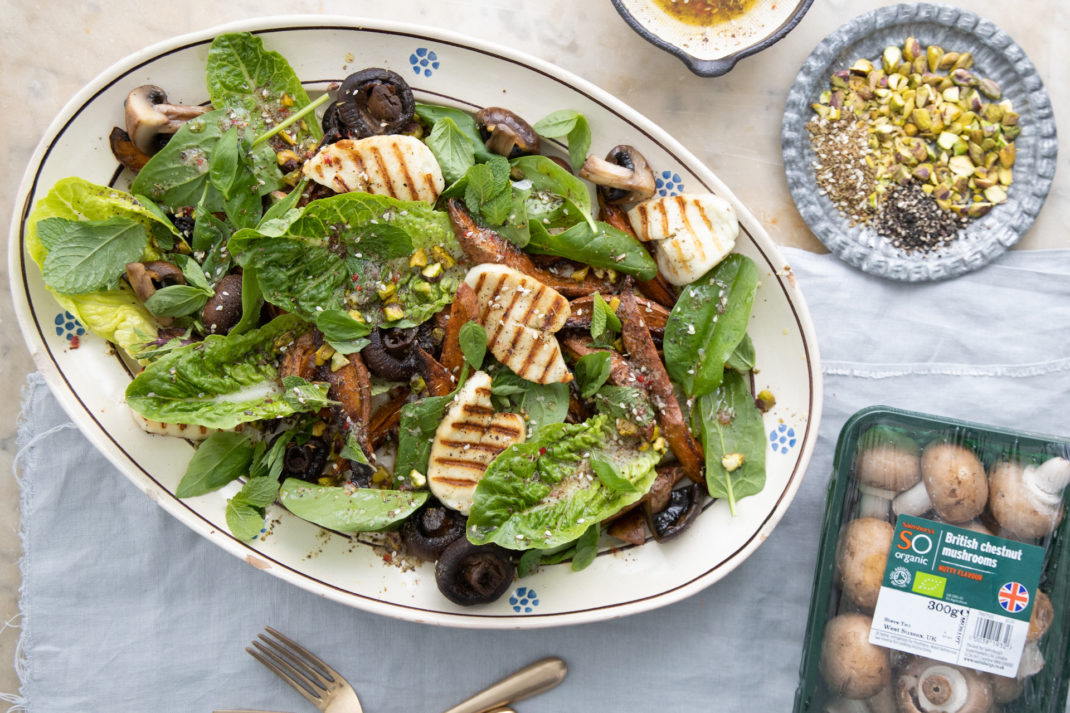 Ingredients
400g So Chestnut Mushrooms, Organic (Sainsbury's)
1 tbsp za'atar – ZAY'TOUN ZA'ATAR is by far the tastiest
2 tbsp ghee or olive oil
1 tbsp pomegranate molasses or balsamic vinegar
2 medium sweet potatoes, scrubbed but unpeeled
1 handful of pistachios or pumpkin seeds
250g pack of halloumi, sliced into 12, patted dry
Handful ripe cherry tomatoes, halved
4 handfuls rocket or your favourite salad leaves
2 handfuls fresh herbs like basil & mint
Sea salt & pepper, to taste
Lemon honey chilli dressing
5 tbsp extra virgin olive oil
2 tbsp fresh lemon juice
2 tsp za'atar
½ garlic clove, finely grated
1 tsp raw honey or maple syrup
Fresh chilli, finely chopped or chilli flakes, to taste
Sea salt & pepper, to taste
Method
Preheat the oven to 220C. Roughly chop the mushrooms into quarters and slice the sweet potatoes into thin wedges (not too thick so they roast quickly with the mushrooms).  Take a roasting tray and tumble the mushrooms and sweet potato wedges onto the tray then toss in oil (or melted ghee) with sea salt & pepper then spread out into one even layer (which helps them roast rather than steam) and roast for 20 minutes.
Remove the tray from the oven, drizzle over the pomegranate molasses and sprinkle over the za'atar plus the pistachios, toss again, spread out again and roast for another 10 minutes until the sweet potatoes are tender and going golden at the edges.
Meanwhile make the dressing by finely grate the garlic into a clean jam jar then add the rest of the ingredients, pop the lid on and shake until combined. Alternatively whisk in a small bowl.  Season to taste.
When you're ready to eat, on a large serving platter, scatter over the rocket, cherry tomatoes and the fresh herbs, tearing larger ones and keeping smaller herb leaves whole. Distribute the hot mushrooms and sweet potato wedges and drizzle over half the dressing
Halloumi of course is best eaten straight from the pan so finally cook the halloumi by heating up a large frying pan and fry the halloumi on each side for about 90 seconds til nicely golden on each side. Then transfer to the salad platter and drizzle over a little more dressing and finish with the rest of the herbs and pistachios.
Recipes courtesy of The UK and Ireland Mushroom Producers in partnership with Melissa Hemsley.
MORE RECIPES: Recipe: Foraged Nettle Chips / 6 Healthy Recipes to Serve Up this Spring / Recipe: Chenot Palace Weggis' Olive and Caper-Stuffed Gnocchi