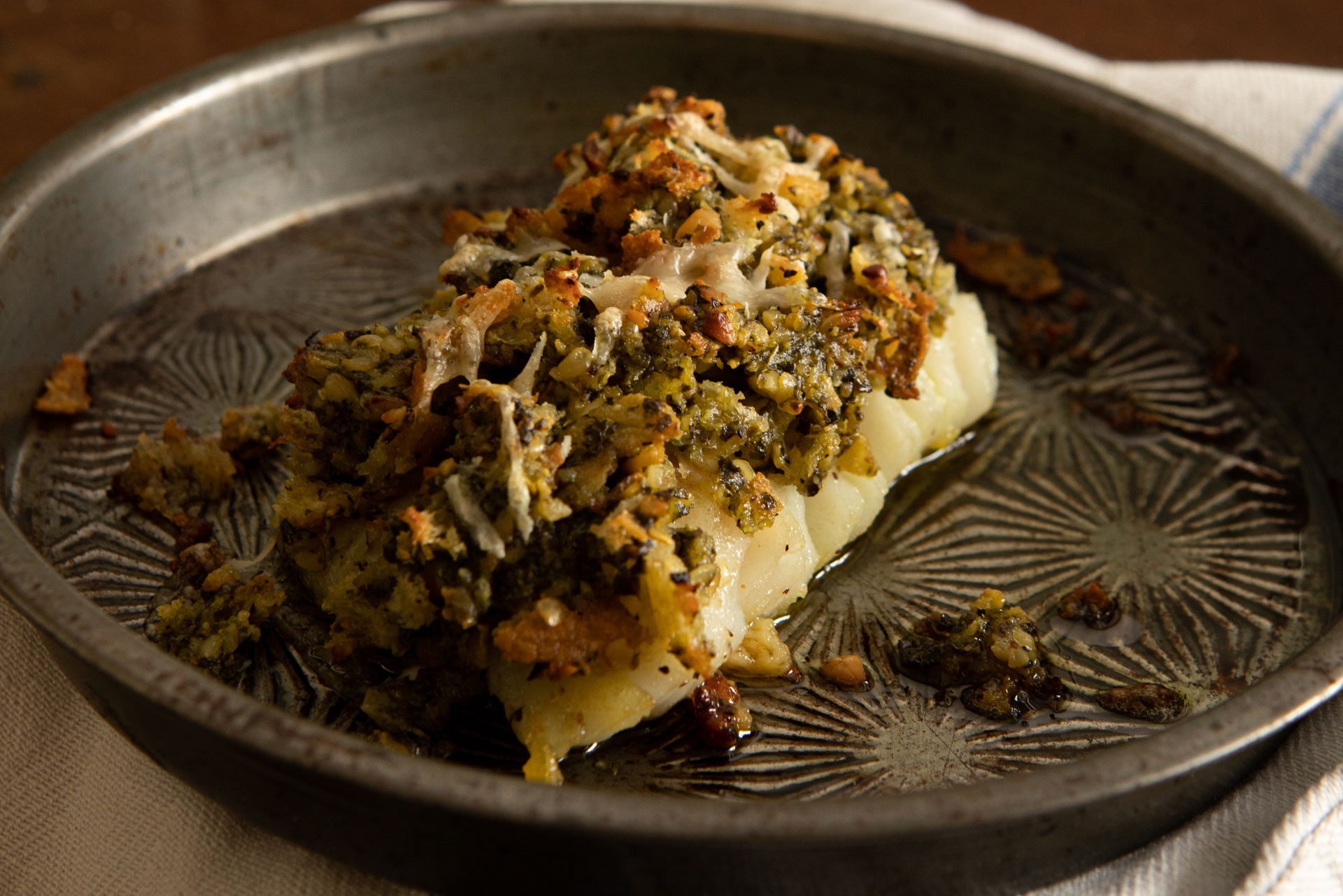 Recipe: Pan-fried Cod with Pesto and Breadcrumb Topping
---
Scottish culinary duo Kirsty Scobie and Fenella Renwick share a recipe from their new cookbook
In 2016, two Ullapool locals, frustrated at the lack of seafood eating opportunities in Ullapool, set up a shack on the harbour of the North West Highlands town. The duo, named Kirsty Scobie and Fenella Renwick, served up whatever their fishermen friends brought each day, quickly becoming a favourite in the town and going on to attract the likes of Mary Berry and Albert Roux. Four years on, the pair have launched their own cookbook, The Seafood Shack, with over 80 recipes and tips for cooking white fish, smoked fish and shellfish. Here we share one of them.
Recipe: The Seafood Shack's Pan-fried Cod with Pesto and Breadcrumb Topping
If you have some pesto in the fridge, then why not mix it with some breadcrumbs to create this great topping? With some added Parmesan and lemon zest it brings out all the flavours in the cod and turns a potentially dull meal into something simple yet delicious. Serve it up with some creamy mashed potatoes.
Serves 4
Ingredients
2 slices of white bread
Juice and zest of 1⁄2 lemon
100g Parmesan, grated
2 tbsp basil or red pepper pesto
4 cod fillets (skin left on)
Dash of vegetable or rapeseed oil
50g salted butter
Salt and pepper
Method
Put your oven on to 180C. Blitz the bread in a food processor until you have coarse breadcrumbs, then mix with the lemon zest, Parmesan and pesto in a bowl and season to taste.
Using your fingers, check the cod for bones and season the skin of the fish. Heat your pan and add the oil. Once the pan is hot, put in your fish, skin side down, season and cook for two minutes or until the skin is crispy. Turn over, add your butter and lemon juice to the pan and cook for another two minutes. Flip your fillets back over so they are skin side down and spoon a quarter of the breadcrumb pesto mix on top of each one.
Transfer the fish to an oven dish and cook in the oven for eight minutes. The timing will depend on the thickness of your fillet, so to check if they are cooked, push a knife in to see that the flesh flakes apart and is white and opaque.
TIP: When pan-frying fish with skin on, we always dry the skin first as this helps it to go extra crispy.
Recipe extracted from The Seafood Shack (Kitchen Press), out 12 November
MORE RECIPES:
Alex Dilling's Mackerel Eschabeche / Daylesford's Cod with Lemon and Parsley