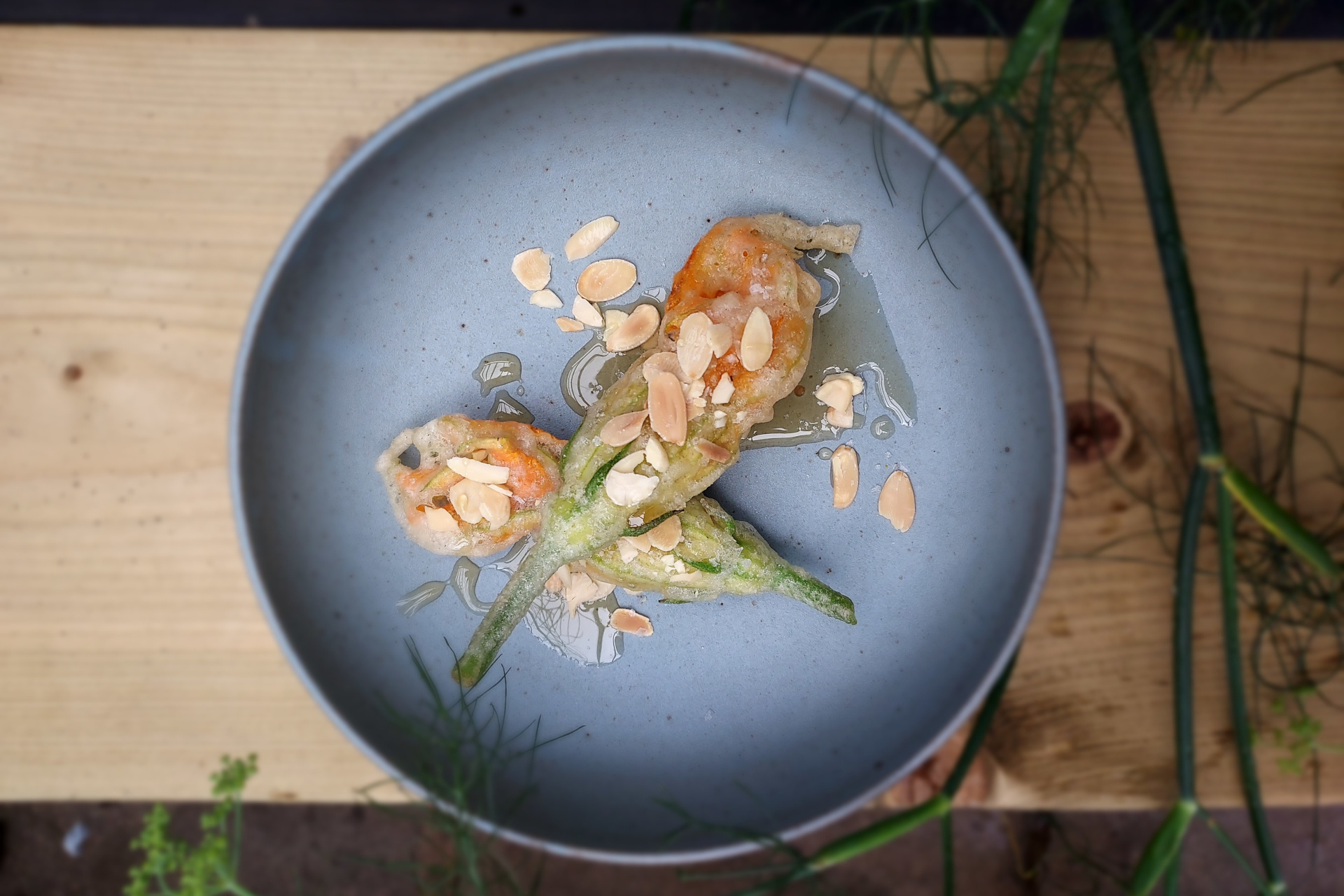 Recipe: Stilton and Ricotta Stuffed Courgette Flowers with Honey and Almond
---
A recipe from Lilac's founding chef Harriet Mansell
Make the most of the autumnal season with the best of its produce. Tuck into Harriet Mansell's stilton and ricotta stuffed courgette flowers with honey and almond, as seen in restaurant Lilac.
Stilton and Ricotta Stuffed Courgette Flowers with Honey and Almond
Ingredients
4 Courgette flowers

Stuffing

100g Stilton cheese

100g Ricotta

1 Lemon zest 

40g Sultanas

Handful of soft herbs roughly chopped, this could be mint, basil or parsley or a mixture of all three

Tempura batter

100g plain gluten free flour

90g sparkling water

To serve

Handful of toasted almonds

2 tbsp Honey

Oil for frying
Method
To make the filling crumble the stilton into a bowl and mix with the ricotta. Roughly chop the sultanas and add to the mix. Finely grate the zest of a lemon into the mixture and then add the soft herbs. Mix the filling briefly so the ingredients are evenly distributed. 

To fill the flowers, gently open the petals and spoon the mixture into the flower. Carefully close the flower around the stuffing to sealthe mixture inside.

To make the batter, whisk the cold sparkling water into the flour.

Preheat a pan of oil to 180 degrees Celsius.

To fry the flowers, dip them into the batter and then carefully into the hot oil. Let them cook for about   or until the batter is crisp. Remove them from the oil and let them drain on some kitchen towel. Sprinkle with a pinch of flakey sea salt.

To serve, drizzle with honey and a handful of flaked almonds.
MORE RECIPES
Martin Miller's Gin Bubble Bramble / Clodagh McKenna's Roast Pumpkin, Mozzarella & Chilli