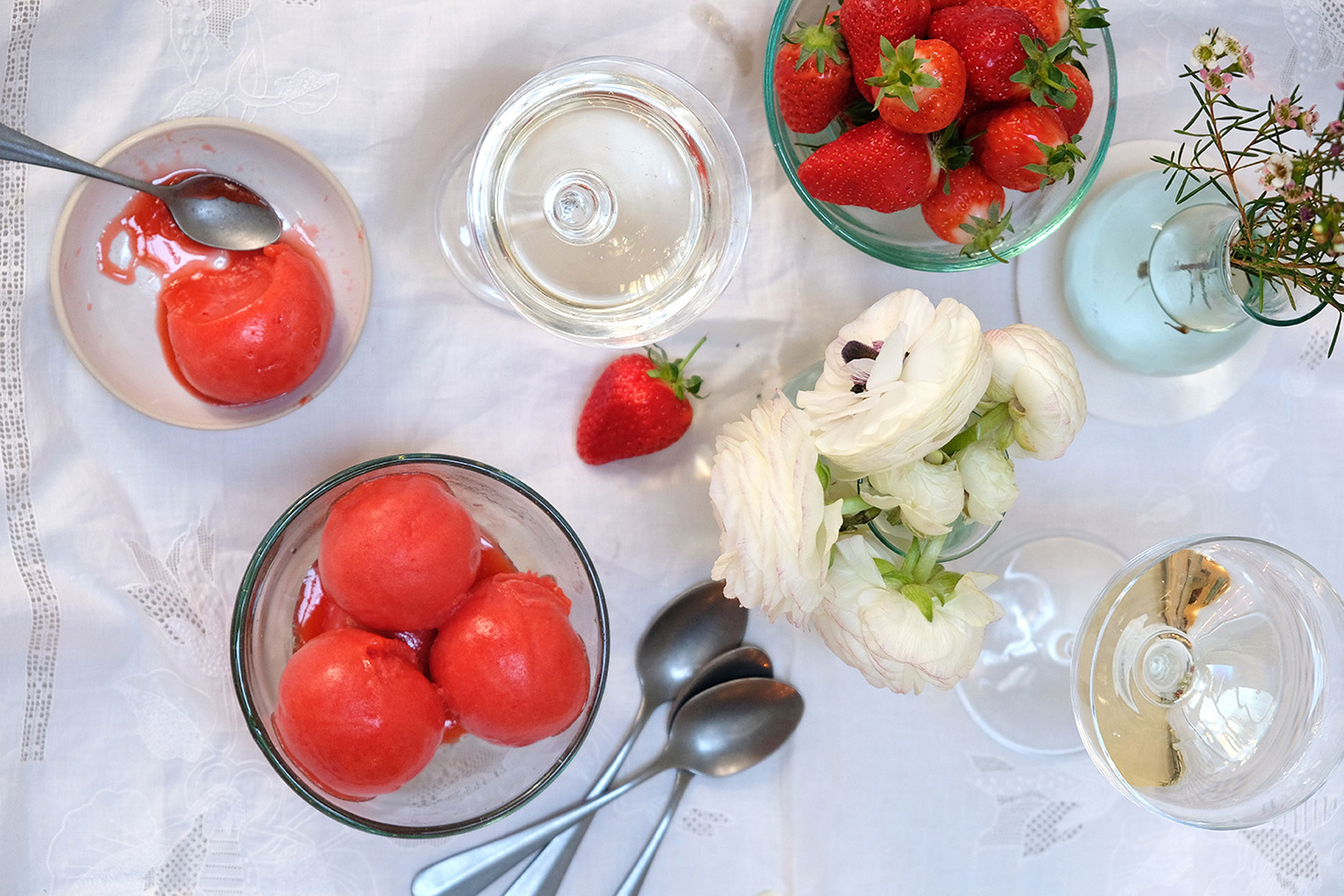 Recipe: Wild By Tart's Strawberry Sorbet
---
The tastiest way to cool down in the heatwave
Looking for a recipe that screams summer? Whip up this strawberry sorbet from Lucy Carr-Ellison and Jemima Jones, the foodie duo behind Wild by Tart in Fitzrovia – who we interviewed here. Pair with champagne for the ultimate treat. 
Recipe: Wild By Tart's Strawberry Sorbet
Ingredients
225g water
200g sugar
75g light corn syrup
455g fresh strawberries (over ripe strawberries are best)
60ml freshly squeezed lemon or lime juice
Champagne, to serve, optional
Method
Combine the water and sugar in a medium-sized saucepan. Bring the mixture to a boil over medium heat, stirring to dissolve the sugar. Simmer for 5 minutes, without stirring. Remove the syrup from the heat, pour it into a bowl, and set in the refrigerator to cool.
Place the strawberries and citrus juice in a food processor, and purée until completely smooth.
Press the purée through a fine-mesh strainer, to remove the seeds.
Combine the seedless purée with the corn syrup and sugar syrup. Chill for 1 hour, or until refrigerator-cold.
Make the sorbet according to the manufacturer's directions for your ice cream maker. The finished sorbet will be fairly soft so put in the freezer for a couple of hours to firm up, if desired.
Serve with champagne for the ultimate treat.
READ MORE: 
How To Make Ice-Cream: 2 Easy Recipes / Gill Meller's Blackcurrant Sorbet