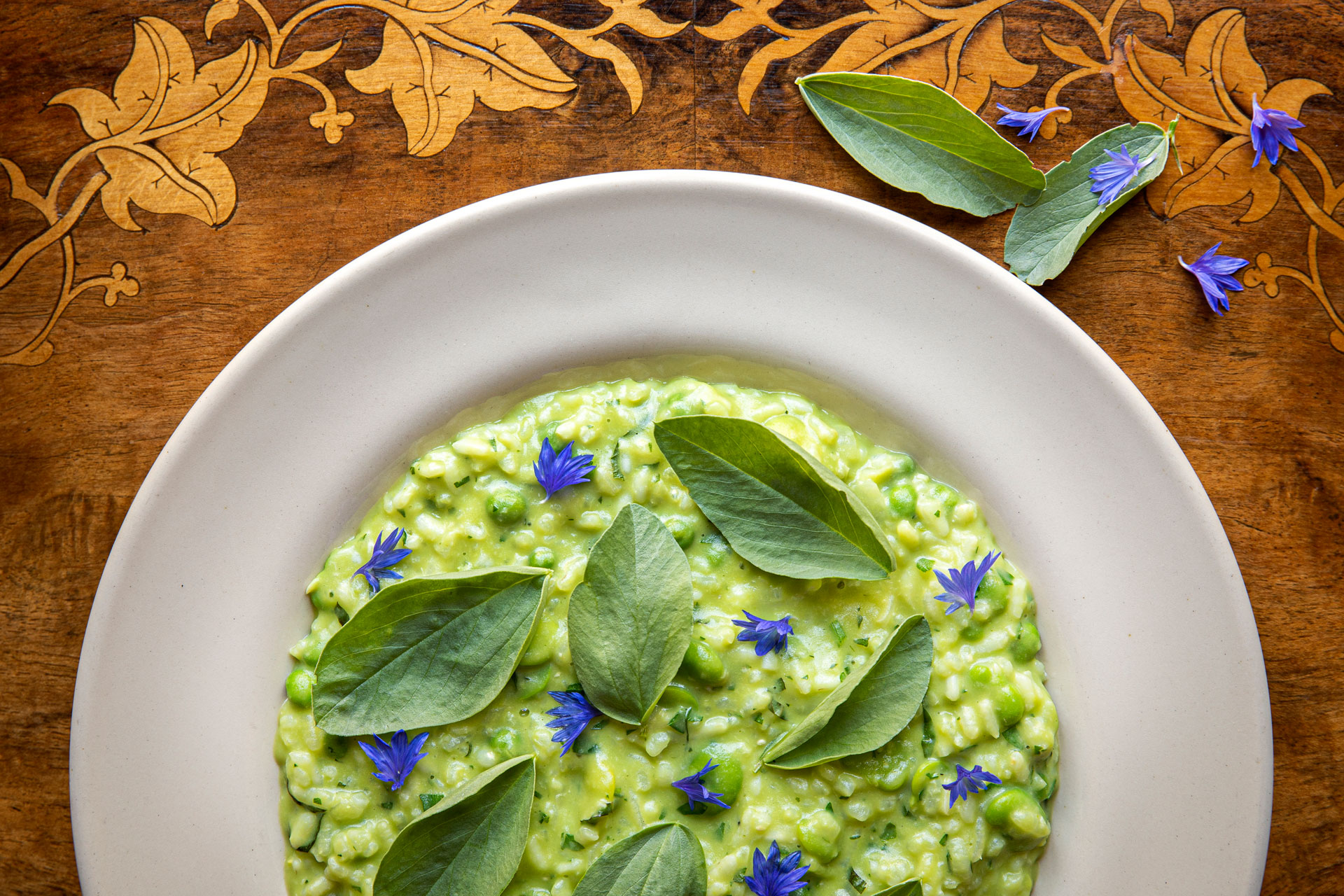 Recipe: The Pig's Pea and Broad Bean Risotto
A spring recipe from one of the UK's top foodie hotels
The Pig hotel group is known for its excellent seasonal-centric food offering – which you can have a go at emulating at home. The Pig: 500 Miles of Food, Friends and Local Legends is the second cookbook from the group, designed to celebrate the unique produce and flavours that make up The Pig family. Here we share one of the recipes from the book: a pea and broad bean risotto perfect for spring.
Recipe: The Pig's Pea and Broad Bean Risotto
This risotto is spring on a plate. We're lucky to have lots of peas and beans in the gardens here, but if you can't lay your hands on a fresh crop, it's one of those recipes we can honestly say works just as well with frozen peas. People are often wary of making risotto and think they'll have to spend the whole evening chained to the stove, stirring away and ending up with a gloopy mush. But if you follow these steps we think you'll be converted. It's creamy but fresh and the addition of lemon at the end really cuts through the richness of the butter and cheese.
Ingredients:
Serves 4 as a starter
100g fresh or frozen peas
100g broad beans
30g butter or 2 tablespoons
Rapeseed oil
½ white onion, finely chopped
2 garlic cloves, finely chopped
250g arborio rice
75ml dry white wine
1 litre hot vegetable stock
50g butter, cut into small cubes
50g Rustler cheese (a semi-hard sheep's cheese made by White Lake), or parmesan, grated
Juice of 1 lemon
10g fresh mint, shredded
Method:
Briefly cook the peas and broad beans in salted boiling water for 3-4 minutes, then drain and submerge in cold water to cool.
Melt the butter (or heat the oil) and sweat the onion and garlic gently over a medium heat – be careful not to colour it.
Once the onions are softened, add the rice and cook for a few minutes before adding any liquid.
Now add the wine; once it's well-reduced, begin adding the vegetable stock – one ladle at a time.
Before adding the next ladleful, you'll need to cook the stock out so it's absorbed into the rice.
Repeat this for the next 12 minutes or so until the rice is cooked.