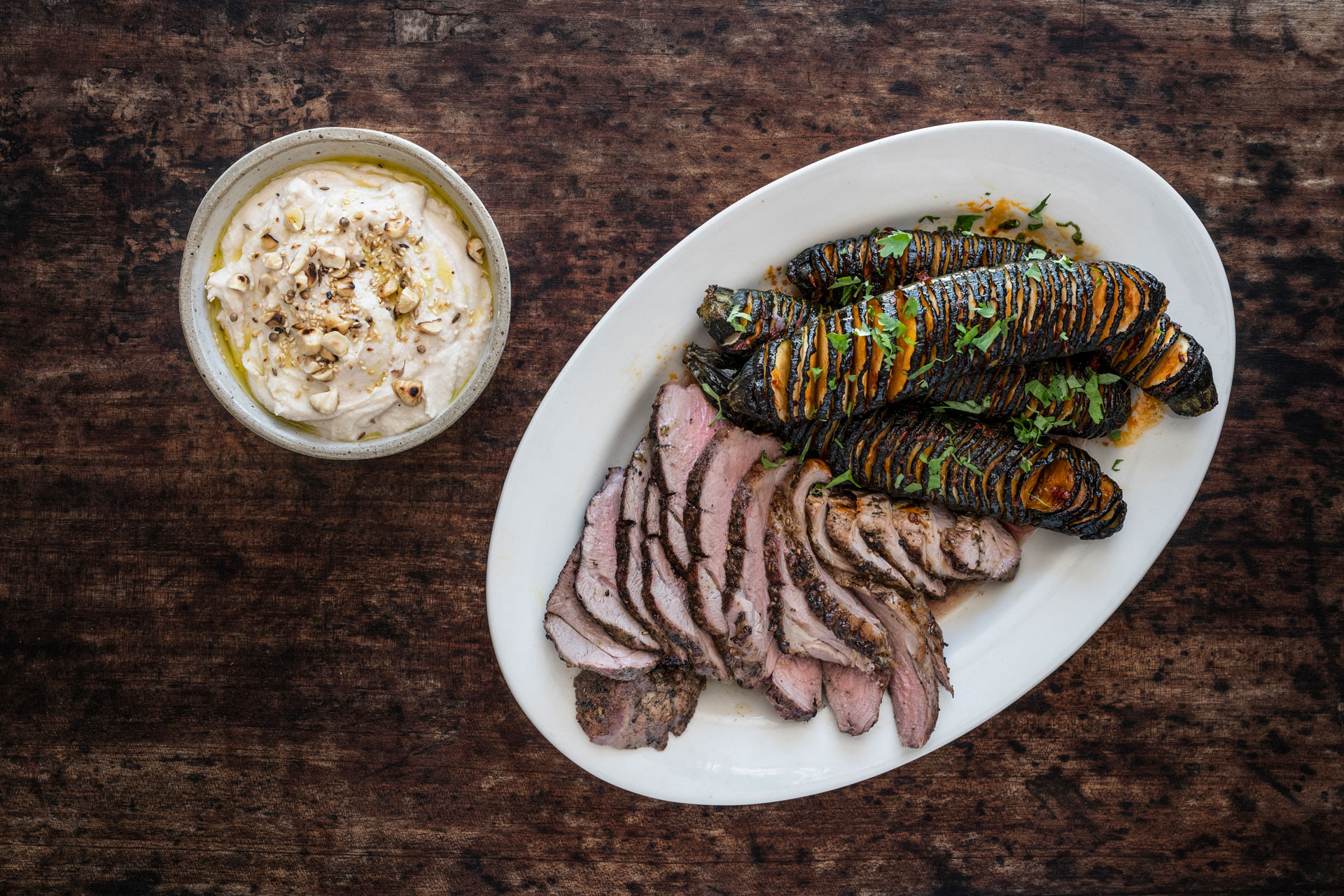 Recipe: Za'atar Spiced Lamb Leg with Hasselback Courgettes
---
The perfect sharing dish from Great British Chefs
This Middle Eastern-inspired recipe from Great British Chefs' new cookbook At The Table will make the perfect showstopper for your next Sunday roast.
Recipe: Za'atar Spiced Lamb Leg with Hasselback Courgettes and Butter Bean Tahini Dip
Delicately spiced and marinated lamb is cooked to blushing pink perfection in this wonderful Middle Eastern-inspired dish, alongside harissa-dressed blistered courgettes and a creamy butter bean dip. By 'hasselbacking' the courgettes, you allow all the flavours of the harissa to permeate the vegetable, making it soft and unctuous in the centre and crisp on the outside.
Serves 6-8
Cooking time: 1 hour 45 minutes plus overnight marinating time
Equipment: Blender
Ingredients:
Lamb
1 lamb leg, weighing approx. 1.5kg, butterflied
2 tbsp za'atar
1 lemon, juiced and zested
1 tbsp olive oil
Courgettes
4 courgettes
3 tsp harissa
4 tsp olive oil
Lemon juice, to taste
Dip
2 tins (800g) of butter beans, drained
2 garlic cloves, roughly chopped
2 tbsp tahini
200ml of water
1 lemon, juiced
Dukkah
3 tbsp chopped hazelnuts
1 tbsp sesame seeds
¼ tsp cumin seeds
¼ tsp coriander seeds
To serve
½ bunch of fresh coriander, chopped
Extra virgin olive oil, for drizzling
Flatbreads
Method:
Mix the za'atar, lemon juice and zest, olive oil and a pinch of salt together, then rub the mixture all over the lamb. Place in a container, cover and leave to marinate in the fridge overnight.
The next day, prepare the courgettes. Line a courgette up next to a wooden spoon – this will stop you from accidentally slicing all the way through the courgette. Make lots of little cuts along the courgette with around 5mm between each slice to create the 'hasselback' effect. Repeat with the remaining courgettes.
Mix together the harissa, olive oil and a squeeze of lemon juice, then season with a pinch of salt and pepper. Use a butter knife or small spatula to carefully massage this mixture into the slits of the courgettes – this takes a little time, but it's well worth it. Transfer the courgettes to a baking tray, reserving any leftover dressing to one side.
Preheat an oven to 200°C and place a large frying or griddle pan over a high heat. Once smoking hot, place the marinated lamb skin-side down in the pan and cook until caramelised and golden. Flip the lamb and continue searing until browned and crisp all over, then transfer to the oven and cook for 40 minutes. 10 minutes after the lamb has gone in, place the courgettes in the oven too.
While the lamb and courgettes, cook, make the dip. Place the drained butter beans in a blender with the garlic and tahini and blitz until smooth. Add the water to loosen (you may not need it all), then season to taste with plenty of salt and lemon juice.
Around The Table by Great British Chefs is available from 2 September at shop.greatbritishchefs.com
MORE RECIPES: