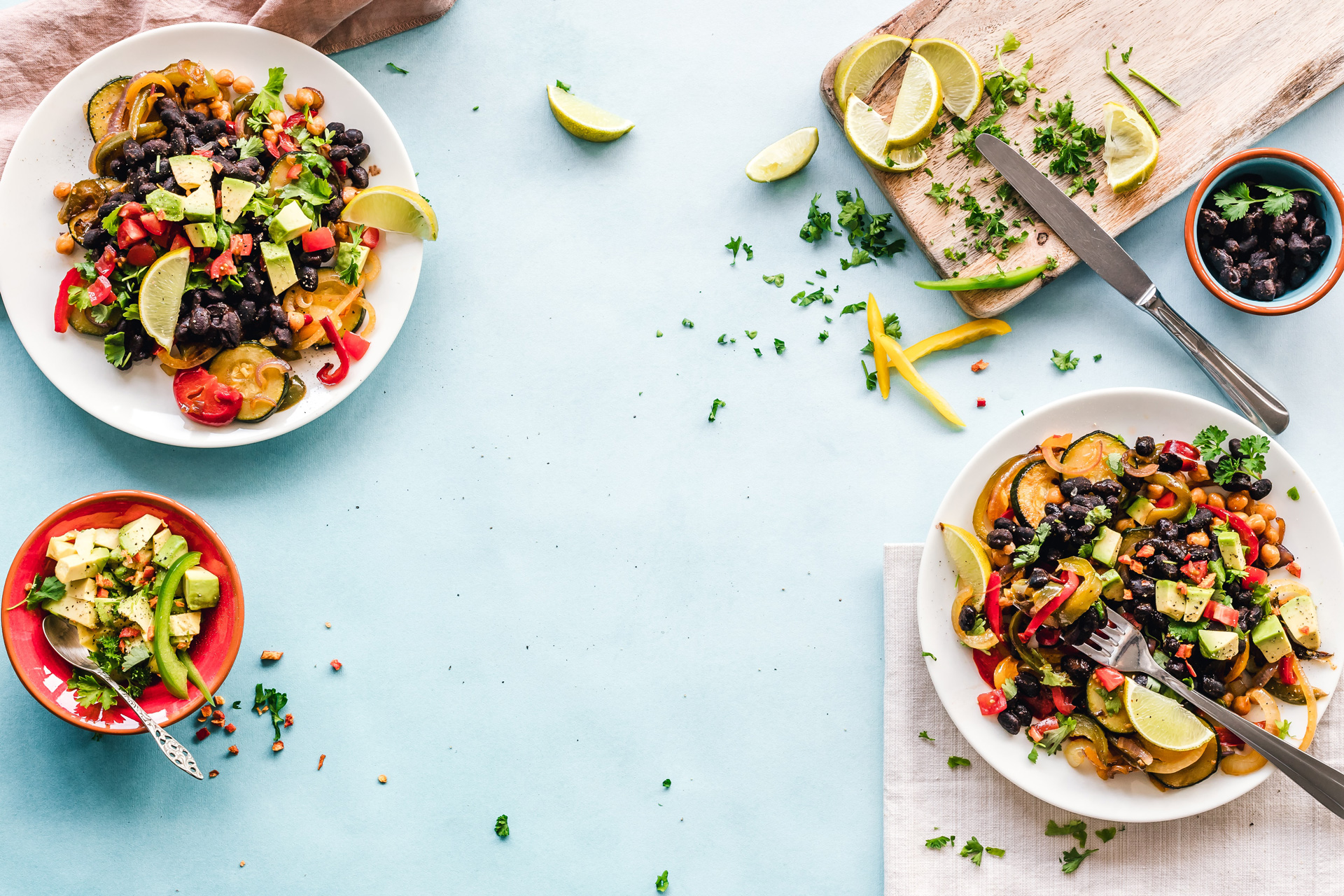 6 Healthy Recipes to Serve Up this Summer
---
Nutritious yet delicious dishes from six of our favourite brands and chefs
Try these mouth-watering healthy recipes to stay well this summer. From salads to nutritious grains, these delicious dishes are both wholesome and healthy.
Best Fitness Apps to Keep You Active Wherever You Are
6 Healthy Recipes to Serve Up this Spring
1. The Detox Kitchen salmon, green beans, orange & hazelnut salad
As healthy recipes go, this salad offers one of our favourite flavour combinations: hazelnuts and orange. It is a wonderfully colourful dish, and the salmon with the hazelnut dressing becomes crispy and extra rich under the grill. Salmon provides one of the few dietary sources of vitamin D, which is essential for strong bones.
Ingredients
Serves four
60g hazelnuts
2 tsp rapeseed oil
Grated zest and juice of 1 orange
4 pieces of salmon fillet, 110–130g each
300g green beans
200g rocket leaves
150g cherry tomatoes
1 orange, peeled and segmented
Salt and pepper
Method
1. Preheat your grill to medium heat. Line a baking tray with greaseproof paper.
2. Crush half the hazelnuts using a pestle and mortar, then tip into a small mixing bowl. Add the rapeseed oil and orange zest and stir to mix.
3. Remove the skin from your salmon fillets and place them on the baking tray. Grill them for six minutes. Turn the fillets over and cover with the crushed hazelnut mixture, then grill for a further four minutes. Remove the salmon from the grill and leave to cool slightly.
4. Meanwhile, bring a medium-sized saucepan of water to the boil. Drop in the green beans and blanch for no more than 1 minute. Drain in a colander and rinse under cold water to stop the cooking process and keep them bright green. Place the beans in a bowl and add the rocket leaves, orange juice and some salt and pepper.
5. Next add the tomatoes to the salad, one at a time: place between your thumb and forefinger and squeeze the tomato so that it rips apart and the juice oozes out. Add the halved orange segments and toss everything gently together.
6. Set a frying pan on a medium heat and add the rest of the hazelnuts. Toast for three–four minutes until lightly browned; keep swirling the nuts in the pan to ensure they brown evenly and don't burn. Add these to the salad and mix through.
7. Serve the salmon fillets with the salad on the side. 
The Detox Kitchen Bible, (Bloomsbury, £15.00, hardback), photography Keiko Oikawa.
2. Tess Ward's Raw spring rolls and peanut dipping sauce recipe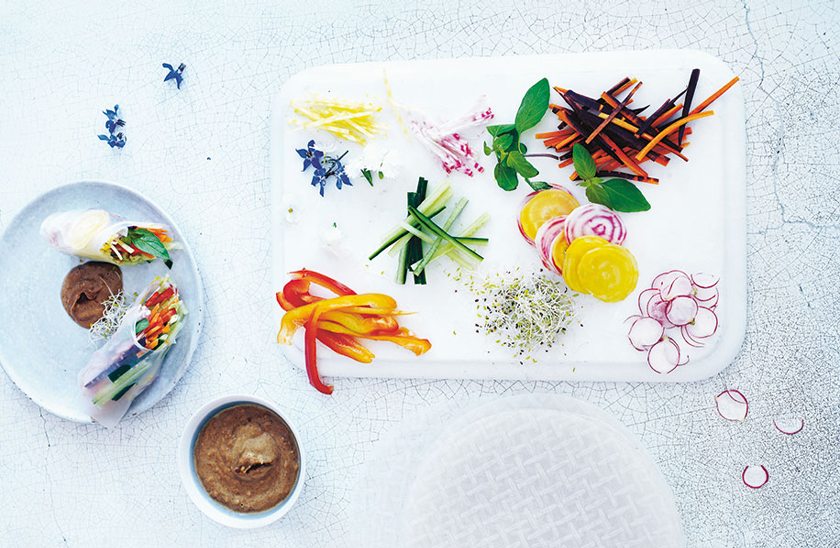 A rainbow of colourful shredded veggies, rice paper wrappers and a mega chunky peanut dipping sauce is all it takes for these tasty spring rolls to sing. For anyone cutting out carbohydrates, I recommend steamed cabbage leaves, or lettuce leaves, instead of rice paper wrappers.
For the rolls
Serves Two

A mixture of fresh vegetables (such as peppers, radish, cucumber, carrots, sprouted beans, celery, kohlrabi, spring onions or avocado)
1 tsp chopped red chilli
6–8 rice paper wrappers (10cm rounds or larger)
Handful of fresh herbs, such as mint, basil and coriander
A few edible flowers (optional, but they look pretty through the wrapper)
For the dipping sauce
3 tbsp unsalted, chunky peanut butter
2 tsp toasted sesame oil
2 tbsp soy sauce
2 tsp apple cider vinegar
1 tbsp runny honey
juice of 1 orange
1. Prepare the vegetables separately into julienne, batons or fine rounds, as appropriate.
2. Fill a large bowl with warm water.
3. Quickly dip in each rice paper for about 10 to 15 seconds, or until soft but not falling apart.
4. Place the wet rice papers on a clean surface.
5. Arrange the prepared vegetables, chilli, herbs and flowers, if using, on each rice wrapper, about a third of the way in.
6. Tuck in the sides and roll. The trick is to not over pack them.
7. Make the dipping sauce by shaking all the ingredients in a jar.
8. Spoon into a bowl.
9. Serve immediately with the chunky peanut dipping sauce, either whole, or cut into bite-sized pieces for a quick bite.
The Naked Diet by Tess Ward (Quadrille, £4.25).
More Healthy Recipes: 3 Easy Vegan Curry Recipes / Rachel Kelly's Purple Risotto With Goat's Cheese & Beetroot
3. Trine Hahnemann's Creamy barley with courgette and mushroom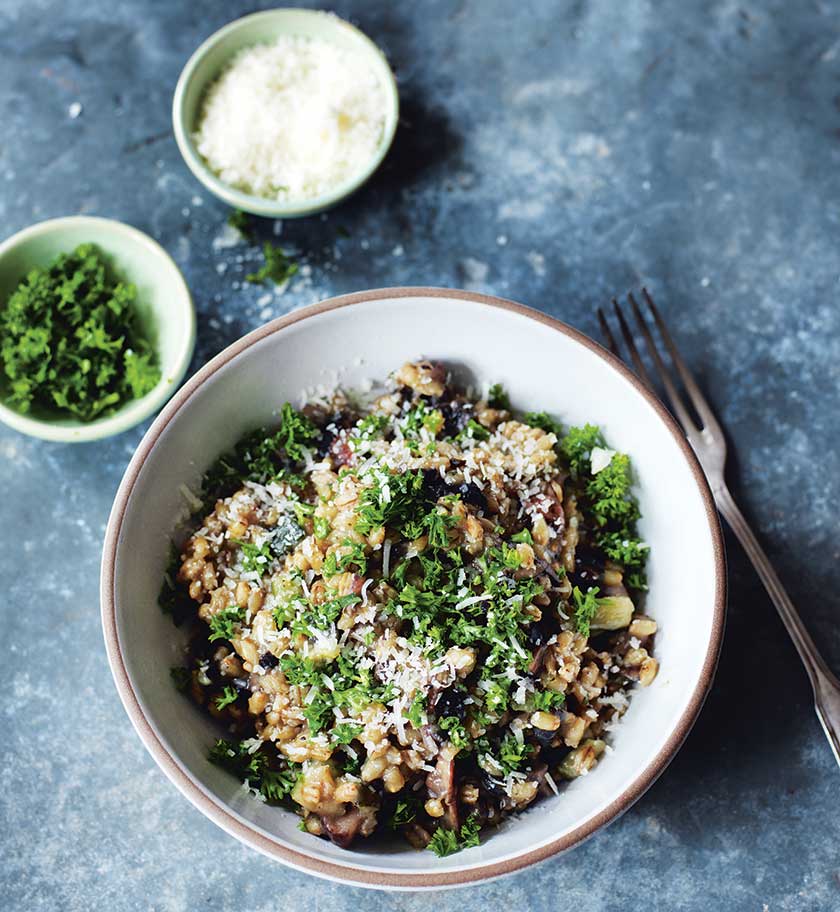 Grains cooked this way are often compared to a risotto, but there is a difference in how much starch rice releases compared to barley, and so the finished texture is not the same. In Scandinavia, this creamy dish is a lot like the different porridges we eat. Porridge has been everyday food for centuries, and when I was growing up we had it for dinner once a week; often Monday would be porridge day in many households. It has become fashionable again, and in Copenhagen we even have a porridge restaurant called GRØD where they serve a lot of savoury dishes for dinner.
Ingredients
Serves four
1 courgette
2 Tbsp extra virgin olive oil
200g/7oz brown mushrooms
1 shallot, finely chopped
3 garlic cloves, finely chopped
1 tbsp thyme leaves, chopped
250g/1⅓ cups barley
700ml/scant 3 cups water
50g/3 ½ tbsp butter
50g/1 ¾ oz Parmesan, grated, plus extra to serve
Sea salt and freshly ground black pepper
Chopped curly parsley, to serve
Method
Cut the courgette into 5-mm/.-in dice. Heat the oil in a large, deep-sided frying pan, add the courgette dice and saut. until starting to brown. Clean the mushrooms and cut them into quarters. Add the mushrooms, shallot, garlic and thyme and saut. for 5 minutes, then add the barley and stir well. Let it cook for a few minutes then add the water with salt and pepper to taste. Let it simmer, covered, for 20–25 minutes over a low heat, stirring and checking now and then that the water has not all evaporated, adding a little more if necessary.
When the barley is cooked, add the butter and Parmesan, check the seasoning and stir well. Serve right away, topped with extra grated Parmesan and some chopped parsley, with a salad on the side.
Scandinavian Comfort Food by Trine Hahnemann (Quadrille £12.84); photography Columbus Leth.
Eat The Seasons: Fruit & Veg That's In Season Now
4. Wendy Rowe's Chicken Satay
Ingredients
Serves two
300g skinless chicken breasts, sliced into strips
100ml coconut milk
1 tbsp honey
1–2 tbsp soy sauce
Handful of fresh coriander, finely chopped
3 garlic cloves, finely diced
Pinch of ground turmeric
1 tsp ground cumin
1 fresh red chilli, deseeded and finely chopped
For the Satay Sauce
Handful of raw peanuts, crushed
1 tbsp soy sauce
1⁄2 tsp ground turmeric
1 tsp palm sugar or honey
1 tbsp coconut milk
Handful of fresh coriander, finely chopped
There are too many ways of cooking chicken to mention here, and you'll see that chicken is included in quite a few recipes in my book, from the Chickpea and Chicken Tagine to my Classic Roast Chicken (see pp. 155 and 218). I love this chicken satay dish; as well as reminding me of trips to Thailand, it helps fill me up, is super tasty and amazing for the health of my skin. Let's face it, everyone likes satay chicken. You can throw this in the oven, on the barbecue or even cook in foil.
Method
1. If using wooden skewers (you'll need about six), soak them in water for 20 minutes before using.
2. Place all the ingredients for the chicken skewers in a large bowl and combine well, massaging the marinade ingredients into the meat. If you have time, leave the chicken to marinate for about 2 hours in the fridge.
3. Preheat the oven to 200°C/180°C fan.
4. Transfer the marinated chicken to a baking tin and bake in the oven for 15–20 minutes, turning them halfway through, or until cooked (see tip below).
5. Meanwhile, make the satay sauce. Place all the ingredients in a bowl, add a tablespoon of water and blend using a stick blender.
6. Thread the cooked chicken strips on to the skewers and serve with the satay sauce, either poured over the chicken or in a bowl for dipping.
Tips
If you like, you can cook the chicken pieces in a griddle pan on the hob or on the barbecue for 10–15 minutes or until cooked through and slightly charred. For a change, try using prawns instead of chicken. 449 calories per serving.
Eat Beautiful by Wendy Rowe (Ebury Press, £16) photography by David Loftus.
More Healthy Recipes: 9 of the Best Healthy Breakfasts / Melissa Hemsley's Eat Happy
5. Nina Parker's Whore's Pasta
Yes, pasta can be healthy too. Nina Parker knows how to make healthy recipes just as comforting as they are nutritious. Try this wholesome spelt spaghetti with a spicy and vibrant tomato sauce when you can't possibly face a salad.
Ingredients
Serves two
7 anchovy fillets in extra virgin olive oil, chopped, plus 4 tablespoons of the anchovy oil
4 garlic cloves, diced
1/2 red chilli, deseeded and chopped
8 cherry tomatoes, halved
80g black olives, half chopped
80g green olives, half chopped
2 tbsp capers
1/2 glass of dry white wine
400g tinned plum tomatoes
bunch of basil, roughly chopped
finely grated zest and juice of
1 unwaxed lemon
1 tbsp aged balsamic vinegar
160g dried wholegrain spelt spaghetti
sea salt and freshly ground black pepper
Method
Heat the oil from the anchovies in a large pan over a medium heat. When hot, add the garlic and chilli and cook for 2 minutes. Stir in the anchovies, cherry tomatoes, olives, capers and white wine, and cook for 5–6 minutes. Add the tinned tomatoes, bring to the boil, then simmer for about 10 minutes. Taste to check the seasoning, adding in more chilli, the balsamic vinegar and some salt and pepper, if needed.
Cook the spaghetti according to the packet instructions. When the pasta is cooked, scoop out a ladleful of the cooking water, then drain the pasta. Add the reserved pasta water to the sauce to loosen it a little, stir in the basil, lemon zest and juice. Combine with the pasta and sauce and divide everything between 2 plates or one platter and serve immediately.
Nina Capri by Nina Parker, (Orion £18.75).
6. Zuma's Watercress Salad With Wasabi & Cucumber Dressing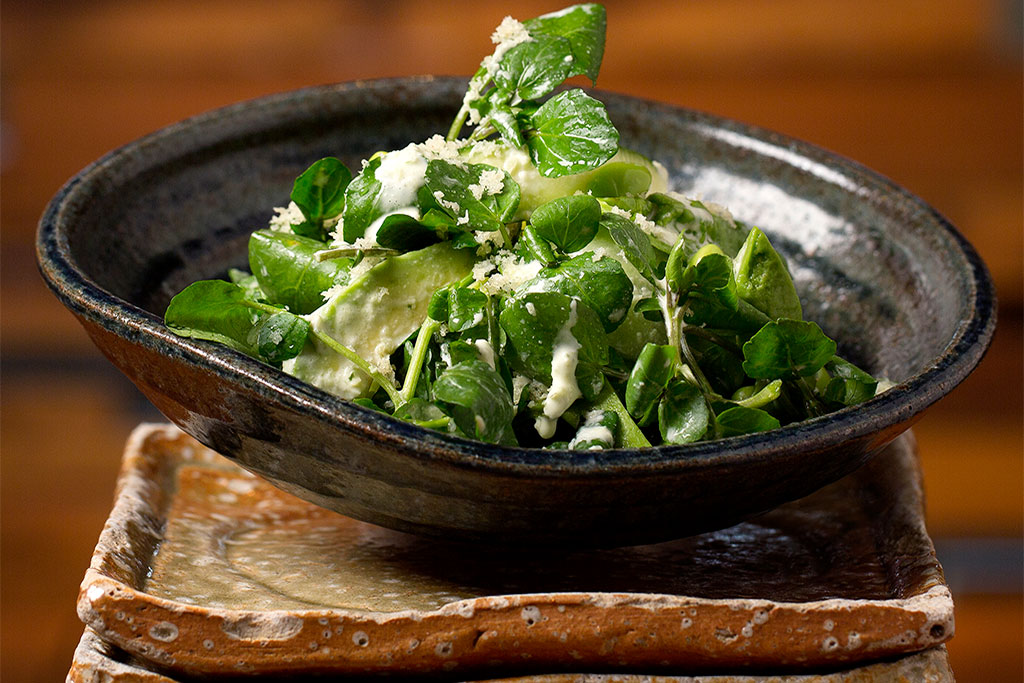 Ingredients 
Serves 5
Wasabi Dressing
1 cucumber, grated
1 pinch of sea salt
150g mayonnaise
90g wasabi
60ml pickled ginger juice
25ml rice vinegar
Watercress salad
700g watercress, washed and picked
2 cucumber, sliced into 3 inch ribbons
5 baby courgette, sliced into ribbons
3 ripe avocado
50g Toasted Sesame Seeds
Method
This is a delicious salad that's perfect for a starter or as a side with grilled meats and fish.
To make the dressing, grate the cucumber into a bowl so as not to lose any juice. Then pass this liquid through a sieve into a bowl with the mayonnaise in, add the rest of the ingredients and whisk to a smooth dressing. Refrigerate until required. To make the salad the only trick is to make sure that you do it at the last minute, so that the salad stays crisp. Peel and remove the stone from the avocado, dice this into bite sized pieces, then place these into a large salad bowl and add the cucumber and courgette ribbons and watercress. Spoon over as much of the dressing as you like and then toss well. Pile up in a serving bowl and sprinkle with the toasted sesame seeds for added crunch.
Recipe from Zuma London
Featured image: Ella Olsson on Unsplash
MORE HEALTHY RECIPES: Slaw: 3 Healthy Recipes for Spring / Avobar's Moroccan Superfood Bowl