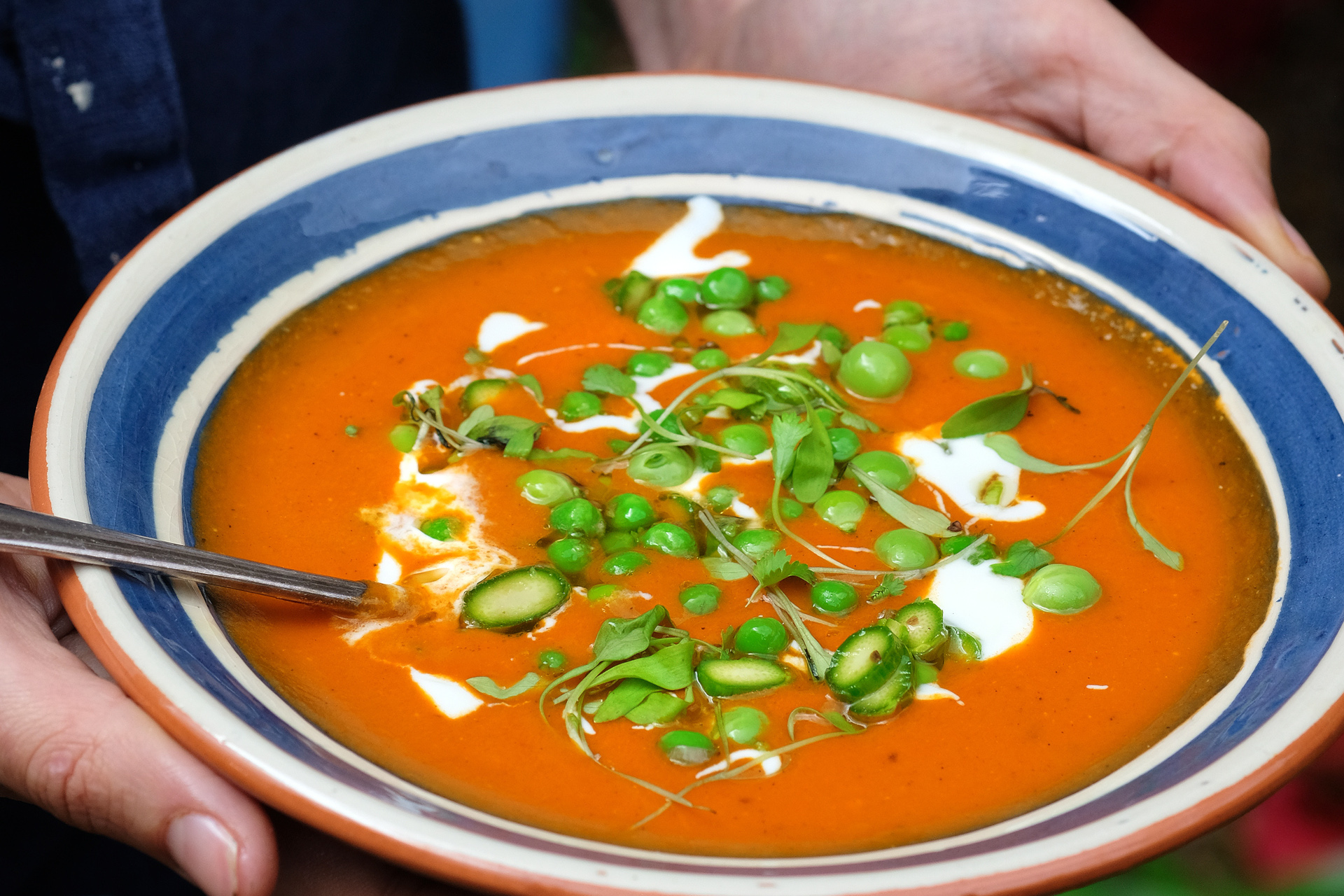 Recipe: Roasted Red Pepper Soup with Crunchy Spring Greens
---
'The all-time, most probably historical, one pot wonder.'
It's the season for soup – and what better way to get involved than with Wild by Tart's roasted red pepper, scotch bonnet and red lentil soup with crunchy spring greens.
Recipe: Roasted Red Pepper, Scotch Bonnet and Red Lentil Soup with Crunchy Spring Greens
Serves 4
Soup is an invigorating energy and mood booster, or a meal meant for slowing down and finding comfort. What a nurturing wonder cure. So simple, yet so incredibly satisfying and rewarding; the all-time, most probably historical, one pot wonder.
For us it ticks both needs in one. We pretty much live on soups for lunch in the week, always with an added extra crunchy topping and some kind of jazzed up yoghurt (herby, spiced, citrus etc). It's so much of what we love all in one easy to hold meal – that contrast of piping hot, soothing and cooling and something zingy with lots of crunch to give the dish texture and elevation. We have been serving soups like this to go in our deli at Wild by Tart for the past few months – which we have loved recipe testing for – and have searched for the exact play of flavours, colours and textures we love to make the perfect fulfilling soup mid-day. It's getting that combination right in a soup that makes it a very special and memorable one.
There is nothing quite so depressing as a lacklustre, flavourless soup – one where, on the go, you just have to get it down you with the mentality that it's going to fill the void and give you energy. Sometimes it's literally like warmed up tap water that you find yourself madly seasoning. Yes, we have all been there before, like an old fashioned salad made with bad ingredients and matched with a hopeless dressing – how is food ever allowed to be so sad?
Soups need complexity and character, maybe a touch of drama, to keep you engaged, so that each mouthful isn't the same old bland blur. This really is an invigorating recipe to get you bouncing through colder days. It freezes well and can be brought to life with a little squeeze of lime and sliced up raw green veggies, for an uplift with a crunch.
Ingredients
4 red peppers- cut lengthways and deseeded
3 shallots, diced
3 inch ginger- chopped
6 garlic- thinly sliced
2 celery- sliced
1 carrot- diced
1 scotch bonnet, deseeded and finely chopped
1 tsp cumin seeds
2 cinnamon sticks
1 tsp ground coriander
Small bunch coriander, chop stalks and reserve leaves (thinly chopped) for topping
1 litre stock
2 tsp smoked paprika
1 tbsp tomato paste
200g red lentils, rinsed
1 tsp turmeric
1 tin coconut milk
1 tbsp white wine vinegar
Maple syrup
4 lime leaves
1 lime
Small bunch asparagus, finely sliced across the width
2 tbsp. peas (frozen or fresh)
1 lime juice and zest
1 tbsp olive oil
Seasoning
Method
Oven roast the peppers at 180 degrees Celsius for 30 minutes, take out and allow to cool covered. Once cool take the skins off and roughly chop.
In a pot sauté the shallot, ginger, celery, carrot, scotch bonnet, cumin seeds, cinnamon, ground coriander and coriander stalks for a good 10 minutes. Then pour in the stock, lentils, paprika, tomato paste, turmeric, coconut milk, vinegar, maple syrup and lime leaves and simmer for a good 30 minutes. Season generously.
Put into a blender (taking out the cinnamon sticks and lime leaves) with the chopped red pepper and a good squeeze of lime. Blitz until smooth, or pulse if you prefer a rougher texture.
Mix topping ingredients. If peas are frozen just lightly rinse in a sieve under hot water for a few seconds. Top the soup with the crunchy greens and also a good blob of yoghurt- nice to mix a little crushed up feta and ground cumin into the yoghurt.
READ MORE
Recipe: Foraged Ground Elder and Nettle Soup / Recipe: Roasted Cauliflower and Almond Soup