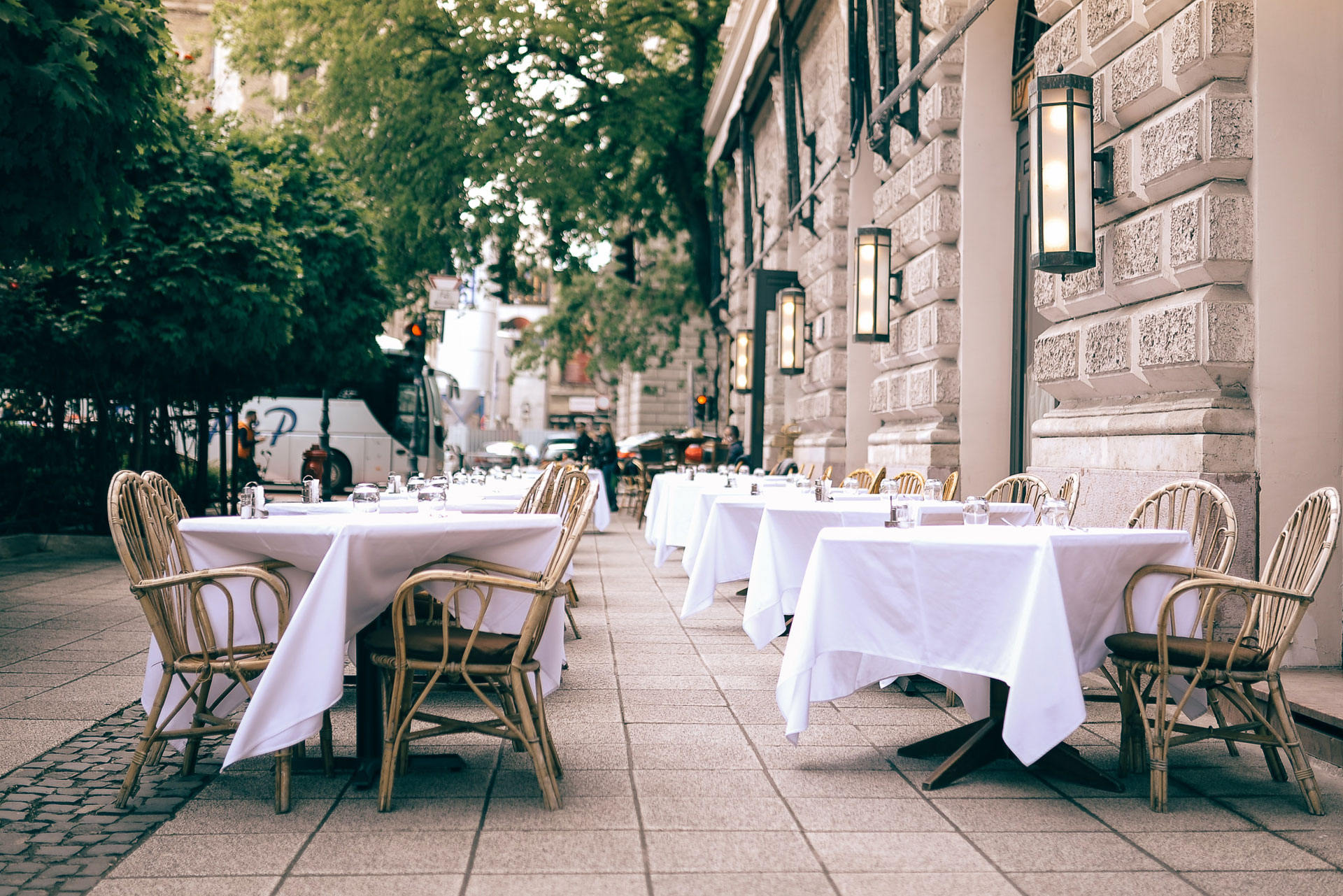 A Guide To Dining Out Post-Lockdown
---
Everything you need to know: from the booking to the eating
Restaurants and cafes are now open – but how will they operate in a new socially distanced world? Read on for a guide on what to expect when dining out post-lockdown.
Booking
First thing's first: book in advance. While some restaurants are accepting walk-ins, reservations are encouraged so that businesses can manage numbers – and due to social distancing measures there's less space than usual, so it'll be harder to get a spontaneous table. On the upside, many restaurants which didn't used to allow advance bookings are now taking reservations, such as Italian trattoria Gloria in Shoreditch. You might be asked for a deposit when booking in advance – this is just to prevent no-shows. Remember it's been a really tough few months for the hospitality industry, so they're doing everything they can to get back on their feet quickly. In terms of numbers, the maximum reservation at most restaurants is six people per table – although some will allow more provided only two households are involved. If you're eating outdoors, Gov.uk stipulates: "you can do so with one other household or in a group of up to six people from different households."
Arrival
You might be asked for your name and contact details on arrival; this is to allow people to be easily traced if there's a localised outbreak. Some places will check your temperature too – The Ivy Chelsea Garden, for instance, has thermal cameras in the lobby. You should also be prepared to wait longer than usual for your table, due to thorough cleaning of tables between guests.
Service & Systems
Service is where we'll be seeing the most changes. Some of the traditional parts of dining at a high-end restaurant will be gone: cutlery won't be laid out ahead of guests coming in – instead brought it to you with your meal – and wine will be left on tables for diners to pour themselves. Many venues are using one way systems, and frequent disinfecting of tables and bar surfaces will become the norm. Some places are taking things even further, such as The Bath Priory, which is using a tray system: plates are lifted by diners from the trays and returned when empty to limit the contact between staff and guests. Menus, meanwhile, are likely to be made from disposable material – and some places are encouraging diners to browse the offerings on their phones.
Technology & Equipment
Restaurants will look different too: expect to see plenty of signs and PPE. Some venues, including Prime Steak and Grill in Chorleywood, have installed Perspex screens to separate dining groups. We'll also be seeing an increased use of technology: at Wild By Tart's new outdoor pop-up, for instance, guests are ordering via QR codes. Dining in pods or bubbles is also going to gain traction, currently seen at restaurants including Coppa Club in London and The Lobster Pod Bistro in South Devon. Measures are also being put in place to stop diners having to touch anything, like the new foot and elbow openers seen on doors at Gaucho.
Behind The Scenes
There's going to be a lot going on behind closed doors too. At The Ivy Chelsea Garden, employees will log daily temperatures, there'll be a professional deep clean every night, and air filtration units have been fitted – said to be 99 per cent effective in killing the MRSA and H1N1 viruses, which are part of the same RNA coronavirus family.
Verdict
Overall, our advice is to be patient. Restaurants are under huge pressure having been closed for months, and they'll be getting used to the new measures too. Enjoy the food, soak up the atmosphere and of course: wash your hands.
READ MORE:
UK Rentals with a Sea View To Book Now / London Restaurants Offering Delivery