Sofia Tindall reviews Ampéli, a new Greek restaurant in Fitzrovia
I've never been to a Greek restaurant – I've been conditioned to expect plate smashing, but thankfully there's none of that at Ampéli.
Tucked away behind a forest-green awning in Charlotte Street, this is the latest cosy opening to Fitzrovia's buzzing food scene. Founder Jenny Pagoni joined forces with head chef Oren Goldfield – whose CV includes stints at Nopi and Queenswood, and Greek Wine Master Yiannis Karakasis on the wine list. Also, to backtrack on the plate smashing comment, the menu itself is a tantalising fusion of Greek and Eastern Mediterranean cuisine. Plus a few hip twists like harissa mayo, tomato jam and poppy custard (this is W1 after all).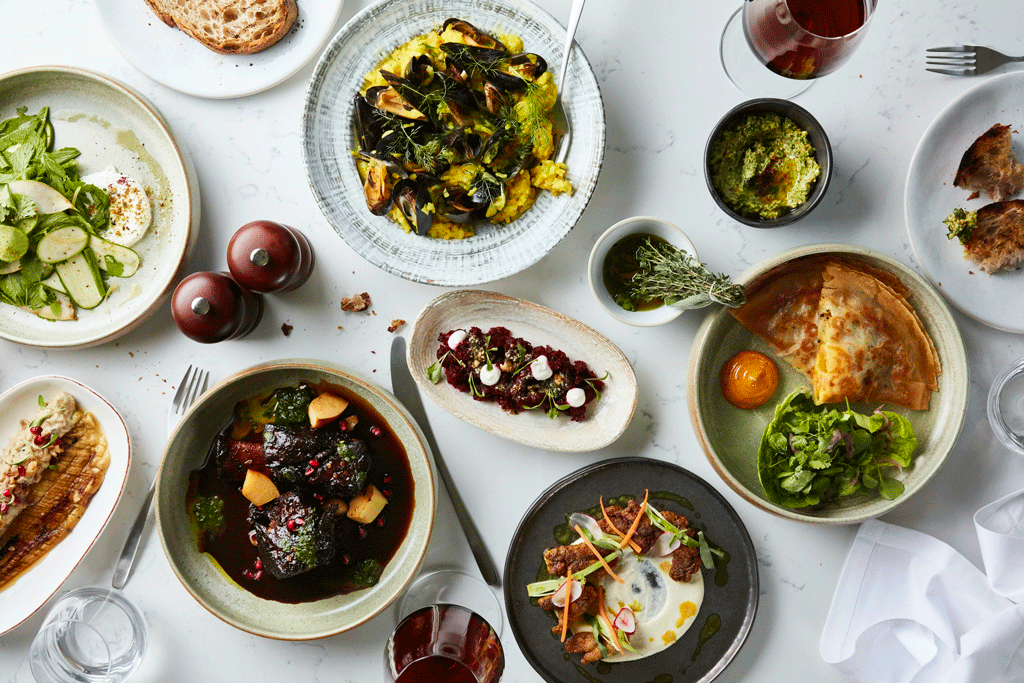 The environment is small and intimate, a refuge from the hustle and bustle of London on a drizzly January evening. Think: low-hanging lamps and glossy marble tables with first dates taking place over beading glasses of Gerovassiliou 'Malagousia', a rich, peachy white from Macedonia which goes down all too smoothly. An exquisite array of dishes grace the menu – not good news if you suffer from food FOMO. Eventually, we settled on okra tempura and goat's cheese fritters, and roasted beetroot with labneh and dukkha. The okra arrives sweet, crisped and perfectly underscored with zesty Greek yoghurt – a true Ampéli 'bread and butter' (or sourdough and fragrant olive oil, the restaurant's equivalent).
To follow up it's all too tempting to order a bacchanalian banquet of small plates, but the real winner is whipped feta. Nettle-green, it comes liberally sprinkled with crunchy pistachio and Aleppo pepper. The consistency is thick and creamy, lifted by the earthiness of the pistachio and served on the side of hard-baked crisp breads. As something of a cheese fanatic, I can't believe it's been missing from my life all this time. Wash down with a glass of Tsiggelo wine, which is aged in amphoras, hand-turned clay vases used to ripen sweet wines.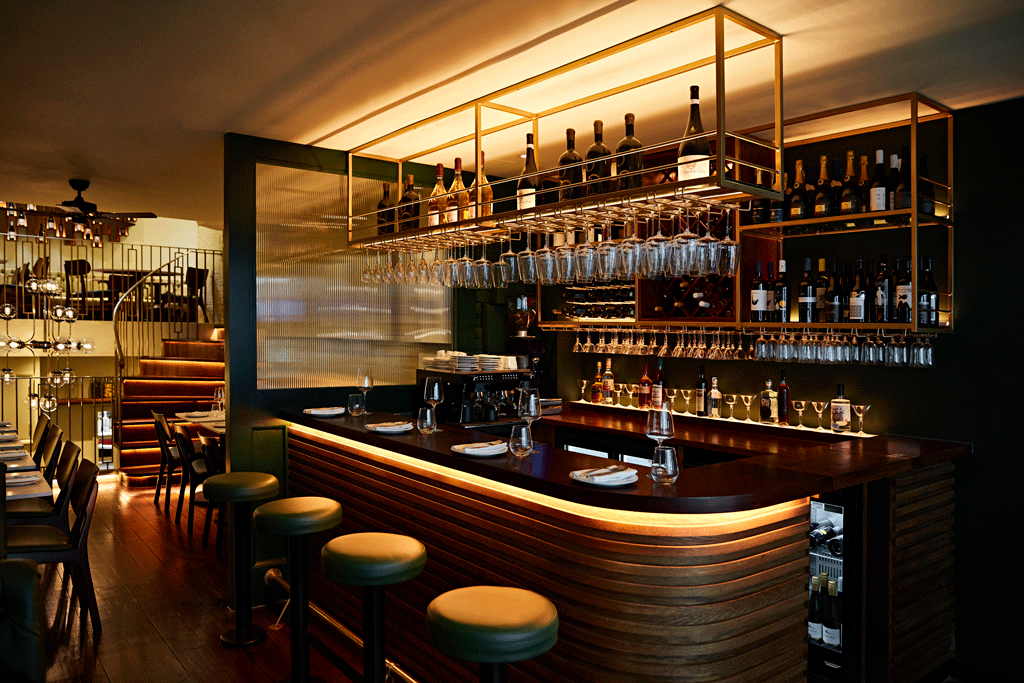 Main courses are a cornucopia of Greek and Mediterranean classics modernised by cool, contemporary twists. Braised short ribs are embellished with date molasses and quince, grilled baby chicken decorated grape molasses and pickled kumquats. Even as a seasoned vegetarian, my curiosity is piqued. But the vegetarian dishes more than make up for it; trahanas with January King cabbage is a dish which comes in a shallow bowl of tapioca, a rich, starchy base topped with a gloriously nutty lovage pesto and delicate grilled cabbage. It takes a special kind of kitchen wizardry to transform porridge and cabbage, typically two of the worst types of ingredients. But if you only order one thing from Ampéli's menu, this should be it.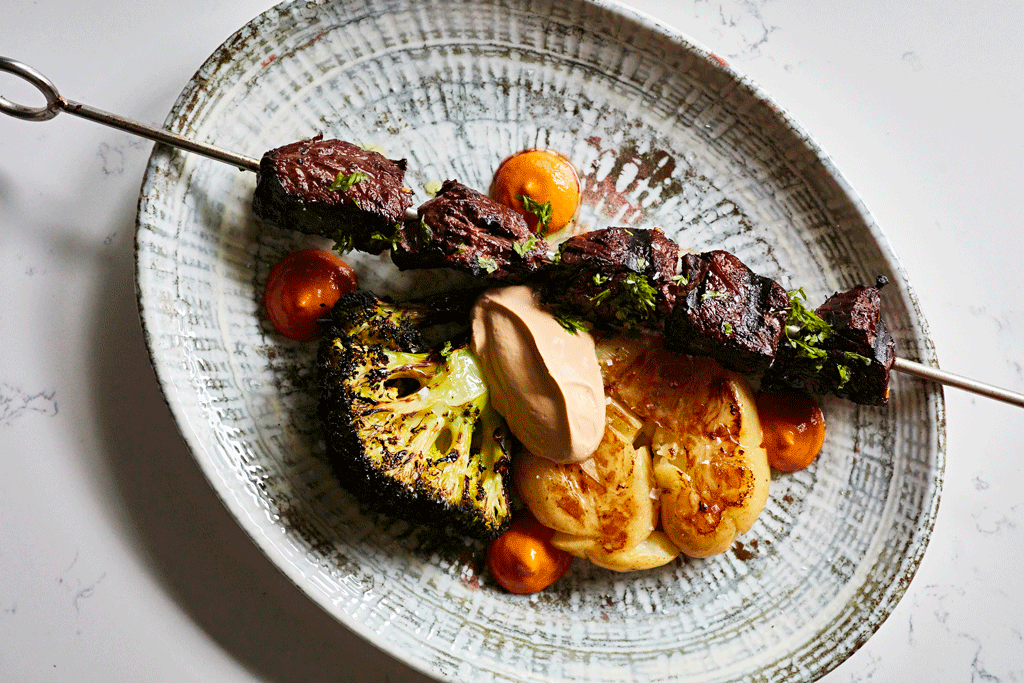 With just enough room left for dessert (there is always room for dessert): loukoumades, a traditional Greek doughnut come marinated in mountain tea syrup – a honey-flavoured nectar, with Goldfield's twist, a creamy poppy seed custard. Karakasis' only concession to rosé on the wine menu is Rosé de Xinomavro, which is like a mouthful of strawberries and completely revives my love of a rich rosé. It was in a tipsy fashion that we eventually wove our way back to Goodge Street station.
It's lucky there's no plate-smashing at Ampéli – their beautiful cuisine, opulent wines and frankly exquisite crockery would be criminal to waste. Book quickly: in the next few months we predict you'll struggle to get a reservation in edgeways.
Photo credits: Steven Joyce
Best New Restaurants in London / Food & Drink Pop-Ups in London
---