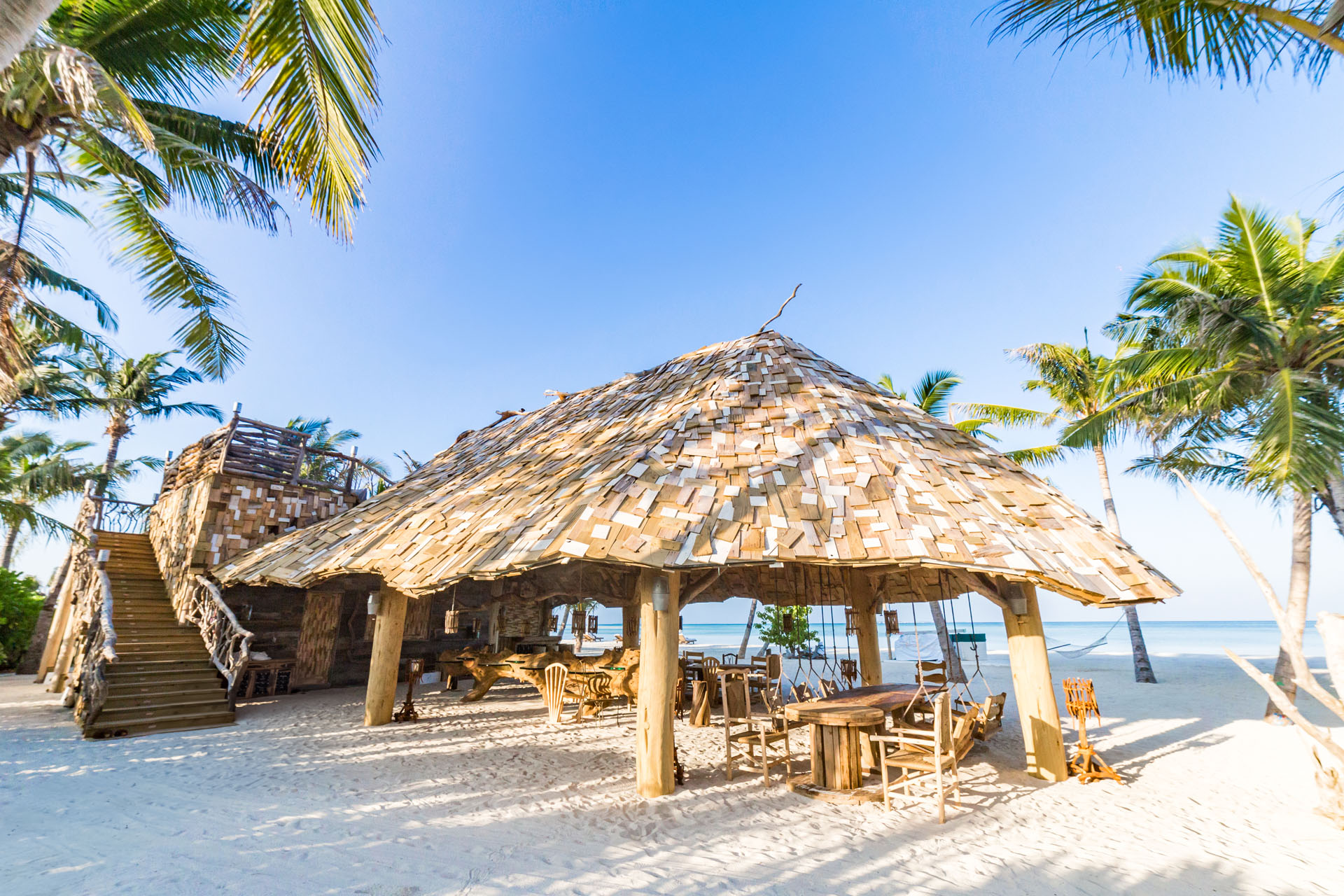 Review: Eating your Heart out at Soneva Fushi and Soneva Jani
---
Emma Love discovers the best bites in two of the Maldives' hottest resorts
Known for being a pioneering brand in the sustainable space, this innovation has continued to the food, says Emma Love who tucks in at barefood paradises Soneva Fushi and Soneva Jani in the Maldives.
Review: Eating your heart out at Soneva Fushi and Soneva Jani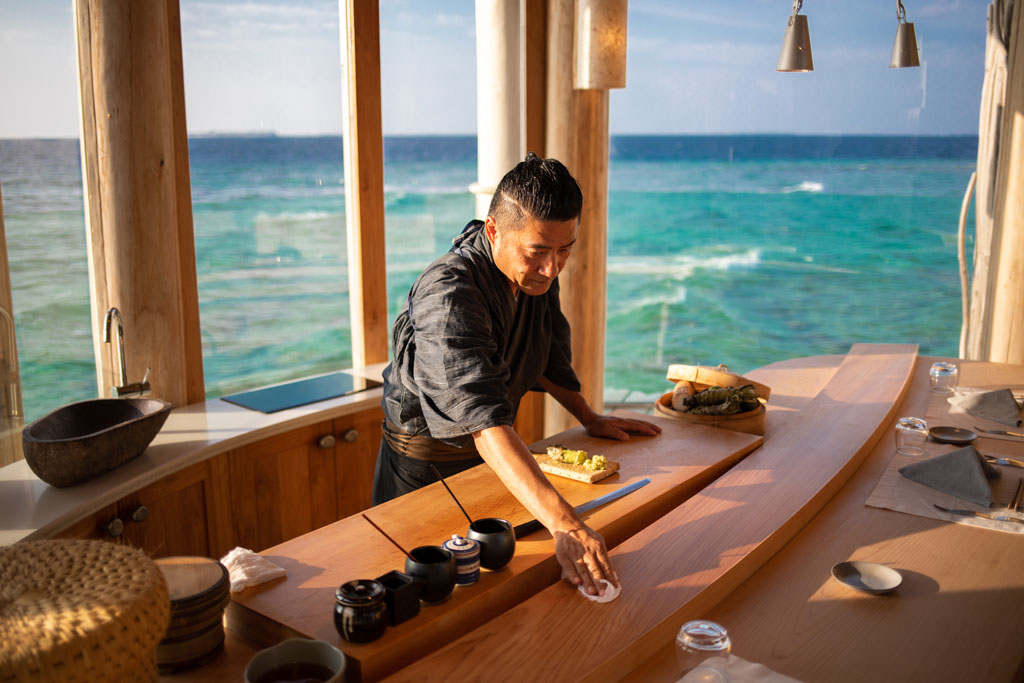 Most travellers holiday in the Maldives for the incredible marine life and picture postcard turquoise atolls but for the last 27 years, trailblazers Sonu and Eva Shivdasani – founders of Soneva Fushi and the newer Soneva Jani – have been giving guests many more reasons to check-in. Not only were they pioneers of the barefoot luxury concept, their ahead-of-the-curve Slow Life philosophy has sustainability at its core. Initiatives include an impressive Eco Centro on Soneva Fushi, which has everything from mushroom huts to a charcoal making station, and creating the largest coral nursery in the Indian Ocean through the Soneva Foundation.
Although linked by the same principals, cleverly the two islands also feel distinctly different. Soneva Fushi is all jungle living with traditional thatched villas, winding paths made for cycling leading to the dive centre, The Den (the kid's club has a pirate ship, and rooms dedicated to Lego, music and dressing-up) and the Glass Studio – the only one in the Maldives. Meanwhile, at Soneva Jani the majority of villas are overwater (those on the Chapter 2 side of the island were added at the end of 2020) and ideal for those seeking to fly-and-flop in complete privacy. These are islands that are ever-evolving – the big news this year is the launch of Soneva Soul wellness – and of course, that includes the food too. From exciting Michelin-starred chef residencies to restaurants where guests zipline through the trees to supper, dining here is next-level. Here's our pick of where to eat at Soneva.
SONEVA JANI
Overseas by Mathias Dahlgren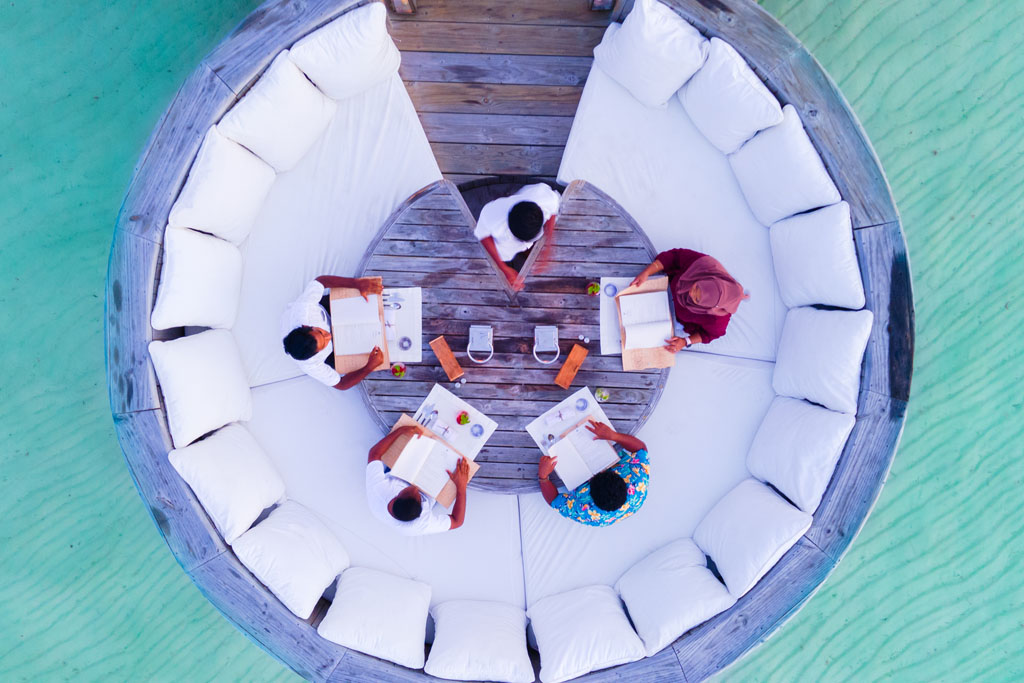 Best known for his two Michelin-guide Stockholm restaurants Matbaren and Rutabaga, acclaimed Swedish chef Mathias Dahlgren has had an outpost here since the end of 2020. It's intimate, alfresco and overwater (you pass the in-the-round kitchen on your way to the tables), with an inventive menu that focuses on sustainably caught local fish and freshly picked vegetables from the island's organic garden. Dishes such as the deep-fried tofu and broccoli (never has tofu tasted so good – seriously), tuna served on shiso leaf with soy, pickled ginger and black sesame, and grilled green asparagus with sauteed cabbage, are meant to be shared. Dahlgren comes out for cooking stints twice a year; the rest of the time his vision is brilliantly executed by a rotating chef. 'The concept is pescatarian and vegetarian food, made with local produce. We have lots of Asian dishes but also influences from Europe and Sweden,' says chef Stina Nilsson, who was at Soneva Jani until May (her replacement is Tim Gobel). 'That is Mathias's way of cooking: no limits or boundaries. We just try to make everything taste as good as it can.'
The Crab Shack
This is the best kind of lo-fi, toes-in the-sand lunch place where you can rock up in swimsuits straight from your sun lounger. Set on palm-tree strewn South Beach, with a vaulted roof and rustic wooden tables (if you're a larger group, bag the tree trunk table with double rope swing seats), the highlight here are the Sri Lankan mud crabs and Alaskan crabs, which come, for instance, wok-fried and spicy, as a mild curry, or cooked a La Provencale-style in butter, white wine and garlic. That's not all: the menu also includes prawn ceviche, crunchy calamari rings and ginormous garlicky grilled prawns. For dessert, wander next door to So Guilty for help-yourself scoops of vegan and sugar-free ice-cream: flavours include pistachio raspberry fudge, salty caramel and pandan.
So Primitive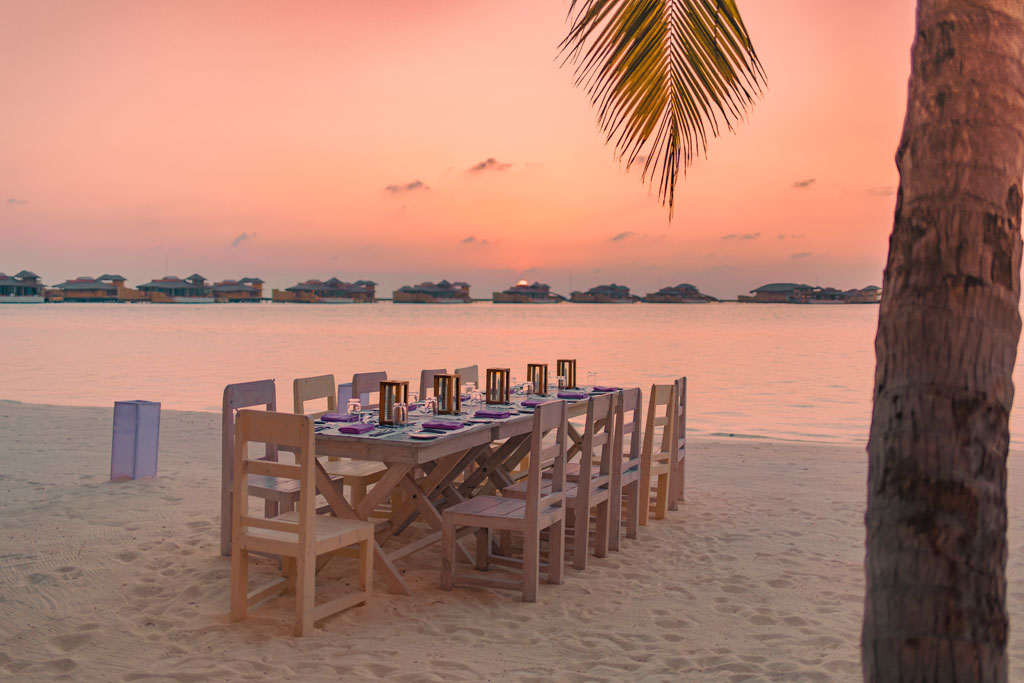 Also on South Beach is dinner-only So Primitive, where the open-air kitchen centres around a custom-made Vietnamese bbq that uses coconut charcoal (made on the island) to heat ingredients up to 800 degrees. Imaginative salads – such as sweet potato salad and Maldivian cabbage salad – and the fluffiest focaccia pave the way for the main event: prawns and lamb, cooked at the table on a slab of sizzling Himalayan stone. For dessert, order grilled peaches with lime sorbet and brown butter – delicious.
SONEVA FUSHI
Shades of Green
Every supper at open-air, plant-based Shades of Green begins with a tour of the organic garden. As the sun sets and with the sound of the call to prayer in the distance, a chef will guide guests along the rows of herbs and vegetables, pointing out everything from mizuna (a Japanese green with a peppery taste) to peanut plants and wild passion fruit. The five set menus – cleansing, crispy, raw, grains, fire and sweets – are the creation of Danish consultant chef Carsten Kyster who has fused the flavours of Maldivian and Southeast Asian cooking with typically Nordic techniques such as smoking and pickling. Dishes include sweet pumpkin coconut curry, eaten around the firepit in the middle of the garden (the rest of the meal is at communal tables under the trees), and aubergine-wrapped carrot, onion and cashews, served with edamame beans.
Fresh in the Garden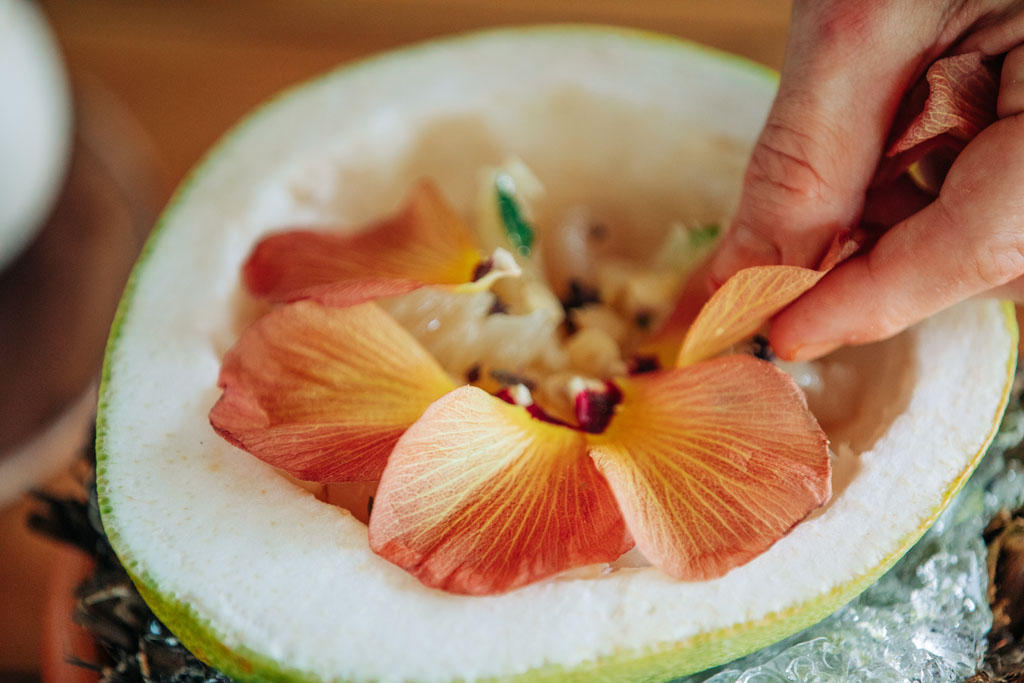 A year-long pop-up by Danish chef and restaurateur Mads Refslund (one of the original founders of Noma), this treetop restaurant overlooking the organic garden is reached via a wooden rope bridge. The concept is fire and ice, which, says chef Fernando Baena means 'raw food with incredible flavours and cooking over flames. It's all about the ingredients and how we can combine them in the most interesting ways.' Stand-out dishes include two-hour smoked chicken, prawns cooked in lemongrass with velvet tamarind, and braised hearts of palm with black truffle and sunchokes. Sit undercover close to the central open kitchen, or under an inky night sky and, after dinner, take the staircase up to the observatory for star spotting with the resident astronomer.
Out of the Blue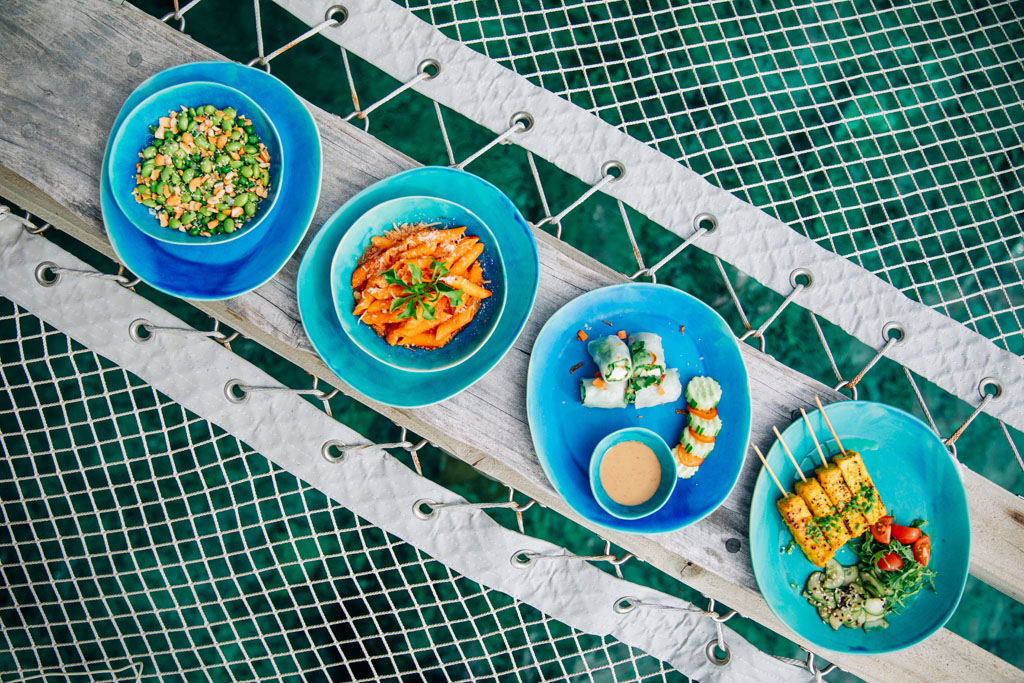 The main overwater dining venue – which has a slide into the sea on one side – is four food concepts under one roof. There's the teppanyaki restaurant So Bespoke; Once Upon a Table, the chef's table experience; So Hands on, a sushi counter helmed by Japanese chef Akira Koba; and Out of the Blue where Maldivian chef Abdulla Sobah serves up South East Asian street food in the day and refined Japanese by night. Top lunch choices include summer rolls, Banh Xeo (crispy pancakes) from Vietnam, Malaysian prawn laksa and Ho Mok (steamed curry) from Thailand.
Book it: A one-bedroom villa at Soneva Jani starts from £1,456 per night; a one-bedroom villa at Soneva Fushi starts at £1,007 per night, both on a bed and breakfast basis.  
READ MORE