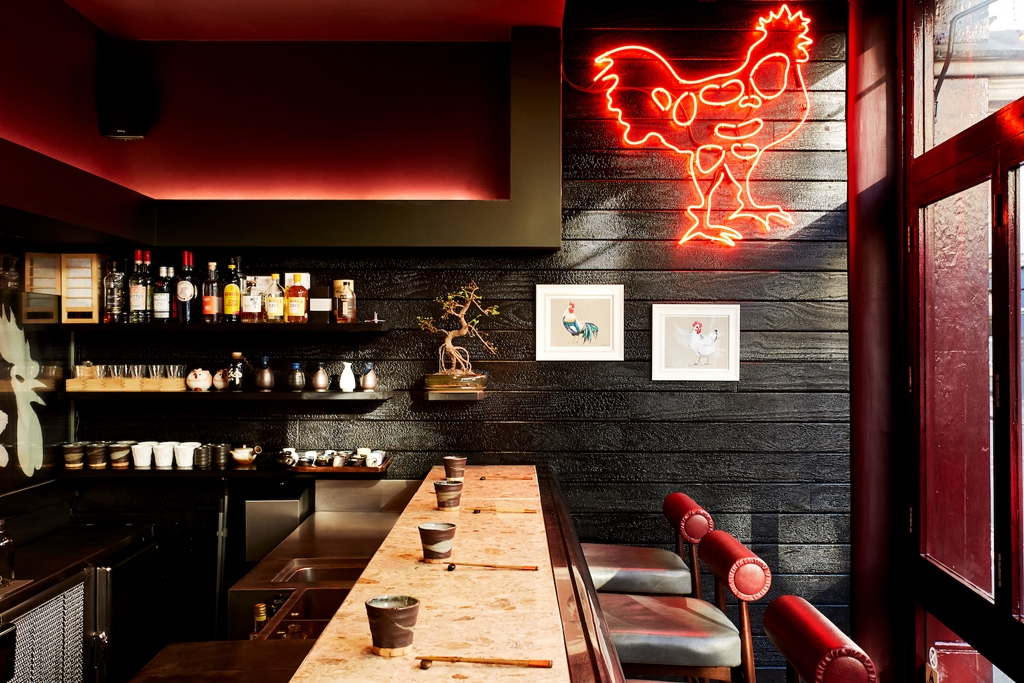 Restaurant Of The Week: Humble Chicken, Soho
Olivia Emily tries Angelo Sato's new tasting menu concept
Tucked away from Soho's jostling crowds, Humble Chicken is an intimate haven on Frith Street. Bag one of only 18 seats, and settle in for an evening of delicious cocktails and delicate dishes, prepared right before your eyes.
Restaurant Of The Week: Humble Chicken, Soho
Soho is a heady mixture of West End bustle, high-calibre restaurants, and commercial chains; escape the disarray and venture down Frith Street, where the laidback Humble Chicken awaits. Here, with only 18 seats up for grabs, there's an intimate, cool vibe, with extremely refined cooking pulled back down to earth by the upbeat playlist of pop bangers. Hop onto a bar-side stool, and watch the magic happen. 
From Daniel Humm to Clare Smyth, chef (and restaurant creator) Angelo Sato has worked under some of the world's best chefs since his first kitchen job aged only 15; you might also recognise him from the seventeenth series of Great British Menu. Sprouting from these fine-dining roots, in 2021, Angelo decided it was time to flourish alone, opening Humble Chicken as a Yakitori restaurant (Japanese grilled skewered chicken), before elevating the concept at the beginning of the year.
Though he cut his teeth on European cuisine, Humble Chicken sees a return to Angelo's Japanese heritage. Here, characteristically modest dishes are infused with high-calibre flourishes plucked and adapted from Angelo's previous posts. The star of menu is the titular dish – 'The Humble Chicken – Shokuji' ('shokuji' meaning 'meal', most commonly appearing at the end of a kaiseki meal; 'kaiseki' being a sequence of dishes) – which is delivered, steaming hot, in a small donabe clay pot, the final savoury course of the eight-dish experience. It aptly epitomises the concept, a rice bowl spliced with vegetables and crispy chicken leg, all mashed, mixed and scooped into your bowl by one of the friendly waiters with a wooden spoon; simple and comforting, yet undeniably delicious. Beside your bowl, sample tsukemono – a selection of sharp, preserved vegetables to cut through the warmth.
The ethos is 'comb to tail', but it's not just chicken on the eight-course tasting menu: begin with the likes of mussels with punchy citrus koshu ponzu and avocado, miso-cured foie gras tart, and 'This Little Piggy' bao buns – the cutest, glossiest little buns with pig faces, filled with a mouth-watering combination of pig trotter, karashi and quail egg (almost too cute to eat). Elsewhere on the menu – which is split into simple titles like 'Oyster', 'Sashimi' and 'Dashi' – expect delicately fresh flavours and intricate techniques, with fermentation recurring in the likes of white grapes, plum and red cabbage. Peer over the counter and watch your dishes being painstakingly crafted, engrossed by the open-kitchen and its hushed back-and-forth. There are moments of purposeful theatricality, too – like the courgette-scaled sole being doused by warming shiitake dashi, or the lengthy grating of a frozen clementine atop a citrus cheesecake, emulating a sorbet.
Wash it all down with a glass of sake, or pick one of the tasty, grown-up cocktails – think dry vermouth, campari, whisky – also prepared right before your eyes. The Watermelon Negroni (Nikka Gin, Cocchi Rosa, Campari, watermelon) is a refreshing twist on the classic, with the Maple Highball (Nikka Days, banana skins, yuzu ponzu, maple soda) is a moreish, indulgent sip.
The Final Word
Angelo Sato's new concept elevates humble dishes into exquisite delights; pull up a stool to the open-kitchen-cum-bar, and watch while the magic happens.
BOOK IT
The tasting menu is £115 per person. Humble Chicken is open Wednesday to Saturday, 5.30pm–9.30pm. 
54 Frith Street, London W1D 4SJ