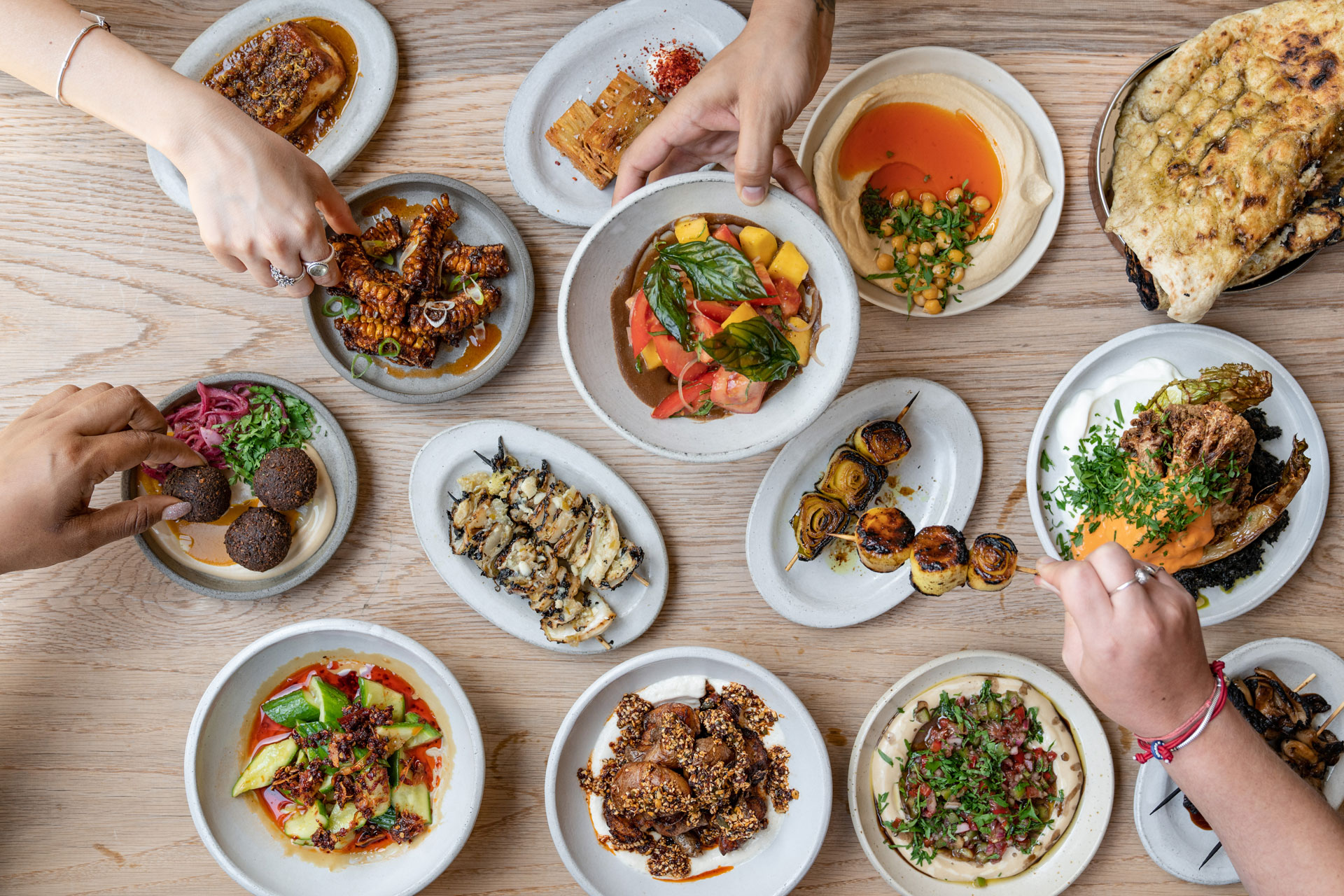 The Best Restaurants in Soho
From sultry speakeasies to rooftop hotspots, here's where to dine in London's reigning foodie capital
Soho is arguably the best neighbourhood in London for food. You'll find an endless variety of buzzy restaurants lining its grid of streets – both long-standing city stalwarts and trendy newbies, glamorous fine dining and cheap street eats. Whether you're after pizza, sushi, ramen or Indian, every food craving can be satisfied in this eclectic area. Many restaurants spill out onto the pavement too, which means there's always a lively atmosphere, come rain or shine. But which are the very best spots? Read on to discover the C&TH pick of restaurants in Soho.
Best Restaurants in Soho
Dear Jackie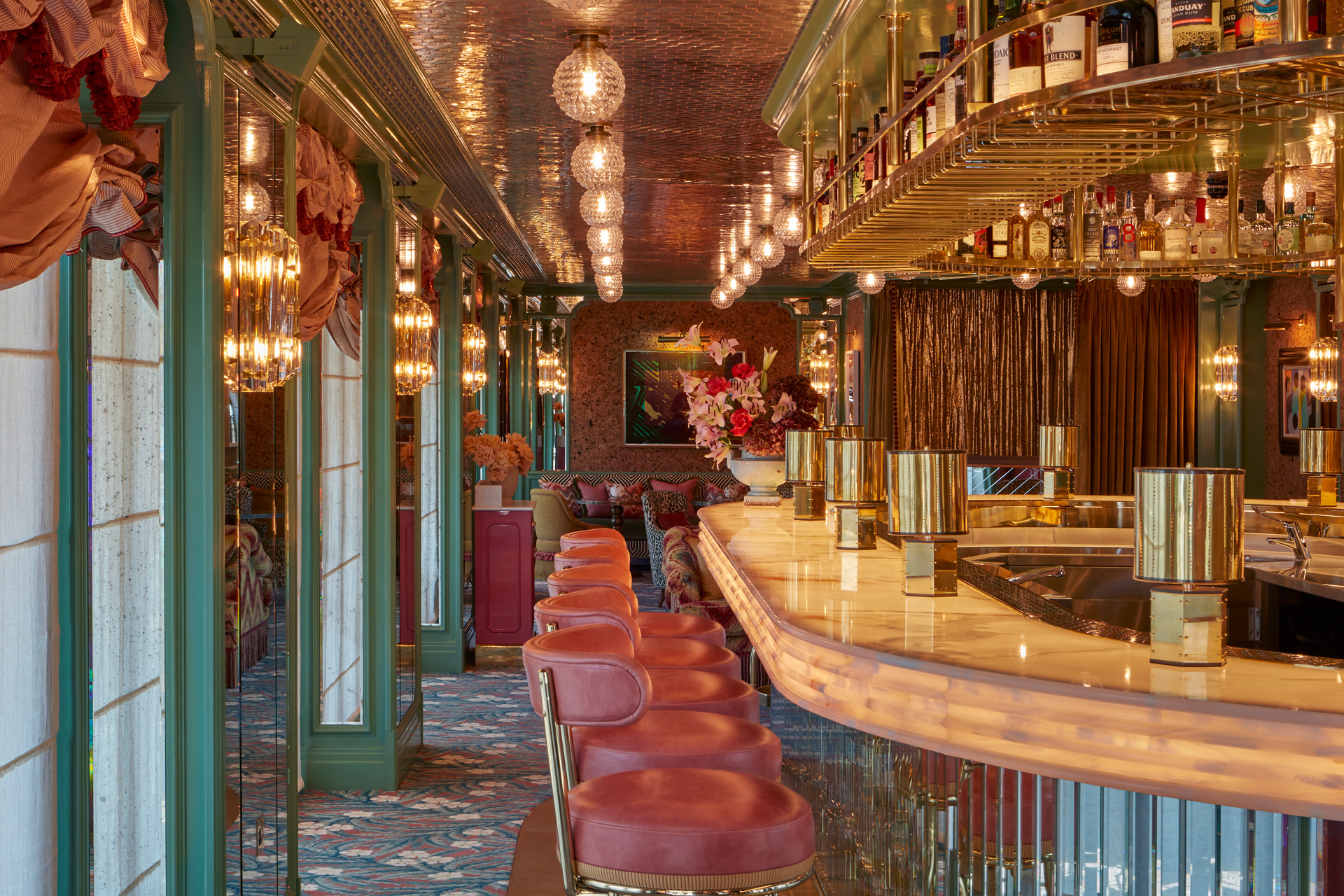 The West End has just welcomed a new hotel: Broadwick Soho, perched on the corner of Broadwick and Berwick Street. It's being helmed by Noel Hayden, who grew up living at his family's hotel, Mon Ami, in Bournemouth – owned by his mother Jackie, who was the inspiration for its restaurant, Dear Jackie. An Italian eatery in a glamorous setting, it opens exclusively for dinner each day, with a menu curated by head chef Harry Faddy, who has worked at acclaimed London eateries including The River Cafe and Aquavit London. Top-quality pasta is the focus, alongside an impressive Italian wine list which includes both internationally recognised regions and small boutique producers.
Broadwick Soho, 20 Broadwick Street, London, W1F 8HT, broadwicksoho.com
Bébé Bob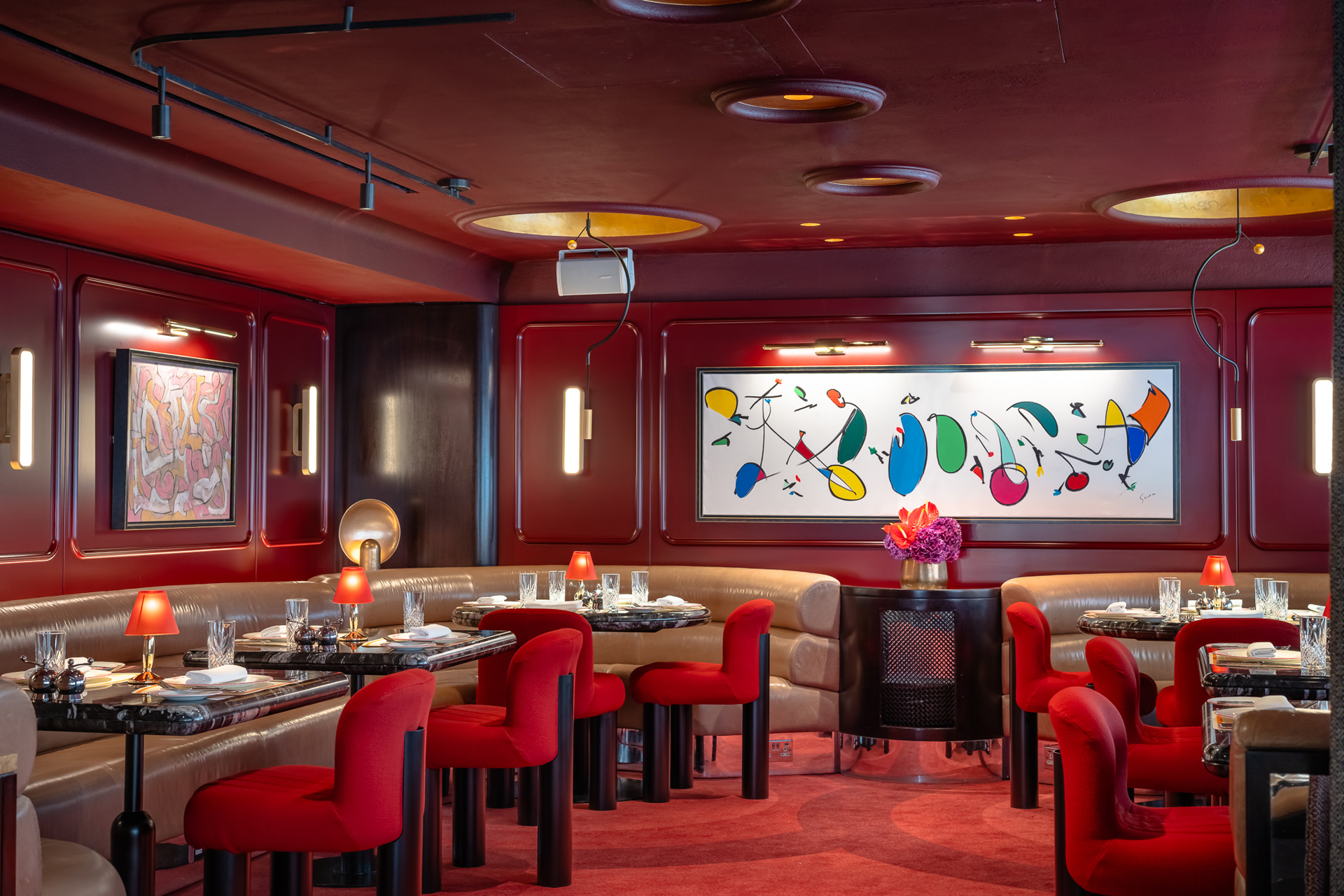 We've been pressing for champagne at Soho favourite Bob Bob Ricard for many years – and now the restaurant has a younger sibling. Located just round the corner from the original, on the corner of Golden Square, Bébé Bob is a more casual spot focusing on rotisserie chicken, which is carved at the table and served alongside an array of sides. Enjoy alongside drinks from a concise wine list, chosen because they pair well with chicken. With jazzy art deco interiors and a 12-seater circular bar, it's set to be a trendy addition to the neighbourhood.
37 Golden Square, Soho, London W1F 9LB. bebebob.com
Manzi's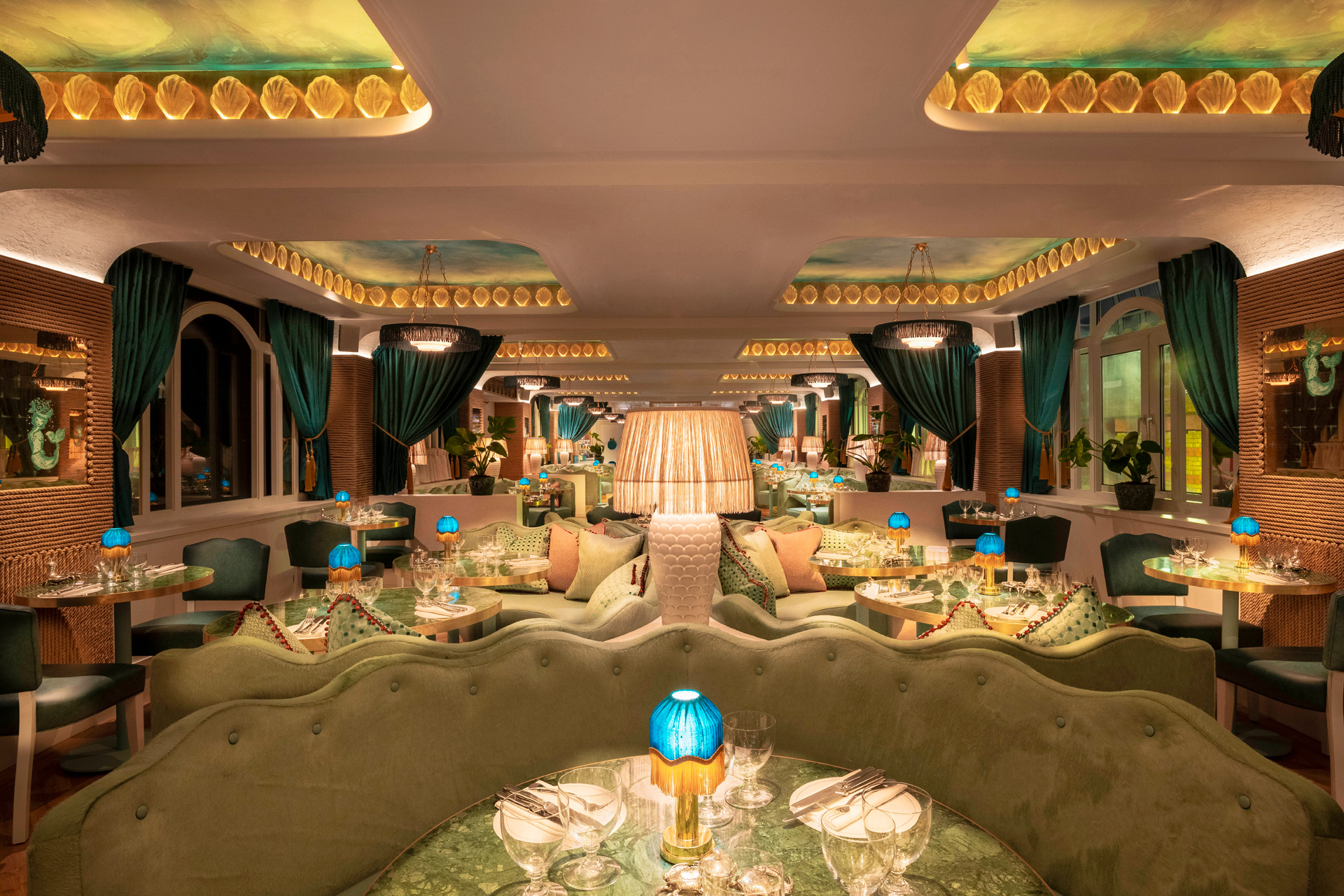 Manzi's is back. A much-loved go-to for theatre lovers from 1928 to 2006, it attracted a celebrity and luvvie clientele, as well as famous rogues including the Kray twins. Its heir, a spawn of The Wolseley Hospitality Group, has chosen a spot the length of a fly-fish cast away, still well positioned for late-night Soho lifestyles, in between Greek and Frith Streets offering dishes and a relaxed vibe that is fondly reminiscent of its forefather. 
Design firm Fabled Studio was tasked with creating the interior. A welcoming reception area, where uniformed staff greet guests, is decorated with a mural inspired by Hemingways' Old Man of the Sea. From here either the ground floor bar, perfect for a relaxed lunch or cocktail, large terrace area, or the slightly more formal upstairs dining await. The overall ambience is akin to a grand ocean liner, decadent and glamorous featuring a palette of sea-green, gold, scalloped edges and shimmering textiles. Mermaids and molluscs, shells and shimmering sea creatures abound on every surface from walls to furniture and doors. And then the food – every morsel of the sea is here, and some, from moules marinière, clam chowder, shrimp burger and a classic Dover sole to monkfish Wellington and a fish finger sandwich. Meat eaters and vegans are looked after. Finish off with a knickerbocker glory and you're ready for anything the Soho streets have in store. 
1-8 Bateman Buildings, London W1D 3EN. manzis.co.uk
Obicà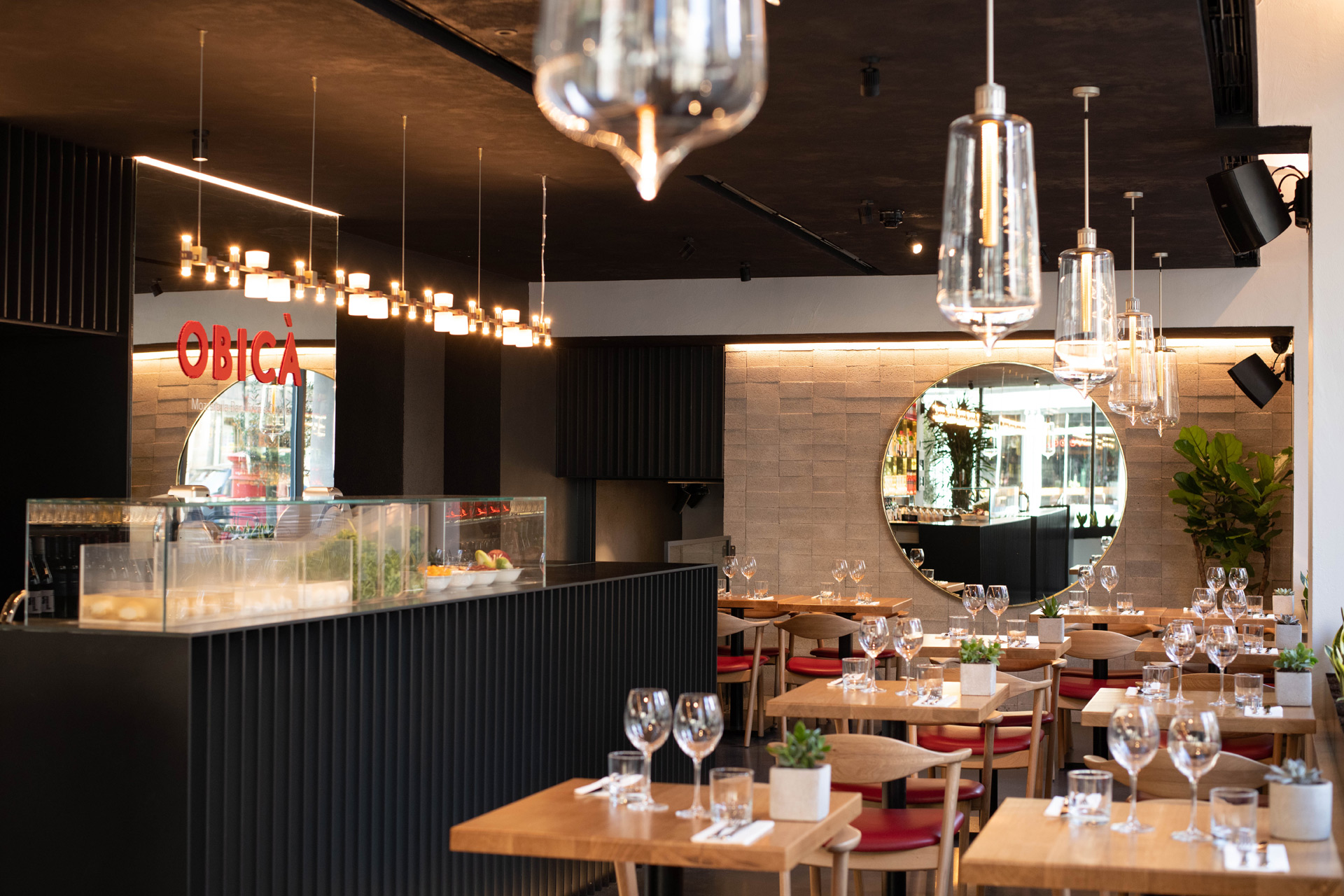 While Obicà's Poland Street outpost might offer sleek and minimalist interiors, the new summer menu is gloriously vibrant. It is built around a selection of different mozzarellas, allowing you to sample everything from an intriguing smoked mozzarella di bufala to an indulgent burrata from Puglia. Pairing perfectly with the flavour profiles of these cheeses are a number of small plates such as Bruschetta with Stracciatella, pan seared prawns and marinated courgette, or delightful grilled octopus. The pizzas are – unsurprisingly – incredible, but the pasta is equally as impressive: the handmade potato gnocchi with prawns and bisque sauce is certainly a must. Finish off with a delicate selection of desserts including a show-stopping coconut panna cotta, or indulge in a vibrant, fruity cocktail.
19-20, Poland Street, W1F 8QF London. obica.com
CAVO
One of the capital's biggest launches of 2022, the Outernet in Tottenham Court Road was designed predominantly as a music venue – but it's becoming a bit of a foodie destination too. Glitzy Manchester import Tattu opened there last year, and now there's CAVO too: a Mediterranean restaurant taking over the building's fourth floor. It's huge, spread across 10,000 square feet, complete with a roof terrace focusing on seafood and champagne. Floor-to-ceiling windows ensure great views from inside too, with the menu split into two sections: the CAVO Seafood & Raw Bar and CAVO Josper Grilled meats menu. Diners can tuck into tapas-style dishes like chiperones (baby fried squid with beetroot mayonnaise), artichoke hummus with fried artichoke leaf and goat yoghurt, and crispy lasagne made with 36 month dry aged parmesan cream.
The Now Building, Outernet, Denmark St, London WC2H 0LA, cavorestaurant.com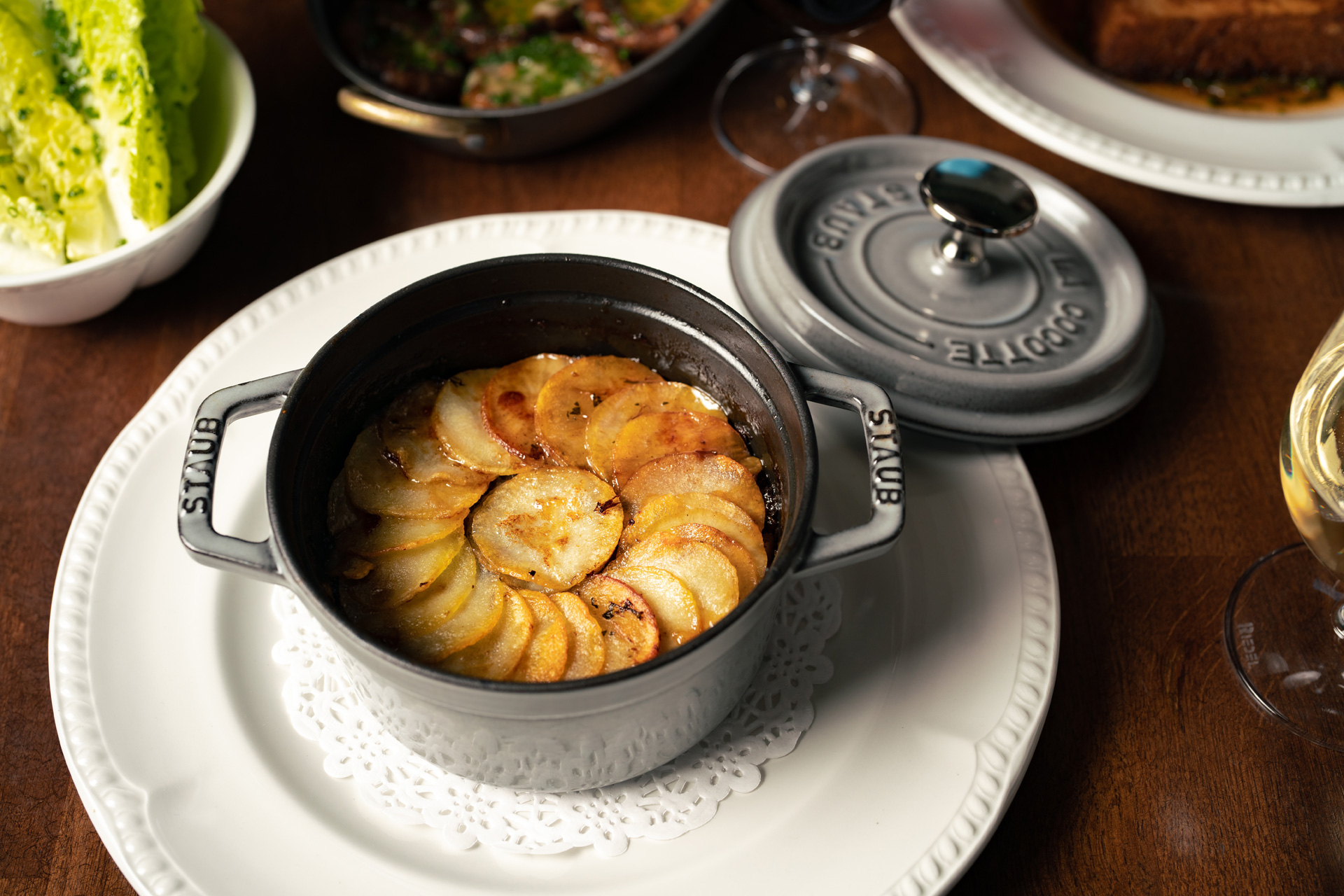 Nessa
New for 2023 is Nessa, a modern bistro from Guy Ivesha (Mortimer House) and Tom Cenci (Loyal Tavern, Duck and Waffle), sitting on the ground floor of the 1 Warwick members' club. The restaurant pays homage to the area's rich history with an eclectic, colourful look, with a menu drawing on Cenci's passion for global flavours. Think playful twists on British classics, including a new take on the hotpot made with ox cheek and confit potatoes, brioche with black pudding and brown butter noisette, and black forest trifle. A separate bar area, meanwhile, serves wine, cocktails and small plates. 
86 Brewer St, London W1F 9UB, nessasoho.com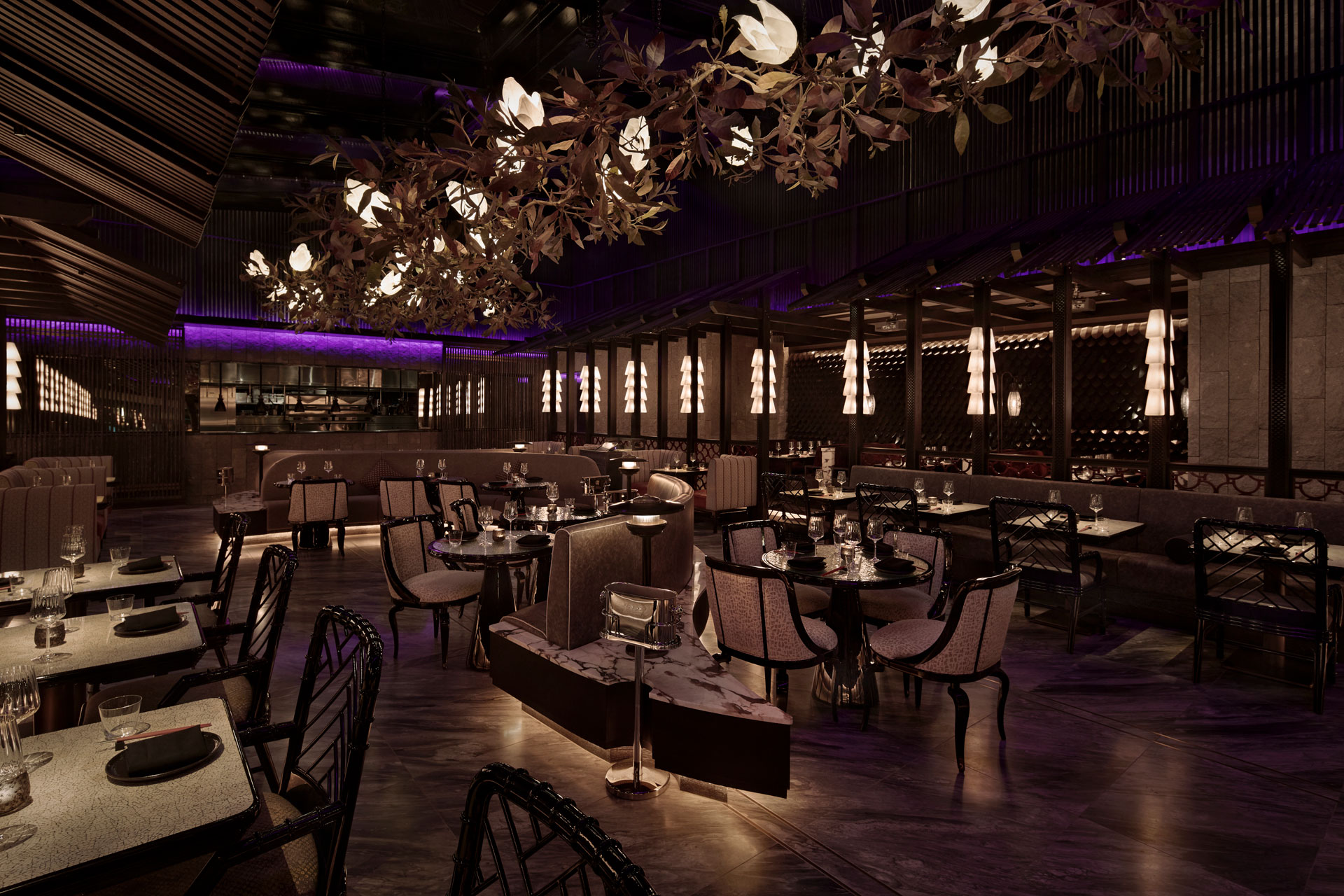 Tattu
This glitzy Manchester import arrived in London last year, offering high-end Chinese food amid ultra Instagrammable interiors. Housed on the sixth floor of the Outernet building next to Tottenham Court Road station, it overlooks the city, with a sleek, moody vibe and an al fresco terrace. Feast on dim sum, juicy sesame roasted scallops, Shanghai black cod and Japanese wagyu with enoki mushroom and shallot soy, alongside some very photogenic cocktails like the Skull Candy: sweet vodka tipple served in a skull-shaped vehicle and arriving amid a cloud of billowing smoke.
The Now Building Rooftop, Outernet, Denmark St, London WC2H 0LA, tattu.co.uk
Check out our full review here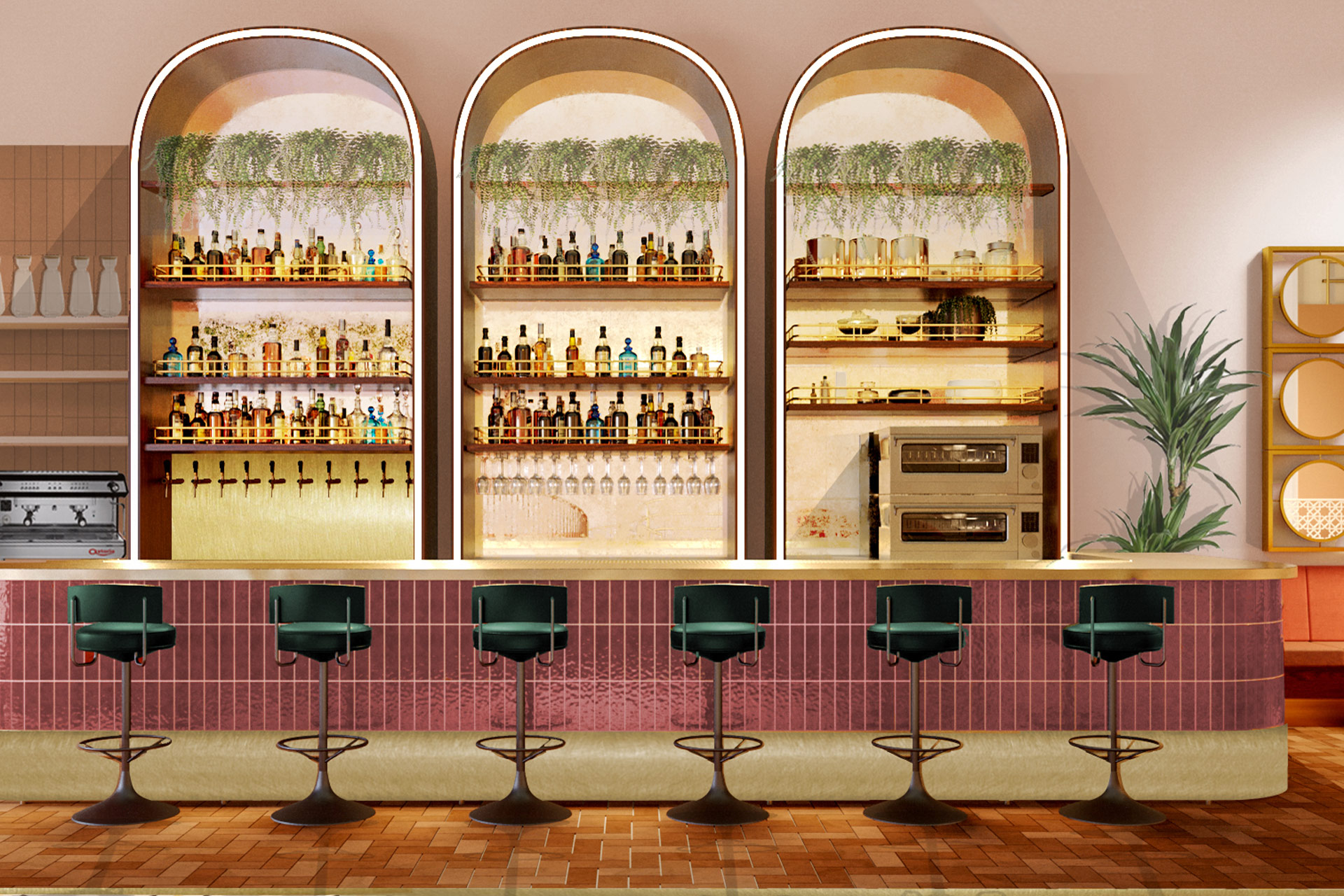 Kapara
Opened earlier this year, Kapara is the 'naughtier' second opening from Eran Tibi, the chef behind popular Southwark spot Bala Baya. Tucked away down the quiet Manette Street, it features vibrant interiors, with marble-like green tables, twinkling chandeliers and cacti in gold and neutral pots lining the main bar. Food-wise, there's a playful menu of Tel Aviv-inspired dishes – separated into 'All Day Foreplay' starters, 'Plates', 'Platters', 'Bits On The Side' and 'Sweet Endings'. Tuck into signature 'Cheeky Bums' (chicken oysters skewer, butter, chilli, purple lettuce) alongside prawn baklavas, ceviche, cod chops and slow cooked lamb belly. 
James Court, Manette St, London W1D 4AL, kapara.co.uk
Check out our full review here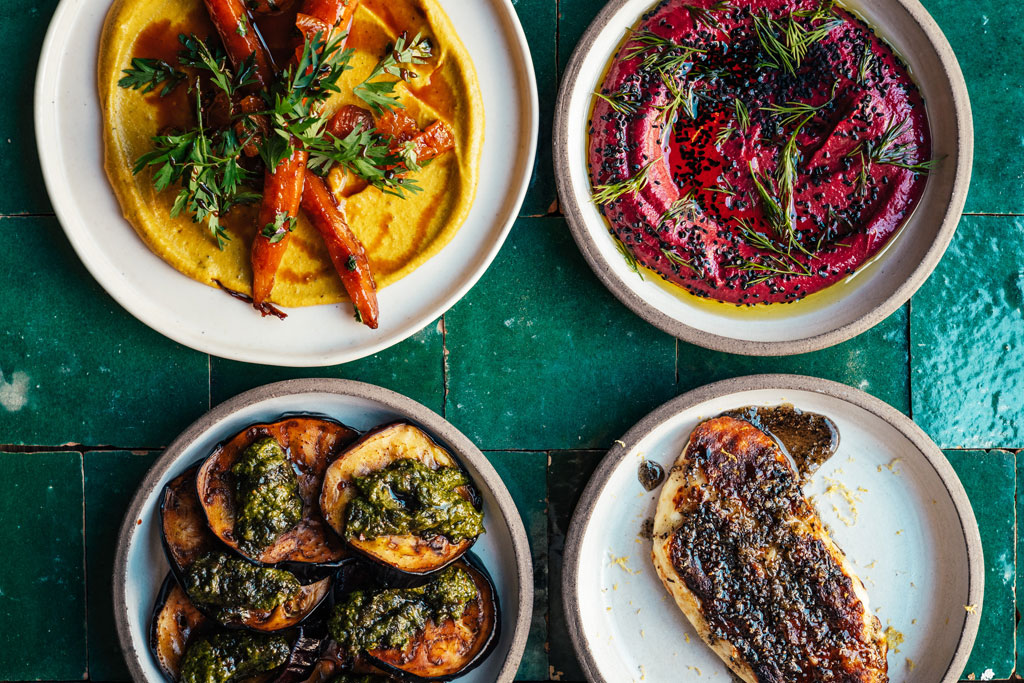 Bubala
Last year, Bubala fans rejoiced at the launch of a second venue, this one on Soho's Poland Street. A lively Middle Eastern-style restaurant serving up punchy small plates, it fits right in amid the buzz of the area. The décor is similar to its Shoreditch sibling, with a rustic vibe, lots of plants and a selection of shelves filled with ferments and pickles. Executive Chef Helen Graham – who was previously at The Palomar – works her magic on the menu once again, with a mix of new dishes and cherished classics to get stuck into – all vegetarian. Everything is delicious here, but must-trys include the halloumi, a balance of sweet and savoury flavoured with honey, chamomile and fennel; the endlessly moreish smacked cucumbers with tahini and chilli crunch; and the hispi cabbage with seaweed and sesame. Oh, and the hummus is some of the best we've ever tried. 
15 Poland St, London W1F 8QE, bubala.co.uk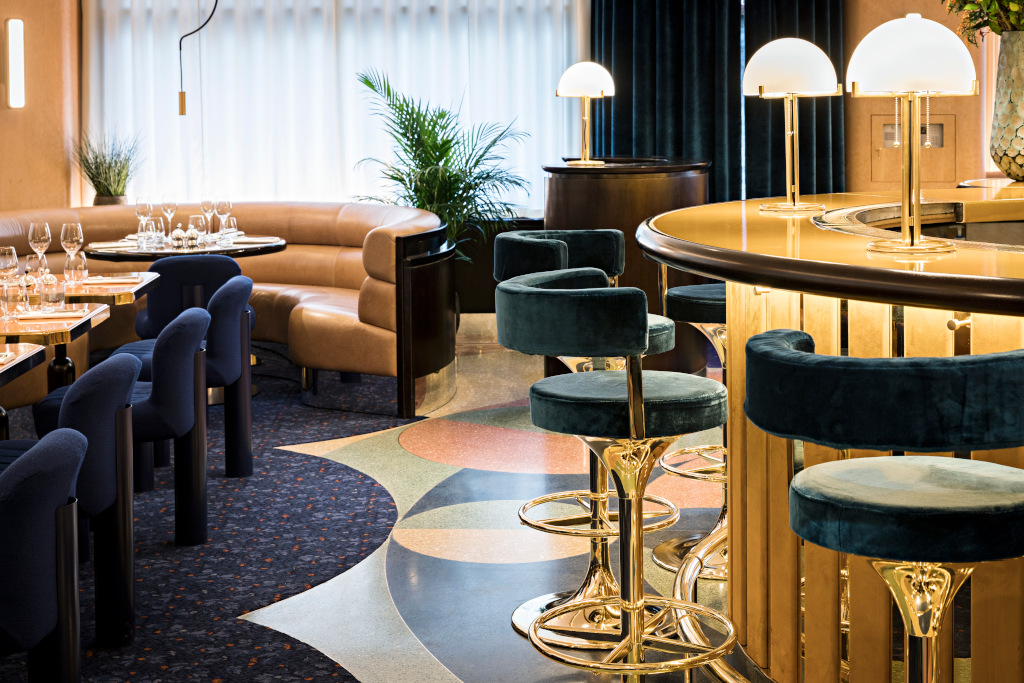 Folie
There's an exclusive feel to Folie, the glitzy London first from restaurateur Guillaume Depoix. This is felt from the minute you arrive: a velvet curtain protects the restaurant's entrance on Golden Square, the spot where Soho meets Mayfair. Since opening in 2019 it has welcomed a whole host of glamorous names, with Victoria Beckham hailing it as one of her favourite places to dine out in Europe. Rumour has it the restaurant cost a whopping £5 million to produce – no surprise, when you see the ultra-chic interiors, which come courtesy of Studio KO, the Parisian agency behind Chiltern Firehouse. The Mediterranean-inspired menu, meanwhile, is fittingly stylish, led by Executive Head Chef Christophe Marleix, whose sparkling CV includes The Dorchester, Annabel's and Plaza Athénée in Paris. 
37 Golden Square, London W1F 9LB, folie.london
Check out our full review here
Quo Vadis
Occupying four townhouses on Soho's Dean Street, Quo Vadis is a restaurant with no shortage of history. The building was once a notorious brothel, and from 1851 to 1856 it was home to Karl Marx and his family. It was Italian-born restaurateur Peppino Leoni who gave Quo Vadis its moniker – which translates as 'where are you going?' in Italian – opening a restaurant there in 1926. Since then the restaurant has had numerous owners, including Marco Pierre White and Damien Hirst, and in the late noughties it was bought by its current owners, Sam and Eddie Hart – the brothers behind Barrafina. Nowadays the space comprises a restaurant, two bars and a private members' club, with Scottish chef Jeremy Lee spearheading the culinary side. The menu is distinctly British, with signature dishes including the smoked eel and horseradish sandwich, and a daily changing pie.
26-29 Dean St, London W1D 3LL, quovadissoho.co.uk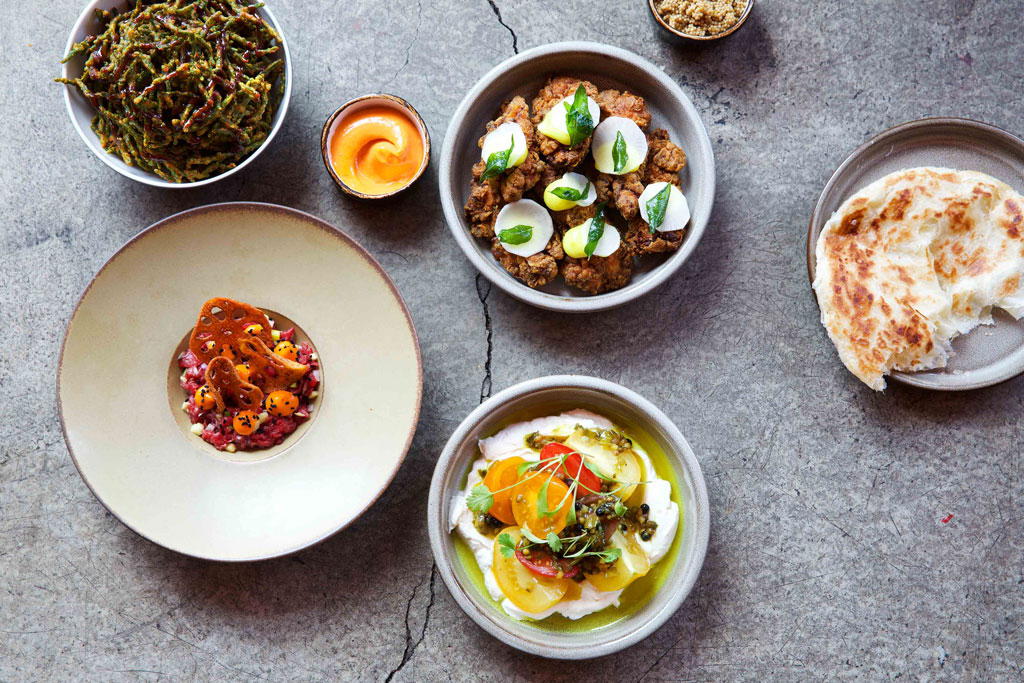 Kricket
Indian restaurant Kricket has come a long way since its humble beginnings. It was born in a 20-seat shipping container in Pop Brixton, but after gaining legions of fans opened its first bricks-and-mortar restaurant in Soho two years later, followed by two more branches. The menu is all about small sharing plates, and although it changes regularly there are some staples, like the samphire pakoras and the Keralan fried chicken. The Indian-inspired cocktails are also very popular, particularly the Moondate, made with ginger vodka, date marmalade, and date and cinnamon syrup.
12 Denman St, London W1D 7HJ, kricket.co.uk
Sussex
The Gladwin brothers' West End culinary project, Sussex, is situated on the former site of Anthony Demeter's seminal restaurant Arbutus on Frith Street. It sits alongside a collection of London restaurants from family trio Richard, Oliver and Gregory Gladwin, which includes The Shed in Notting Hill and Rabbit in Chelsea. Sussex is a celebration of the countryside, and, like their other restaurants, it uses ingredients sourced directly from the family farm and vineyard. Unlike the others, however, Sussex moves away from the sharing dish concept. The menu features dishes like chorizo with hung yoghurt, kale and caraway seed crispbread; spinach and ricotta ravioli; and burrata with pickled tomatoes and rocket pesto – plus one of the signatures: mushroom marmite eclairs. The wine list, meanwhile, features the Gladwin family's award-winning range of Sussex wines from their Nutbourne vineyard in Sussex, alongside a handpicked wine range from producers around the world and a selection of homegrown cocktails.
63-64 Frith St, London W1D 3JW, sussex-restaurant.com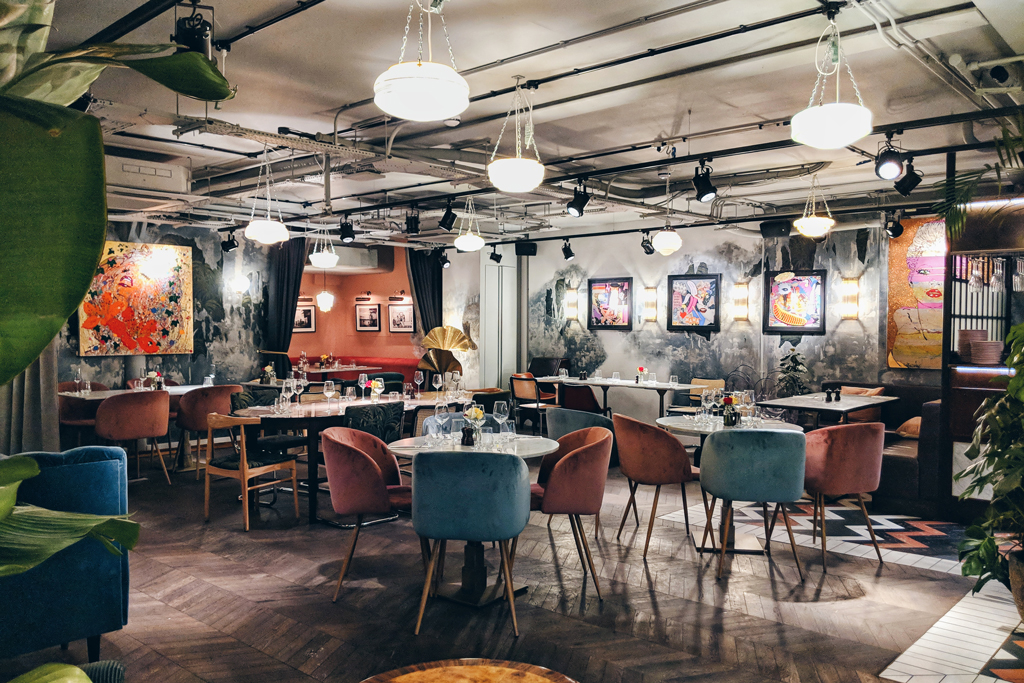 Scarlett Green
The Soho outpost of the ever-expanding Daisy Green collection is perhaps the coolest of the lot. Inspired by Australian café culture, Scarlett Green is a millennial dreamland – think palm tree décor, marble-topped tables and colourful artwork adorning the walls. The Daisy Green collection is known for its legendary bottomless brunch, but Scarlett Green takes things even further with its free-flowing dinner, complete with Pornstar Martinis and unlimited prosecco or beer. This is to be enjoyed alongside either the Aussie BBQ Meat Board or the Bondi Vegan Sharing Board; we would highly recommend the meat-free option, which includes fire-roasted aubergine, a BBQ tofu steak, crispy wild rice and much more. Boards are made to be shared between two, and while it's more than enough to keep you going we recommend you pop some halloumi fries on the side for good measure. Be sure to save some space for the Mars Bar Cheesecake dessert too: heavenly.
4 Noel St, London W1F 8GB, daisygreenfood.com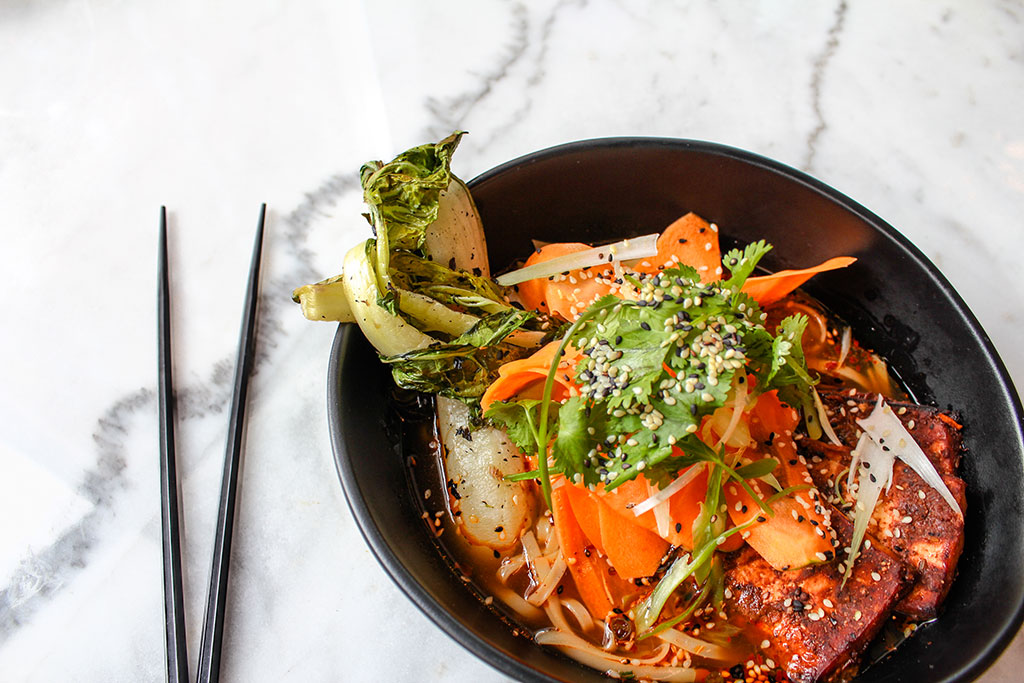 Mildreds
London's earliest vegetarian restaurant dating back to 1988, Mildreds was a pioneer in the meat-free movement. Its original concept of serving honestly-priced vegetarian food was clearly a winner, as it continues to be a hugely popular spot. There's a no-bookings policy, so expect to queue – but once inside, you'll be rewarded with an unparalleled vegetarian offering. Think colourful dishes packed with flavour: think Sri Lankan sweet potato and coconut curry, Korean fried 'chick*n' burgers, and sesame tempeh with soba noodle salad. 
45 Lexington St, Carnaby, London W1F 9AN, mildreds.co.uk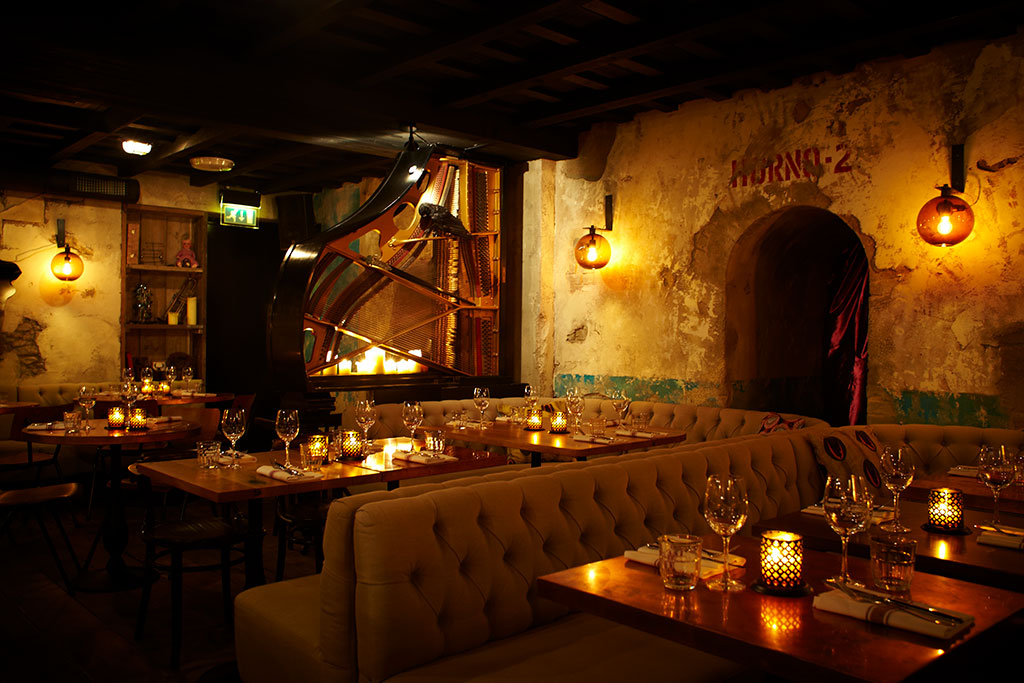 La Bodega Negra
Once you get past the neon sex shop-style frontage, Will Ricker's Mexican-themed restaurant La Bodega Negra is actually a pretty classy affair. Head downstairs to find a low-lit, speakeasy-style eatery, sumptuously decorated with vintage estancia tiling, taxidermy, surrealist furniture and cosy alcove booths – ideal settings for a late-night soirée. The menu follows a small plates format, with everything from tacos to fajitas to burritos up for grabs. The drink of choice? Margaritas of course, made from the finest tequilas and jazzed up with syrups and fruits galore. Low lighting and nightclub-style vibes make for an ideal late-night dining spot, but beware of the heavily policed two-hour table limit.
16 Moor St, London W1D 5AP, labodeganegra.com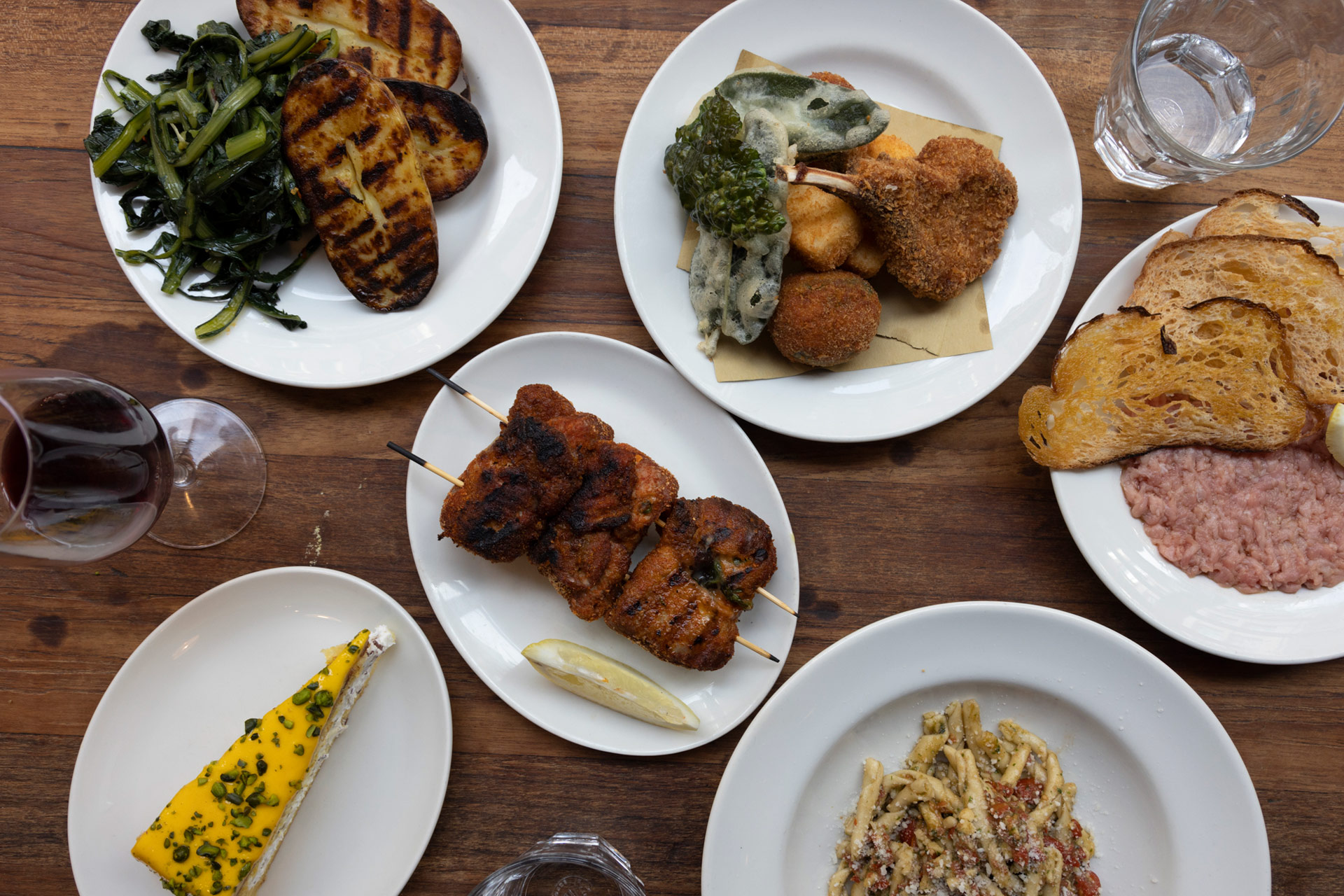 Bocca di Lupo
What do you get when you combine the honest and delicious food of an Italian trattoria with the fizzy, sophisticated atmosphere of the London restaurant scene? Something rather close to perfection – AKA, Soho's Bocca di Lupo. Whether nibbling on small plates at the bar (highly recommended) or seated at the chef's table, an evening at Bocca is always fun, just as eating out in town should be. Having won numerous accolades since opening in 2008, it remains one of the best restaurants for Italian dining in London with its ever-changing menu that brings you the best of Italy's highly distinctive regional specialities. Take a culinary trip around the country in one sitting with Roman fried olives, mozzarella and sage leaves, before heading north for your pasta (the Ligurian spaghetti with clams, chilli, garlic and parsley are a classic) and then right down to Puglia for a mixed meat grill. With everything available as a small or a large plate, you can sample it all – perfect for the proper foodies among you. Finish it off with an espresso before heading out into the night. CJ 
12 Archer St, London W1D 7BB, boccadilupo.com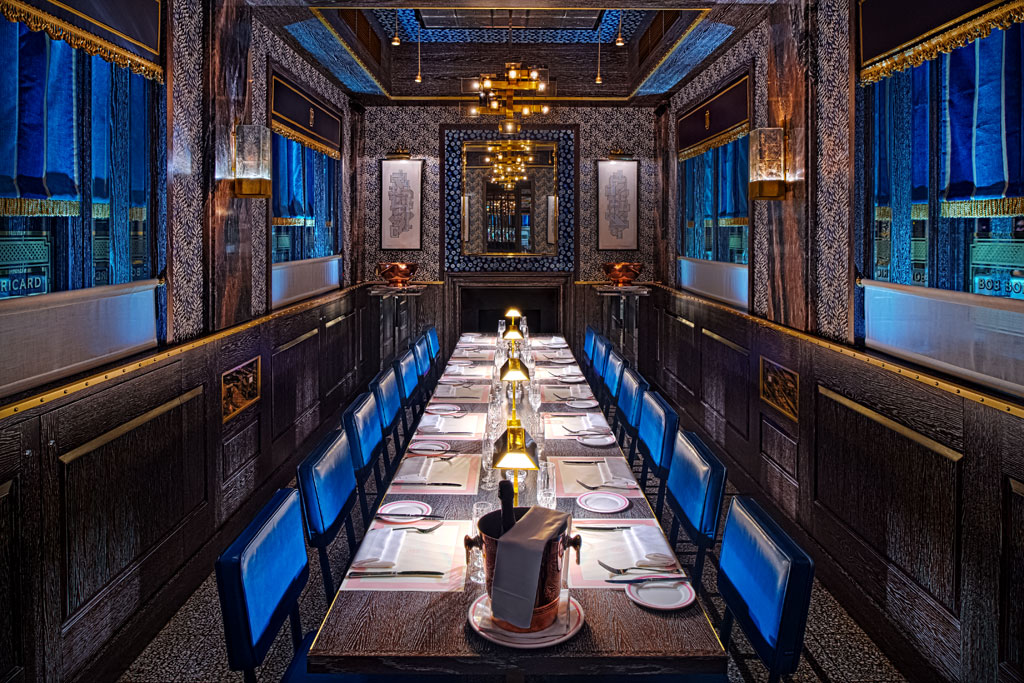 Bob Bob Ricard
Channel your inner Jay Gatsby for a night of fizz-fuelled fun at Bob Bob Ricard, the one with the famous 'press for Champagne' buttons. Food is a cross between British and Russian, with menu highlights including the beef wellington sharing dish, a delectable champagne and truffle pie, and an upmarket chicken kiev. With suitably glitzy interiors, it's a great spot for special occasions.
1 Upper James St, London W1F 9DF, bobbobricard.com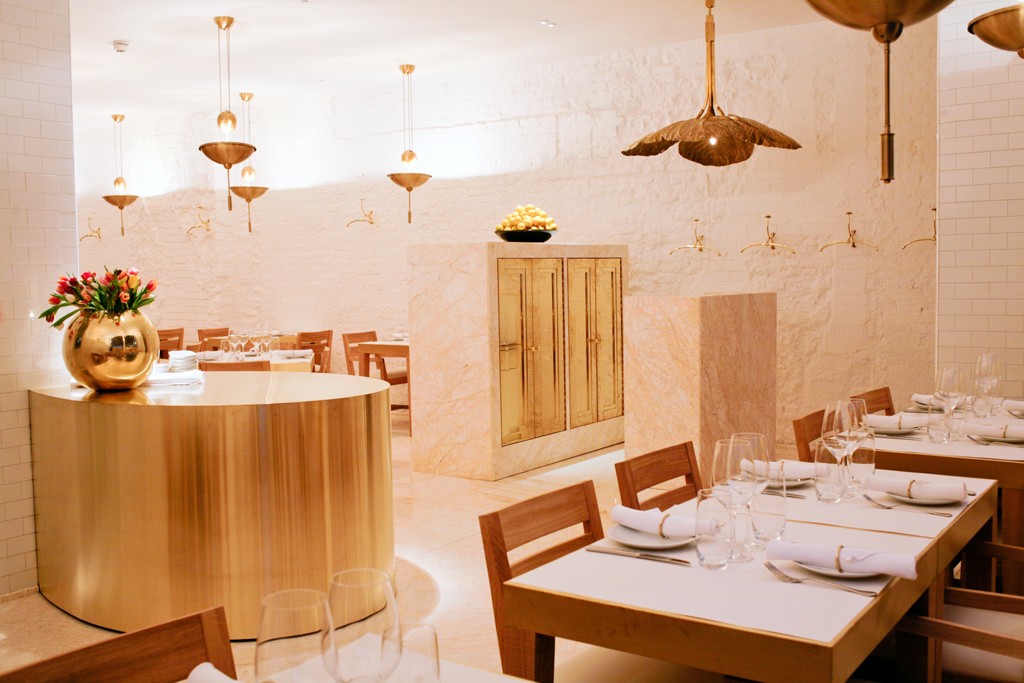 NOPI
With its whitewashed walls, marble floors and brass fittings, NOPI is worth a visit for the interiors alone. But it's Ottolenghi, so you know the food will be top quality too – and equally artistic. The menu is based on a mixture of Mediterranean, Middle Eastern and Asian cuisines, so expect healthy, tasty food with lots of spices. Think aubergine with tahini yoghurt and spiced pumpkin seeds, Cornish hake with spiced red pepper and peanuts, grilled lamb with gooseberry and jalapeno, and chargrilled hispi cabbage. House cocktails, meanwhile, include a nettle gimlet, a pink peppercorn negroni and a yuzu martini.
21-22 Warwick St, London W1B 5NE, ottolenghi.co.uk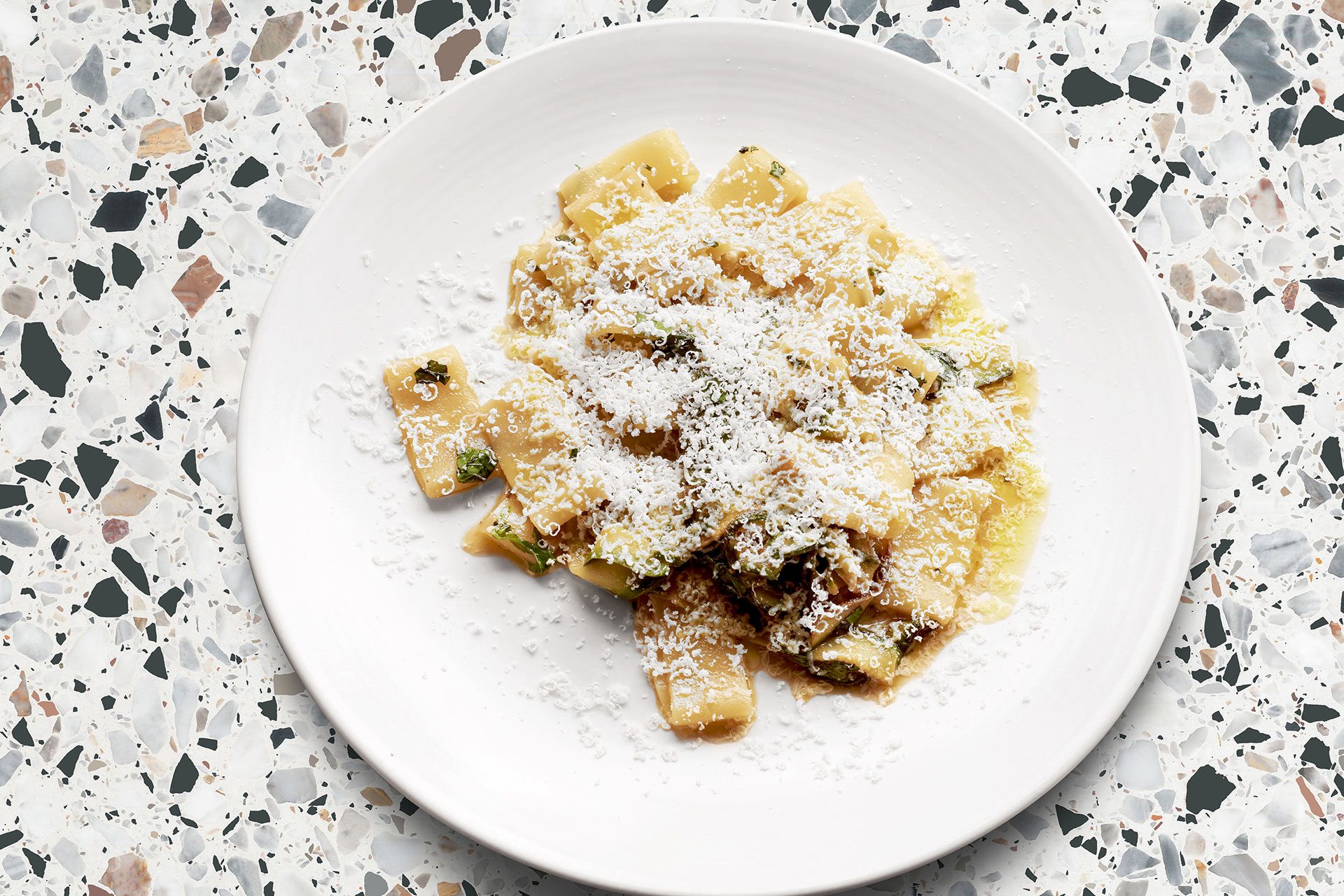 Pastaio
Pasta's having a moment, and it's best encapsulated by Pastaio, the restaurant headed by Stevie Parle of Dock Kitchen and Rotorino. The team make their pasta by hand daily to bring customers the freshest of seasonal pasta dishes, which include a deliciously creamy Tonarelli cacio e pepe that makes the trip worthwhile in itself. There are also smaller antipasti dishes to graze on, and some tasty slushies to sip – our top pick is the strawberry daquiri. CJ
19 Ganton St, Carnaby, London W1F 9BN, pastaio.co.uk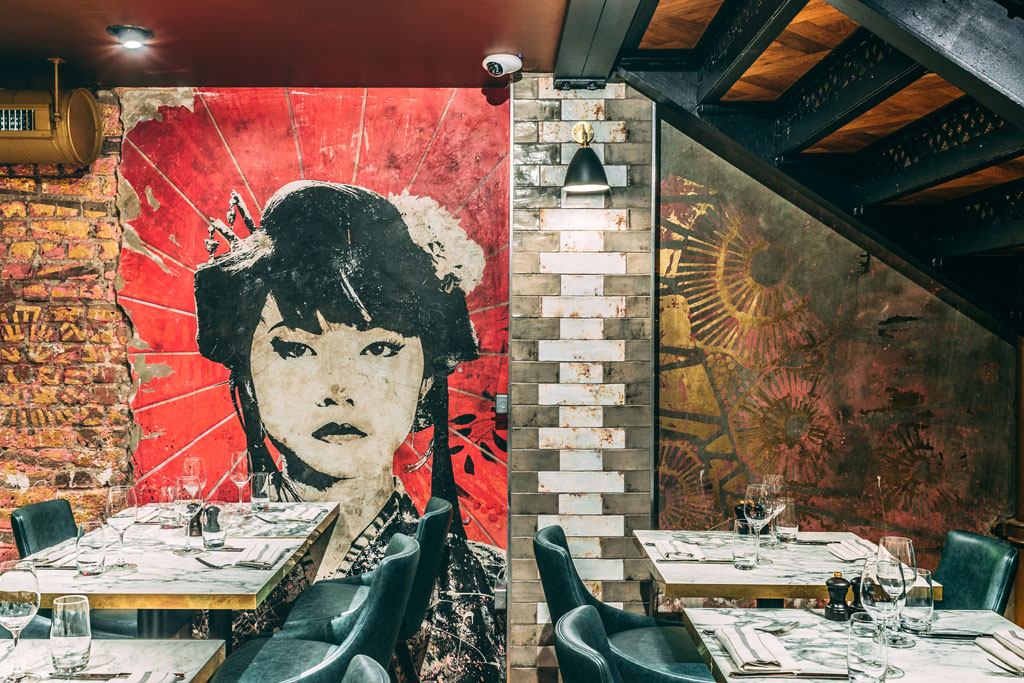 Old Compton Brasserie
This slick Soho brasserie is the perfect place for after-work cocktails or a bite to eat. The bar menu features British favourites such as kedgeree scotch eggs and beef dipping triple cooked chips, while the a la carte offering includes everything from steak frites to seafood linguine and pan-fried gnocchi. There's also a great brunch which you can choose to make bottomless with unlimited Aperol Spritz. What more could you need?
36 – 38 Old Compton St, London W1D 4TT, oldcomptonbrasserie.co.uk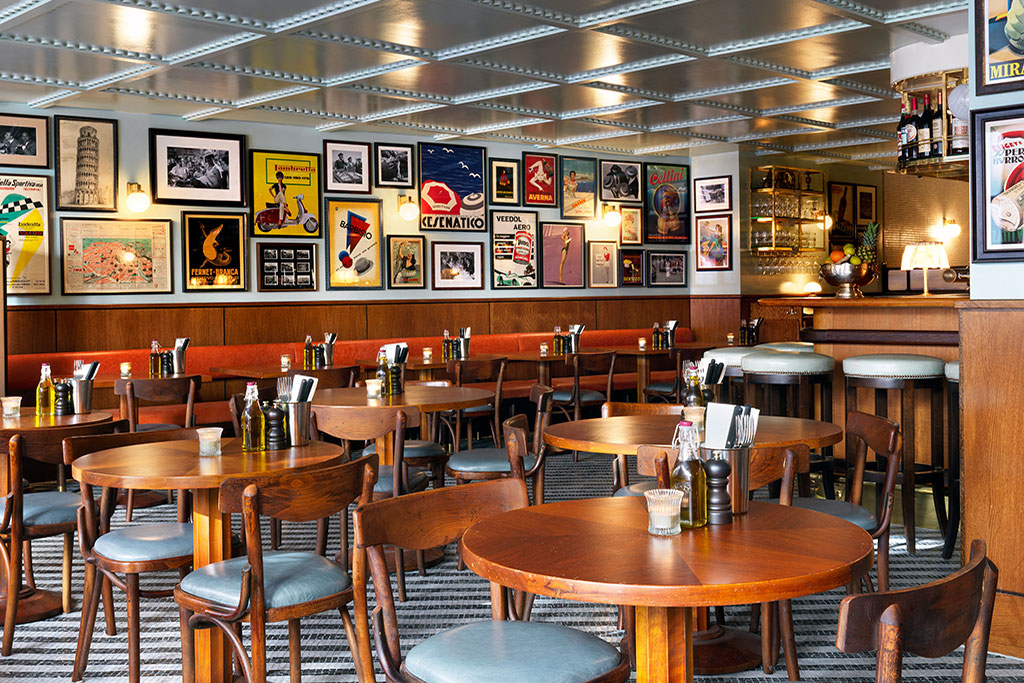 Cecconi's Pizza Bar
A must-visit if you amore Italian food, Cecconi's pizza bar provides all the essentials for an unrivalled Italian feast; wood fired pizzas, cocktails and lovely larger-than-life Italian waiters. Make sure you book ahead, because this eatery gets extremely busy, no doubt because of its easy-going atmosphere and late-night DJs which play from Thursdays through till Saturdays. In-keeping with the relaxed vibe, the restaurant is atmospherically low lit, with retro artwork adorning the walls and the doughy scent of freshly fired pizza subtly filling the air. Menu highlights include the crispy calamari fruity, the truffle arancini and the pumpkin ravioli, submerged in creamy sage butter and sprinkled with parmigiana. DS 
19-21 Old Compton St, London W1D 5JJ, cecconispizzabar.com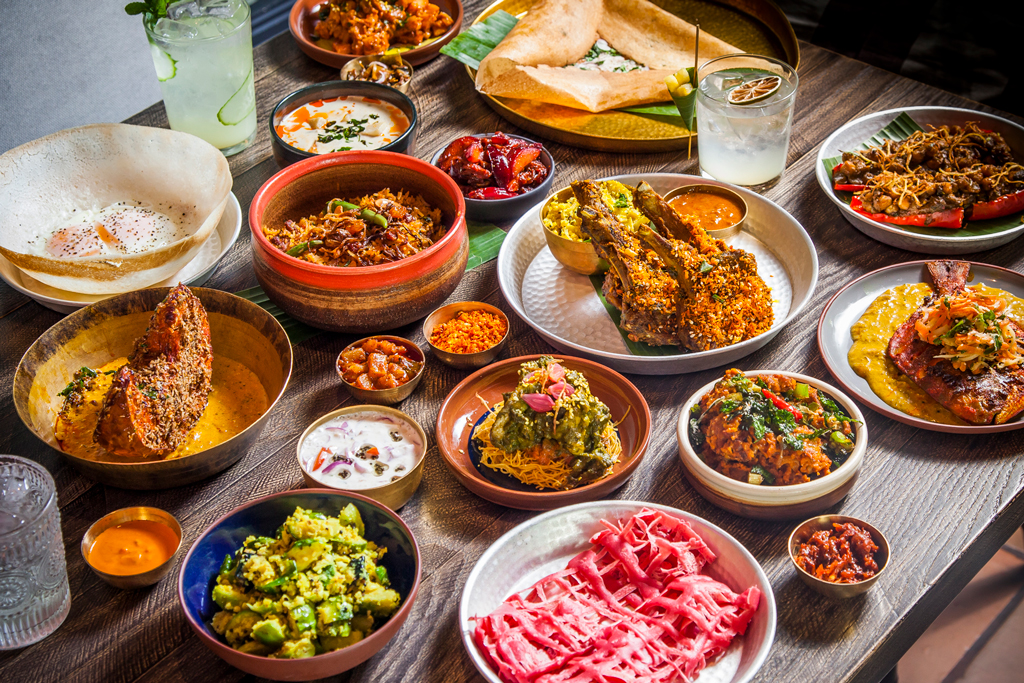 Hoppers
A project from the Sethi siblings (of Gymkhana and Brigadiers), Hoppers triggered queues round the block when it opened on Frith Street back in 2015. Eight years on it remains a hugely popular spot, with diners drawn in by the lure of Sri Lankan pancakes, their titular dish. But that's not all you can get: Hoppers offers an eclectic selection of dosas, rotis and small plates – think big flavours at small prices.
49 Frith St, London W1D 4SG, hopperslondon.com
Featured image: Bubala