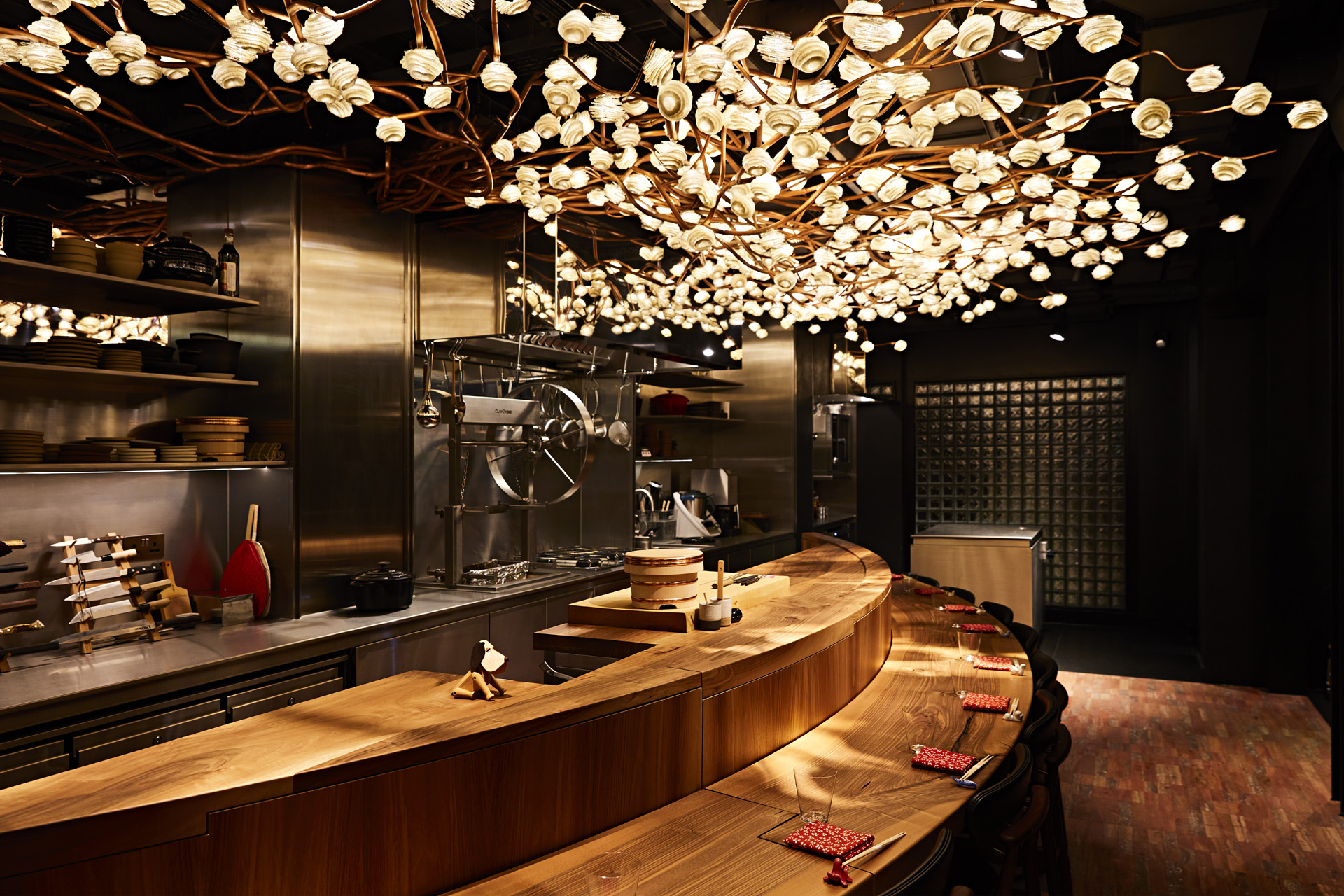 Restaurant Of The Week: Mayha, Marylebone
---
An intimate, Japanese omakase delight
Omakase: to leave the decision with the chef. Bump shoulders with your fellow 10 diners in this new intimate dining room, which recently opened on Chiltern Street. Here, the chefs take centre stage – surrender to them for a delicious evening of delight.
Restaurant Of The Week: Mayha, Marylebone
The evening begins with a pre-drink, as all great evenings do. We're down in Mayha's intimate bar, down a spiral, wrought-iron staircase from the restaurant, which is tucked away among the tailors, florists and antique shops of Marylebone's Chiltern Street. Comfy stools line the scorched timber bar, where wine, cocktails and sake are all available, as well as items from the raw bar menu. 
Sip and enjoy the moody interior surroundings, including dimmed lights and hand-poured Blatt Chaya cement tiles, which have been shipped from Lebanon. Rest your empty glass on the cutest cardboard octopus coaster you've ever seen, then return upstairs to ground level to admire the contrasting bespoke light installation suspended above the counter – at which everyone ('everyone' meaning up to 11 people) sits while the chef team stands on the other side, preparing the ingredients that will arrive before you in mere moments. The light stretching across the ceiling above you is all branches and vines and tiny lit up lanterns mimicking flowers – custom crafted and handmade in Lebanon by spockdesign using traditional Japanese methods.
Pull your chair right up to the curved counter, where a red cloth patterned napkin awaits, along with fresh chopsticks resting on cute pottery animals (think a gleaming white rooster complete with red comb, wattle and rosy cheeks – or a tiny white duck complete with little orange feet and beak). Then, begin: omakase, plates arrive one by one, with delicate dishes carefully crafted with seasonal ingredients while the chefs continue to prepare ingredients for the dishes to come in front of you. Hum approvingly at the likes of sake soy bluefin akami or mackerel with fig and sesame topped with a generous dose of shaved chestnut – before digging in to hearty venison served with an accompanying sauce made with the last forest fruits of the season, followed by succulent grilled quail with kumquat, served with salt and lime. This is all before the sushi – rounds of it, crafted by hand, handed to you, and eaten in one satisfying bite.
It's theatrical and engaging, and the delicious morsels are the product of Jurek Wasio and Yuichi Nakaya, two fine chefs who started working together two years ago in Beirut. This was at another Mayha, the restaurant's first rendition which debuted in the Lebanese city before being destroyed in the chemical blast. 
End with a dessert that sounds weird, but delivers: sparkling pine ice cream with crispy momiji. Yes, pine the tree – festive and surprisingly refreshing, topped with a real sugared leaf. It encapsulates the intricacy and meticulousness of the chefs, along with the whole programme of attentive waitstaff and general attention to detail (yes, I'm referring to the tiny chicken chopstick rest). 
The Final Word: Intimate and delicious, new kid on the block Mayha has hit the ground running with meticulous flair and exciting playfulness.
BOOK IT: Mayha is open Tuesday–Sunday 12–3.30pm for lunch, with two dinner sittings Tuesday–Saturday evenings. £100 for lunch, £220 for dinner. mayhalondon.com
Featured image © Steven Joyce.