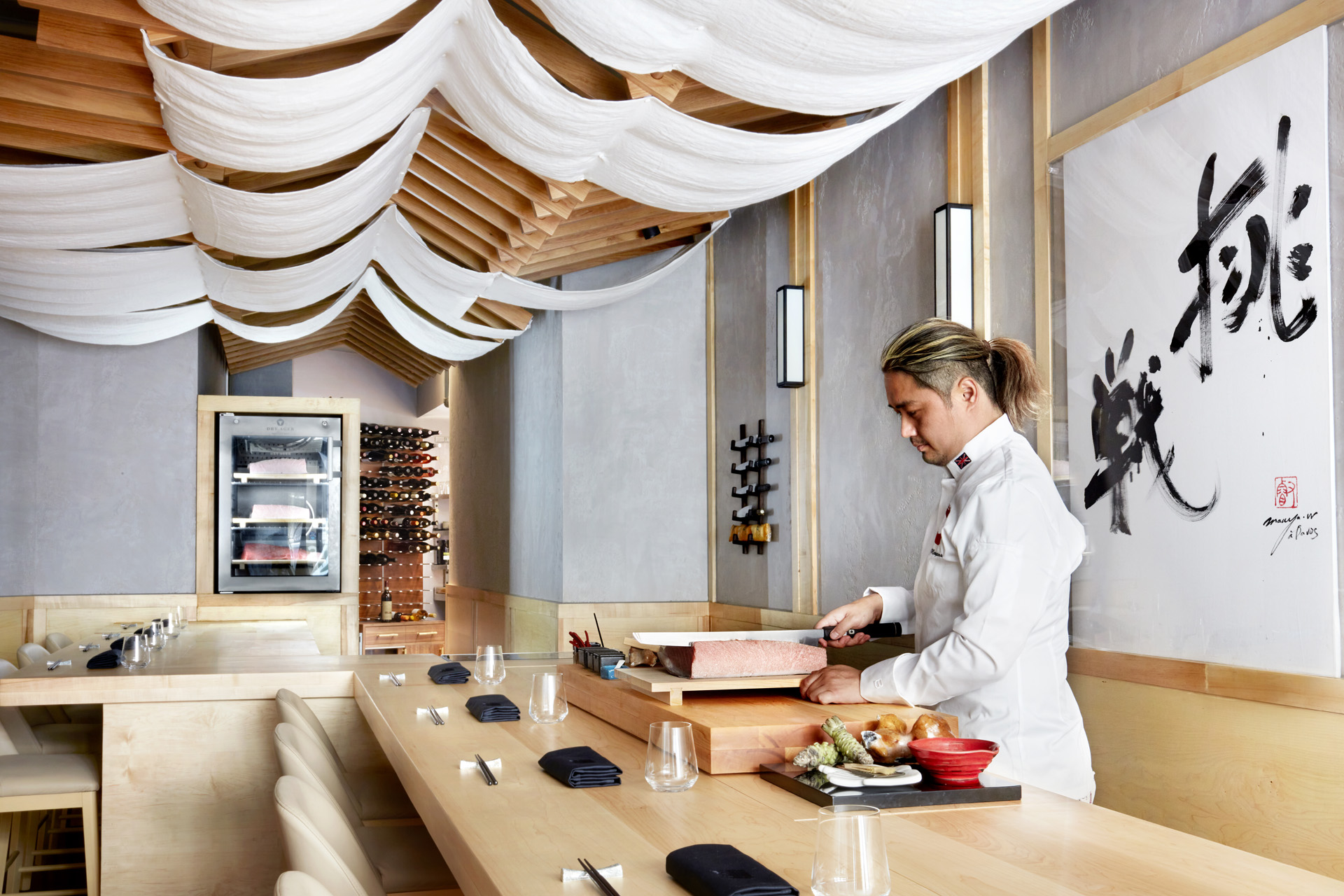 Restaurant Of The Week: MARU, Mayfair
An incredible journey through 21 courses
In Mayfair's narrow Shepherd's Market – glowing slightly from the evening's city lights and the bustle of pub punters filling the after-work streets – there's a dark grey-painted shop front with floor to ceiling windows and linen blinds drawn from the top to the floor. On the door, a sign reads 'MARU' – you might miss it, wandering further down the street, perhaps turning on your heel, looking for the place your map app swears is right there. And it is: MARU. Unassuming – unremarkable, even – blending into the street. Inside, the opposite is true: enter (or book months in advance) for an unforgettable, intimate two and a half hours of incredible omakase and fine wine or sake, showcasing the best of Japanese cuisine.
Restaurant of the Week: MARU, Mayfair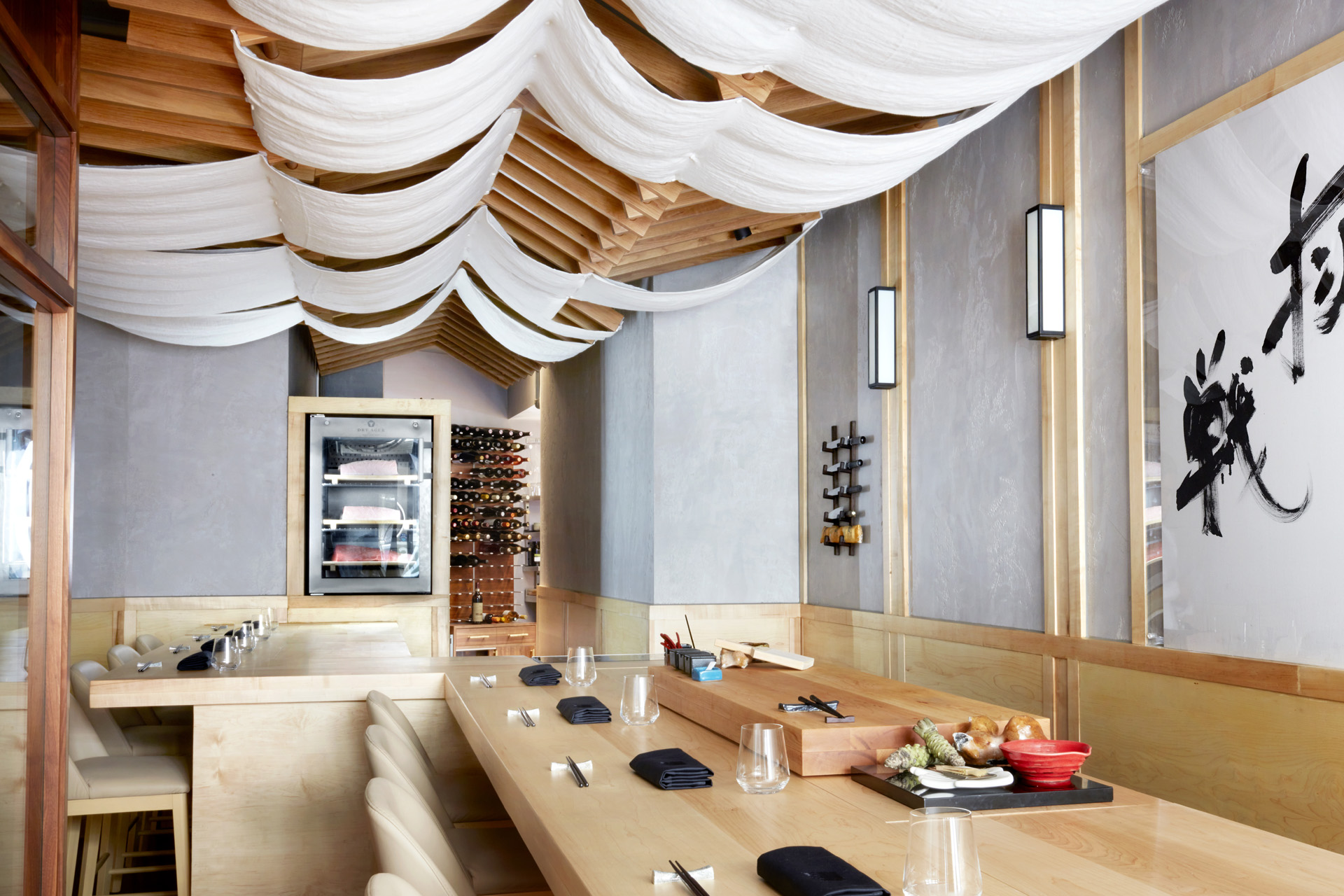 The intimacy is immediate: eight diners gather behind a maple timber counter, with huge chunks of fish sitting in glass-fronted ageing cabinets on the side wall. With only the set menu on offer, we are served by a team of three, seated less than two metres from the titular MARU himself: Taiji Maruyama, third generation sushi chef. Quiet descends on the room as he introduces himself and his restaurant. We are handed little pots, the contents described – Native Mussel Asari Clam Soup, a not-too fishy broth, 'to warm the stomach, so you're ready to eat'.
With two sittings every evening from Tuesday to Saturday, Maruyama has curated a new, 21-course omakase menu for the autumn season. He uses hyper-seasonal British ingredients where possible, making them shine in traditional Japanese dishes. There's oysters from Scotland, crab from Cornwall, as well as fish from other corners of the world, many prepared with the ageing techniques he is becoming known for. Like the 8 Days Dry Aged Belfego Spanish Tuna Temaki that follows the Soup, for example. Or the 15 Days Dry Aged Hay Smoked Ikejime Trout that comes next, topped with crunchy skin for a satisfying bite.
It goes on, course after course, each somehow better than the last, and each rarely more than one bite. The wine, described and served by the on-hand sommelier, is European, covering Italy, Germany and France. 'For your next three courses…,' he begins. An instruction or a warning? At its quickest, the next three courses could be as little as 10 minutes.
Recently, Maruyama returned to Japan, where he strengthened his relationships with suppliers to supplement the ingredients collected from across the British isles. It all supports Maruyama's omotenashi spirit: translating to 'wholeheartedly looking after your guest', this philosophy focuses on the relationship between guest and host.
As Maruyama constructs rounds of nigiri before us, he is mesmerising as he moves through his methodical routine: collecting the rice, molding and pressing it slightly into his hand, adding soy sauce, some wasabi, a slice of fish cleanly cut on the wooden bench before you mere minutes earlier. Then – omotenashi – he offers it to you, from his hand to yours. 'One bite,' he instructs. Divine. We do this many times.
At the end, we are presented with miniature tote bags, and a copy of the menu we just journeyed through. 'Your 22nd course,' Maruyama tells us – a baggy filled with tomorrow's lunch, and another filled with green tea. I heat both up the next day, sipping and dreaming about MARU, as I probably will be for a long time. 
Final Word: As well as seasonal ingredients, a zero-waste mentality, and guest-led service, MARU brings intimacy to the fine-dining experience. Book way ahead, and remember it long after.
18 Shepherd Market, London W1J 7QH