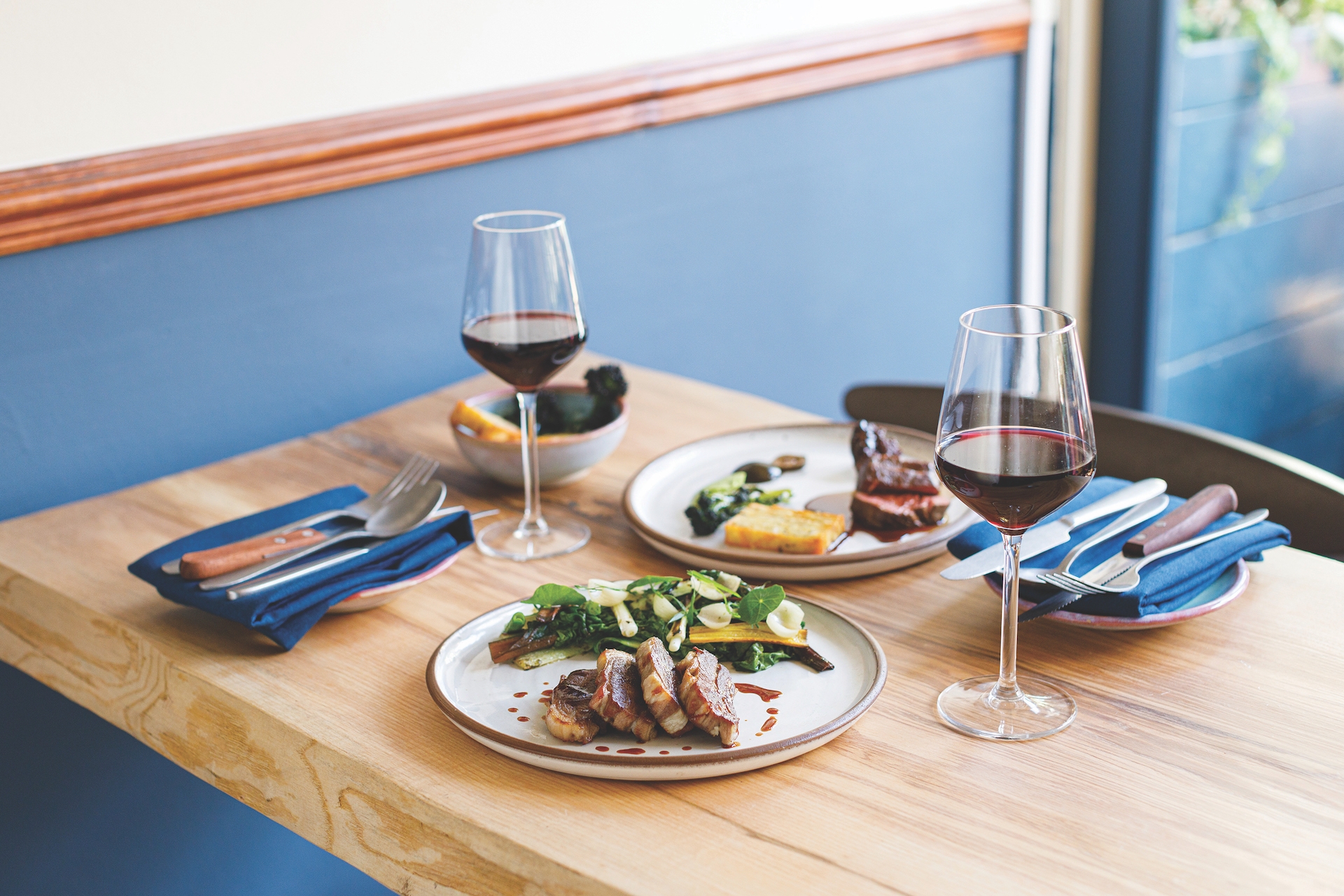 Restaurant Review: Fenn
---
Sustainably sourced fine British food has landed in Fulham
Oh, glorious day! It was the moment I had been waiting for, all through the eternal winter of lockdown. A chance to sit across from a friend and be passed a printed menu and a glass of English sparkling; to agonise over my choice of dishes; to be poured wine from a bottle that didn't get delivered with my Sainsbury's shop. Expectations were high, but new opening Fenn in Fulham rose to the occasion.
It's the latest venture from the team behind Hackney's Nest restaurant and, like its sister establishment, it has a strong focus on seasonality and sustainability, with high quality British vegetables, meat and fish at the heart of it all.
The restaurant is small, with a friendly, low-key neighbourhood feel – the plant-strewn terrace has only four tables, while the inside space (opening 18 May) revolves around a long, central dining table hand-carved from ash.
Its menu, created by Executive Head Chef Johnnie Crowe and Head Chef Joe Laker, formerly of Anglo, is short yet packed with delights. Unable to choose, we went for the chef's menu, a six-course highlights reel with hand- picked sustainable and low-intervention wines.
We primed our appetites with juicy Fenn fried chicken and Lincolnshire Poacher cheese dumplings, followed by beef tartare that was sweet and tender, and infused with a moreish hit of fermented chilli. Fenn sources its meat from small scale sustainable UK farms, with this piece of beef coming from Swaledale butchers, which specialises in native rare breeds. The accompanying wine was a rich and spicy Italian primitivo from award-winning biodynamic producer Cantina Orsogna, which harvests its grapes according to the lunar cycle.
This was followed by hand-dived Scottish scallops, paired with umami-rich chicken butter and apple, and Cornish halibut and crab with samphire, sourced from Flying Fish, a sustainable and ethical Cornish supplier. To round it all off we headed back to Swaledale for its aged Yorkshire beef with pickled walnut.
It's this celebration of best-of-British produce, and its simple, hearty flavours that really makes Fenn stand out in the crowded London restaurant scene. There's nothing complicated or pretentious here: just a friendly team eager to shake off the past year and get on with serving up fantastic local food. Round up your friends and book a table – you won't regret it.
Chef's menu, £45 pp; wine pairing, £40pp. fennrestaurant.co.uk