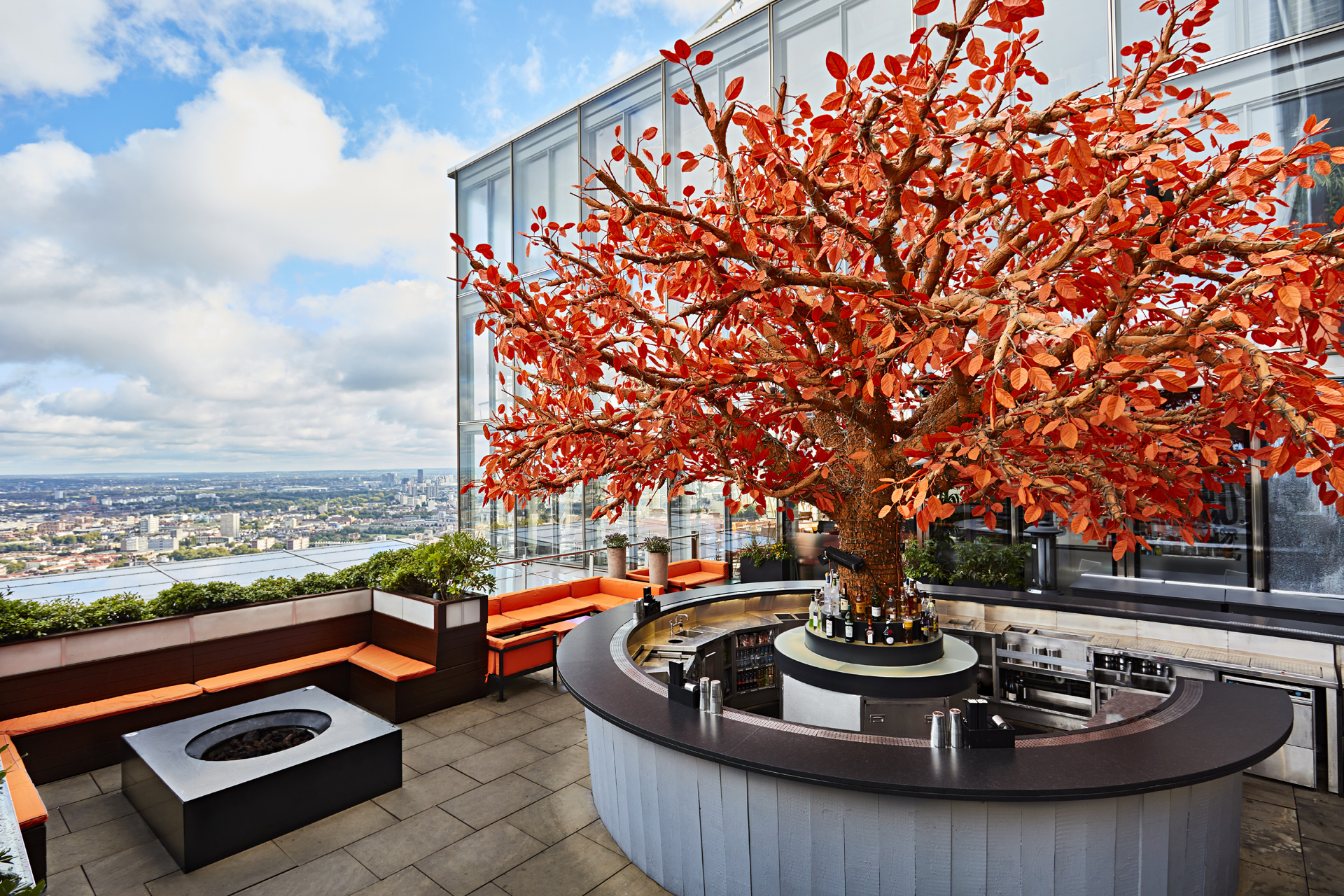 Review: Sushisamba, Heron Tower
---
See in the summer with cocktails in the clouds at Sushisamba
A dizzying journey up to the 38th floor of Heron Tower to Sushisamba is well worth it for the reward of the best views in London – and most importantly, the best sushi in town. As summer descends, while you might find yourself jostling with Instagram influencers for a cocktail on the rooftop terrace (and a photo against that jaw-dropping London skyline), Sushisamba works hard for the hype. With a kitchen helmed by sushi maestro John Um and a restaurant floor which wouldn't look out of place in a film set, if you haven't yet ticked it off your London bucket list, now is the time. 
Sushisamba Heron Tower Review
Since opening its doors in 2011 foodies have flocked from far and wide to sample sashimi at 640 feet at Sushisamba. It says a lot for the restaurant that 11 years on it continues to attract a fashionable flurry of celebrities, moguls and city highfliers alike with a masterful fusion of Japanese, Peruvian and Brazilian fare, executed with laser-like perfection by the world-class kitchen. On arrival, make sure you take a detour to the rooftop terrace on the way to your table, where the cinematic views are best enjoyed with a Lychee Cooler; while by night, sprawling autumnal tree branches overhead glimmer with fairylights.
From there you'll be ushered across the modish monochrome-chevroned floor of the main restaurant to your table. The best seats in the house, unsurprisingly, are the ones directly next to the windows, but thanks to the floor-to-ceiling glass at every turn you're guaranteed 360 degree views from wherever you're sitting. Expertly versed in the VIP experience, the staff will swiftly settle you in, ensuring five star treatment from start to finish.
WHAT TO ORDER
While the razzle dazzle visuals of Sushisamba are easy to get caught up in, the star attraction is, of course, the menu. Dishes like samba salad with a sticky glaze of honey truffle ponzu and mango dressing over grilled kobucha, corn ceviche and crispy yellowtail tacitos are a good warm up to sample the array of flavours on offer.
From there, it would be criminal not to experience the signature dishes that have earned the kitchen its first-class reputation. Bringing Sushisamba's signature subtle, playful fusion of flavours into play are dishes such as yellowtail dressed with fragrant lemongrass and jalapeño and pork ribs with charred pineapple salsa and soy glaze. Not afraid to blow the budget? As one of the only London restaurants certified by the Japanese Ministry of Agriculture, the authentic Kobe beef is a must-try. Nor will vegetarians find themselves drawing the short straw with crisp, crunchy veggie samba rolls – all to easy to demolish in one bite – alongside dishes like miso-glazed aubergine and bijoux tacitos brimming with radish and pickled shimeji mushrooms.
THE FINAL WORD
Whether you're dropping in for a lunch or pulling out all the stops for a lascivious dinner, there's a reason Sushisamba sits a head and shoulders about other restaurants in this postcode (and not only because it's literally up in the clouds). The experience is as much a part of its appeal as the menu, so be sure to allow yourself plenty of time to waft around the terrace and enjoy an aperitivo before dining (not forgetting to leave a little room for a yuzu and coconut tart dessert after). Bon appétit.
BOOK
Heron Tower, Bishopsgate EC2N 4AY | sushisamba.com
READ MORE
Best Restaurants in Shoreditch / Best Tasting Menus in London / London Nightlife Guide