Restaurant Of The Week: Shaun Rankin At Grantley Hall, Ripon
Yorkshire never tasted so good
Tucked amid the sprawling, verdant grounds of Grantley Hall is a gastronomic delight. Visit Shaun Rankin's Michelin-starred restaurant to sample the best of Yorkshire, from the produce, to the waitstaff, to the talented team of chefs.
Restaurant Of The Week: Shaun Rankin At Grantley Hall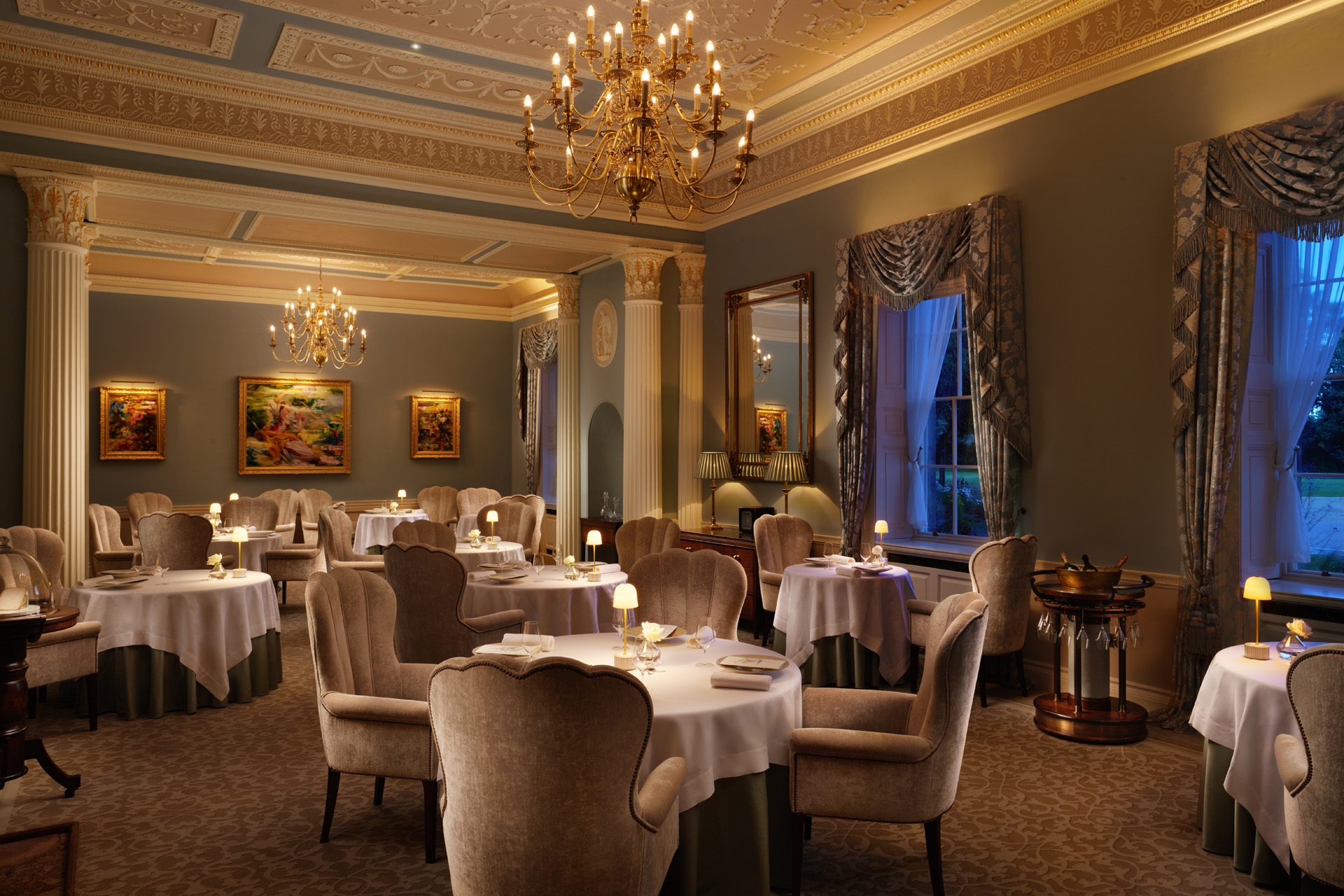 As a Yorkshire lass trapped in London, returning to God's Own Country is a gift for all the senses. Sucking clean air into my nostrils, I listen closely to the silence that envelops Grantley Hall, punctuated by the soft trickle of the river running gently over the grounds, sporadic tweets from birds nestled in the trees, and my own footsteps crumpling the dewy grass. It's an Eden steeped in over 300 years of heritage and nestled in the Yorkshire Dales, a short drive from the small town of Ripon. But the Relais & Chateaux hotel – with 47 elegant rooms and suites, a stunning high-tech spa and fitness centre, and eight food and drink outlets – opened its doors only in July 2019, painstakingly restored by Yorkshire local Valeria Sykes, who is honoured in a towering portrait and an eponymous bar. (Barnsley-born Valeria bought the dilapidated but Grade II* listed hall for £4.75 million after she divorced her business tycoon, also-Barnsley-born husband and Meadowhall creator, Paul Sykes.)
In particular, this trip up north is a gift to my sense of taste. The draw for many guests – aside from those deliciously elegant, sprawling suites and the sumptuous spa (who doesn't love an indoor-outdoor pool?) – is the flagship Michelin starred restaurant, Shaun Rankin at Grantley Hall. The leading menu, 'Taste of Home', tastes nothing like any food I ate growing up in Sheffield; it's immediately clear with the snacks, with a sprawling sea-urchin like tapioca creation, alongside a tart of the thinnest casing. And, of course, that shimmering Michelin star. But that's not the point: we taste the produce of home – 'home' being around a 40 mile radius of Grantley Hall – and the ingredients Rankin remembers from his youth, beginning with hunks of bread slathered with embossed butter and accompanied by warming beef tea (or mushroom tea for veggies – vegetarian and pescatarian menus are available). Then a ring of kohlrabi is decorated with alternate blobs of green and brown, plus plenty of lovage, before a chunky, earthy asparagus is served, sourced from Spilmans Asparagus Farm in nearby Helperby. It is accompanied by lamb sweetbread and wild garlic, the latter sourced within the Grantley Hall grounds.
From the kitchen garden to the rambling woods, plenty of Rankin's ingredients are sourced on site, plucked and served when in season (the menu rotates to reflect these changing seasons), with lots also preserved using varied techniques in big white tubs and jars, breathing new life into the old larder concept. See it all first-hand by opting for the Kitchen Table experience, where guests sit right there in the kitchen, watching the brigade of chefs as they create exquisite dishes, dipping into those jars and tubs. Nothing is sourced overseas – aside from chocolate and wine (the essentials) – with Rankin exploring British-grown alternatives to flavours grown in warmer climes, like using wood sorrel instead of lemons for an acidic zing.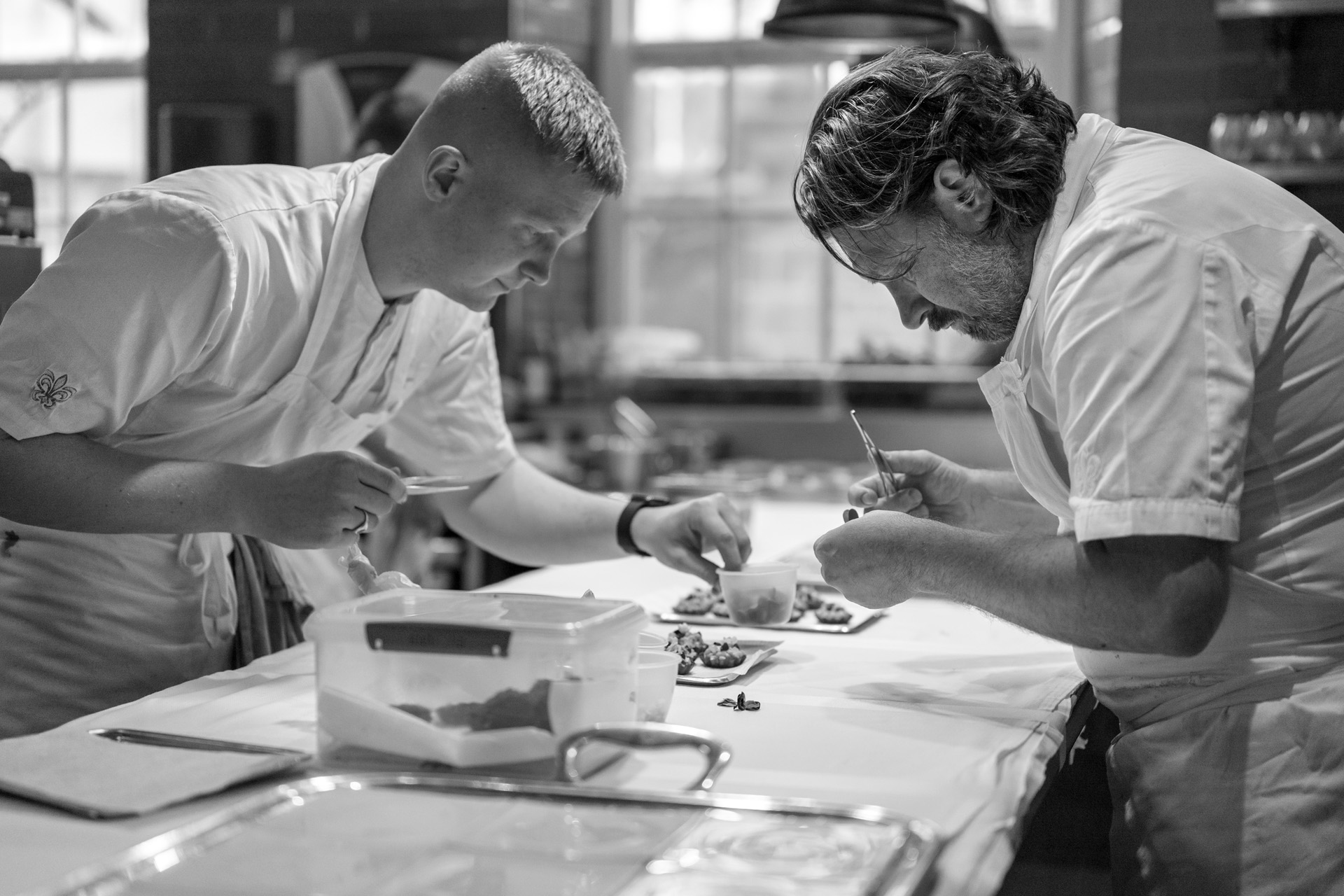 Northern accents ring pleasingly through the air – introducing dishes of turbot and duck, serving paired wines, checking in – pulling oft forgotten northern vowels from my own throat. In September 2022, Rankin was named the SpringBoard FutureChef Champion; a proud mentor to the next generation of top chefs, his kitchen is brimming with local talent. It certainly sounds like home. Plus, it's 'home' elevated: the Yorkshire Rhubarb Souffle is at once the most delicately sweet and fluffy-but-refined souffle I've ever tasted – accompanied by flash frozen custard – and yet the flavour is classic, whisking me back to car journeys across the Pennines broken up with rhubarb and custard sweets. Then there's the playfully evocative magnum, an unconventional chocolate treat coating an earthy ice cream made with hen of the woods mushroom, masterfully bridging the gap between savoury and sweet.
Masterful is right: the menu is a masterful interpretation of 'home', with Rankin indulging his reminiscence, welcoming guests in to sample the goods, while creating an encouraging home for the new generation of northern chefs that will accede him.
The Final Word
Grantley Hall is an opulent treat, and the flagship Shaun Rankin restaurant lives up to the splendid corridors leading guests to the lavish dining room of scalloped armchairs, gilded mirrors and intricately patterned ceiling. Yorkshire never tasted so good.
BOOK IT
Rooms at Grantley Hall start from £600 per room, per night including breakfast.
Shaun Rankin's Taste of Home menu costs £145 per person. Wine pairings cost an additional £50 for the non-alcoholic pairing, £90 for the signature wine pairing and £160 for the prestige wine pairing. grantleyhall.co.uk