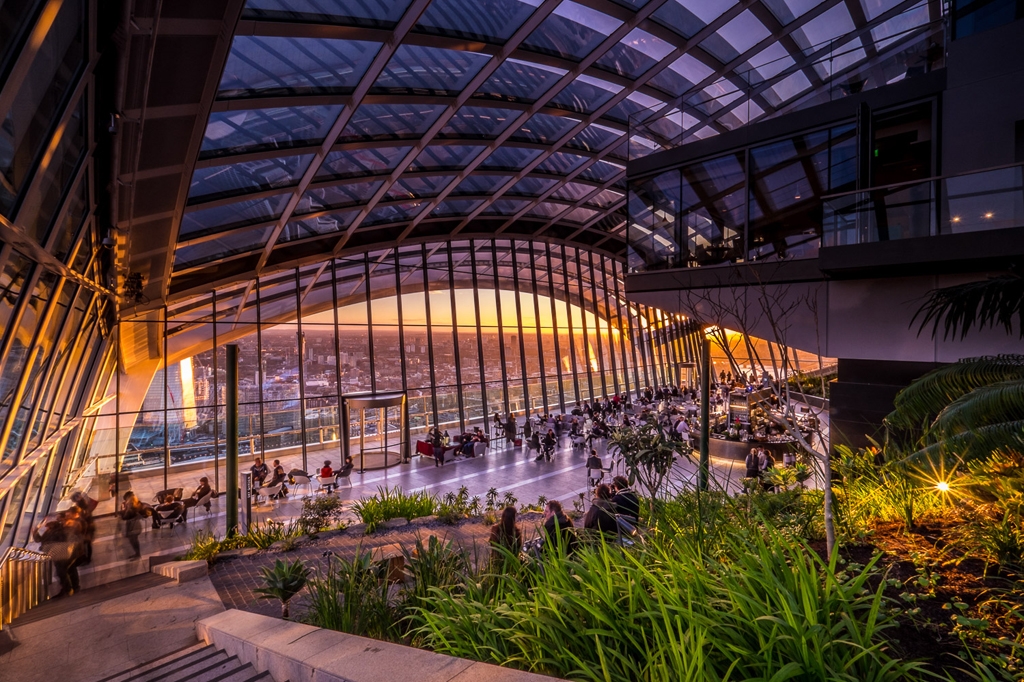 Restaurant Of The Week: Fenchurch Restaurant, Sky Garden
There's a new sky high tasting menu in the City
With a new head chef comes a new tasting menu. Olivia Emily pays a visit to Fenchurch Restaurant, the iconic jewel in the Sky Garden crown, to taste Head Chef Kerth Gumbs' new offering.
Restaurant Of The Week: Fenchurch Restaurant, Sky Garden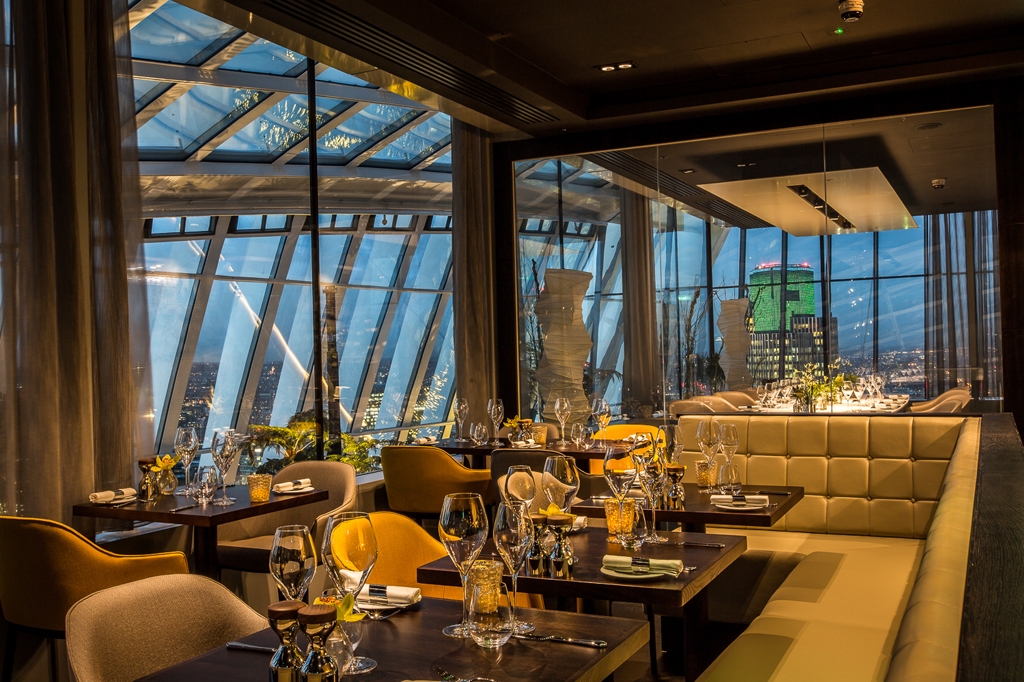 The Sky Garden experience perfectly encapsulates the London experience: here is a stunning skyscraper, topped with a spacious, airy garden with magnificent, panoramic views – London's best, surely – for all to enjoy free of charge. But first, book your ticket ahead, dawdle in a lengthy queue long past your timed slot, and whizz up into the sky in a woozy elevator to be confronted by a tiny bar serving extortionately priced cocktails, swamped by an impatient crowd of thirsty punters. 
Sky Garden pro-tip: book a table at one of the site's bars and restaurants – Darwin Brasserie, Fenchurch Restaurant, Sky Pod or City Garden – to skip that queue with a smug flash of your ticket to the bouncers guarding the door, and shoot straight up the Walkie Talkie's 34 floors. It's approaching golden hour, when gilded light pours through the Sky Garden's whopping windows, dousing London in a pleasingly soft light. Spot the London Eye, the dome of St Paul's, or gaze at the murky Thames winding far off to the east and west of the city. Climbing the peripheral stairs ever-higher as you absorb these sights, it's enough to make you fall in love with London all over again. Keep climbing, and you'll arrive at the quieter rear of the Sky Garden, where savvy visitors plonk down on thick windowsills, conversing with a backdrop of the City. Here, you'll also find the discrete staircase leading up to Fenchurch Restaurant, Sky Garden's fine-dining offering self-described as 'a foodie experience not to be missed'. Elevated above the hubbub, Fenchurch occupies a quiet pocket of the sky, with a spacious terrace leading you to the warm restaurant, an amber glow feeling immediately cosy, and welcoming and accommodating hosts immediately welcoming you to the world of fine-dining.
We're here to try Head Chef Kerth Gumbs' brand new tasting menu, blessed with a table on the west side of the restaurant to watch the sunset over St Paul's, soft light glittering on the swaying river. Meshing British ingredients with Caribbean flavours and Anguillan influences, perusing the menu introduces us immediately to Gumbs' playful side, with a cocktail pairing offered alongside the more classical wine pairing, and mac n cheese promised in the 'snacks' course, incongruous with the high-class setting.
When the snacks arrive, though, that playfulness is expressed in the finest of terms: jerk beef tartare is served in some sort of tapioca taco shell, devoured in two delicately delicious bites; cubes of crispy sweet potato crunch satisfyingly under our knives, gratifyingly hot, soft and flavourful in our mouths, imbued with oregano; the aforementioned mac n cheese is a bite-sized croquet-shaped morsel topped with a healthy dose of finely grated cheese and infused with a lively spice kick. Add to that warm sourdough with crunchy crust and seeded lavroche – smear both with curried haddock or tomato butter, or both – and you have both the perfect introduction to Gumbs' ensuing courses, and the perfect beginning to any menu.
The first three courses proper are all seafood, all paying homage to Gumbs' Caribbean roots. First, it's Johnny Cake, a soft cornmeal bread bun filled with pickled crab and topped with roe, with plenty of scotch bonnet mayo offering a moreish warmth. Then comes a three-tiered glass contraption under the guise of 'Fungi & Salt Fish', with a theatrical pouring of smoke drawing the eyes of surrounding diners. The dish is then split into two dishes – one hot, one cold – of delicate and refreshing octopus, gungo peas, okra, avocado and cornmeal. All this ahead of warming, rich scallop with cauliflower three ways, offering an earthy, caramel-like depth to the soft shellfish, accompanied by roasted chicken butter sauce.
All of these dishes are perfectly accompanied by small, tasty cocktails in a unique pairing option that's lighter and juicer than the more traditional wine pairing. Expect to taste the Rhu-Tai – a twist on the classic Mai Tai – with rhubarb, almond syrup and lime, served as a refreshing complement to the Johnny Cake; or Bush Tea (gin, lemongrass and green Chartreuse) providing a citrusy palate cleanser alongside the Fungi & Salt Fish.
Speaking of palate cleansers, Gumbs' playful side returns after a hearty aged duck course – featuring exquisitely cooked duck with a crispy edge and indulgent jus, with tamarind, turnip and sorrell and a glass of Brixton Rum Punch (tropical juices, spice rum and nutmeg) – in the form of pre-dessert luminous green and red whiskey gummy bears that'll transport you back to childhood, served atop refreshing soursop and pink peppercorn ice lollies. End with Gumbs' Conkie Dumpling inspired Dessert Le Ducana Cake, a wholesome spiced sweet potato cake (looping us right back around to that first mouthful of crispy sweet potato) served with caramelised white chocolate, coconut and salted milk ice cream, with a ice-cream like cone of cream on the side and a glass of Fenchurch Cafe (coffee, tonka, white chocolate). It's the perfect mix of childish delight rooted in fine dining.
The Final Word
Gumbs' new tasting menu showcases the best of British cuisine and classical cooking with playful twists and international influences that steer clear of gimmicky and journey straight into the divine. Enjoyed with the best skyline views in London, Fenchurch Restaurant is a bucket-list London experience that lives up to its lofty location. Note that there's also a vegetarian option available, featuring the likes of courgette, salt leek, and nut-crusted aubergine.
BOOK IT
The Tasting Menu is priced at £95 per person, with an additional £75 per person for the wine pairing, or £65 per person for the cocktail pairing. 
Fenchurch Restaurant is open Thursday to Sunday for lunch, and Wednesday to Sunday for dinner. To book, visit skygarden.london, contact [email protected], or call 0333 772 0020.