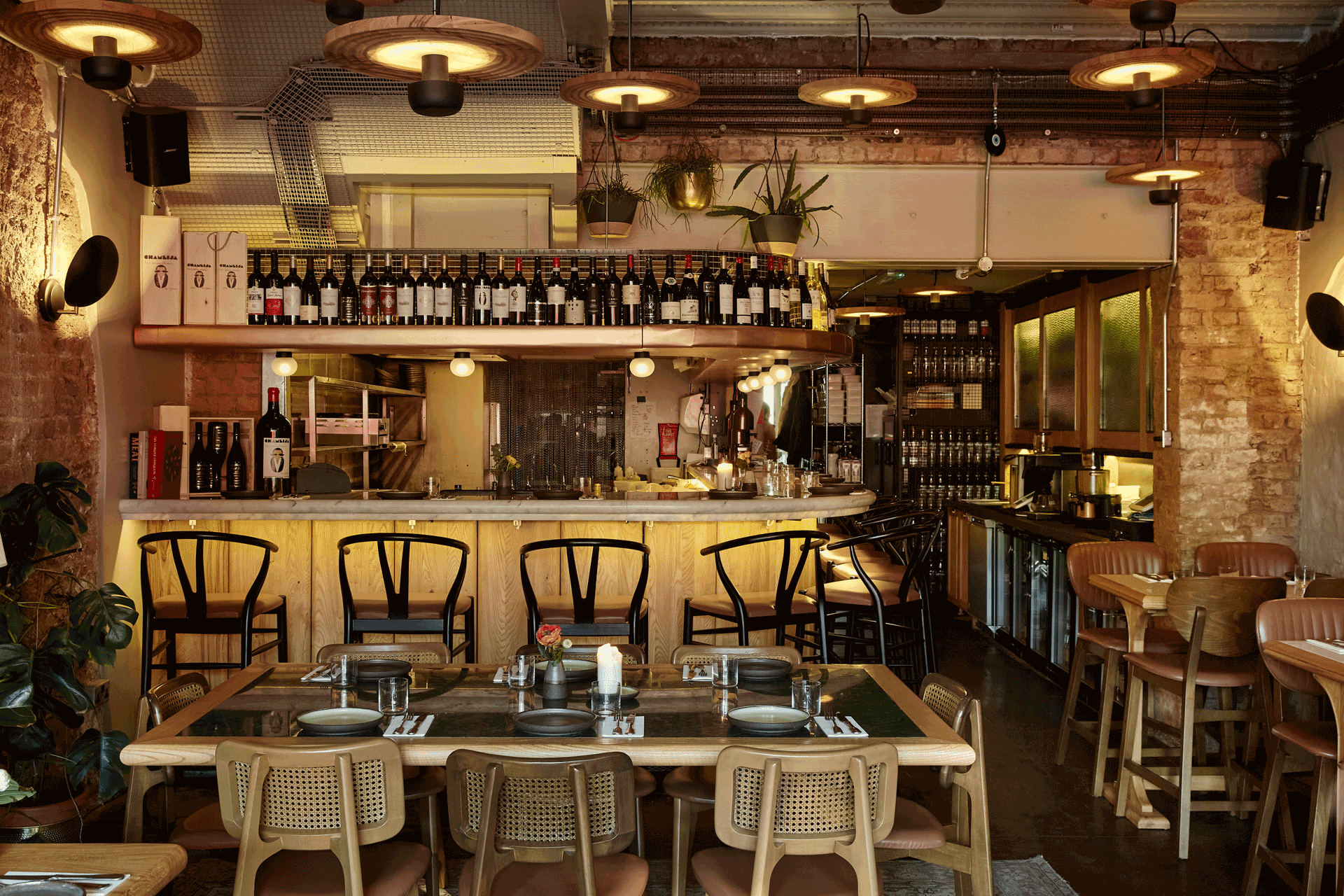 Restaurant Of The Week: The Counter, Notting Hill
Turkish cuisine with a dazzling twist. It doesn't get better than this...
Venture into Notting Hill for more than market stalls and brunch spots: there's a new restaurant in town, and it doesn't disappoint. Martha Davies heads to The Counter.
Restaurant Of The Week: The Counter, Notting Hill 
Contemporary Turkish cuisine might not be on your radar, and The Counter doesn't shout about it – but this food is so good that it will beckon you back. An instant contrast to the picture-perfect pastels of Portobello Road, the restaurant welcomes you in with monochromatic glory, from its exposed brick walls to the deep shades of copper and clay in its seating and bar. 
The bar is, of course, the star of the show, sweeping across half the space and encapsulating the Turkish concept of ocakbaşı, which translates to 'fireside'. The Counter is a restaurant with grilling at its core: peek over your plate to see a beautiful cut of meat softly whispering above an open fire. Chefs affably provide recommendations as they serve up a dish or pour a cocktail; here, everything is a shared experience, a communal celebration of high-quality food prepared with skill and compassion. 
Yet head chef Kemal Demirasal might seem like an unlikely culinary hero. Previously a champion windsurfer, he has now risen to the title of one of Turkey's top chefs. The Counter marks his first UK opening, and it offers a trailblazing take on traditional cuisine from the region of Anatolia in south-east Turkey. 
The menu spotlights many classic Turkish ingredients, but it might yield a jolt of surprise as you take in some unlikely pairings. The 'şalgam' cocktail is an ingenious reimagining of a margarita, with a base of red pepper and salgam juice (from fermented black carrot and turnip, often sipped alongside kebabs). It's a tangy savoury tipple that works wonderfully, especially with the lamb dishes.
The chocolate babaganoush is the focal point of the sharing plates – if not the whole menu – and it does not disappoint. It is, in fact, a shining representation of everything on offer here: perhaps unexpected, but utterly delightful. The chocolate serves as the most superb sidekick to the sharpness of the aubergine, creating something that, although initially startling, feels somehow familiar and instantly moreish. It's a dish that you know you'll keep thinking about even before you've cleared your plate. (And it's so delicious that you will want to clear your plate.)
There is such a lot to explore here that you could make an entire meal out of the starters and it wouldn't be a bad idea. Plunge slivers of flatbread into warm hummus topped with dates and pastrami for a salty buzz, or tuck into lamb tartare finished with a hint of molasses and pepper paste. The lamb liver skewers are velvety and tender, while the perfectly-spiced vine leaves are a brilliant vegetarian option. Many ingredients have been specially imported to guarantee that customers receive a true taste of Turkey, and every detail feels fresh and carefully considered.
As main courses go, the Turkish koftas are, understandably, exceptional – a flavoursome failsafe. The kibbeh is also outstanding, with tahini cream and mint adding to the gorgeous creaminess of such a classic recipe. There's a vegetarian alternative here, too, ensuring that anyone without carnivorous tendencies can still enjoy a thrilling array of dishes (although you'll have to skip the intriguing 'satır kıyma' cocktail with a base of fat-washed rye whisky.) 
If you've got any room for dessert, you'll be blown away by the semolina cake, which grants a divine honey flavour offset by fruity clotted cream with an enchanting salty flourish. You can also indulge in an impressive selection of sweet wines. 
At The Counter, Demirasal has harnessed the unifying power of Turkish cuisine. To eat here is to be invited into a group of spectators and encouraged to observe the secrets of every dish's creation. With an innovative menu and almost boundless choice, this place is really something special. You'll be left with only one lingering regret: that you couldn't order it all.
The Final Word
This is a standout spot for Turkish fare – just sit back and watch the culinary magic happen. Make sure to nab a seat behind the counter, of course.
BOOK IT
108 Golborne Rd, London W10 5PS, thecounterlondon.com
Featured image credit: Sam Harris