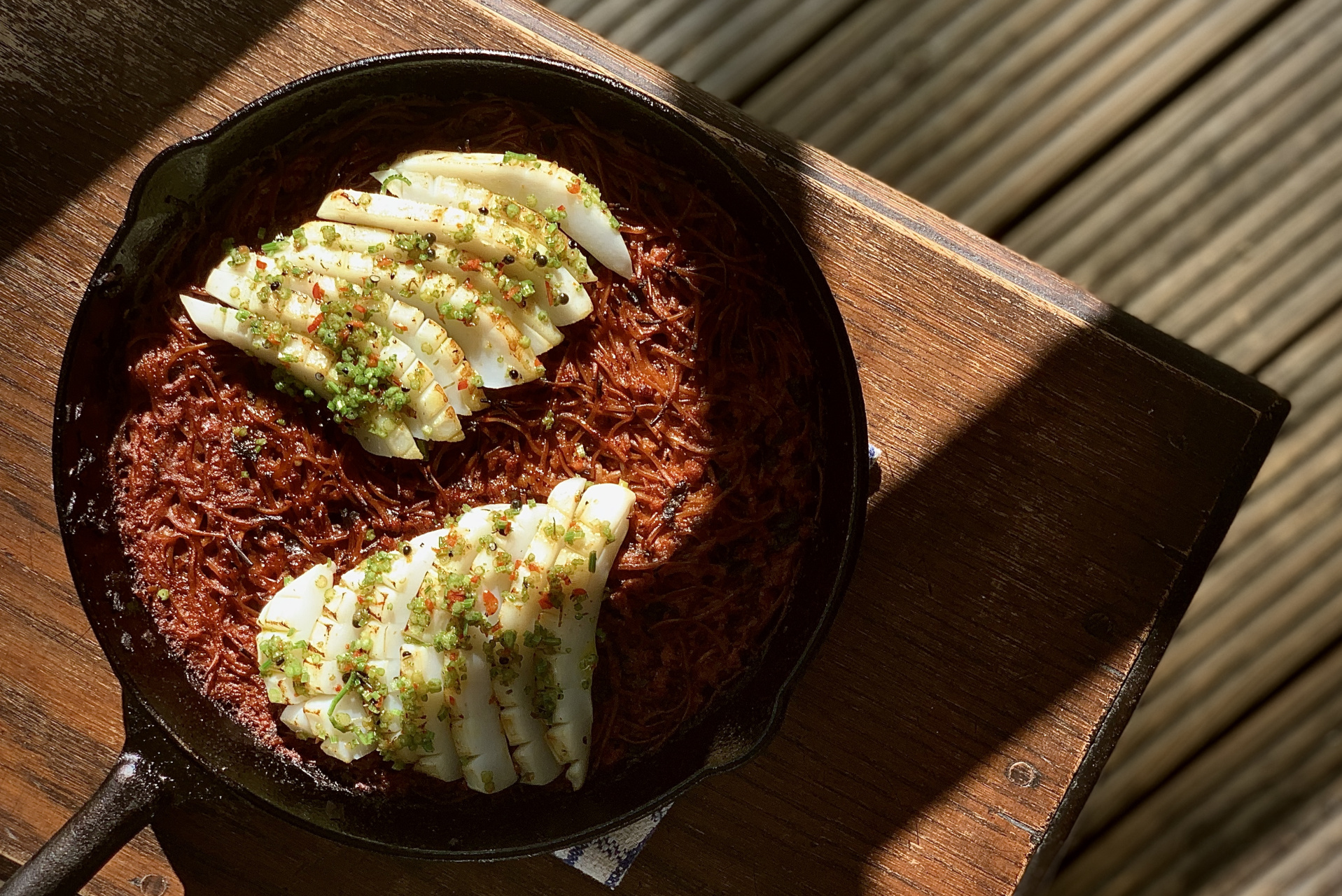 Santiago Lastra's Fideo Seco
---
Mexico's favourite pasta dish
Take a trip to Mexico this summer with Santiago Lastra's Fideo Seco, said to be the nation's favourite pasta dish. Have a go at the recipe below.
Santiago Lastra's Fideo Seco
Ingredients
Salsa
One onion (roasted in quarters)
Five Cherry Tomato (roasted whole)
Fideo
250g Short egg noodles
Vegetable oil
Five garlic cloves
150g Chorizo
Seaweed
Four dry jalapeño or chipotle chili (previously soaked overnight in water)
Plating
½ cup finely chopped Parsley stems
½ Scotch bonnet
1 tsp Ramson capers (chopped ) you can use also normal capers
40ml Sour kombucha (you can use a mix of lemon and orange juice)
150g Cuttlefish body (or squid, you can use any other seafood)
Method
Salsa
Blend the tomato with the onion, then add the chili with ½ cup of the soaking liquid.
Strain and reserve.
Fideo
Fry three whole garlic cloves in the oil at medium heat for four  minutes, then add the noodles and fry until they are nice and golden. Strain and reserve.
In a wide cast iron pan slowly cook the chopped onions until they are caramelized. Add two garlic cloves whole to roast for about four minutes at medium heat, then add the chorizo and break it down with the help of a fork.
Add the fried noodles and mix all together. Add the tomato salsa and the stock, cover with tin foil and cook at very low heat for three minutes, then bake in the oven at 250C for five minutes.
Plating
Mix the chopped stems and capers juice, with the scotch bonnet and kombucha. Set aside and reserve.
Cut the cuttlefish in half and make a gridle with a sharp knife of around half a centimetre without going all the way through – this will help the cuttlefish to cook faster, more tenderly, and evenly.
In a very hot pan with a spoon of oil cook the cuttlefish on the side of the griddle for less than a minute just to get a golden colour. Take off the stove , slice, and dress with the mix of stems and scotch bonnet.
Take out the Fideo from the oven and serve with the dressed and sliced cuttlefish on top.
Prawn on the Lawn's Shellfish Stew with Parsley Oil / Bread Ahead's Famous Doughnut Recipe