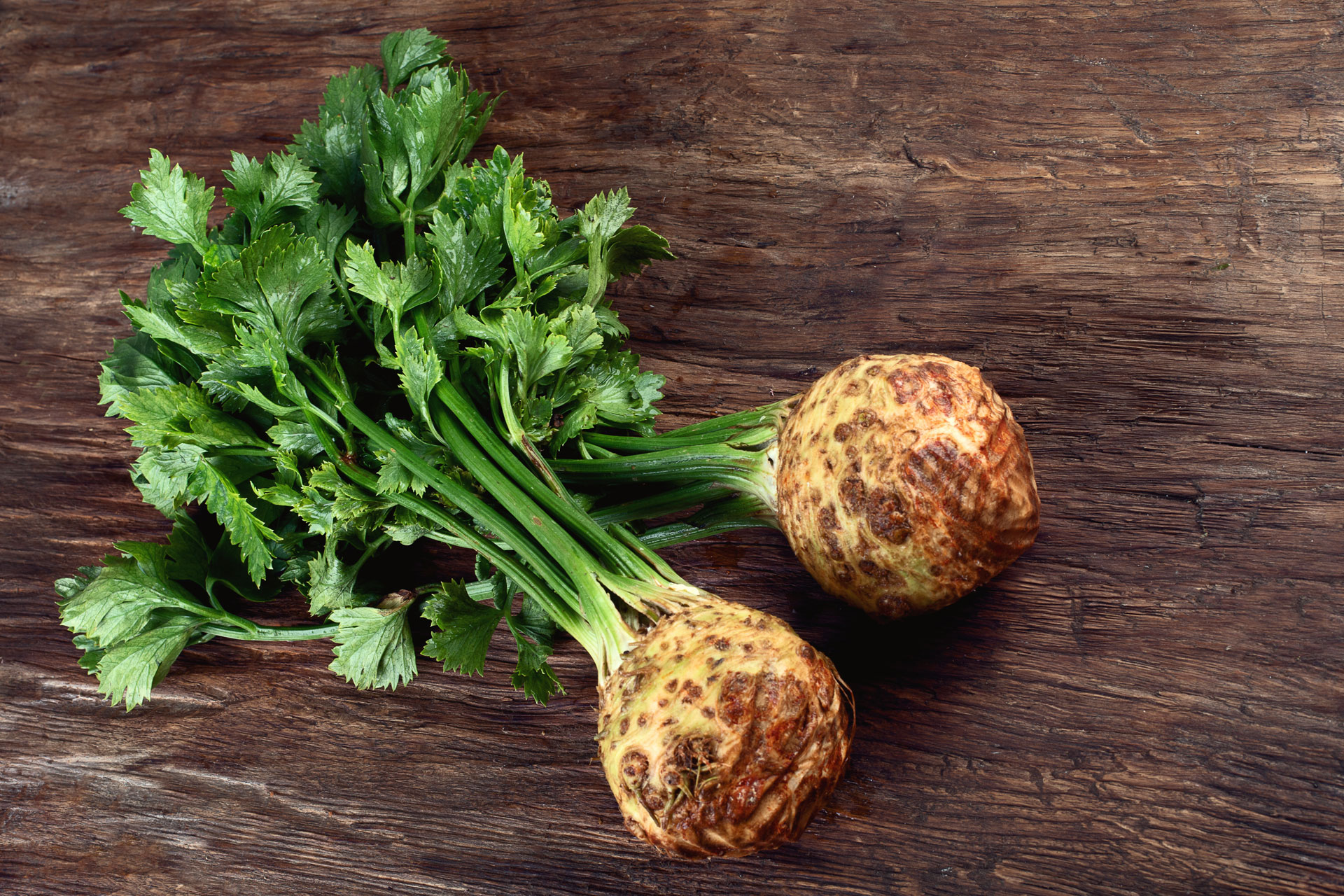 Vegetable of the Week: Celeriac
How to make this often overlooked vegetable sing
Each week plant-based cook Bettina Campolucci Bordi, founder of Bettina's Kitchen, gives us the lowdown on a particular seasonal vegetable or ingredient, offering cooking tips and a recipe. This week it's celeriac.
This root vegetable, also known as the celery root or turnip-rooted celery, may be a little less appealing than other vegetables – but that doesn't mean it shouldn't be celebrated. Very much an underrated ingredient, the celeriac is one that is often accustomed to the French staple: the celeriac remoulade, a cold spiced sauce containing a whole host of European seasonings and spices. But it's actually a whole lot more than that.
Celeriac is packed with nutrition: high in fibre, potassium, manganese and phosphorus, plus vitamins B6, C and K. Being part of the celery family, celeriac has a potent flavour – but this is mixed with the subtle flavours of a turnip and finished with a nutty undertone, which pairs perfectly with apples, pears, carrots and butternut squash. It also leans heavily towards a good soak or drizzle in acidic lemon juice.
Not only is the flavour more mild than other vegetables in the celery family, the texture is too. Celeriac is the softer face of the celery brand which sees the vegetable akin to a wild variety of softer textured dishes: famously used in purees, but also wonderful when mashed, crushed or left to become buttery and fluffed inside a golden crisped, double cooked chip.
Although the preferable method is to blitz and blend the vegetable into side dishes, recent trends have seen celeriac rise to the ranks as a star main dish with thick slices cooked in replacement of a steak and topped with a bitter sharp salsa verde, or salt-baked and served whole for the entire table to devour. You can grate them into a rosti or salad, roast until sweet and topped with cracked black pepper or blend into soups with crisp apples and finish with herbs and a basil or truffle oil. Don't forget about the off cuts either: the skin, stalks, leaves and coiled roots are all edible and pack various punches throughout. They're a brilliant aromatic herb to flavour soup, sauces and stew bases with.
The celeriac, in its naked supermarket form, needs little in the way of preparation. The skin just needs a good scrub clean before slicing, roasting or boiling – but you can peel if you prefer. Just make sure to freeze the skins to add to stock bases in the future. If you do manage to get an untouched celeriac, the roots can be chopped and treated as the main body but may need a touch longer cooking time due to their intense density. And keep it unwashed in a loose cloth in the crisper drawer of your fridge until ready to use, or washed, peeled, cut into cubes and frozen for future dishes to come.
Recipe: Root Spicy Peanut Slaw
Ingredients
For the slaw:
1 small (or ½ large) red cabbage, thinly sliced
1 carrot, julienned
1 small (or ½ large) cucumber, julienned
1 red onion, finely sliced
1 small courgette, julienned
1 tbsp olive oil
1 tsp salt
For the dressing:
50ml peanut butter
1 tbsp maple syrup
juice of ½ lime
1 tbsp tamari
For the topping:
2 tbsp toasted peanuts
1 spring onion, finely chopped
½ red chilli, finely chopped
Handful of mint leaves
Method
In a large bowl, massage the olive oil and salt into the sliced red cabbage, with your hands, to soften it.
Add the carrot, cucumber, onion and courgette and mix together to combine. Then transfer into a nice salad bowl or platter.
In a bowl, mix together the peanut butter, maple syrup and lime juice and pour this dressing over the salad.
Top with the spring onion, chilli, toasted peanuts and mint.
MORE INGREDIENT OF THE WEEK: