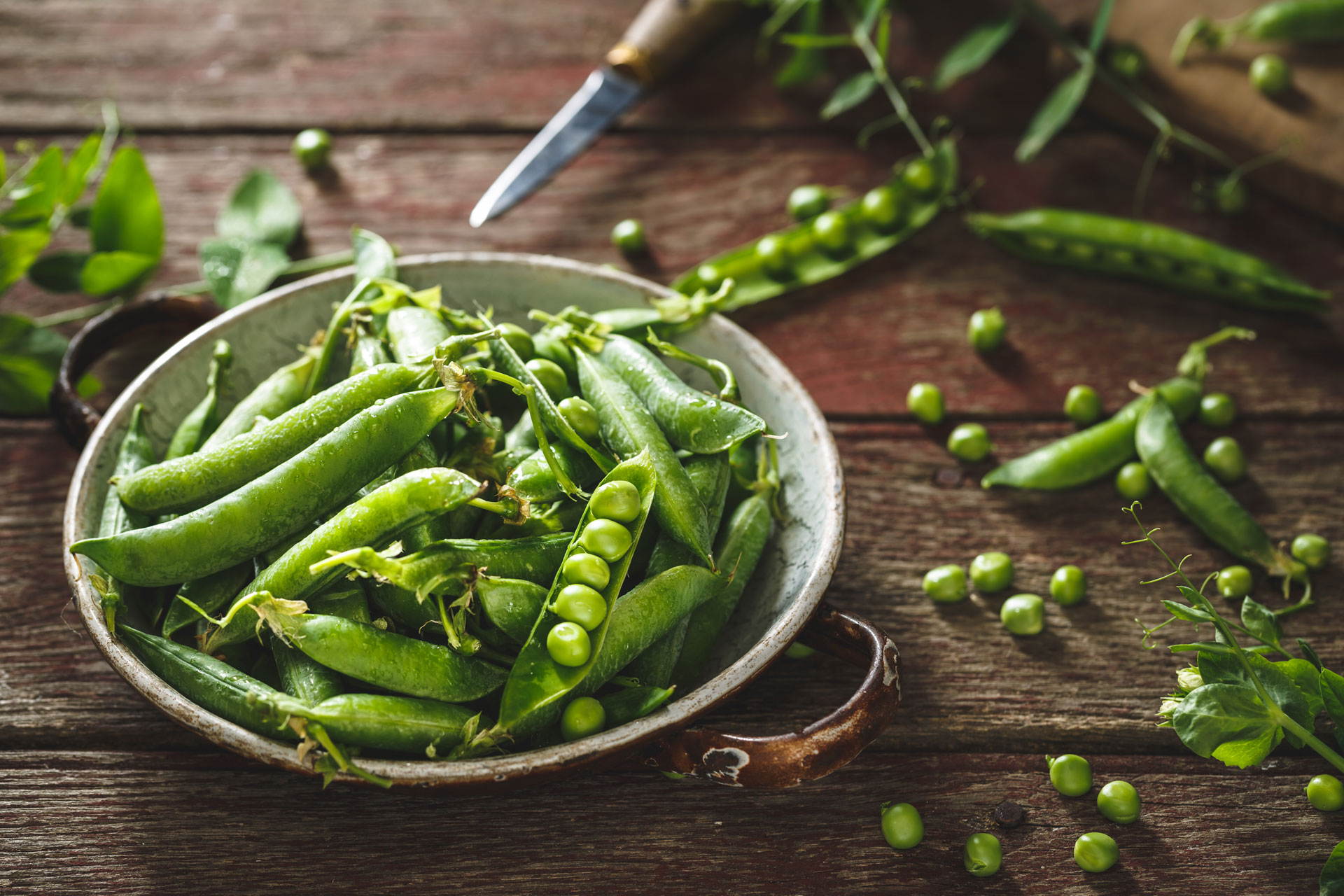 Vegetable of the Week: Peas
---
How to pop fresh peas, and an easy soup recipe
Each week plant-based cook Bettina Campolucci Bordi, founder of Bettina's Kitchen, gives us the lowdown on a particular seasonal vegetable or ingredient, offering cooking tips and a recipe. This week it's peas.
It's no secret that peas are normally best bought frozen. This is due to their inability to hold their own once harvested – like most legumes, the process that turns their sugars into starch starts soon after being picked, so the joy of popping fresh peas out of their pods and into your mouth is one most don't get to experience. I'd highly recommend it though: it's a time-consuming affair, but so worth it.
If you are going on the hunt for pea popping pods – or just buying them the supermarket – keep in mind the general rule for green produce: look for vibrant, firm varieties that show no signs of wilting or discolouration. You want a pod that Goldilocks would be proud of: not too soft and not too firm. To shell the pods out of their green bounty inside, bend the stem back on itself and unzip the pod down the indented side. Alternatively, you can freeze the pods. Once frozen, pop the pods into warm water, and use your thumb and index finger to gently squeeze the peas out into the water.
Regardless of how you de-shell them, keep the pods. You can turn them into stocks, soups and sauces by juicing or boiling before blending and pushing through a fine sieve. This can then be used to flavour risotto, beef, chicken, lamb or fish. The pea's pouches pack a surprising punch of umami flavour which is the perfect pairing for both salt, butter and fresh aromatics such as mint, dill and rosemary.
Once released from their coats, fresh garden peas can be eaten raw or cooked. The young small peas are best for the former as they hold on to their natural sweetness in a way the older variants can't. To eat them cooked all you have to do is simmer for three to five minutes or steam for five to seven. Alternatively, stir through freshly cooked pasta, rice or potato and allow the residual heat to warm them through, leaving them with the perfect al dente bite.
Due to the short shelf life on fresh peas, make sure to cook or eat them as soon as possible. Store them in a brown paper bag in the crisper drawer of your fridge either in their pods or without, and aim to use within two to three days. If you have a large glut, keep a small batch in the fridge but freeze the rest, shelled. Blanch for a minute or two in salted boiling water before plunging them into an ice-bath to preserve their crispness and vibrancy. Once cool, drain, dab dry and freeze so that you always have a stash of sweet, crisp peas to stir through pastas, serve in fresh seasonal salads or risottos, or toss with onions and buttered new potatoes.
I am going to share a very quick pea soup recipe. It includes frozen peas but if you can and want to, you can definitely use fresh ones instead.
Recipe: Five-Minute Pea Soup with Baji Pancakes
Ridiculously easy, super-tasty and great as a quick dinner after a long day at work, this truly feels like a hug in a bowl – comfort on a high level.
Serves 2
Ingredients
For the soup:
375g (13 oz/3 cups) frozen peas
250 ml (81⁄2 fl oz/1 cup) quick plant cream
Olive oil, for frying
Salt and freshly cracked black pepper
For the pancakes:
Olive oil, for frying
1 red onion, sliced
2–4 medjool dates, torn into pieces
120 g (4 oz/1 cup) buckwheat flour 250 ml (81⁄2 fl oz/1 cup) water
1 pinch of bicarbonate of soda (baking soda)
1⁄2 teaspoon baking powder
1 teaspoon yellow curry powder
1 teaspoon salt
Plant yogurt or coriander (cilantro) or parsley leaves, to serve
Method
To make the pancakes, heat a little olive oil in a large frying pan (skillet) and fry the onion for about 5 minutes until soft. Add the dates and set aside. Put all the remaining ingredients in a bowl and mix well, then stir in the onion and dates. Reheat the pan, then spoon out your pancakes one by one. There should be enough for four pancakes in total. Once there are small air bubbles on one side, it ́s time to flip. Set them aside and keep them warm, the soup will be done in no time.
To make the soup, heat a little olive oil in a medium-size saucepan and add some olive oil. Add the peas, from frozen, and the plant milk and gently heat up. Once heated through, transfer all the ingredients to a blender and blitz until smooth. Serve immediately with your beautiful pancakes and a dollop of yogurt and fresh herbs for extra zing.
MORE VEG OF THE WEEK: