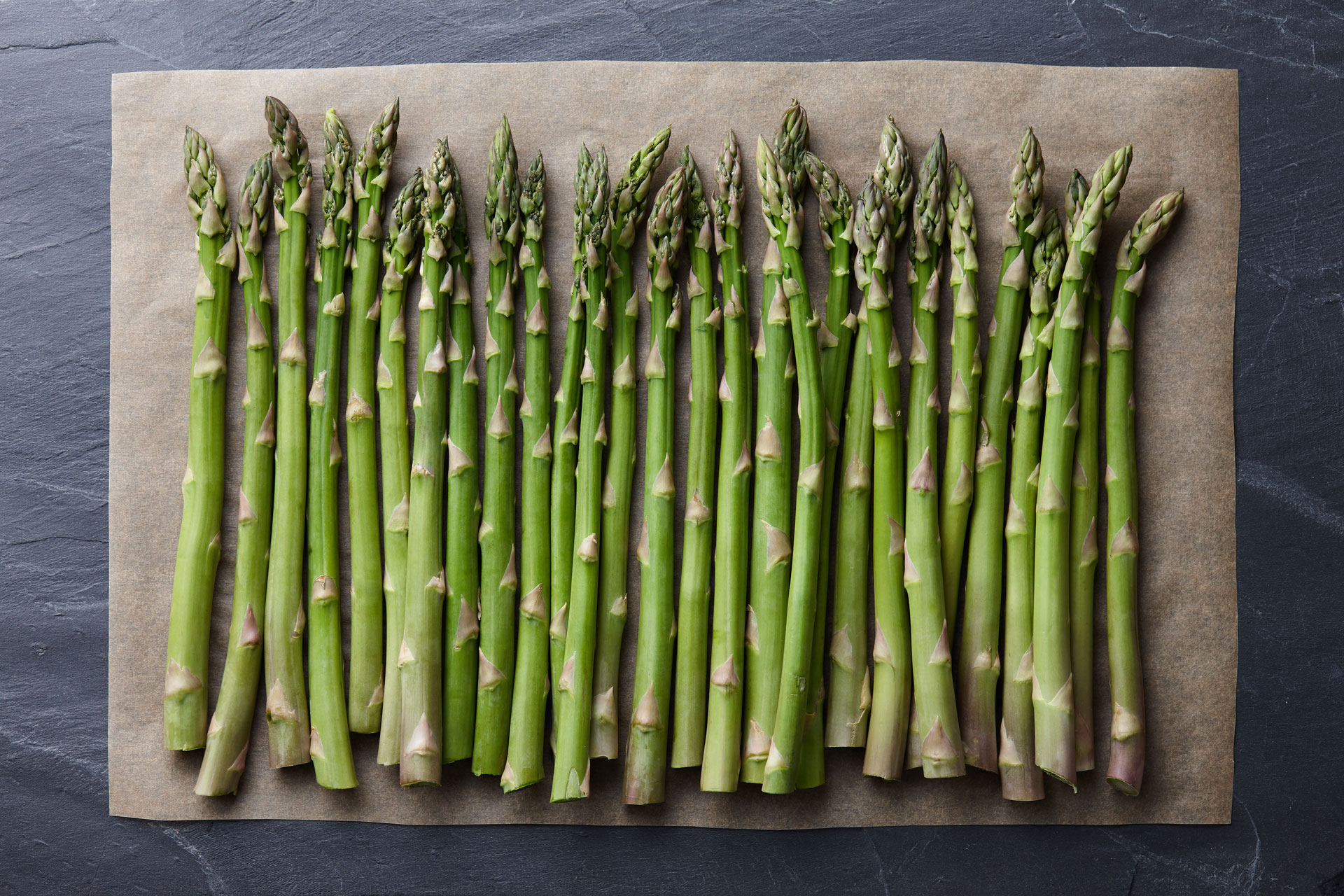 Vegetable of the Week: Asparagus
---
Asparagus season has arrived
Each week plant-based cook Bettina Campolucci Bordi, founder of Bettina's Kitchen, gives us the lowdown on a particular seasonal vegetable or ingredient, offering cooking tips and a recipe. This week it's asparagus.
Spring, to me, is asparagus. This beautiful ingredient that is often overlooked – apart from maybe as a starter in fancy restaurants – is at its peak. It comes into season in late April and lasts until June, allowing plenty of time to enjoy it charred on the BBQ, wrapped in prosciutto or shaved raw into salads.
Salt and asparagus are best friends and are often paired together. Dairy too. When covered in a creamy sauce, the vegetable's sulphurous flavour is sweetened and allows for more pungent flavours to join the plate – like garlic, truffle or anise. These enhance the asparagus' earthy tones.
Asparagus comes in white too. Grown from the same seed as the green but buried deep and covered with a mound of soil to stop the production of chlorophyll, they tend to be more nutty and bitter than their green sisters. Some people, however, find the flavour to be lacking in taste just as much as it is in colour and not worth its weight. The white variety is more expensive too, due to the labour-intensive process in growing. I'd stick to the green, but make sure to utilise the entire spear, even the woody bottoms. These are packed full of intense flavours that can be used to create stock bases to be poured into soups, turned into sauces or used to flavour risottos.
Keep your asparagus in the fridge and treat as you would a bunch of flowers. Remove the ends then stand upright in a jar or glass of water, before loosely covering their tops with a coat. A plastic bag was always the norm but a more sustainable brown bag or cheesecloth will work just as well, tied to the jar to keep everything protected inside. Store on the top shelf of the fridge and aim to use within 10 days.
To remove the ends, hold the asparagus between your fingers, add a slight bend and run one hand along the tube until you're able to feel the natural break. Place the discarded bottoms in a pan with water and some sort of onion – white, red or spring – and simmer until reduced before straining and saving for future dishes.
I love shaved asparagus. This is a slightly time-consuming recipe but it's a beautiful salad and also incorporates my waste free philosophy of using up stale bread and turning it into this delicious crunchy topping.
Recipe: Shaved Asparagus Salad with Garlic Pangrattato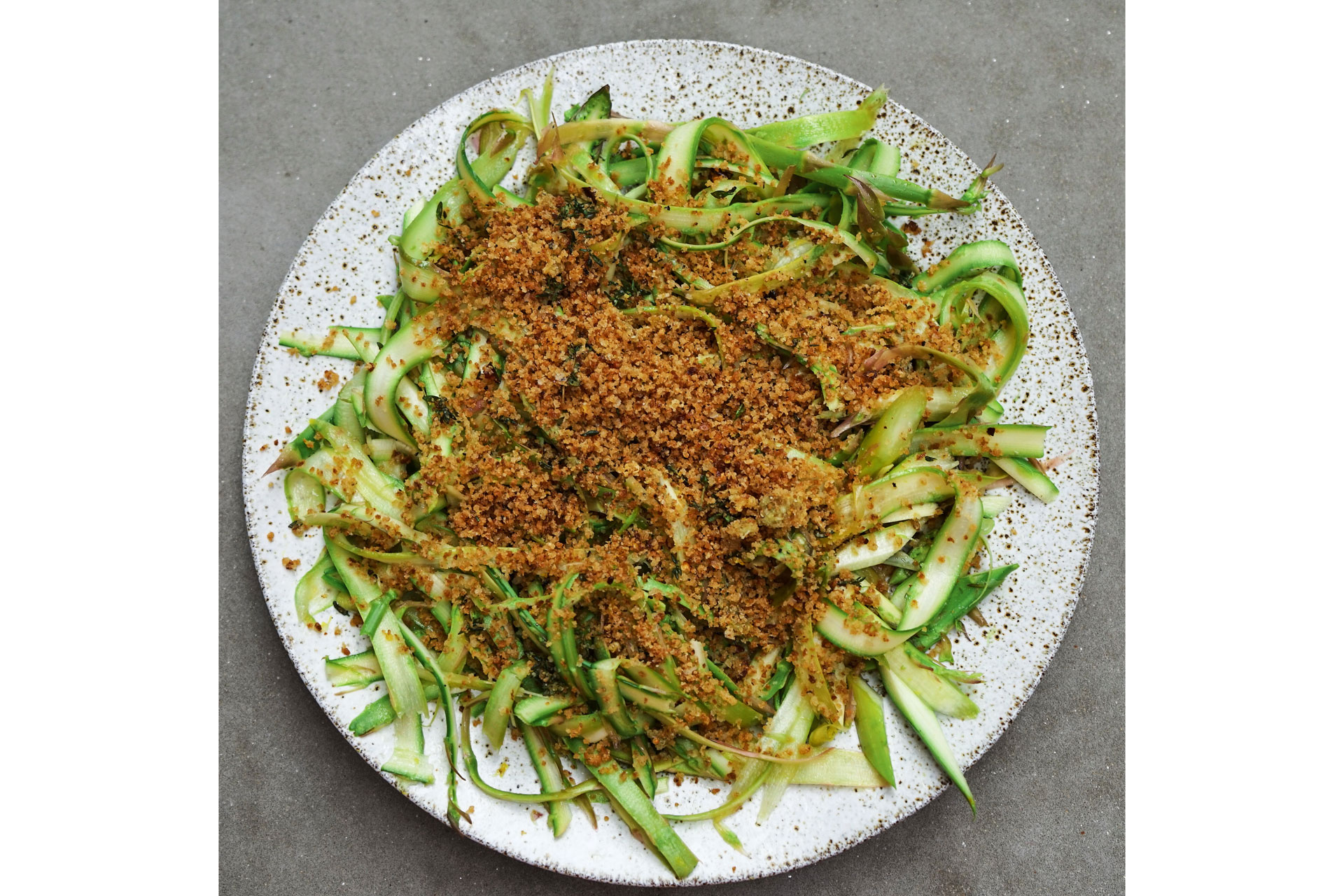 Ingredients
For the asparagus:
1 large bunch of asparagus
Zest of half a lemon
Juice of 1 lemon
2 tbsp olive oil
For the pangrattato:
1 large slice or 2 small slices of stale bread
1 clove garlic
Pinch of chili flakes
2 tbsp olive oil
3 sprigs fresh thyme
Salt & pepper
Zest of half a lemon
Method:
Shave each asparagus spear by holding the asparagus end and shaving away from you with a vegetable peeler. Chop up the leftover part that is too thin to shave, and discard the hard asparagus end.
Place the shaved asparagus in a bowl and add the lemon juice, zest and olive oil and gently mix through with your hands, massaging it into the asparagus to coat thoroughly. Set aside to marinate while you make the pangrattato.
Blitz the bread in a blender or food processor to create breadcrumbs. Heat a frying pan on a med-high heat and add the olive oil. Once hot, add the breadcrumbs, grated garlic, chili, thyme, salt & pepper and stir for a few minutes until the breadcrumbs are golden and crispy. Turn off the heat and then add the lemon zest.
By now the asparagus has been marinating nicely. Serve it up in a lovely serving dish, top with the pangrattato, and enjoy!
TIP: You can prepare the asparagus in advance and let it marinate for longer if you wish for a more intense flavour.
MORE REIPCES:
4 Interesting Ways To Cook Asparagus / Grilled Asparagus & Quinoa Salad