Here are the best places for a healthy lunch in London…
Take a cross section of busy Londoners and odds are that a day in the life is vastly different person to person. But observe this sample of the populace particularly around the hours of 12:30 to 2pm in the afternoon, perhaps on an office break or resurfacing from the tube, and you might notice a common look of despair that says, 'Where should I go for lunch?!' And so, at the crossroads of the eternal lunchtime quandary, healthy eating and 'I have my next appointment in a half hour', we bring you our solutions to good-for-you food on the go.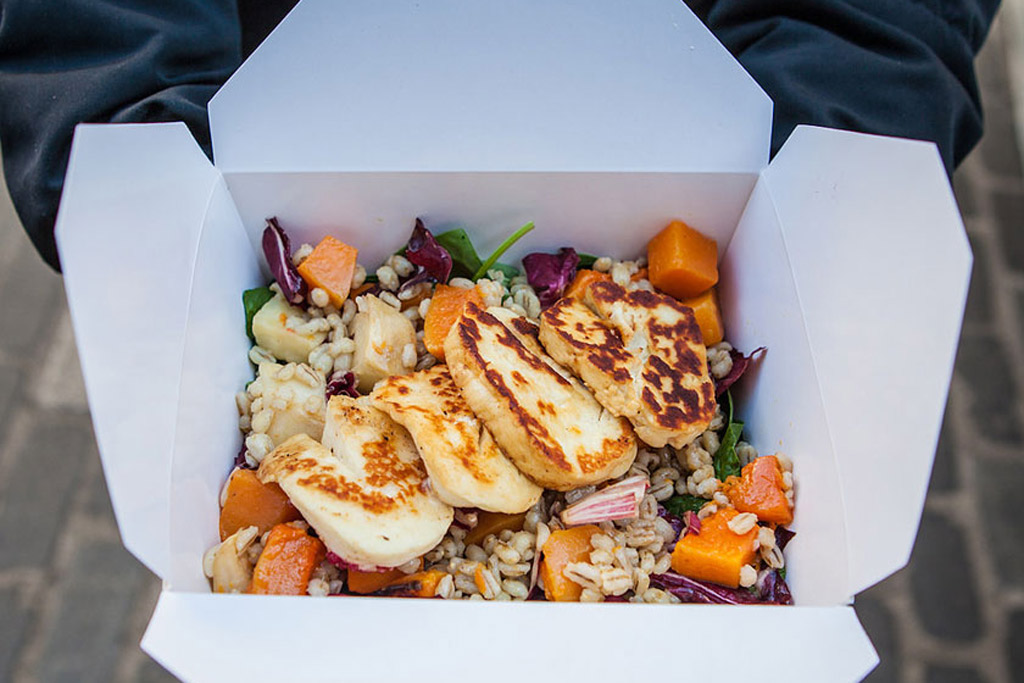 Street food, meet salad. Davide and Kristina were inspired to start Savage Salads due market food's lack of salads that are 'more than just the usual basic leaf and vegetable concoction'. They've seemed to solve this problem with the likes of their roasted beetroot, couscous and pumpkin seed salad, as well as a red cabbage, kale, orange zest and sultana one. Paired proteins like grilled halloumi or rosemary, thyme and lemon marinated chicken, these salads are a bang for your buck (and come with hummus and pita).  Berwick St Market, Soho, London W1F 8HT
Born on the Hawaiian coast, poké bowls are very in vogue these days – in part thanks to Island Poké, which now has eight London outposts. It has the same concept as some of it's less healthy counterparts (Subway, we're looking at you): a conveyer-belt building system, where you can create your own vibrant raw fish salad bowl. Pick a base (brown or sushi rice, salad or raw slaw) and embellish with all the toppings you fancy, from roasted beetroot to ahi tuna to shredded seaweed to crispy shallots. Finish with a piquant dressing, and voila: you have yourself a colourful, nutritious lunch which tastes great and brightens up your Instagram feed. After something plant-based? Go for the vegan Detox Bowl, which is packed with wholesome, plant-based ingredients including smoked tofu, sesame broccoli, marinated golden beets and noodle slaw with a tahini ginger dressing. They recently ventured into breakfast territory too, and now offer everything from porridge to açai bowls, which also come with an array of tasty decorations. Various locations.
Housed in a former electrical plant come car park in Belgravia, Wild By Tart is the newest venture from health food duo Lucy Carr-Ellison and Jemima Jones, founders of Tart London. A light and airy oasis within the up-and-coming Eccleston Yards, the space includes a cafe, restaurant and juice bar, all of which use produce from Jemima's farm in Somerset alongside local suppliers. The deli serves up to-go healthy breakfasts, fresh salads and bowl food, and sells homemade jams, chutneys, sauces and spices. At the juice bar, your drink can be personalised based on how you're feeling, with a nutritionist on-hand to infuse your creation with boosting vitamins and minerals depending on your individual needs – including special hangover-reducing potions… 3-4 Eccleston Yards, Belgravia, London SW1W 9AZ
If you're looking for something more hearty than a lonely sandwich, Farmstand delivers fast, organic food that covers all your food group needs. It's a bit like having dinner for lunch! Choose a main and two sides for winning combinations like vegan sweet potato and red lentil dahl with quinoa and fava bean tabbouleh. Or go for beef brisket with mushrooms and tamari with minty pea and asparagus. 42 Drury Lane, London, WC2B 5AJ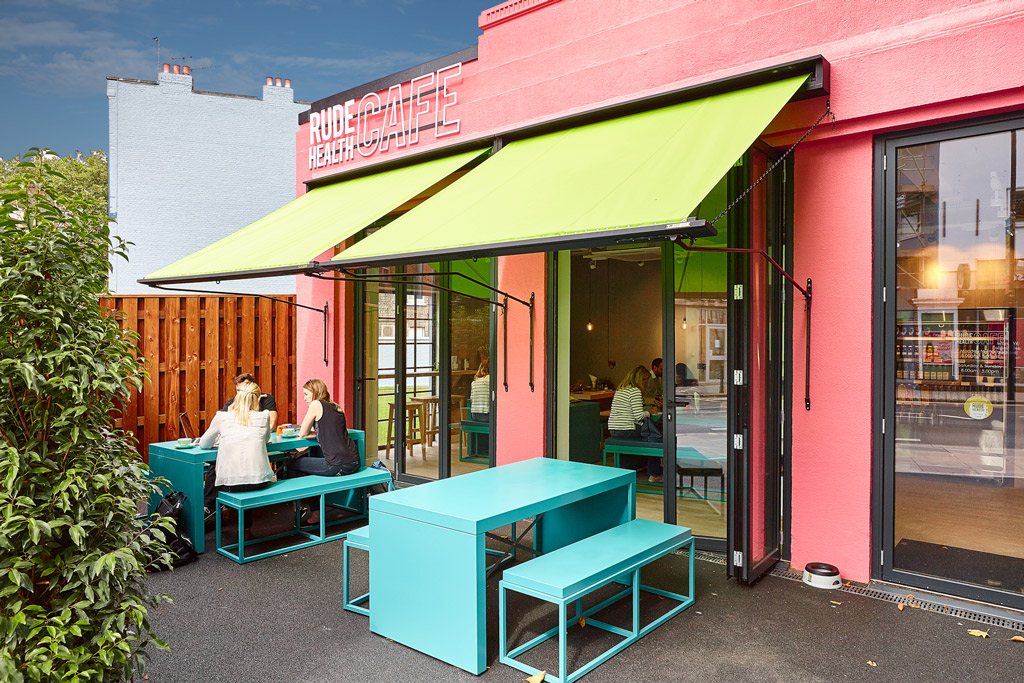 Planted right outside the Putney Bridge Tube stop, scoop up a salad like butternut couscous, quinoa superfood or miso slaw on your journey to your 12 o'clock. Any place that sells avocado on toast all day is a friend, especially when that means avocado, beetroot, goats curd, and chilli on toast all day. Sandwiches and soups like delica pumpkin with crispy bacon are also available. 212 New Kings Road, London SW6 4NZ
Best Vegan Restaurants in London

On the go goodness often presents itself as self serve – and Ethos rules the roost with its hearty vegetarian fuelling stations. Items are priced by weight, so be warned that you're playing a dangerous game as you pile on the macaroni cheese with fried aubergine. If you have a spare moment before dashing off, get involved with a walnut tart, raw caramel flapjack or vegan cupcake. 48 Eastcastle Street, London W1W 8DX
In lieu of a packed lunch, look to Raw Press for it-doesn't-taste-healthy vegan, gluten-free, refined-sugar-free, and (mostly) raw food. Takeaway a colourful salad (think: courgetti, panzanella, bean and lentil dishes) or hot food like black rice with kimchi, and 'cheesy' brown rice pasta. The raw falafel wraps are the real deal and perfect for the walking woman's lunch (banana bread travels excellently, too). Raw Press also serves the ideal, drive-by, self serve breakfast situation. Build your own yoghurt and granola bowl with all the fixins' from bee pollen to cacao nibs. 32 Dover Street London W1S 4NE and 3 Ellis Street London SW1X 9AL

Japanese food in London has few and far between Itsu and fine-dining. Tombo, however, answers the question of where to have quality sushi on the fly. Some classic poké and sushi sets are familiar territory alongside rice bowls like katsu curry and beef don. Bento boxes toot their healthy horn as a 'balanced meal served with three Japanese style salads and multigrain rice'. 29 Thurloe Pl, Kensington, London SW7 2HQ
Tanya's menu focuses on nutrient dense, organic plant foods. Dishes like 'Living Lasagna' pack in the good stuff with ingredients like layers of herbed cashew almond ricotta, sundried tomato marinara, marinated mushroom walnut 'meat' and basil pesto between sheets of courgette pasta. Since when did your to go lunch have activated sunflower seed and veggie falafels, dehydrated below 46 degrees C to retain maximum nutrition? 35 Ixworth Pl, Chelsea, London SW3 3QX
Whole Foods, move over. Planet Organic feels too niche to be a grocery store and also boasts prepared food that is the best of its kind, and geared toward quick lunches. Packaged food in the fridges has an array of sushi, salads, and protein-packed grain bowls in both meat and vegetarian varieties. Food behind the counter (hello pizza!) is a satisfying organic array: meatballs, stews, and a salad bar with bizarrely wonderful options like spirulina watermelon. Various locations including Tottenham Court Walk, Torrington Place, Wandsworth and Islington.
The Best Jewish Food in London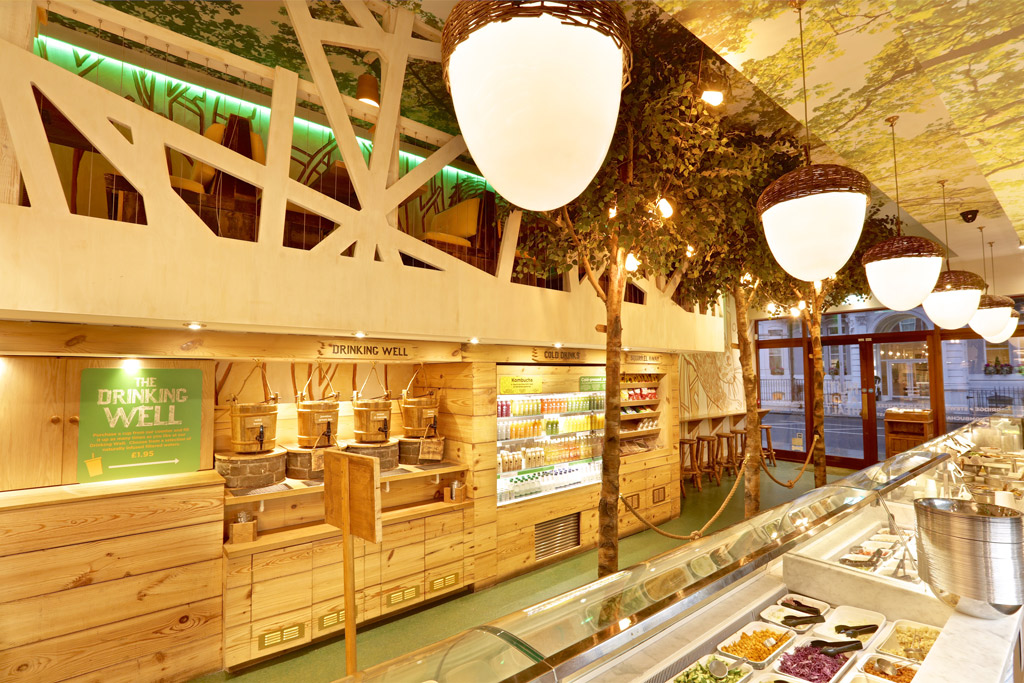 This all-day, casual spot offers fast, healthy food as well as treehouse-esque surroundings for those looking to sit down and have a quick pause. Create a custom salad or go for pre-designed combinations such as 'Oh My Cobb' or 'Thai Me Up'. The 'Miami Rice' grain bowl with chipotle beef, brown rice, lentils, spinach, broccoli, shredded red cabbage, carrot and lime wedges is like taking a mini-lunchtime holiday. Jacket potatoes, 'squirrel bowls' aka granola creations, and the full smooothie, juice and nut milk she-bang give this joint its creds. 11 Harrington Road South Kensington, SW7 3ES 
---