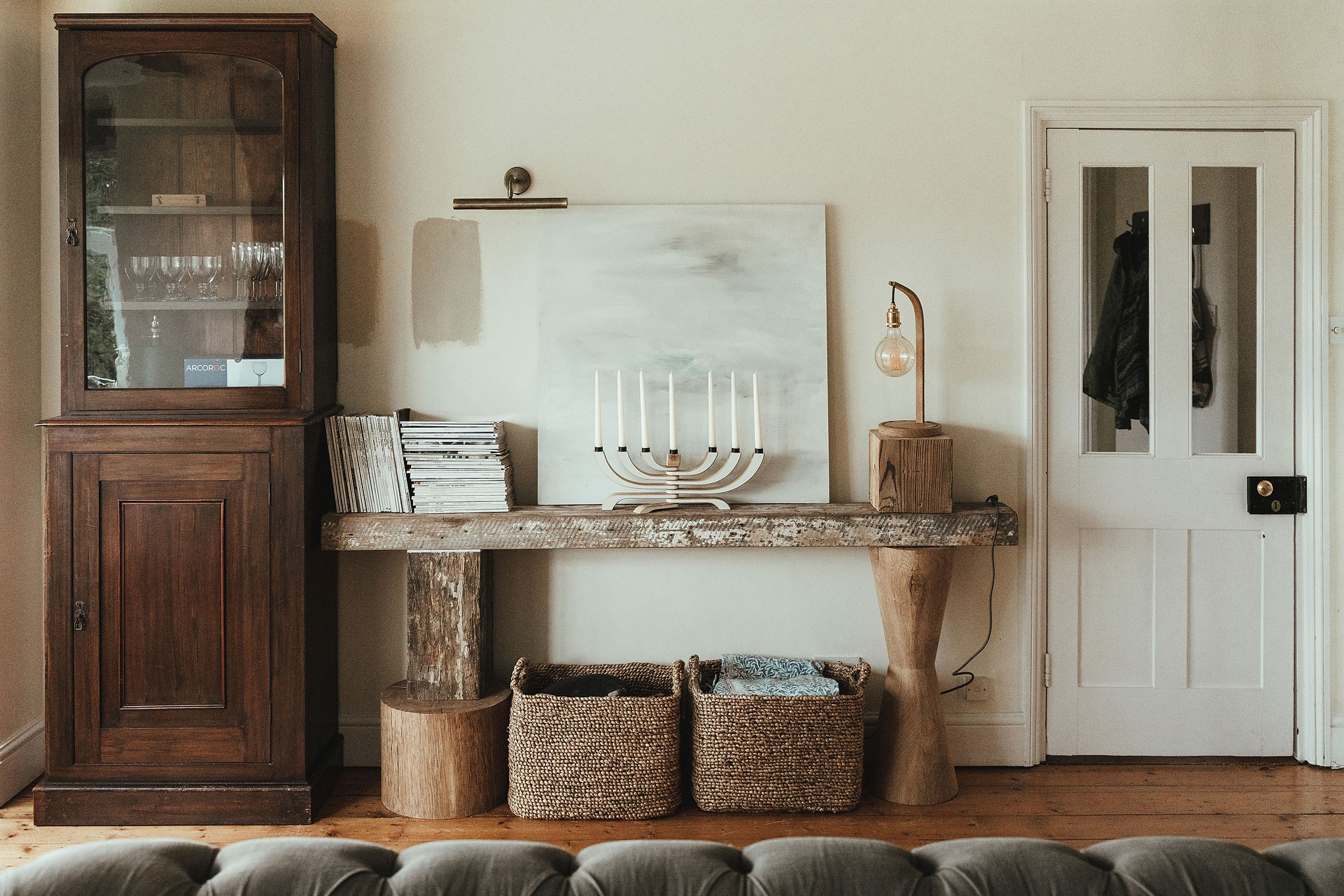 At Home With: Katy & John, founders of LPOL
---
'Home for us means nurture, rest, and creativity'
Husband and wife Katy and John are the founders of LPOL, an independent British design brand specialising in timeless, handcrafted leather and up-cycled bags that are made to last. So when it came to furnishing their new home, it was inevitable the pair were drawn to excellent craftsmanship, a love for the second-hand, and intriguing eclectic pieces. 
Arched windows, squiggling candlesticks, and Georgian furniture are just some of the whimsical ways the couple have embellished their Gothic Revival farm in East Sussex. After moving out of London too, the pair were especially keen to let the landscape in; letting a soft natural palette cocoon the space. 
At Home With… Katy & John, founders of LPOL
Home for us means nurture, rest, and creativity. Home is having that reassuring base from which you can explore and grow personally, professionally, and as a family as well. I think we've really noticed since moving here that we've got that stability, time and freedom to explore and have more balance.
We did the London thing. We knew we were cramped, and we wanted more space and that countryside style of living. The farmhouse immediately spoke to us in all its lovely proportions. We knew the area, it's where Katy grew up, it was the sweet spot in terms of location. The previous owners were all about horses and being outside, so we felt really lucky as we weren't taking anything away from the inside, we just added in our own pieces.
Upcycling led the design naturally. It's the fundamental ethos of our luxury bag brand, LPOL. So it goes the same with the furniture with our home, wherewith most pieces we were lucky enough to be handed down. So from the outside, it looks like an eclectic array of objects, but it's actually all connected by our family stories and stories of craftmanship.
We naturally gravitate to irreverent pieces. Like the candlestick in the living room. Its squiggly-ness is refreshing amid a sea of candlesticks that are perfectly straight and vertical. These more ornate and technical pieces fit quite neatly with the Georgian pieces, which have a quality of craftsmanship that you just cannot find today. And it's in that eclectic mix that you create these interesting little design stories.
We didn't expect to see a Gothic-style window. The house was historically built for The Neville Estate but the original house, Eridge Castle, burnt down 150 years ago, and they rebuilt a house in a Gothic Revival style. And they picked up these little Gothic details, so we've got three pointed windows in the kitchen, and one in the playroom, it's nice and different.
Being able to close the door on work in the evening was quite important for us. At the beginning of the business, I [Katy] was just surrounded by bags, and a lot of stress came with that as we felt we had these bags towering over us. It was really important for us to have a separate space. So we converted the garage here into our working space to have that boundary.
We brought the outside in. Now we are here in this landscape, it's really steering our decision-making with our design in quite a different way compared to our old flat in Camden, London. We've got more natural elements in the rooms, and we've sourced timber that's made our console tables, bedside tables, and coffee tables. Just looking out of our window now, we've got this huge view, and there's something kind of pulling you outside. It's so lovely to be able to go for a walk before we get on with work.
 Check out Katy & John's new launch of the Dinky Zero-Waste bag that's made from leather offcuts, surplus, and recycled materials at lpol.com 
AT HOME WITH…