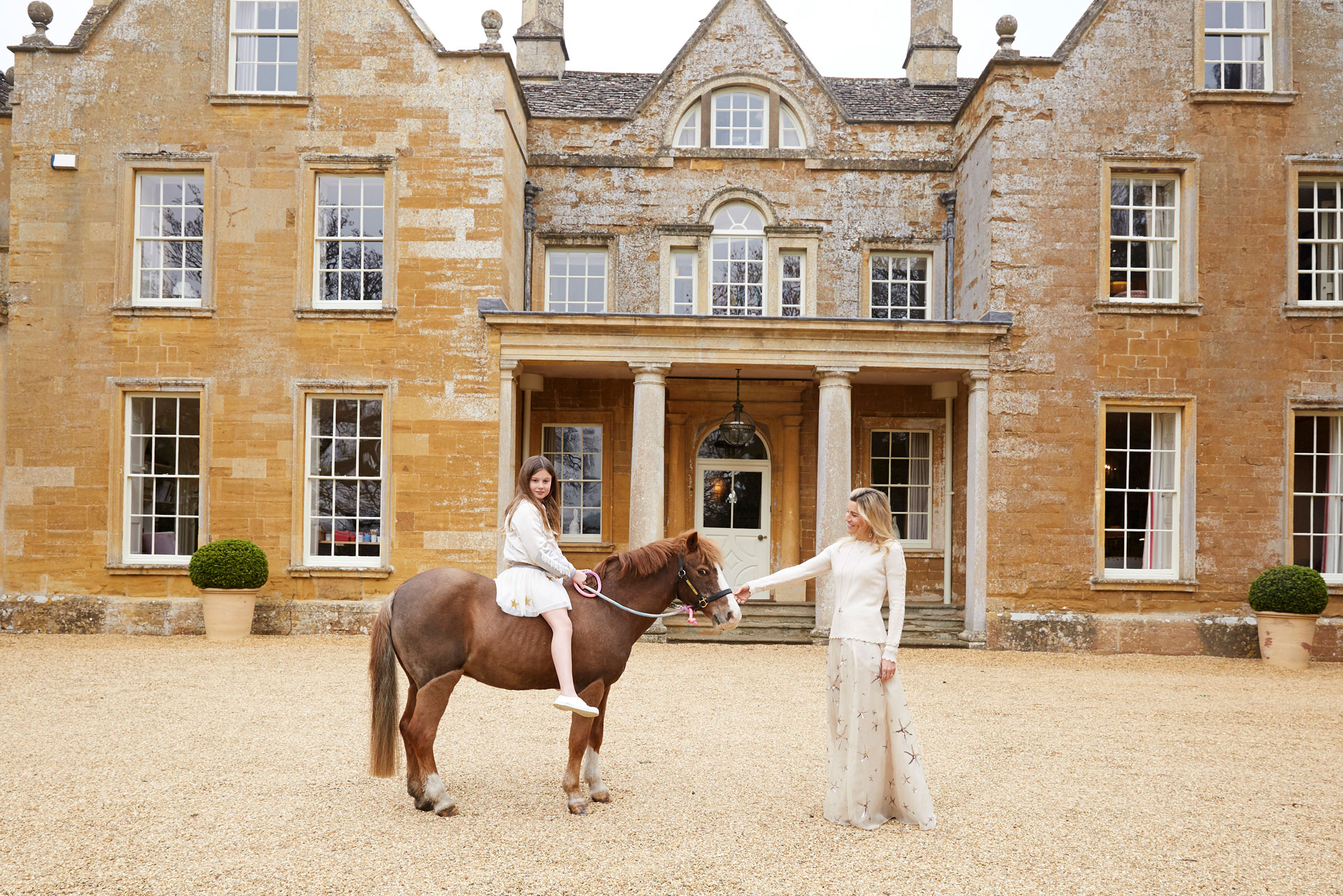 At Home With… Alex Gore Browne
---
The knitwear designer's whimsical dream home
The knitwear designer Alex Gore Browne loves colour, creatures and creativity
At Home With Alex Gore Browne
What's the story behind your home?
My husband Jo took me on a drive one day to show me his dream house. A few years later it came up for sale and we were lucky enough to buy it. We've been here for 12 years now. As well as loving the outside we loved the inside too. It was refreshingly colourful at a time when interiors were very beige. We've kept so many colours that the previous owners had decorated with.
What was your inspiration when it came to designing it?
We didn't use a designer, we just chose things that we love. The house already had beautiful original features, wonky wooden oak floors and pretty cornicing which really dictated the feel of the house. We also inherited a lot of curtains that were rather worn and ragged which we still haven't replaced. I love the fact that it's a real home and nothing is too perfect.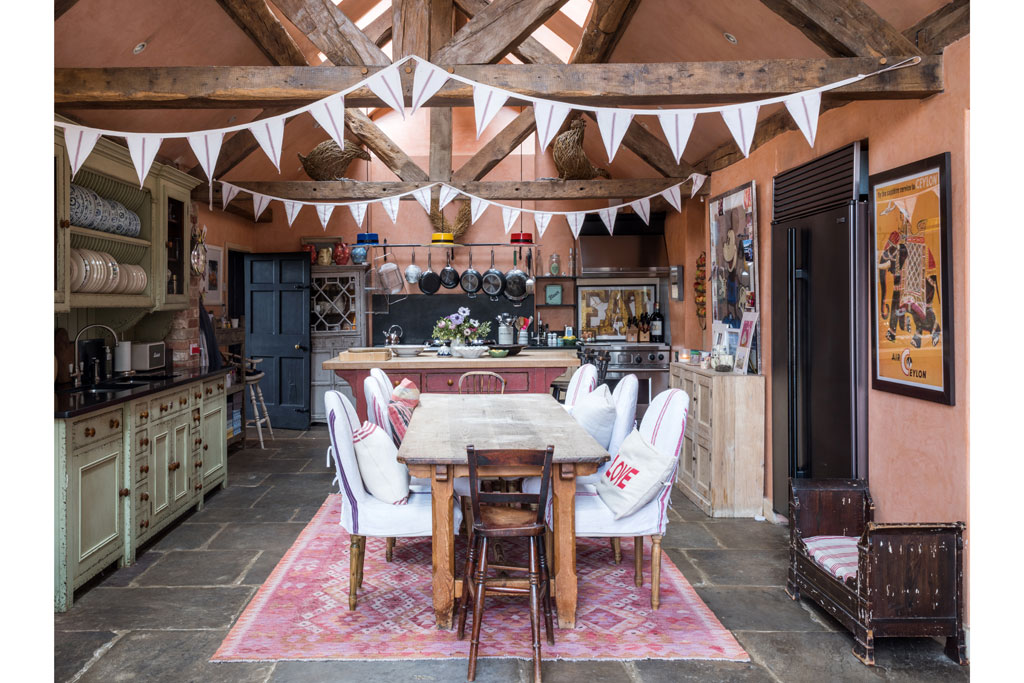 Do you have any interior brands that you love and always go back to?
What's your favourite room in your house?
I love the playroom. We painted a circus tent ceiling and we all love sitting in there on a Sunday afternoon with the fire lit, but also the kitchen because I live in there and it's the heart of our home.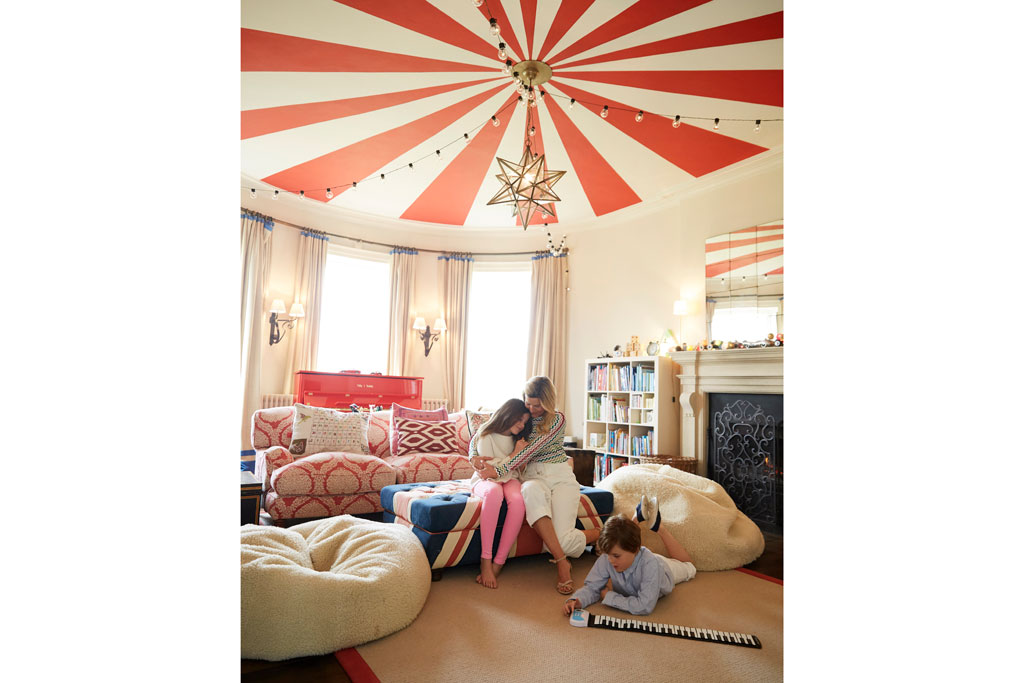 Where's your best view from?
Our kitchen has the best view across the yard which is filed with two donkeys, two Shetlands and the children's first pony who's now retired.
What's your signature dish – can you share the recipe with us?
The family's favourite is so unbelievably simple and our store cupboard go to. Lemon pasta…. you grate a whole pack of good Parmesan, squeeze over 2-3 lemons and add olive oil until the cheese is wet through. Add lots of salt and pepper and then pour over a packet of spaghetti. Extra Parmesan for sprinkling and a delicious green salad.
Share your top five books with us if you were to start a book club
The God of Small Things by Arundhati Roy. It's so beautifully written. You're utterly transported.
Sophie's World by Jostein Gaarder. To give you a brief and wonderful insight into the world of philosophy.
This is Going to Hurt by Adam Kay, An utterly hilarious diary of an A&E doctor. I laughed out loud and couldn't put it down.
Three Women by Lisa Taddeo. It needs no introduction!
Hunting Unicorns by Bella Pollen. A screamingly funny look at the British aristocracy in decline.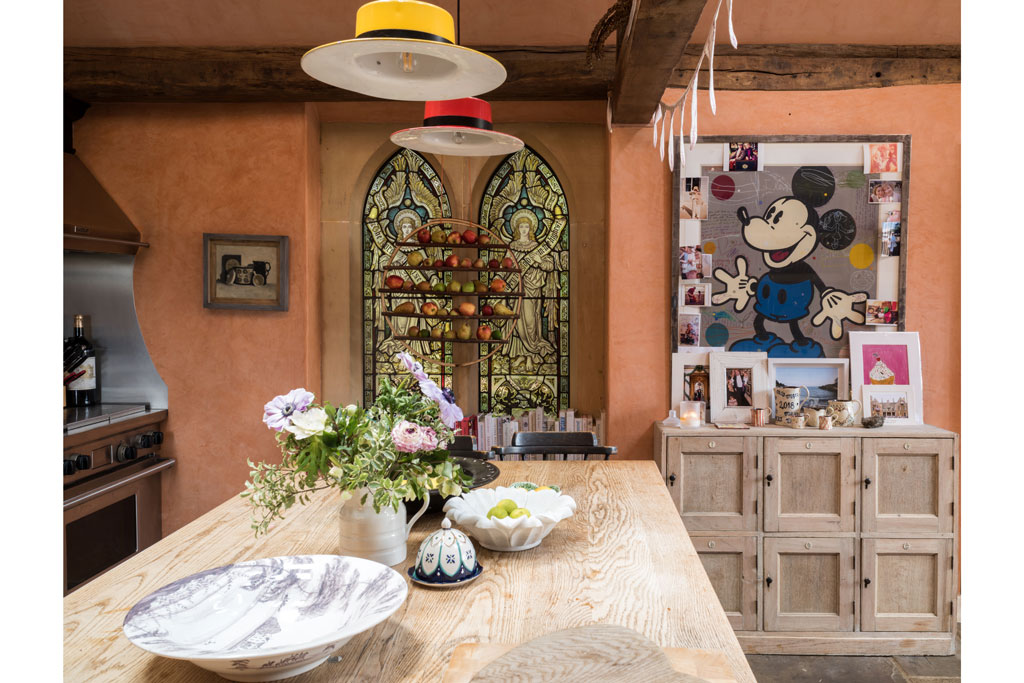 Share your must-see TV and movie list?
Normal People was so simple but so beautifully acted. Military Wives had a wonderfully touching storyline. I love a film that makes me cry.
If you're working from home at the moment, how have you designed your space and any tips for other home workers?
I've always worked from home so I spend my days in my home studio which is in the centre of the house. The only difference is that I now share it with our nine year old, Teddy.
What's the first thing you do when you get up in the morning?
I like to get up a bit earlier to not be rushed. I need a bath to wake up and get the day started. At the moment I chuck on leggings and a sweater and head straight out with our three dogs for a very brisk walk before home schooling begins.
And how do you love to spend your evenings at home?
Evenings are normally spent stitching. I leave all the hand embroidery until the evening as it's a lovely calm way to finish a hectic day.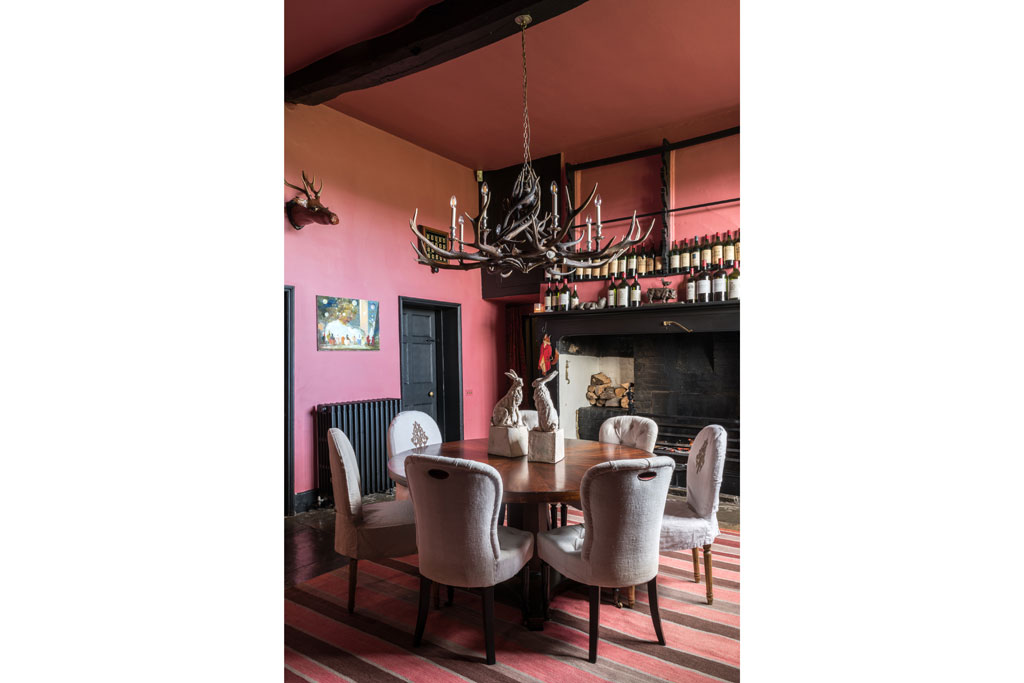 If you were to throw a party at home, what are the key ingredients to make it go with a swing?
Always the company and a good mix of people. Being as relaxed as possible when people arrive. I'm not very good at complicated cooking when friends have arrived. I need to be really organised before so that I can relax and enjoy the company. I love putting together a pretty table.
What gadget could you not live without in your home?
My Nespresso coffee machine is essential.
How do you keep fit at home? Any tips/suggestions?
Dog walking is my main exercise. I also ride a few times a week.
What are you up to in the garden?
The garden has become a playground with the children at home so much. We have jolly jumps which are like mini horse jumps that we all jump over.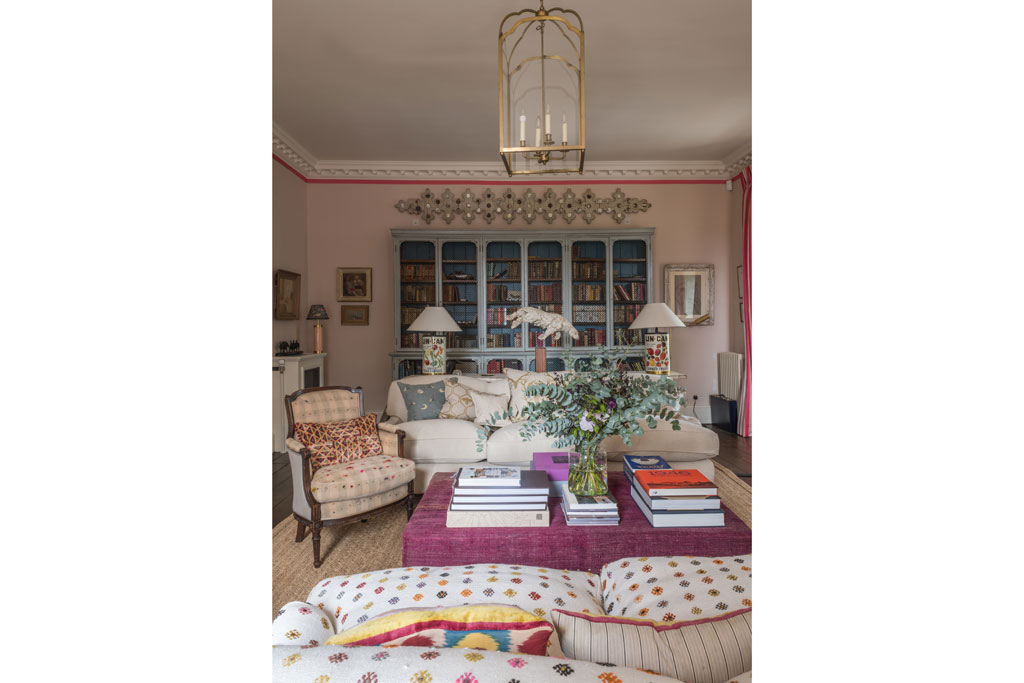 Whose home would you like to be a fly on the wall in and why?
At the moment, my mother's, as I haven't been able to see her since the lockdown and would love to see what she is up to.
What could you really do with now you're spending more time at home? What's missing?
Friends are missing at the moment. We love nothing more than a Sunday lunch when the house is filled.
What makes a house a home?
The people and animals in it. I know I'd be happy anywhere with my gang around me.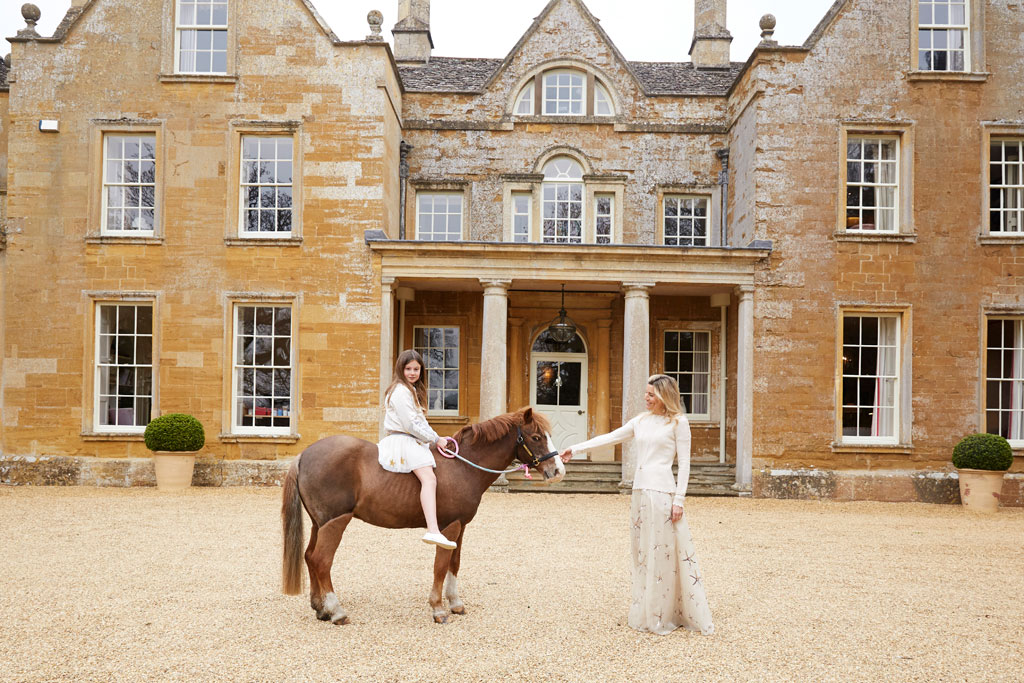 MORE AT HOME WITH:
Matthew Williamson / Chrissie Rucker / Monica Vinader / Martyn Lawrence Bullard / Lady Cowdray