At Home With… Matthew Williamson
Designer Matthew Williamson loves shopping for vintage pieces for his home and while he's not missing any consumables under lockdown, he is missing people
At Home with Matthew Williamson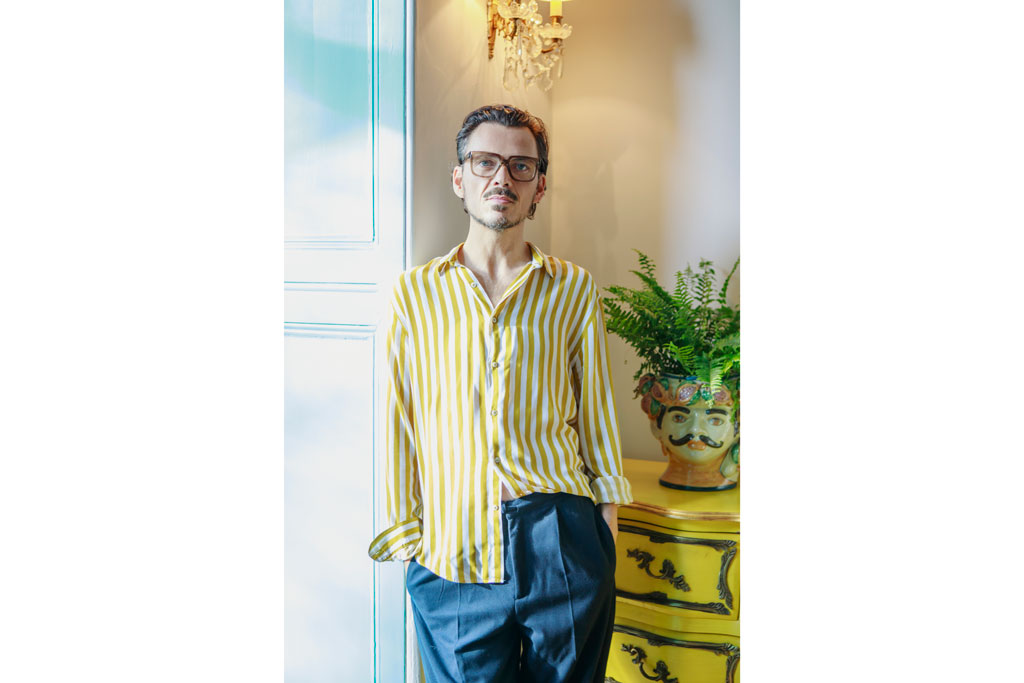 What's the story behind your home?
I bought my London home seven years ago from an architect, which was lucky. It is a ground floor flat in North London with 'good bones' – it has pretty cornicing, parquet flooring, bay windows and high ceilings, which was a huge factor in my decision to buy it. The only changes I needed to make were cosmetic. The original features are almost too beautiful to tamper with too much!
What was your inspiration when it came to designing it?
I came to this home with a pre-established collection of furniture that I knew I wanted to use here.  That is one of the benefits of moving house: it forces you to evaluate your possessions and make a conscious decision about what you want to move forward with. My inspiration for the look and feel of the home came from the initial pieces, including a bed, rugs and mirrors. I knew that I wanted to layer on top of these items. The appointment of rooms was very straight forward (for example, I knew which rooms I wanted to be bedrooms, bathrooms, etc), so it was a case of putting these items in places they seemed to 'belong'. Colour is also key to all the spaces I create, and I find it to be a really enriching element to any design scheme. Once I have chosen the colours for the walls in each room, these tones become something of an inspiration for the rooms in turn.
Do you have any interior brands that you love and always go back to?
Vintage and antique shopping is irresistible for its element of surprise and adventure as you delve into the furthest corners of dealerships all over the world. Online vintage shopping is also a wonderful way to find some of the most unique and interesting pieces for your home, and I always find myself coming back to Vinterior. It's a one stop shop for every room in the house. I have put together a series of Edits for Vinterior, the first of which will be launching on 4 May to help shoppers traverse the tricky terrain of the vintage and antique market. Other brands I keep coming back to are Brownrigg, A Modern Grand Tour, Penny Morrison, Carolina Irving and John Derian.
What's your favourite room in your house?
My bedroom is my favourite room in the house. It has floor-to-ceiling french windows that look out over my garden at the back of the house, which means it is quiet and incredibly peaceful, which is rare in London. I have ensured that it has remained a sanctuary in the house, so have limited furniture and accessories to those that are calming, simple and understated. There are no distractions, and I love to retreat to this room knowing that it is the ultimate escape from the day.
Where's your best view?
The bedroom and the lounge share the same view over the garden. I love to look out across nature and find the garden to be a constant source of inspiration.
Share your must-see TV and movie list
I love Killing Eve. It is so chic, so cleverly styled, from the fashion to the glimpses of the interiors to the graphics. I recently rewatched The Talented Mr Ripley for a moment of escapism and would recommend it to anyone craving a hit of rustic Hollywood romance. Otherwise, I love a good BBC Drama and design shows such as Grand Designs and The Great British Sewing Bee.
If you're working from home at the moment, how have you designed your space and any tips for other home workers?
It has been a long time since I worked in an office with a team, so working from home is quite normal for me. However, I find that lists are incredibly helpful, even necessary, to help manage both my work and personal life. Lists have a steering force that brings about productivity, but it is important not to be too harsh on yourself in this strange time should you not complete all the tasks you have set yourself. One of the ways my day-to-day has changed during lockdown is that I have been dedicating lots of time to painting, so have created my own painting studio.
What's the first thing you do when you get up in the morning?
The first thing I do is make myself a black coffee and take it into the garden, sometimes with banana on toast. This is a highly meditative stage of my day that I feel helps me settle into the day. I usually spend half an hour to think and relax outside. The biggest challenge is not checking my phone for this time.
And how do you love to spend your evenings at home?
We eat dinner at about 6pm as a family. I'm usually the cook. Then, my partner and I put my daughter to bed at around 8pm and spend some time talking, relaxing or watching TV. This time is special, and it's so important to use it to decompress.
If you were to throw a party at home, what are the key ingredients to make it go with a swing?
Setting the scene for your party is so important. Putting some effort into the atmosphere of the space will really pay off, and this includes lighting, music and decorations. Ensure there is enough seating. People won't feel comfortable if they are resigned to standing all evening. I also think the type of people you invite will change the mood of the party. I always like to have a diverse crowd from different ages, industries and times in my life. I love to watch new friendships sparking out of an eclectic mix of people at my parties.
What gadget could you not live without in your home?
My phone – I hate to say it, but it really is essential for my work and for staying in touch with friends and family, especially at this time. It's both a blessing and a burden.
If you have a garden, what are you doing in it at the moment?
My garden has become another room in the house. I am appreciating this space more than ever, and I know how lucky I am to have this space. It was underused before lockdown, and it has never looked better than it does now.
Whose home would you like to be a fly on the wall in?
I have visited Frida Kahlo's Blue House in Coyoacán, Mexico City, and being so up-close and personal with the house, it occurred to me quite how contemporary the space feels and how relevant it is to today. Good design endures. I would also love to see inside Kate Moss's home. I visited around 15 years ago and remember how strikingly stylish it was. It felt like such a treat to witness the home, because it hadn't been in the press.
What could you really do with now you're spending more time at home? What's missing?
I don't feel that I am missing any commodities. This time has shown us all how resourceful we can all be. What I feel is missing, however, is having guests. I love inviting people into my home, sharing a meal and connecting. I do look forward to being able to entertain again!
What makes a house a home?
Comfort and personality. As much as a home needs to be a relaxing sanctuary away from the hustle and bustle of the world, it also needs to be a physical manifestation of the person you are. It needs to be as unique as you.
Matthew Williamson's edit for Vinterior goes live on 4 May
MORE AT HOME WITH:
---