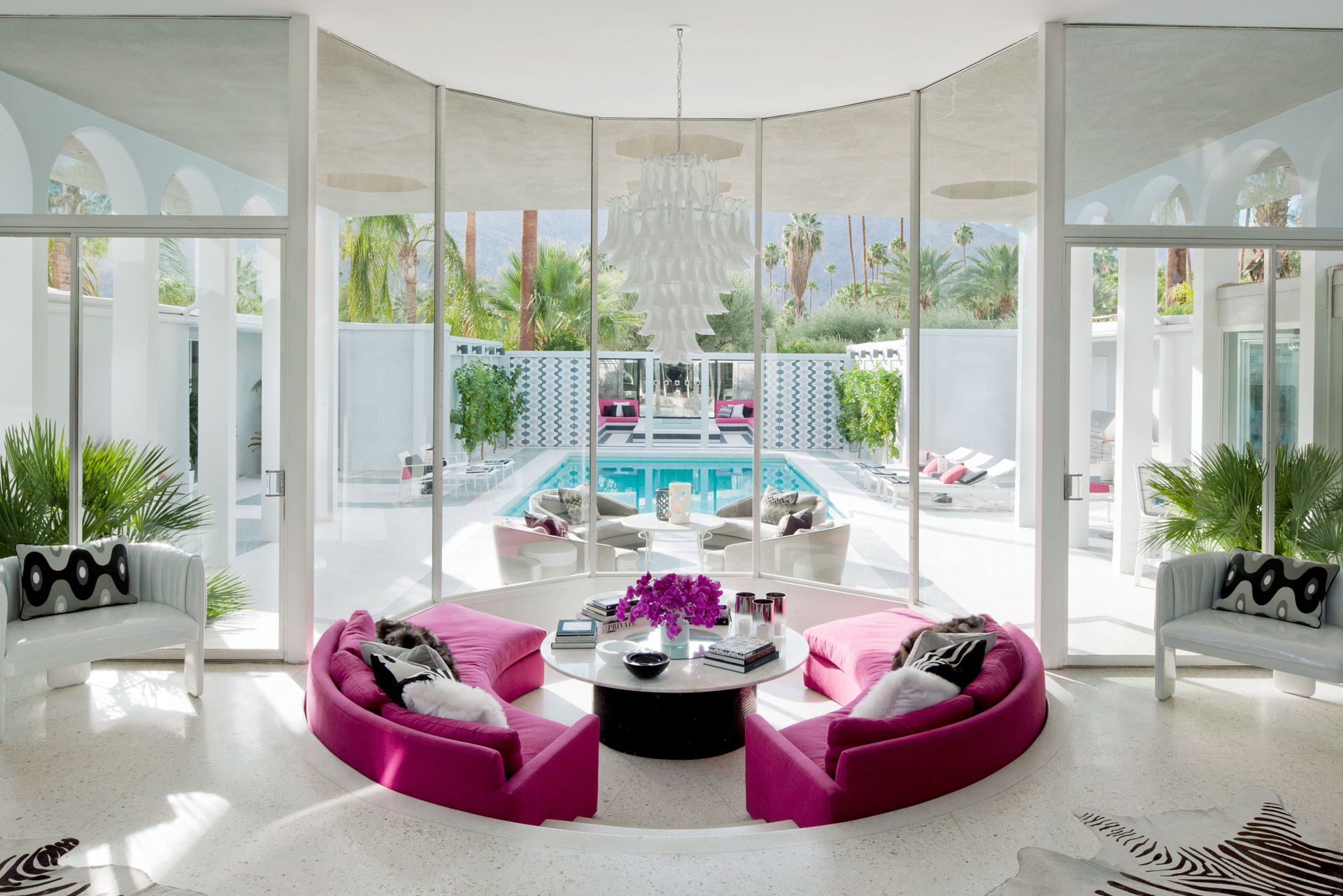 At Home With… Martyn Lawrence Bullard
Ahead of our webinar with the A-List interior designer, take a tour of Martyn Lawrence Bullard's LA villa
Meet Martyn Lawrence Bullard, interior designer to the Kardashians, Hilfigers, Eva Mendes and many more at his resplendent villa in Los Angeles
The 50 Best Interior Designers
At Home With… Martyn Lawrence Bullard
What's the story behind your home?
I purchased the Villa Grigio (named not only for the pale grey colour it's painted in but also for the quantity of Pinot Grigio enjoyed within its walls) about four years ago now. The house was an instant 'must have'; from the second I walked in I knew it had to be mine. It is the perfect weekend escape from my hectic life in LA and a sanctuary to recover in from my work travels.
It was built in 1962 by famed architect James McNaughton (a longtime Hollywood set decorator-turned-designer to the stars) for a Hollywood producer and his family. It then came into the possession of rather more famous (and infamous) inhabitants including Roger Moore and Hugh Hefner, who used it as the 'Playboy in the desert' house in the 1970s. The house is a magnificent example of mid-century meets Hollywood regency architecture. The colonnade flows both indoors and out, creating a magical ambience that blurs the lines between both.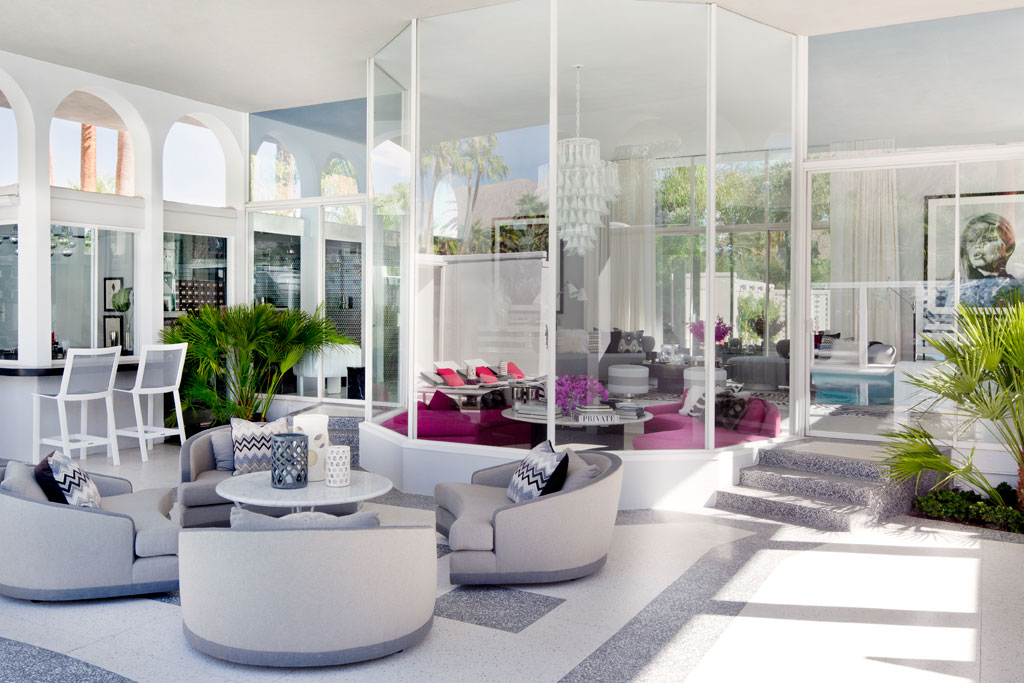 Did you have to do much work to the place?
I undertook an 18-month renovation that incorporated a new kitchen, screening room and guest suite. The master bathroom had to be reconfigured as it had been a movie star-scaled closet previously, including fur closet and vault that we certainly did not need, so that was all reworked to make a new master ensuite with dressing room. All of this work, however, was done under careful guidelines as the home is now a listed historical, cultural monument and as such had the be reworked like a renovation rather than a remodel.
Which interior brands are your go-tos?
I used a Benjamin Moore paint for most of the colours in the house, including the emerald green high gloss lacquer applied to the screening room. I used a combination of Fantini and Dornbracht fixtures for the bathrooms, Aran Cucine for the expertly lacquered kitchen and, of course, wonderful geometric wallpapers from Cole and Son for many of the rooms. On my own designed custom comfort beds, I have Vispring. There are Gaggenau appliances in the kitchen and a full Viking outdoor kitchen in stainless steel for the garden.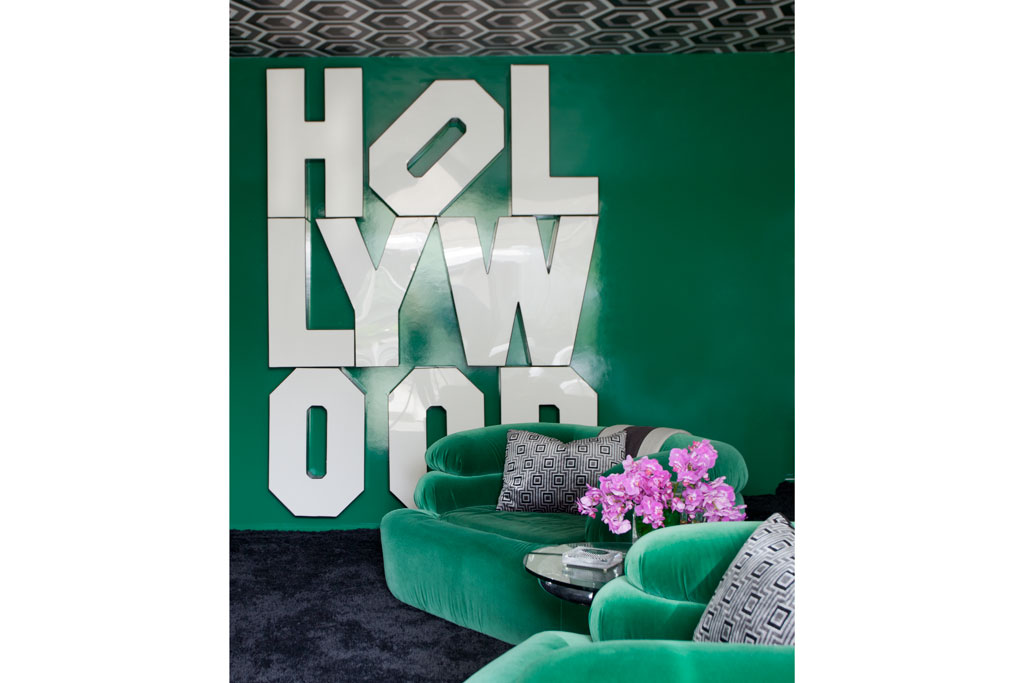 I used Ann Sacks tile from my own collection for the exterior patio walls to add dramatic interest to the spaces and white Bisazza mosaics line the pool and spa. The furnishings for the house are mostly vintage, mid-century pieces, many by the masters of the time including Vladimir Kagan, Karl Springer, Paul Evans, Milo Baughman, Pierre Cardin, de Sade, Charles Hollis Jones, Joe Columbo and Gucci.
What can you see from your house?
The house has so many beautiful vistas, but my favourite is probably through the bay window in the circular conversation pit, looking out over the pool area and onto the mountains beyond. It's an ever-evolving view that never seems quite the same each time you look at it, revealing nature's beauty at its best.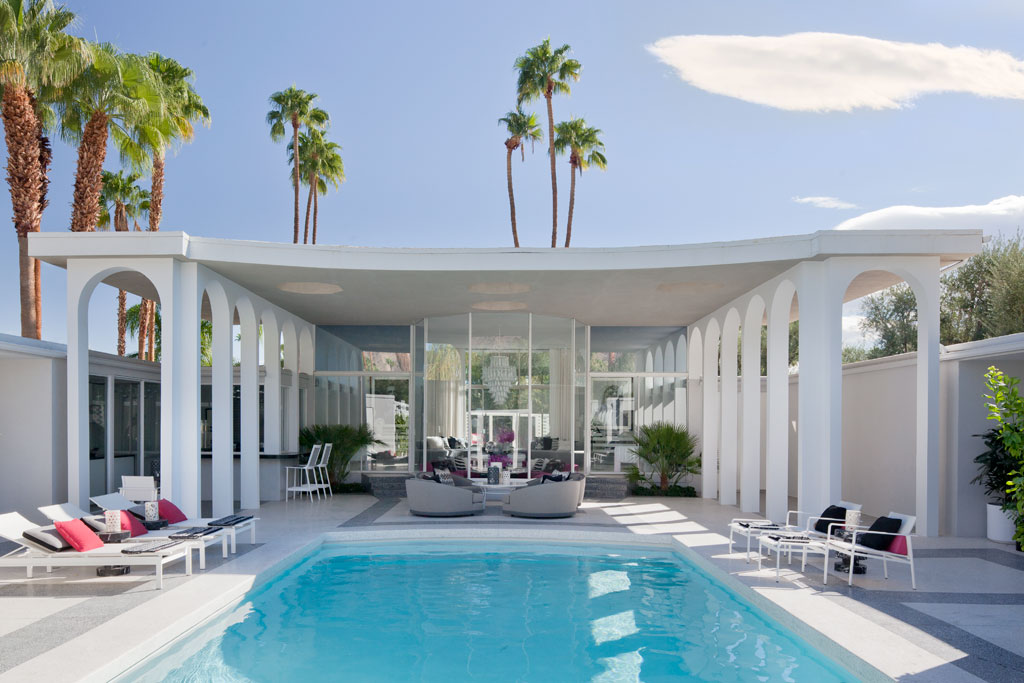 Favourite room?
The media room. The green lacquered walls and suede tiered sofa make it the most perfect spot to relax and watch movies in a perfectly sound balanced chamber. As a member of BAFTA I get to vote on their film awards and this room makes for the cosiest environment to do that, while still being a space of high style and bold, sixties-inspired design. 
Signature dish?
I'm not a very proficient cook, unfortunately, and as such have a wonderful lady who cooks for me most of the time, however when forced into the kitchen I can cook a mean spaghetti Bolognese. Using my Italian grandmother's recipe, I cook down minced sirloin beef with Roma tomatoes, crushed garlic, very finely chopped onions, carrot and celery for unexpected crunch. Then I add in some tomato paste, a pinch of chilli powder and a healthy splash of red wine, sea salt and freshly ground black pepper and a couple of bay leave (which you remove before serving). It's always best when slow cooked for six to eight hours. Finally, I serve it over al dente spaghetti with grated parmesan on top and a basil leaf garnish. A good glass of Tuscan Barolo helps wash it all down, adding to the rich flavours and experience.
Even though I'm not a great cook, I do, however, love to prepare the table, always experimenting with different dinner services and silverware, candlesticks, florals and table decor, mixing and matching to constantly keep my tables fresh and exciting. My favourite services include my own design 'Hollywood ' for Haviland Limoges, Balcon De Guadalquivir by Hermès, Labirinto smeraldo by Richard Ginori and Tobacco Leaf by Mottahedeh always paired with Haviland chargers 'lawyers de Chine ' which I have in black, green and deep pink, all bordered with a matt gold banding.
Top five reads to recommend?
With added time at home now due to quarantine I have been revisiting beloved books inspiration and feeding of the soul, included in these are:
The Marchesa Casati: Portrait of a Muse, by Scot Ryersson. This is a delicious read with visual splendour taking you through the life and wild times of this extraordinary woman and her connection with the greatest artists of her day.
Perfume: The Story of a Murderer, by Patrick Süskind. The descriptive nature of this book allows you to smell the most intoxicating fragrances from its pages, but it also weaves a wildly entertaining story of the power struggles for perfume and the intrigues caused by the fortunes it endowed.
David Hicks Scrapbooks (Vendome Press). This is a visual treat closely and personally following the life of one of the greatest interior design characters of the last century. I love reading the newspaper cuttings and magazine articles published here, giving a colourful historic insight to this design icon.
Ma'am Darling: 99 Glimpses of Princess Margaret by Craig Brown. This is a riotous look at the rebellious princess who, born into the world's most famous royal family, became one of the most iconic women of the day, scandalising the British press with her numerous affairs, fashions, passions and grandiose manner. Absolutely spellbinding reading.
Roomscapes: the Decorative Architecture of Renzo Mongiardino (Rizzoli). This is a must-read for any interior design student or enthusiast. Mongiardino was a master among decorators and his rooms, often inspired by his operatic designed sets, are magical, fanciful and often wildly extravagant. It has many beautiful images of his work to inspire, but is also very well written explaining his methods, his ideas and mix mastery. It captures so much that has inspired me and influenced my work both directly and indirectly.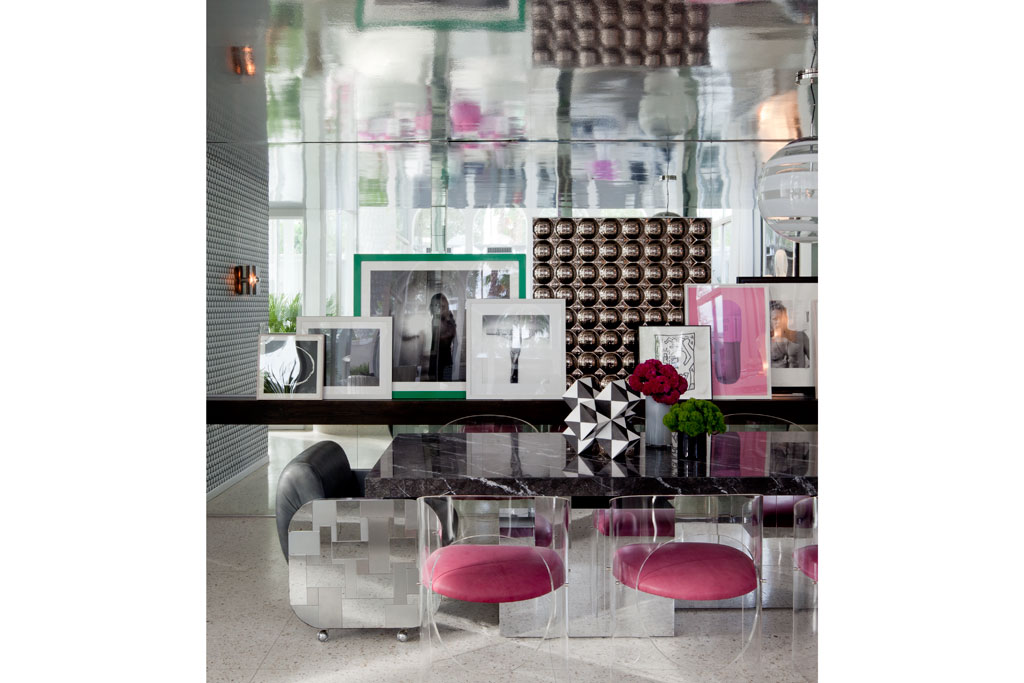 What are you streaming?
TV shows that have provided hours of amusement during my pandemic quarantine include reruns of the original Brideshead Revisited with the breathtaking young Jeremy Irons and his co-star, Castle Howard. On the same spin I have rewatched all of Downton Abbey series, yes, all nine of them, culminating in the Downton Movie just to finish it off on the best note. Currently, I'm finishing the last series of Outlander and have loved every rollicking minute of it.
Like the rest of the world, I'm obsessed with Joe Exotic ('Tiger King') and the need to find out what really happened in his crazy, vain and drug fuelled world. A complete spellbinder of a show it makes you laugh as much as cry. All three seasons of Ozark are amazing and just get better with every episode with brilliant performances and constant nail-biting scenes.
My favourite old school movie is Auntie Mame, starring Rosalind Russell, it's such a brilliant film with wonderous, ever-changing interiors that chronicle Mame's moods and changing fortunes that inspire, delight and provide hours of comic relief.
I just rewatched Gladiator too. Wow! What a movie – tantalising performances by Joaquin Phoenix and Russell Crowe and great sets and costumes, to boot!  I have also watched Parasite, this year's Oscar winner, twice now. What a wonderfully twisted movie, brilliant in so very many ways, revealing more the second time you watch it.
Any tips for other home workers?
My current work-at-home space is my dining room. I need to be able to spread out and look at so many things from plans and books to samples and paint colours, so I have stacked my various books in piles relevant to the individual job, added two laptops and an iPad for multi-tasking and Zoom meetings, my favourite scented candle to keep my senses alive and fresh flowers and leaves from the garden to add a touch of nature to my 'desk'. I always have carafe of water too to keep me hydrated, very important now for both health and mental power.
What's your morning routine?
When I get up the first things I do are wash my face, brush my teeth and then look at my emails on my phone. I have a light breakfast, Earl Grey tea and avocado toast, usually, while I reply to important emails and check Instagram for some fun updates on the world and my friends. I then take a shower and am fresh and ready to get to work and see what the world has in store for me.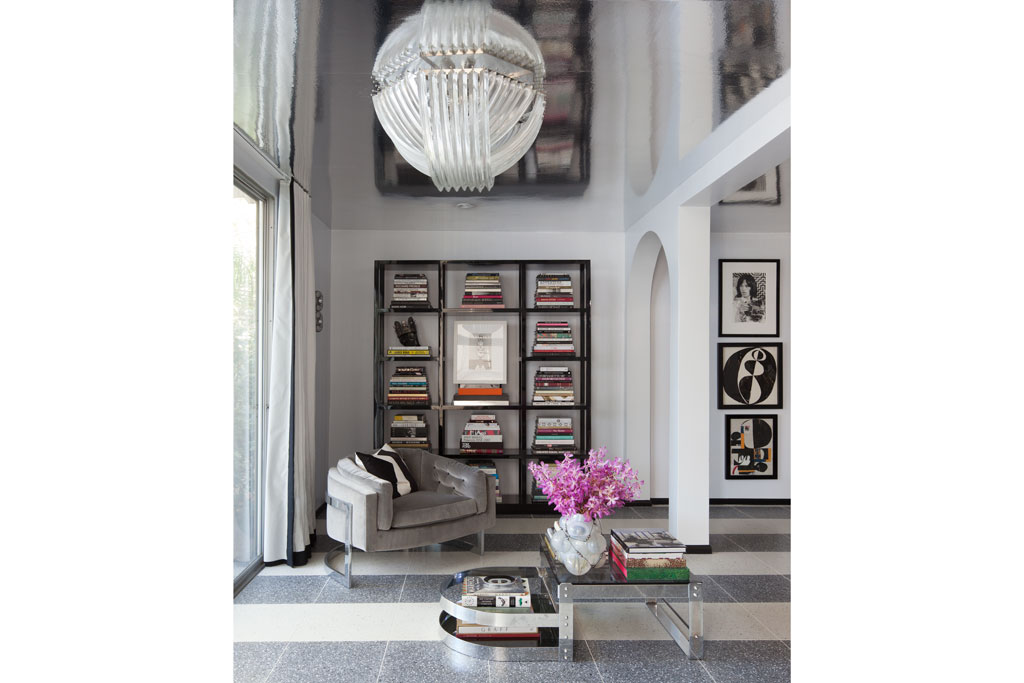 How do you spend your evenings at home?
As I'm still incredibly busy with work, during the day I'm on email or in Zoom meetings so the evenings are my only real time to connect with the outside world and get an update on all that's happening around us. Currently evenings are spent watching the news, catching up on a TV show or two, often a movie after dinner and finally, at least a chapter of a good book before sleep.
What key ingredients make a party go with a swing?
The perfect party is always firstly about the guests. If you have the right mix, then you're 80 per cent there. I like to create themed evenings, whether around the food or even an outfit colour – it always makes for a fun time and breaks down any barriers but it can't be too stressful! Easy themes like a summer 'white' BBQ party where you all come in tones of white, or a red shirt night for flaming hot curry or tamales keep it fun, light and easy. Good wine, good food (often served buffet style so people can eat what they want and how much they want), beautiful flowers and dimmed lighting supplemented with the romance of candlelight. Perfect combo!
What gadget could you not live without?
I couldn't live without one simple thing in my homes: dimmer switches. Lighting is everything and can make or break a room and an ambience.
How are you keeping fit?
I am very lucky to have a small gym at home and try to spend 45 minutes a day in there doing the treadmill and light toning weights. I've also found great online yoga classes which have been both fun and mentally relaxing. Many personal trainers have been doing online classes as well which really look great and can certainly help keep you in the fitness frame of mind.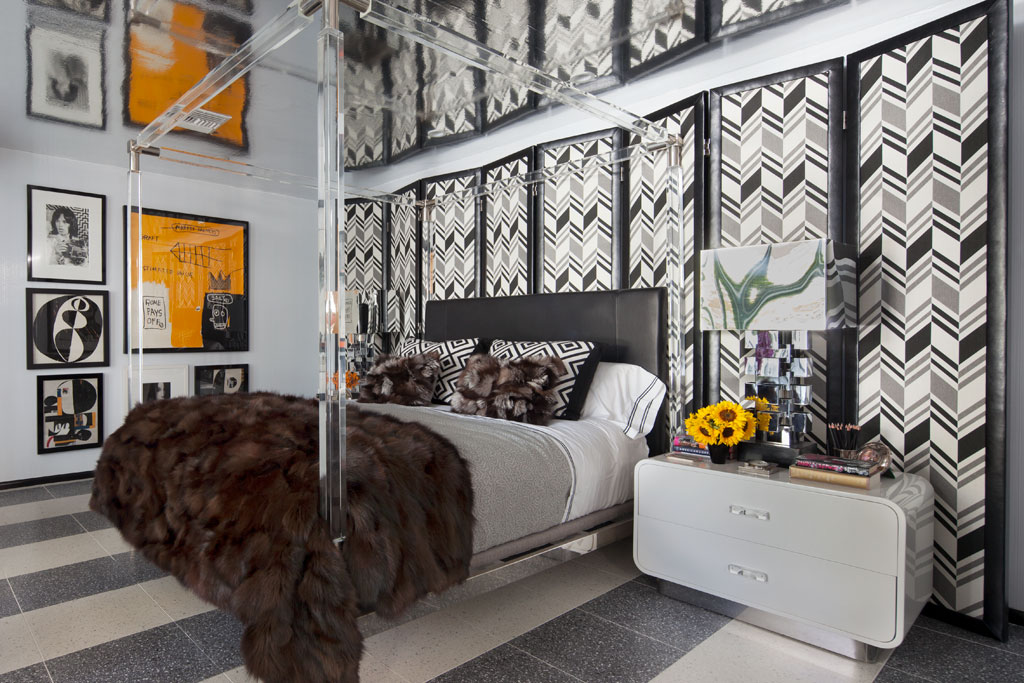 Whose home would you like to be a fly on the wall in?
Oscar Wilde's. Can you imagine the hysterical words of wisdom that would pass his lips during this time? Always brilliantly witty, his conversation and storytelling would be the greatest distraction and amusement today.
What could you really do with right now?
The one thing I would like to add to my quarantined home is a Peloton bike. It would be fun to exercise on and allow my mind to zone out for a while. I may well actually order one online next week. Just seems like such a good idea!
What makes a house a home?
A house is never a home to me without pets. My dog Daisy fills the house with joy and love, she makes me smile and laugh at the most difficult times and just creates instant happiness with the wag of a tail or the wetness of her nose against my leg. The obvious pleasures of comfortable furniture and dimmed lighting, music and candles, flowers and art all help, of course, but the unconditional love of a pet is almost impossible to replicate or surpass.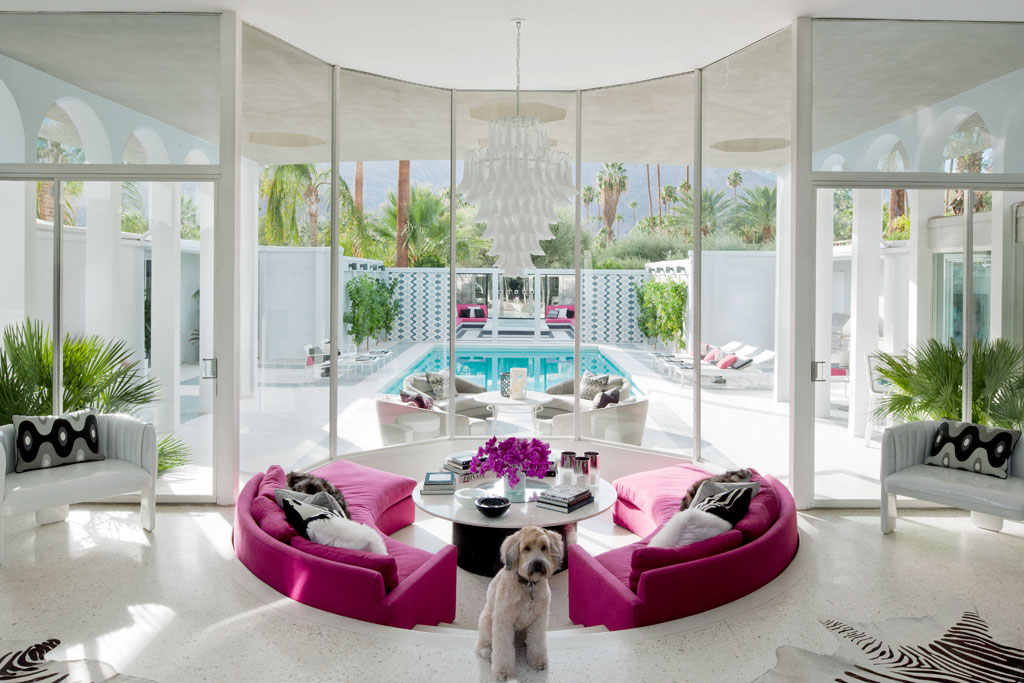 MORE AT HOME WITH:
Celia Walden / Theo Fennell / William & Lucy Asprey