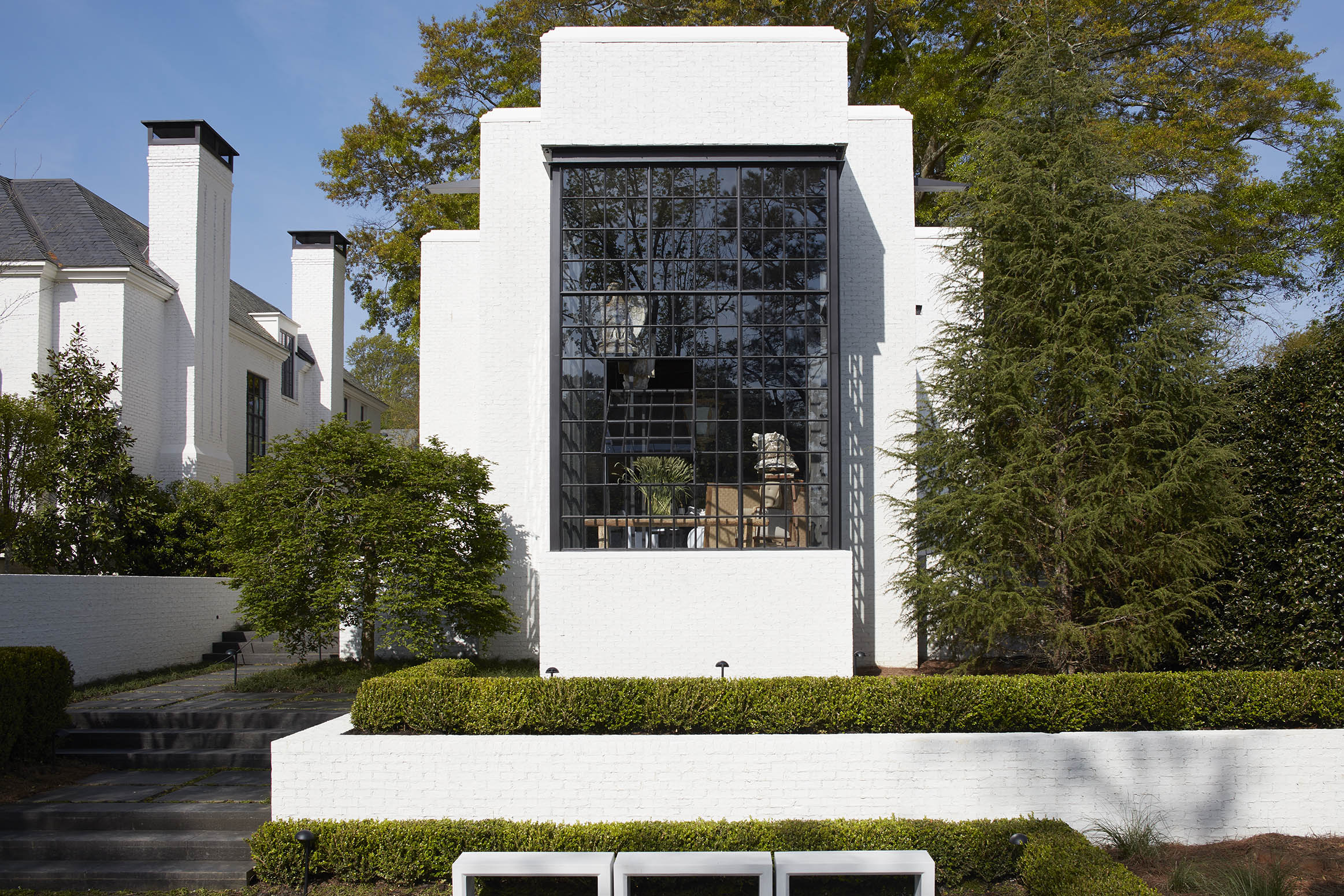 At Home With… Bobby McAlpine
---
Inside architect, designer and author Bobby McAlpine's imaginative home
The celebrated American architect and author blends striking modernism with lush courtyards and bold architecture in his captivatingly-designed home.
At Home With Bobby McAlpine
What's the story behind your home?
I found a house to tear down in a prime spot on a park view in an old neighborhood. Along with my partner Blake, we conceived, built, and furnished a new house fashioned for our own hearts, which completed in 2018.
What was your inspiration for the design?
The inspiration as an architect and artist respectively was that we wanted to create a new romantic modernism. This included an eclectic interior and bold landscape and a strong, edited point of view in the architecture.
Do you have any interior brands that you love and always go back to?
Though our home is intended to be a mostly untrackable interior by brand, Miele appliances and Poliform cabinetry really offer a quiet, sleek complement to an otherwise eclectic assembly of found objects and materials.
What's your favourite room in your house and why?
The master bathing loft overlooking the furnished rooms below and courtyard beyond is a space to plan time for.
Does your house in any way reflect your profession?
Being a practicing residential architect known for romantic works, this house breaks new ground stylistically in its bold, edited modernism and the many window paned, highly textured devices and materials.
The 50 Best Interior Designers
What's your best view?
From the kitchen and kitchen lounge we view a lush Anouska Hempel-inspired courtyard garden, plush with meandering boxwood.
What's your signature dish – can you share the recipe with us?
It is my own version of a chicken saltimbocca with salty prosciutto, fresh sage, blue cheese and red pepper.
Share your must-read books with us if you were to start a book club – and why:
All of the books of poets David Whyte and Rumi, and all the books of Joseph Campbell.
What are your must-see movies?
The early black and white movies of Hollywood and Pinewood Studios, particularly those with extraordinary set design .
Sign Up to The Country & Town House Interiors Newsletter
Describe your office space?
My office is always with me in the way of a small pad of paper and a pencil. A good chair, side table and living, everchanging landscape is the perfect companion to dive in and out of myself – a room with a view!
What's the first thing you do when you get up in the morning?
Presently it is coffee in the giant, east facing, glass box bay of my home in a tight fitting, ravaged antique wing chair. A rotation of meditative small books is on a table beside me and an active street scene with a pastoral view beyond starts my day.
And how do you love to spend your evenings?
With dinner and a movie at home or a long, long bath.
If you were to throw a party at home, what are the key ingredients to make it go with a swing?
Music and lighting are first and foremost. Three or four friends, and someone to shock!
What gadget could you not live without in your home?
Sonos and any form of fire light.
How's your garden behaving at the moment?
The garden is evergreen for the most part except for an enormous oak and weeping hornbeam, which is home to a cross section of critters and visiting cast of creatures.
Whose home would you like to be a fly on the wall in and why?
My own! I've got a bit of Gatsby in me that would love to throw parties I don't actually attend.
Has lockdown made your reassess your work and home life balance?
My inner hermit is thriving and my work is flowing on full tap.
What makes a house a home?
A place, synonymous with the hearts that reside there, allows you to wander and wade in an exacting larger realm than your own body. That is what I strive for in very new invitation.
Follow McAlpine House on Instagram @mcalpinehouse. Find out more at mcalpinehouse.com.
READ MORE
At Home With Martyn Lawrence Bullard / At Home With Katharine Pooley / At Home With Richard Parr